Gym Mats Comparison - Foam Floor Tiles, Folding Mats and Rollout Mats
By Kim Butler Created: May, 2017 - Modified: July, 2020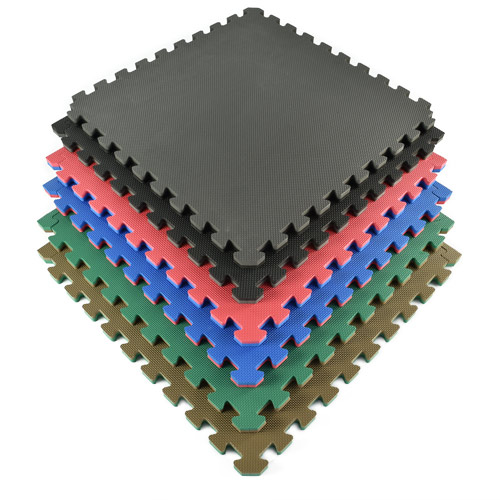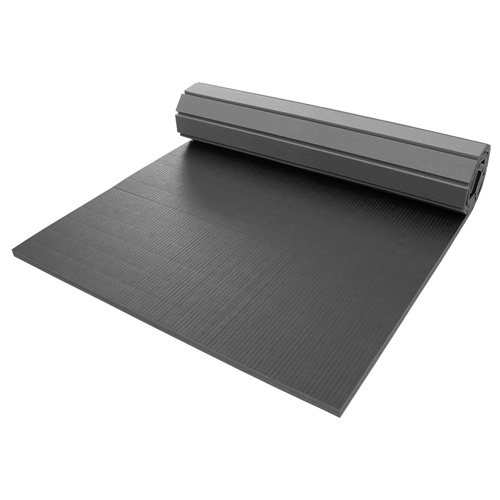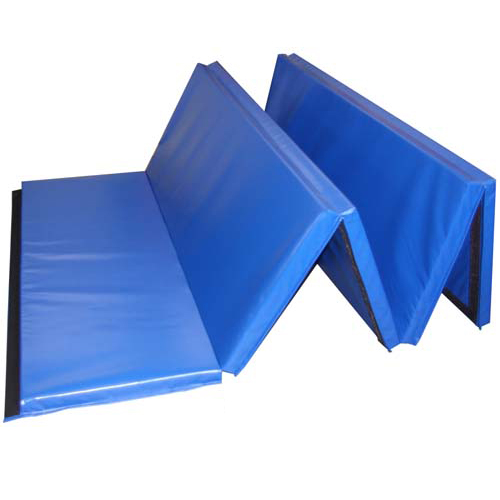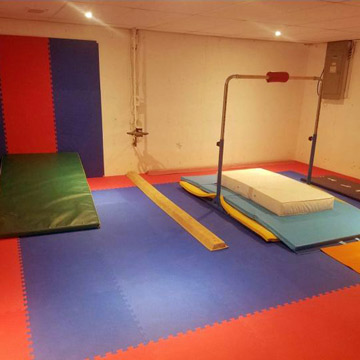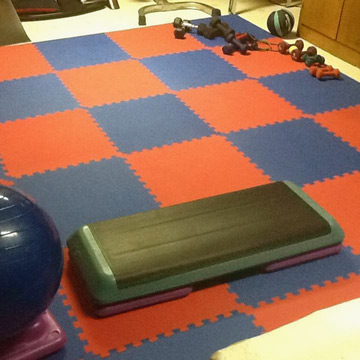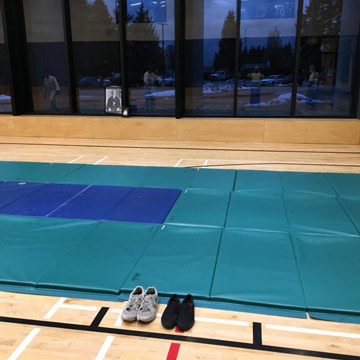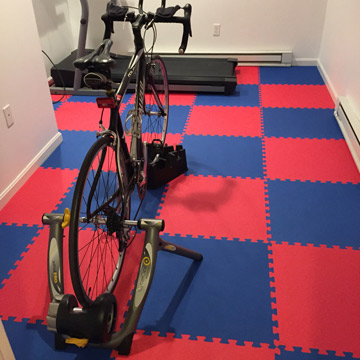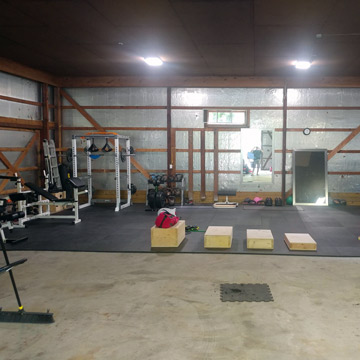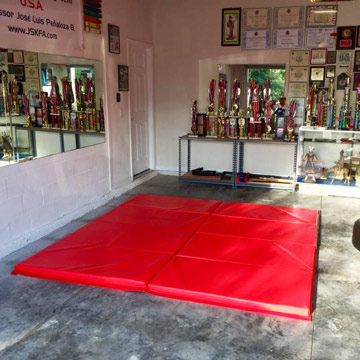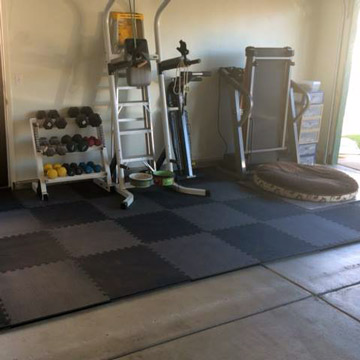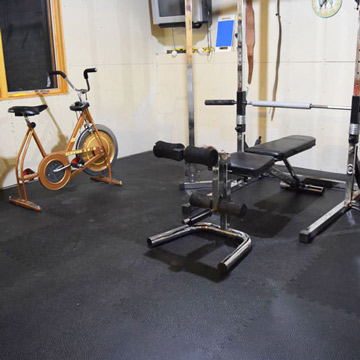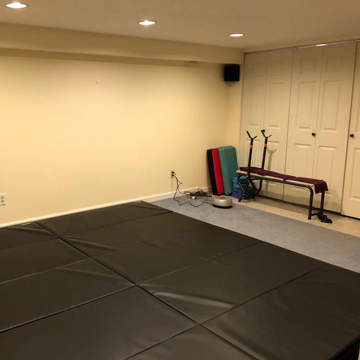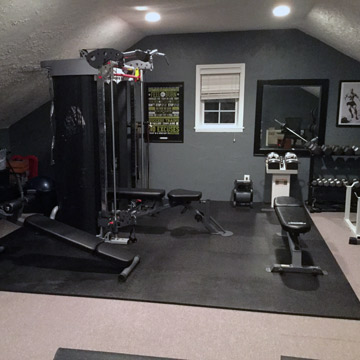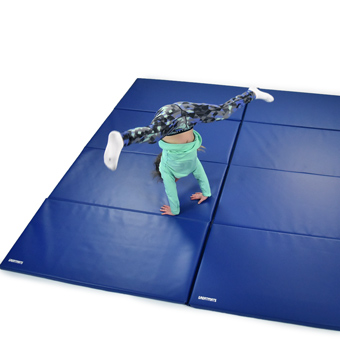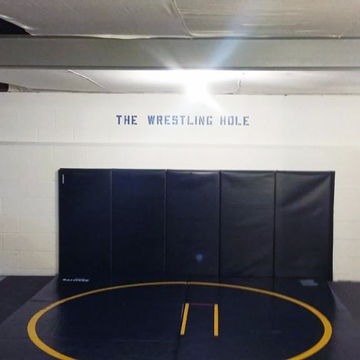 With the new year, many people get busy outfitting a home gym space, while others might be moving forward with their dream of opening a gym, dance studio, or fitness or martial arts center. Or perhaps you or your kids have taken up martial arts and need a place to practice at home. As always, it's wise to start from the from the ground up, by focusing on what
gym mats
you will use. Some popular choices in foam flooring formats are foam tiles, roll out mats and folding gym mats.
Interlocking Foam Floor Tiles
Let's start with foam tiles. Interlocking foam floor tiles are versatile, and generally affordable and lightweight. They can be cut with a utility knife to fit your space, and are easy to pack up and move if necessary. You can easily replace damaged tiles, or add on as your space needs change.
The interlocking gym mats are easily installed and require no adhesives or tape. If you need to use the room for another purpose, you can easily stack the tiles out of the way. If you are renting your space, either for your home gym area or for your business, interlocking tiles are easy to take with you when you move. Foam tiles are made of waterproof closed cell foam.
While you can buy inexpensive foam floor tiles at big box retailers, for more cushion, thickness, and durability, look for a product like the
Home Exercise and Play Mats
at online flooring retailer Greatmats.com. These puzzle style gym mats are intended for home gyms and striking martial arts like Karate, Tae Kwon Do, Kickboxing and Boxing. At 7/8 inch thick, they are thinner and softer than either folding mats or rollout mats, so these interlocking foam mats offer more versatility as a flooring option since they are designed to prevent scuffing from shoes and can be used with weights. Home Sport and Play interlocking foam mats can be used for basements, aerobics, home gyms and more. Mats are double sided in a combination of colors including red/blue, black/gray, and green/brown.
Rollout Mats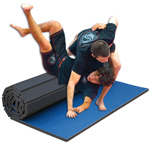 Rollout gym mats are another portable option. While there are many foam mats that roll up, a rollout mat usually has cut segments of foam that make it easier to roll up a thick mat. Rollout mats are lightweight and made with durable vinyl on top which can be easily cleaned, and the mats are easy to rollout and take back up.
Greatmats, a specialty flooring retailer, offers a
5x10 foot foam mat
that weighs in at just 22 pounds, and is easily transported by an individual. Two mats can be used together to cover a 10X10 foot space, and mats can be taped together with common vinyl tape. The foam base is 1.25 inches thick and made from a high quality cross-linked polyethylene foam. Customers say they offer the right amount of cushion and firmness for a good workout. They can be useful for wrestling, martial arts, gymnastics, cheerleading, tumbling and yoga. One customer who does Judo and Jiu-Jitsu with his family said ''falls and rolls are great'' on the mats. He went on to praise their softness, but notes they are not too soft for kicking, boxing, CrossFit or any other barefoot physical activity.
The vinyl offers grip and protection and impact safety. The tatami surface is scratch and scuff resistant, and provides more grip than other mat styles. With no seams, there is no risk of getting toes, feet or fingers caught when doing spinning kicks or other moves where your bare foot or hand slides or pivots. These mats work well for martial arts and also for P90X and some CrossFit workouts that involve bag stands or kettlebells.
Folding Mats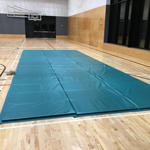 Another option is the
5x10 fold out mat
, which fold accordion style into a 5 by 2 foot rectangle that weighs approximately 36 pounds. These 2-inch thick folding gym mats are also known as panel mats and are great for cheerleading, tumbling, stunting, wrestling and martial arts like Judo, Jiu Jitsu, Hapkido and Aikido.
These gym mats are covered with a smooth vinyl surface, that is easy to clean and easy to wipe up sweat and other fluids. The surface is smoother than the rollout mats, and there are seams, so these mats might not work as well for some types of martial arts. Folding mats are soft enough for floor exercises like sit ups and push ups, as well as handstands and somersaults. Softness and shock absorption are standout features of these mats, and they are popular with cheerleaders and wrestlers.
Fold out gym mats are not designed for use with weights or for start and stop running. Hook and loop connectors on all four sides keep the mats in place, or connected to other mats for a larger workout space. You can also use the mats folded up as a platform for exercises like sit ups, roll ups, and jump ups.
With so many great flooring options to choose from, it pays to think about exactly what you need your floor to do. Knowledgeable customer service representatives can help you plan the floor that fits your needs and budget, to give you many years of outstanding fitness opportunities.