WorkStep Black Mat 3x5 Feet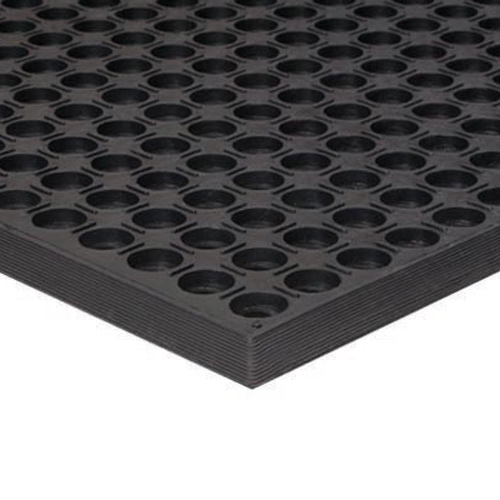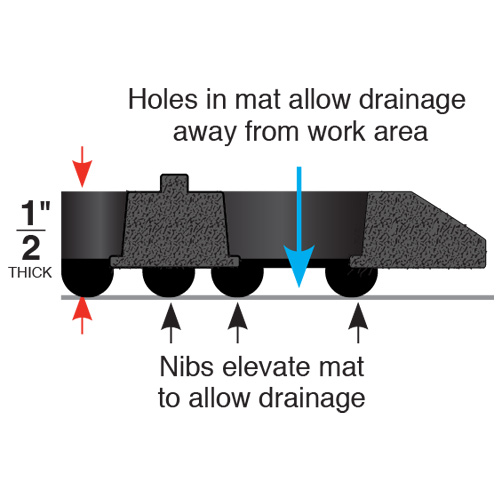 Comfortable anti-fatigue design with molded beveled edges
Available in a grease-resistant red or general purpose black color
WorkStep Black is also available with a gritted surface for enhanced traction
Ships Out: Estimate 4-6 Working Days
TOP FEATURES
Comfortable anti-fatigue design with molded beveled edges
Available in a grease-resistant red or general purpose black color
WorkStep Black is also available with a gritted surface for enhanced traction
Anti slip traction
Water repellant
Anti fatigue
Wear resistant
Custom configurations
Use Types
Industrial, Kitchens, Service Counters, Restaurants, Bakeries, Machine Shops, Shipping and Packing
NOTE: This item is a custom order and is not returnable.
This lightweight rubber drainage mat, WorkStep Black Mat 3x5 Feet is low maintenance and easy to clean. The 1/2 inch thick mat has molded beveled edges for increased safety and is available in grease resistant red, black and with an optional abrasive GritTuff surface (Black only). Contact Customer Service for more information.
Black WorkStep Anti Fatigue 3x5 Rubber Mat, 1/2 Inch Thick

Our Black WorkStep Anti Fatigue 3x5 Rubber Mat provides multiple benefits for customers, including the ability to stand and work comfortably for long periods of time and to maintain a sure footing in areas that could be damp.

Rubber provides a natural cushioning capability that delivers anti fatigue properties. Those who must stand to do their jobs will feel fresher toward the end of the long work day, as the rubber will protect the lower body joints of the employees. They will have less pain in the ankles, back, knees, and hips, allowing them to work more efficiently.

When used over the top of a hard subfloor, our 3x5 rubber mat also provides anti slip capabilities. In areas where moisture is frequently present, a hard subfloor can become slippery, leading to accidents.

Our rubber mat removes this hazard by giving those walking in the area a sure footing. Rubber naturally has anti slip properties without the need to add a textured pattern to the surface of the material.
Install Our Mats in High Moisture Areas
Customers can put these mats to use in a wide range of locations.
Food Preparation Stations
A busy restaurant or a bakery often will have multiple people standing and preparing food. Our mats allow them to stand comfortably while they do their work. Should they spill some of the ingredients, the holes in the rubber matting will allow the ingredients to drop through to the subflooring.
Washing Stations
When operating a restaurant or a dog grooming business, having these mats in place works well to prevent slips. Spills are common in these areas, such as at dish washing or dog bathing stations, which can leave puddles of water on the floor.
Having these 1/2 inch thick mats in place gives workers the ability to stay above the water on the subfloor, keeping their feet dry. Should any of the soapy residue remain on the surface of the mat, the rubber material will continue to provide a sure footing, preventing slips.
Machine Shop or Industrial Areas
This 3x5 rubber mat is an outstanding product for use in a variety of areas where chemicals may be present, such as a machine shop or a factory floor. This black model of mat does not offer grease resistance, but we do offer a red model with grease and oil resistance built into it.
High Quality 1/2 Inch Thick Rubber Mats
Our black 3x5 rubber mat is water repellent and water resistant. Beyond water, it provides the highest level of protection against items like animal fats, vegetable oil, gasoline, and acetic acid.
This is a Made in the USA mat, so customers will be certain to receive the highest quality of ingredients in the mat. They recieve trustworthy tolerance measurements in the rubber as well. It will stand up to repeated use in a busy environment.
The mat is available with a beveled edge, if desired. This means it works especially well in areas where people will be walking, as the beveled edge will reduce any tripping hazard.
Each mat has large perforations that run through the entire thickness of the rubber. This ensures that any significant liquid spills will drain through the holes and reach the subfloor, so the person using the mat will not have to stand in pooled water.
The underside of the rubber mat contains tiny nibs that lift the mat away from the subfloor a bit. As the water drains through the perforated holes in the mat, it will move through the natural channels that the nibs create, allowing the water to flow toward the floor drain.
General Purpose Waterproof Rubber Mat Specifications
Width: 3 feet

Length: 5 feet

Thickness: 1/2 inch

Coverage: 15 square feet

Weight: 23 pounds

Color: Black

Texture: Perforations
Maintenance and Care
Keeping these floor mats clean will ensure customers receive the greatest level of longevity from them. Because they do not soak up liquids or chemicals, cleaning them is easier versus a type of flooring that has absorbent properties.
Customers have multiple options for keeping these mats clean. Take the mats outside and power wash them to remove soils in the most efficient manner. Customers should wash both sides of the mat, as soils that leak through the drainage holes may cling to the underside of the mat.
You also have the option of using a deck brush and warm water on stubborn soils. Adding a mild dish washing liquid to the warm water can help. Avoid adding cleaning solutions that contain bleach or other harsh cleansers.
Because these 3x5 rubber mat products do not soak up water, they do not take long to dry after cleaning. Allow them to air dry after the cleaning process.
Rubber is a highly durable material, so it can stand up to frequent washings without showing significant wear and tear. It will not lose its anti slip properties through regular cleaning either.
Shipping
This Product Ships UPS Ground, FedEx Ground and/or Freight.
Please review our shipping disclaimer.
SPECIFICATIONS
| | |
| --- | --- |
| SKU# | A300-39-378-3x5 |
| In Stock | Yes |
| Product Type | Mat |
| Material Type | Rubber |
| Product Edging | Straight |
| Thickness | 1/2 inch |
| Width | 3.00 feet |
| Length | 5.00 feet |
| SF per Item | 15.00 |
| Weight | 23.00 lbs |
| Packaging | Cartons |
| Number of Pieces per Package Type | 1 |
| Non Absorbent | Yes |
| Special Adhesives | No |
| Universal Interlock | No |
| Interlock Loss | 0.00 feet |
| Interlocking Connections | No |
| Made In | USA |
| Surface Finish | Drainage holes |
| Surface Design | Solid color |
| Installation Method | Lay flat |
| UV Treated | No |
| Reversible | No |
| Border Strips Included | No |
RELATED PRODUCTS