Performa Grease Proof Black Mat 3x3 Feet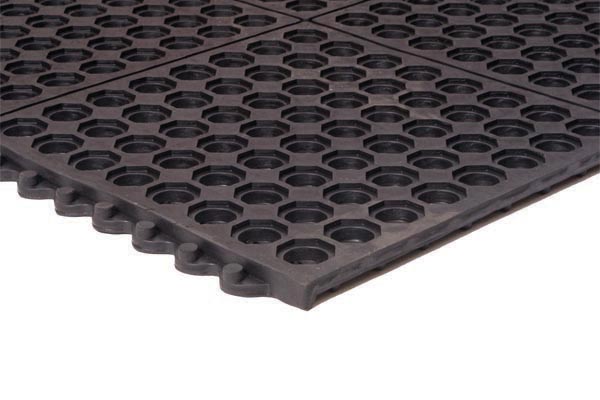 Modular drainage mat with one sided built in connectors
Performa black is also available with a gritted surface for extra traction
Nib backing elevates mat above surface for improved drainage
Handling Time Estimate: 4-6 Working Days
Modular drainage mat with one sided built in connectors
Performa black is also available with a gritted surface for extra traction
Nib backing elevates mat above surface for improved drainage
Available in grease resistant red or general purpose black color
Anti slip traction
Water repellant
Anti fatigue
Oil resistant
Industrial, Machine Shops, Kitchens, Service Counters, Bakeries, Restaurants, Cafeterias, Shipping and Packing
NOTE: This item is a custom order and is not returnable.
This popular, 5/8 inch thick Performa Grease Proof Black Mat 3x3 Feet with exceptional anti fatigue support and elevated nib backing provides drainage in wet areas for optimal safety. This rubber compounded mat has built in interlocking connectors for custom configurations and larger surface area coverage.
Black Performa Kitchen Grease Proof Floor Mats, 3x3 Feet

Locations that need rubber cushioned mats for standing and working in a damp area will appreciate the durability and performance of the Black Performa Kitchen Floor Mats. Each mat measures 3x3 feet, giving it a useful coverage size in a square mat that weighs only 22 pounds.

For those who need a larger coverage size, these modular kitchen floor mats contain connectors on one side, so customers can securely pop multiple mats together and gain a greater level of coverage space.

The ability to connect several mats is especially helpful in a restaurant kitchen, where workers may need to use whatever space is available on the counter for food preparation. Add more mats as the need for prep space becomes larger.
Providing Slip Resistant Protection in Wet Areas
When working in a kitchen, restaurant, laundry, or dog grooming business, liquid spills are frequent. If the spills go directly onto the subfloor where people are standing and walking, they can create slippery spots that leave workers in danger of falling.
With our rubber kitchen floor mats in place, the rubber naturally provides traction, even if the surface of the mat is damp. Water and other spilled liquids will flow through the perforated holes across the length and width of the mat, keeping the top layer free from standing water that could be dangerous.
As the liquids fall through the perforated holes to the subfloor, they will flow toward the floor drain. The mat has nubs on the bottom that will lift the underside of the rubber a fraction of an inch off the subfloor. This provides space for the liquid to move toward the drain.
Customers may order this rubber mat with a gritty layer on the surface that helps the user maintain a secure footing, even when the top layer is damp. This is especially helpful in areas where people will be washing dishes, doing laundry, or bathing dogs. Soapy water can be slippery, but our mat will guard against slips.
Even without the gritty layer, this mat provides a solid and sure footing for users in damp conditions, thanks to the grippy rubber material in use.
Customers may install these kitchen floor mats in a restaurant or industrial location where spills are common. Use them in front of a utility sink at home, if desired, ensuring that any spills will not create a slip hazard. A school cafeteria may want to place rubber mats along the buffet line for the food preparers.
In areas where greasy conditions will be present, the manufacturer recommends purchasing the red version of this mat that has grease resistance built into it. This black version is not specifically resistant to grease.
Rubber Mats With Anti Fatigue Properties
When someone will be standing and working for long periods of time, it can be tough on the body. The lower back, as well as the joints in the ankles, hips, and knees, can become sore and fatigued when having to stand to work. Rubber is helpful for creating a more forgiving surface for standing versus a concrete or hard vinyl floor.
The nibs on the bottom of the mat provide a bit of give for the rubber mat, ensuring that the level of cushioning is excellent without sacrificing the firmness of rubber. This mixture of firmness and cushioning delivers the anti fatigue properties that customers are seeking.
Workers who are feeling fresher as the workday progresses will be able to work more efficiently, making them more productive. They will not need as many days off if they have less pain in their body joints either.
Commercial Non Skid Rubber Mat Specifications
Width: 3 feet

Length: 3 feet

Thickness: 5/8 inch

Coverage: 9 square feet

Weight: 22 pounds

Color: Black

Texture: Perforations with an optional gritted surface
Maintenance and Care
One of the reasons rubber kitchen floor mats are so popular to use in multiple locations is because of how easy they are to install. They're also easy to clean and maintain, which makes them highly useful in busy business locations where owners don't have a lot of time for cleaning.
Our rubber mat for sale has resistance to water built into it, so customers can wash the mat as often as they want without running the risk of causing excessive wear and tear. Mat materials that can soak up water would be more difficult to clean, which is another reason rubber is popular.
Customers can use a power washer on this rubber mat. Always clean both sides, as when soils, soaps, and other materials flow through the perforations, they could cling to the underside of the mat.
Another option for washing the gallery mat is to use warm water and a scrub brush on it. If you have concerns over removing stubborn soils on the 3x3 mat, you can use a mild detergent or dish soap mixed with the water. Do not use cleaning agents that contain bleach or chlorine.
After washing the mat, allow it to air dry. The best option is having a rack available, so the mat can stand upright, allowing both sides to dry at the same time.
Shipping
This Product Ships UPS Ground, FedEx Ground and/or Freight.
Please review our shipping disclaimer.
| | |
| --- | --- |
| SKU# | A307-39-078-3x3 |
| In Stock | Yes |
| Product Type | Mat |
| Material Type | Rubber |
| Product Edging | Interlocking |
| Thickness | 5/8 inch |
| Width | 3.00 feet |
| Length | 3.00 feet |
| SF per Item | 9.00 |
| Weight | 22.00 lbs |
| Packaging | Cartons |
| Number of Pieces per Package Type | 1 |
| Non Absorbent | Yes |
| Special Adhesives | No |
| Universal Interlock | No |
| Interlock Loss | 0.00 feet |
| Interlocking Connections | Yes |
| Made In | Mexico |
| Surface Finish | Rubber drainage holes |
| Surface Design | Solid color |
| Installation Method | Lay flat |
| UV Treated | No |
| Reversible | No |
| Border Strips Included | No |
| Floor Score | No |
| Green Label | No |
RELATED PRODUCTS