Beveled Drain Step Anti-Fatigue Mat Black 1/2 Inch x 3x5 Ft.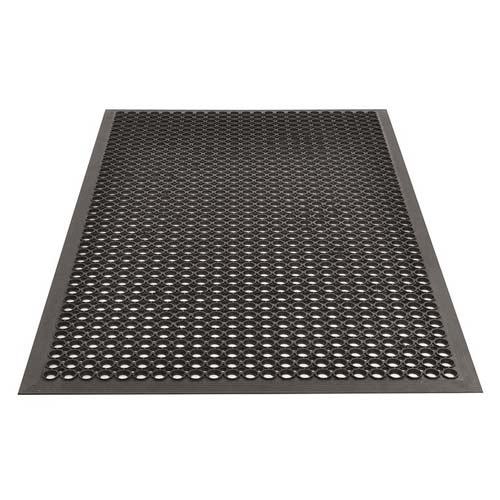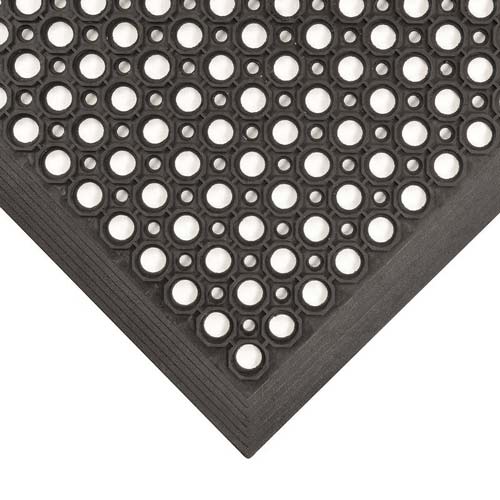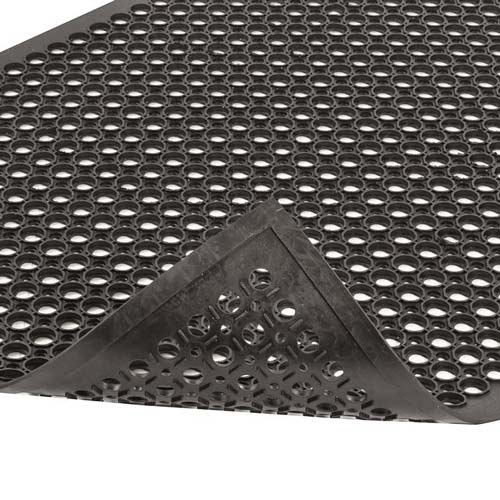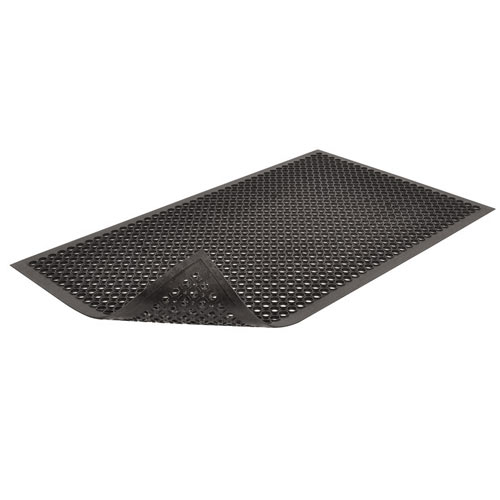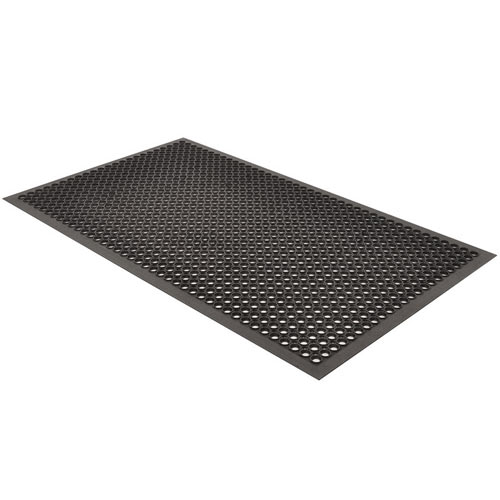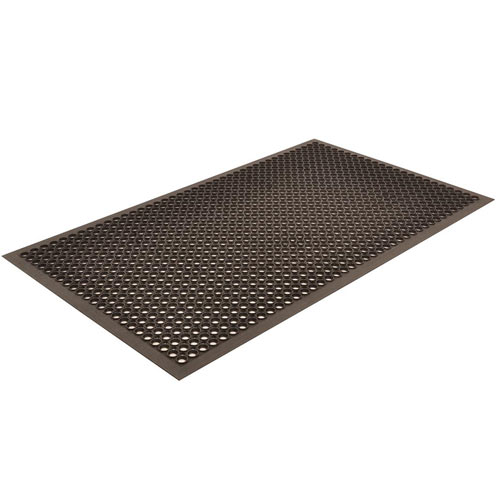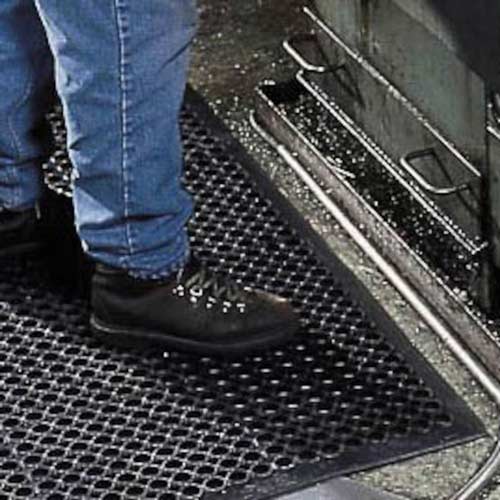 General purpose rubber compound
Anti fatigue drainage mat
Large holes for drainage
Handling Time Estimate: 7-10 Working Days

Black
General purpose rubber compound
Anti fatigue drainage mat
Large holes for drainage
Beveled edges
Slip and wear resistant
Ergonomic safety mat
Easy to clean
Wet workstations, Assembly lines, packing areas, Service counter, Restaurants, Kitchens
NOTE: This item is a custom order and is not returnable.
Beveled Drain Step Anti-Fatigue Mat Black 1/2 Inch x 3x5 Ft. - Rubber compound with drainage holes
Beveled Drain Step Anti-Fatigue Mat Black 1/2 Inch x 3x5 Ft. is a general purpose and heavy-duty rubber blend with varying degrees of oil, grease, and chemical resistance.
Black Beveled Anti-Fatigue Kitchen Sink Mats, 3x5 Feet

When employees must work in areas that have quite a bit of water on the floor, having standing mats with drainage holes can generate a significant benefit. Our Black Beveled Anti-Fatigue Kitchen Sink Mats deliver excellent performance, helping employees standing on them to avoid fears of slipping.

Our mats give the employees an area to stand comfortably and safely, even when the subfloor in the area is a mess. When water spills around a sink or a dish washing station, our mats will allow the water to leak through to the subfloor, meaning employees will not have to work in standing water.

The design of the mat contains both large and small drainage holes, which help with removing the water from the surface of the mat in an efficient manner.

The 1/2 inch thickness of our kitchen sink mats creates a barrier between the subfloor and the employee's shoes. Each 3x5 cookery mat has hundreds of perforations, ensuring that any spills will drain through to the subfloor quickly.
Beveled Edge Mat for Safety
Our kitchen sink mats are ideal for areas where people will frequently need to walk back and forth. To reduce the tripping hazard for the 1/2 inch thick mat, the manufacturer placed a beveled edge on all four sides of the mat.
The sloped edge design on the mat makes it less likely that someone would stumble over the edge.
This often is important in a restaurant kitchen, where multiple people may be working in the dish washing area. As they walk back and forth carrying dishes for cleaning, they may not be able to see the lip of the mat, which would create a tripping hazard. The beveled edges greatly reduce this potential hazard.
Additionally, the rubber material in our kitchen sink mats provides a high level of anti slip capabilities. Even when the surface is damp after a spill, it will continue to yield a solid grip, reducing the chance of someone slipping while working.
Although this model of perforated mat does not have a lot of surface area because of the large number of holes in the mat, it still delivers strong anti slip capabilities.
The rubber on the bottom of the mats will help it maintain its grip on the subfloor as well. It should not slide out of place when people are using it.
Even when people in the kitchen spill food or cooking liquids on the top of the mat, the rubber mat will maintain its ability to provide a sure footing.
Comfortable Cushioned Mat for Kitchen Use
When people are standing to work in a restaurant or commercial kitchen, they often must stand for a few hours or more consecutively, especially during busy times.
If the employees must stand on a hard vinyl or cement floor, this can be hard on the body. People can suffer sore ankles, hips, and knees when they must stand on extremely hard floors.
Our rubber mats have a nice level of cushioning in them, providing benefits for people who must stand and work. They have just a bit of give to them, which is significantly better for the body than working on a hard, unforgiving flooring.
Even though the drainage holes in the mats reduce the amount of surface area that's available, the rubber material in the mats will continue to provide plenty of stability for those working in the kitchen. This stability contributes to the overall comfort of using the mats.
Commercial Rubber Safety Mat Specifications
Width: 3 feet

Length: 5 feet

Thickness: 1/2 inch

Coverage: 15 square feet

Weight: 24 pounds

Color: Black

Texture: Perforations
Maintenance and Care
Rubber mats provide long lasting performance, and they only need occasional cleaning and maintenance. For a busy kitchen setting or assembly line, having a type of cushioned mat that does not require a lot of time for care and maintenance is ideal.
Customers can perform basic cleaning work on our kitchen sink mats by sweeping them as needed when the area is dry.
In areas where people will be working around water, leaving the mat damp, customers may need to mop or scrub the 3x5 mat. Customers also can use a power washer on the mat outside the home or restaurant.
If not using a power washer, warm water and a scrub brush will clean the mat adequately the majority of the time. To clean stubborn stains and soils, the customer can add a mild detergent or dish soap to the warm water.
Allow the mat to air dry after cleaning it. The manufacturer recommends scrubbing both sides of the mat. Soapy residue and soils that move through the perforations may remain adhered to the underside of the mat, so the back will need cleaning.
Customers receive a one-year limited manufacturer warranty with our mat. But with proper maintenance and care, customers can expect to receive a far longer lifespan from the mat.
Beveled Drain Step is a registered trademark of NoTrax
Maintenance
Sweep regularly or dry mop the surface and the back of the mat. The surface can be damp-mopped with a mild soap/detergent.
Shipping
Ships ground delivery, larger orders on pallets via freight delivery.
This Product Ships UPS Ground, FedEx Ground and/or Freight.
Please review our shipping disclaimer.
| | |
| --- | --- |
| SKU# | 504S0035BL |
| In Stock | Yes |
| Product Type | Mat |
| Material Type | Rubber |
| Product Edging | Straight |
| Thickness | 1/2 inch |
| Width | 3.00 feet |
| Length | 5.00 feet |
| SF per Item | 15.00 |
| Weight | 24.00 lbs |
| Packaging | Cartons |
| Number of Pieces per Package Type | 1 |
| Non Absorbent | No |
| Special Adhesives | No |
| Interlock Loss | 0.00 feet |
| Interlocking Connections | No |
| Made In | Thailand |
| Surface Finish | Perforated |
| Surface Design | Solid color |
| Installation Method | Lay flat |
| UV Treated | No |
| Reversible | No |
| Border Strips Included | No |
| Floor Score | No |
| Green Label | No |
| Manufacturer Warranty | 1 year limited manufacturer |
RELATED PRODUCTS