What Are The Easiest Patio Floor Covering Options to Install?
By Lisa Hobbie Created: September, 2020 - Modified: September, 2020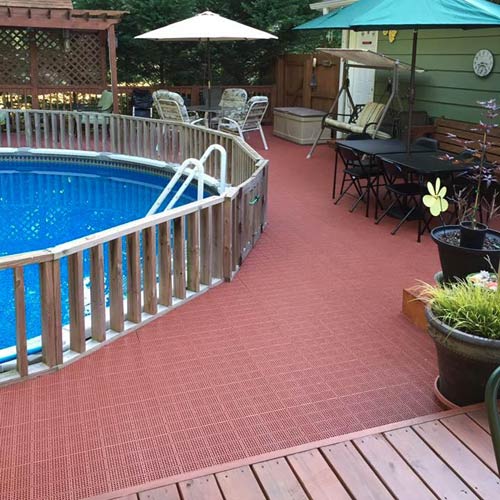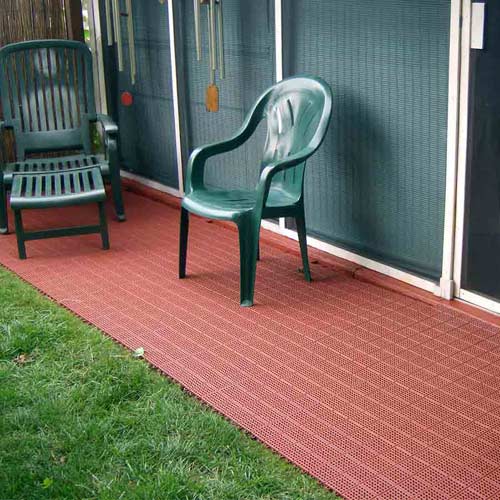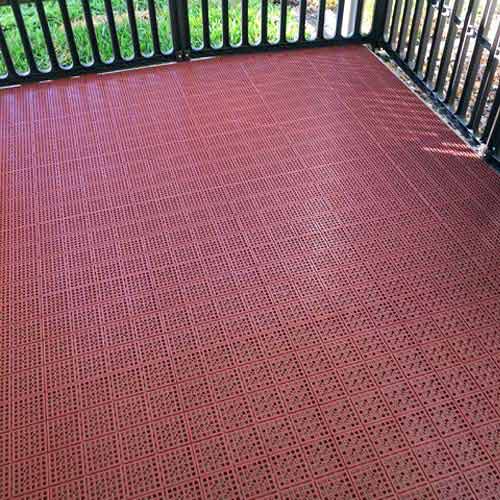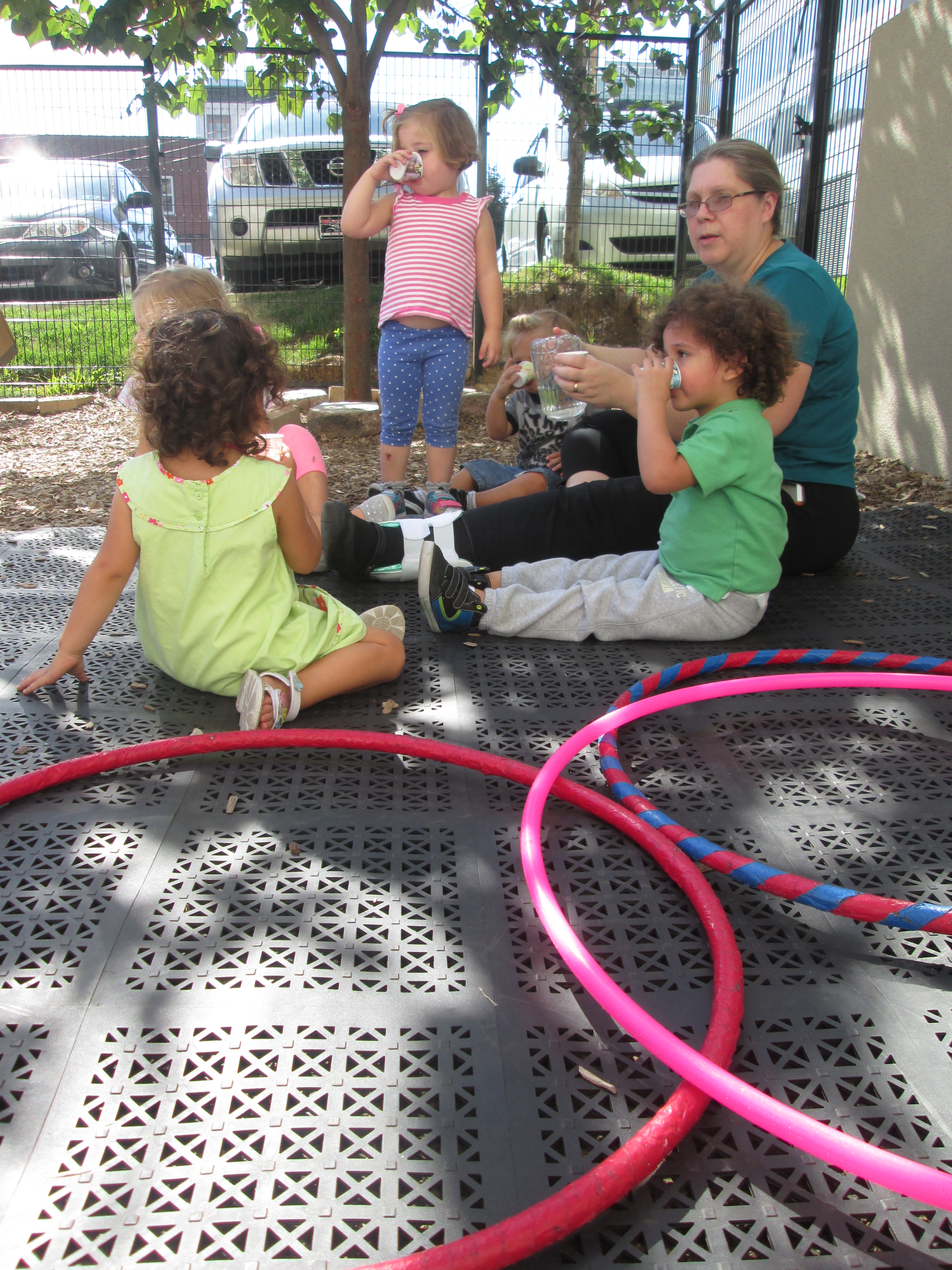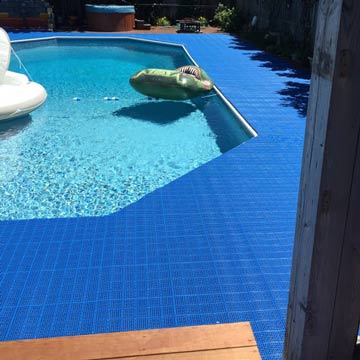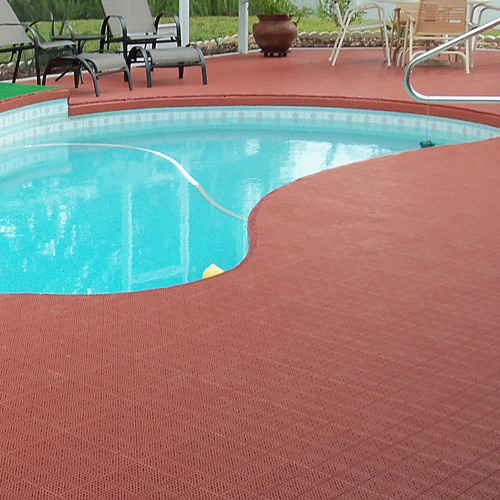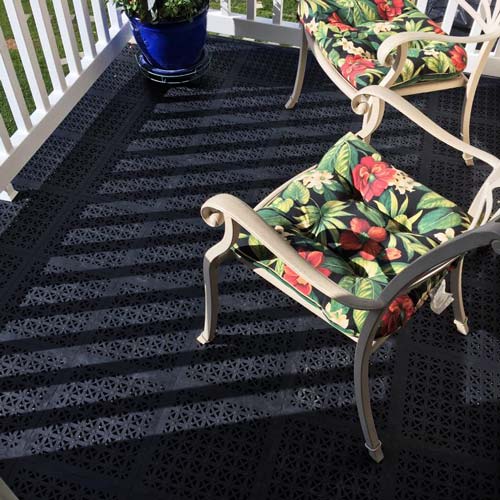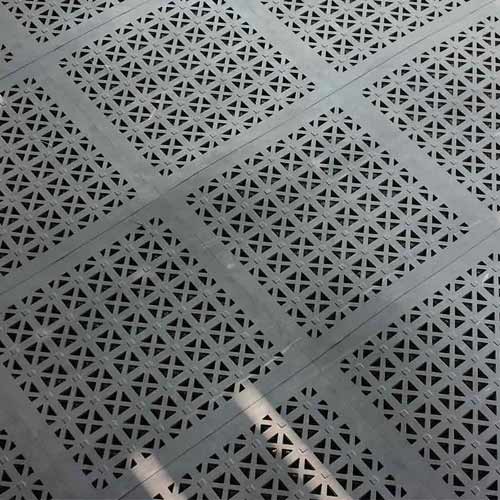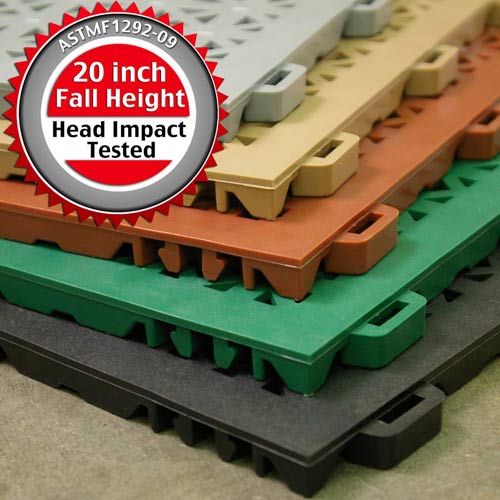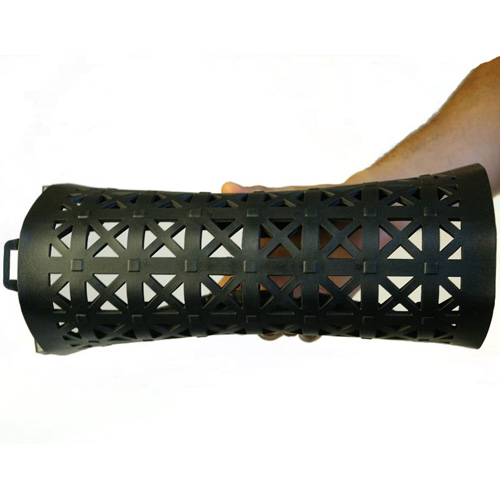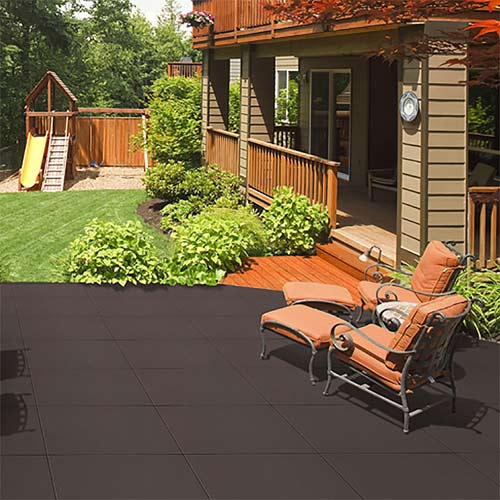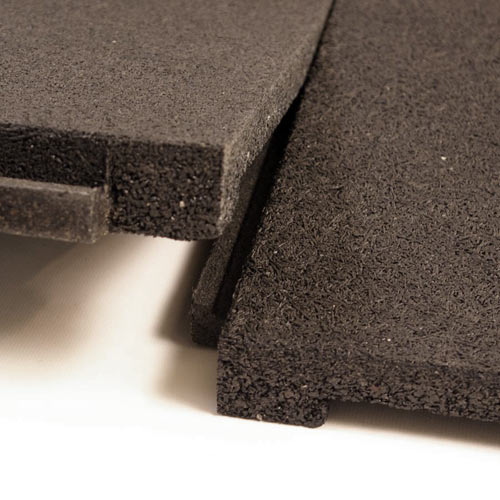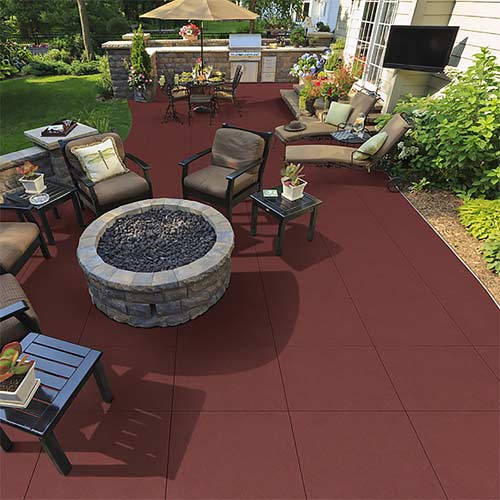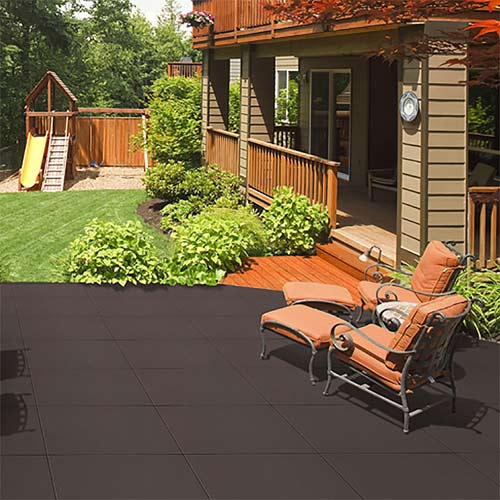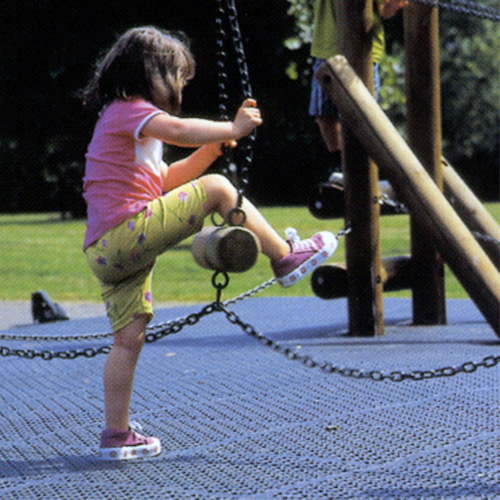 When thinking of patio floor covering options, it may seem like an overwhelming task. You obviously want to select patio floor covering options that are weatherproof, durable, versatile, and slip proof. Depending on the climate where your home is, you may need to look for options that are hot or cold weather stable. 
4 Easy DIY Patio Floor Coverings
There are numerous ideas to consider that go well beyond basic concrete, cement, or wood, with the best performing products on the market available at Greatmats. Greatmats offers numerous outdoor patio floor covering options including high end and inexpensive products - all of which are easy DIY solutions. They are low maintenance solutions that will improve the look and value of your home, and they will hold up, looking great for years to come.
1. Easy Installation Patio Flooring Tiles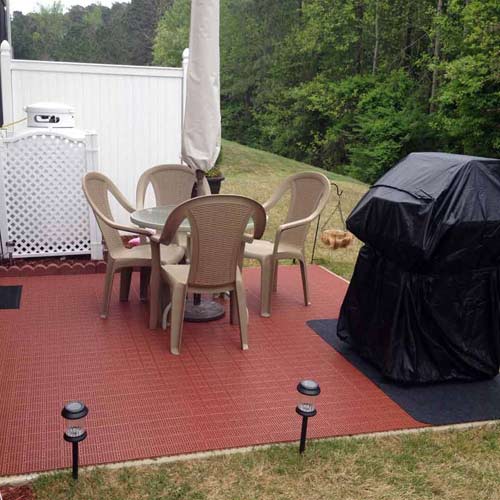 Patio Outdoor Tile
is among the most popular patio floor covering ideas. This 1x1 foot interlocking tile features a non-slip surface texture that is comfortable and fast drying. These PVC tiles are lightweight and fast and easy to install over concrete, wood, brick, and compacted surfaces with their snap together construction. 
The result is a safe wet area drainage tile. This tile is easy to clean with a mop and common household floor cleaner, and it prevents the growth of mold and mildew on your patio floor. These tiles are used in many areas, such as around an outside pool, and perform really well as a patio floor covering. 
They are strong enough to withstand the weight of heavy patio furniture without being damaged, and they will continue to look great - even if they're in direct sunlight, regularly. This product will cost about $2.75 per square foot. 
2. Easy DIY StayLock Interlocking Patio Floor Covering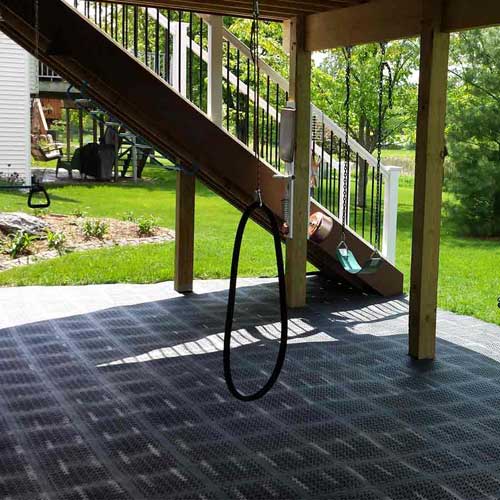 If you desire a classic, black look for your patio flooring, this product is perfect. 
Staylock perforated black tiles
are
easy to install over any basic subfloor
without glue or adhesives. They feature an active locking connector design that allows the tile to "float" over a subfloor or outdoor surface. 
Each tile is 12 x 12 inches with a cushioned pedestal base, and this patio covering is non-slip and has a 20 inch fall height rating. 
It is made in the USA of durable PVC plastic material that is waterproof, oil resistant, acid resistant, and is designed to allow for excellent drainage. 
Once installed, these tiles will not separate unintentionally, and this product makes for a quick and easy DIY installation. It is fast and simple to clean with vinegar or baking soda and hot water. This is a super versatile flooring solution that will perform well for many years and not fade when used as an exterior patio floor covering. This product will cost about $3.50 per square foot. 
It is also available in several color options.
3. Easy Patio Outdoor Rubber Flooring Tiles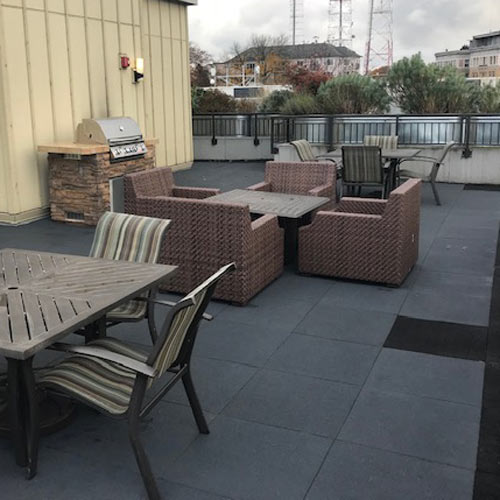 Sterling Rooftop Tile
is one of the best patio floor covering options. This heavy duty tile has many excellent benefits.
It is made of durable recycled rubber that stands up to even the toughest treatment, and it carries a Shore A 60 density rating. Each tile is 2 inches thick and is designed to withstand even the most extreme changes in temperature without shrinking or cracking, and it is designed to hold even super heavy patio furniture. 
These tiles are easy to install with adhesive at the interlocks, and border and corner ramps are available for a sharp, finished edge. This is a high-end, professional quality product that comes with a lifetime warranty. This system will cost about $7.50 per square foot. 
4. Simple Snap Together Outdoor Patio Floor Tile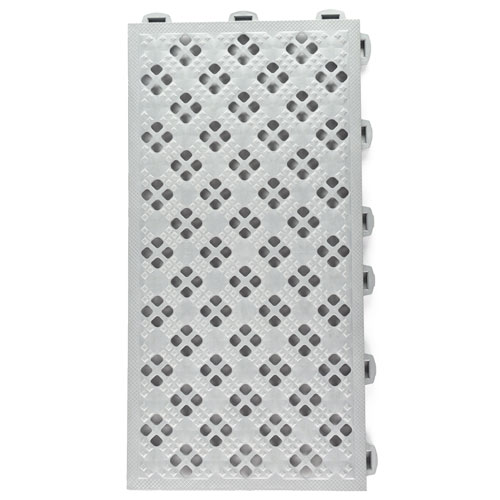 Ergo Matta Perforated Tile
is among the most popular patio floor covering options that comes in vibrant and bright colors. It is also environmentally friendly, being made from recycled material. 
These non absorbent PVC tiles boast a 20-inch ASTM fall height rating, and they can be installed on any hard, flat surface. The bright colors this product comes in will not fade from direct sunlight, and the excellent drainage surface design keeps them looking clean and dry. 
This cushioned patio flooring system  is easy to install and suitable for cold or hot climates. Thes outdoor tiles will cost about $6.50 per square foot. 
Greatmats for your Patio Tile needs!
Greatmats offers dozens of outdoor patio tile ideas aside from those highlighted, including turf, additional interlocking PVC products, straight edge pavers, commercial grade tiles, and so many more. Residential and commercial users alike can enjoy any of the patio tile options at Greatmats, all of which look great and hold up well - even the cheap and low cost ones.
With the many attractive, safe, and comfortable decking options to choose from there are options to suit any design preference or budget. The team at Greatmats will help you find the flooring option that is perfect for your project!