What Styles Do 3/8 Inch Gym Floor Mats Come In?
By Paige Cerulli Created: December, 2022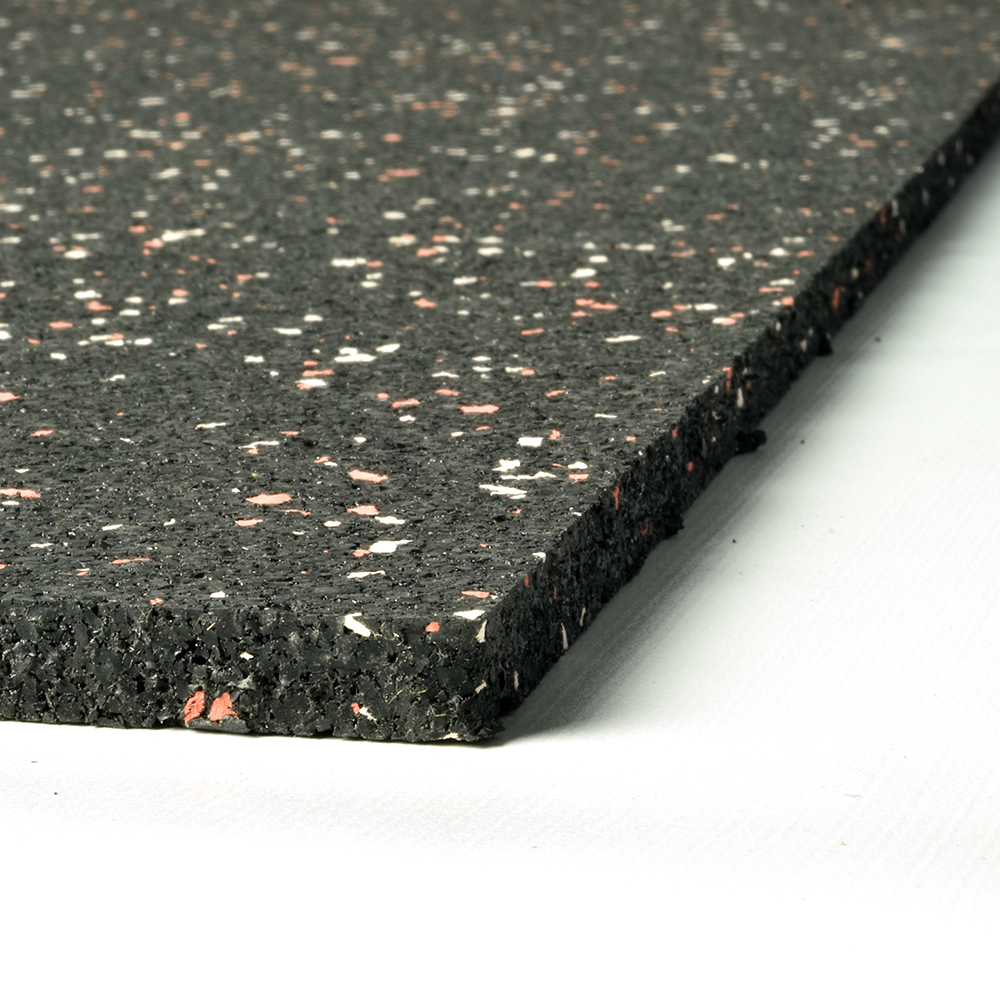 When choosing the right flooring for your professional or home gym, ⅜ gym floor mats are a popular option. The mats are thin enough so that they don't add substantial height to your existing floor, yet they're also thick enough to protect your subfloor. As you explore ⅜ gym floor mats for sale, you'll be able to choose from several different mat styles.
Different Styles of ⅜ Gym Floor Mats
At Greatmats, we have ⅜-inch thick gym floor mats in multiple styles to fit the various needs of your gym.
Interlocking Tiles
Interlocking tiles offer a convenient, DIY-friendly installation. The tiles feature puzzle-style edges that connect together securely, preventing the tiles from separating while in use.
We offer these tiles in two materials: Foam and rubber.
Home Gym Flooring Tile Pebble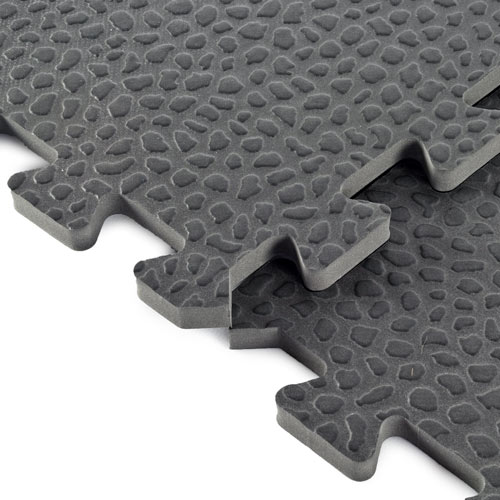 The Home Gym Flooring Tile Pebble is a high density EVA foam tile that's durable enough for use underneath exercise equipment. It's a popular choice for home gym floors, and is an excellent way to protect your subfloor and to create a surface that's ideal for your workouts.
Lightweight and easily portable, these tiles measure 2x2 feet, so they'll quickly cover larger areas while still being easy to store. The tiles feature a pebble texture design to maximize traction, and they deliver a professional looking appearance.
The tiles are free of lead and latex and their rugged construction maximizes their longevity. They can be used for everything from floor aerobics to weights of up to 35 pounds, and they can be installed on any hard, flat surface.
These tiles are backed by a one-year manufacturer warranty. They include border strips, so you can create an island installation with clean, finished edges.
Interlocking Rubber Tile Gmats Black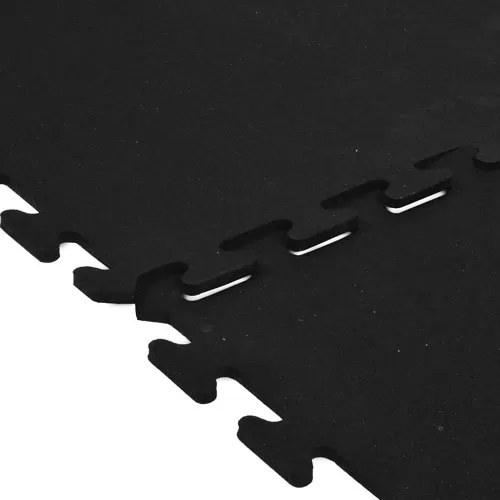 The Interlocking Rubber Tile Gmats Black is a solid rubber tile suitable for use in workouts rooms and weight rooms. The tile contains rubber from recycled tires, making it an environmentally friendly flooring option.
The tile has a smooth surface and tight-fitting seams to prevent separation once it's installed. The edges are waterjet cut and create universal interlocks, making for an easy installation process.
Since you can install the tiles without adhesive, you can also remove them again if needed. You can also cut the tiles with a sharp utility knife.
These tiles absorb impacts and are resistant to scuffing. They are also easy to clean and are highly durable.
These tiles are backed by a five-year manufacturer's warranty.
Rubber Rolls
Rubber rolls are ideal for covering larger surfaces. They tend to be more economical than tiles, but they also offer valuable subfloor protection and can often be dry laid and taped.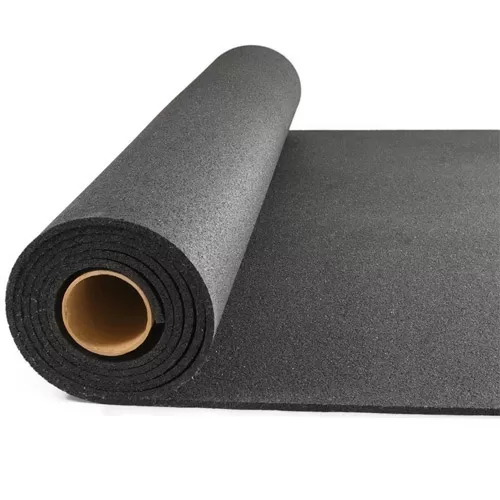 Plyometric Rubber Roll Greatmats
The Plyometric Rubber Roll Greatmats is a high-performance, versatile roll. The roll is designed for repetitive workouts, including aerobics and plyometrics.
This roll features a lower-density rubber than some heavy duty rubber products, which maximizes the cushion and shock absorption that it delivers and is 10 ft. long. The result is a roll that supports athlete comfort and safety, and it's a top choice for professional gyms.
The rubber has a smooth, non-slip surface, and it's reversible so you can maximize its lifespan. The roll can withstand the weight of exercise equipment, so it's a particularly versatile choice.
Installing the roll is easy, and there's no adhesive required. You can trim the roll to fit a space, and it's backed by a five-year manufacturer warranty.
Straight Edge Tiles
If you're looking for a permanent, durable flooring for your gym, you may want to consider straight edge tiles. Designed to be installed with an adhesive, these tiles create a clean, professional look.
Straight Edge Tile 20% Color
The Straight Edge Tile 20% Color is made entirely of premium recycled rubber, so it's an excellent way to support the environment with your flooring choice. The tile is suitable for use as flooring in your home or commercial gym, and it's also a great choice for locker room flooring.
These tiles deliver excellent traction, even when they're wet, to create a safer space for your workouts. They are also resistant to mold and mildew, contributing to a healthier environment.
Highly durable, the tiles can withstand significant traffic and use, and they're also easy to clean. They feature a five-year limited warranty, which is a testament to their heavy duty durability.
Measuring 24x24 inches, these tiles cover plenty of space while still being easy to transport. Since there are no interlocking edges, you don't lose any coverage to those edges, so each tile covers a true 24x24 inches.
These tiles are available in multiple color fleck options, so you can choose the exact look that you want for your gym.
Choosing the Right Gym Floor Mat Style for Your Gym
Whether you're looking for flooring for your commercial or home gym, there are plenty of options to choose from. Don't hesitate to contact our Greatmats customer service team for help.
Our customer service team is happy to answer any questions, provide shipping quotes, and help you determine the best option for your project.