What Type Of Floor Do I Clog Dance On?
By Greatmats Staff Created: April, 2018 - Modified: December, 2021
Dance floors
are designed to offer a dancer the support and traction that they need, while also creating a forgiving surface. But clog dancing is a bit different, and you'll need your clog dance floor to have some properties that your typical dance floor won't necessarily offer.
In order for your clogging floor to last, and for it to create a safe, comfortable surface, you'll need to think about the qualities the floor should have and how you intend to use it. Below are some tips to help you choose the floor that's just right for clogging.
Qualities to Look for in Your Clog Dance Flooring
Quality clog dance flooring, whether you intend to use it for a buck dancing floor, a flatfoot dance flooring, or a foot-stomping dance floor, needs to have some particular features. Look for the following features in any floor that you're considering.
Sound resonance
What's clog dancing without a dance floor that offers plenty of resonance? Many clog dancers prefer floors that produce deeper tones, since they accentuate the dancing. Traditionally, hardwoods are used because of their resonance, but these floors aren't easily portable, and can be expensive. There are other, more practical options available, such as interlocking tiles, that offer both versatility and resonance for an impressive performance.
Traction
Clog dancing - particularly Appalachian clogging - is full of aggressive, fast-paced moves. When you're lifting your feet up high and moving quickly, you'll find it very easy to slip if your dance floor doesn't offer enough traction. Be sure to choose a floor that offers adequate traction to help prevent slips, falls, and resulting injuries.
Durability
Excellent durability is a must-have in any clog dance floor. Clogging is one of the most intense and abusive types of dance, so your flooring needs to be tough enough to withstand the high impacts and repetitive motion of clog dancing. This means that you need a quality dance floor designed for rigorous use.
Additionally, the dance floor surface needs to be able to withstand the abrasive nature of steel taps. Taps can quickly scrape up a floor's surface, leaving your floor looking worn and unattractive. Look for a floor specifically designed for use with hard dance shoes and that can hold up to taps.
Safety
Don't forget to consider dancer safety when evaluating different flooring options. It may be tempting to choose the firmest, most durable flooring option available, but this isn't always the safest option for dancers. Instead, consider a sprung floor, which has a bit of give to it. Sprung floors are more forgiving on dancers' joints, and can potentially help you to avoid injury and fatigue. This amounts to better quality and longer rehearsals, potentially extending the length of a dancer's career.
Portability
Consider whether you may want or need to move your clog dance floor in the future. There are many flooring options to choose from that can be left in place for extended periods of time, but which can also be packed up and transported if needed. These temporary dance floor options give you increased versatility, since you don't have to permanently dedicate a space to your dance floor. If you're traveling to performances, a portable dance floor can make all the difference.
It sounds like a lot, but at Greatmats we have a number of dance floors that are suitable for use with clog dancing.
Clog Dance Floor Options
Greatmats offers a wide variety of dance floor options, and many of them are durable enough to withstand clog dancing. The right floor for you will depend on how you plan to use it, but here are a few options to help you get started
Sprung Dance Floors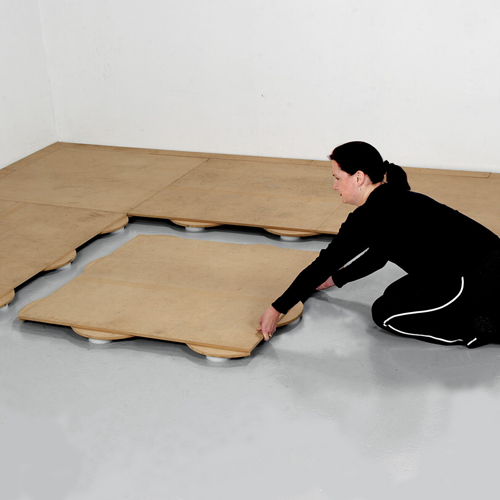 Sprung dance floors are designed to absorb shock, which can be a major advantage when you're practicing or performing for multiple hours at a time. Sprung floors are often regarded as being the best type of dance floor available, and they're suitable for use with clog dancing, too.
While many sprung floors are intended for permanent installation, our
Sprung Dance SubFloor Panels
are portable and removable. These panels are made in the USA and offer superior durability and performance. The panels, which measure 3.5 x 3.5 feet, are easy to transport and move, and provide just the right amount of resistance for a variety of dance styles.
These panels fit into each other seamlessly, and the WaveLock technology eliminates hard or soft spots. The panels are backed by a 5-year limited manufacturer warranty, and once topped with vinyl marley dance flooring, they create a quality dance floor suitable for rehearsals and performances.
Interlocking Dance Floor Tiles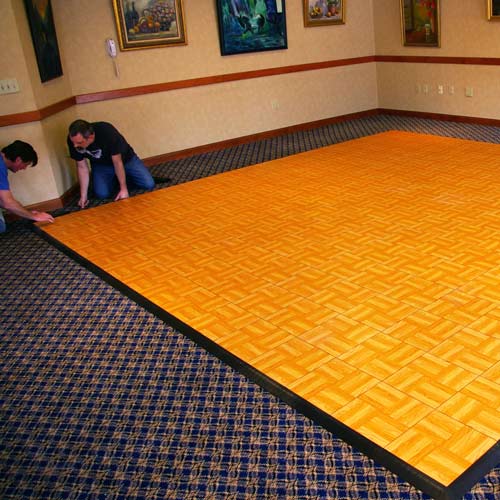 Looking for an easily portable option that can go just about anywhere with you?
Interlocking dance floor tiles
may be the perfect solution. These tiles fit together using a variety of different systems, and can be used to create dance floors of any size and dimension. If you need to expand the size of your floor, all you have to do is add on more tiles. Plus, because these tiles are designed for repeated installations, you can remove them, transport them, and reinstall them in a new location. They give you the look of a wooden dance floor, are highly durable, and yet are highly portable and versatile.
Our Portable Dance Floor Tiles are conveniently sized and easy to install. These 1x1 foot tiles feature a durable commercial grade vinyl top surface, which offers them additional durability. They snap together tightly and won't separate during use. These tiles are available with ramped border edging which allows you to create a finished, elegant floor. Best of all, these tiles can be used for temporary outdoor installation, because their raised tile base allows air and water to freely circulate beneath the tiles, which helps to prevent mold and mildew growth. They're a durable yet affordable dance floor option.
You'll also want to consider our
Portable Dance Floor 3x3 Foot Cam Lock Tiles
. While these tiles are larger 3x3 foot panels, they can be used to more quickly assemble a larger dance floor. The commercial grade flooring is portable, and the surface is designed to be long lasting. A solid plywood core gives these tiles excellent strength.
These tiles feature cam-lock technology, which replaces the more traditional set-screws that are often used to connect tiles together. This cam-lock system is easy to use, and there are no parts to lose. You can quickly assemble or disassemble this flooring as needed. Choose from a variety of stunning woodgrain finishes.
Marley Flooring
Marley flooring is another great option for clog dance flooring. Marley flooring is available for a variety of different dance types, and it offers just the right amount of traction for dancers. At the same time, marley makes for a professional looking floor which is perfect for performances.
Marley is available in both full rolls and in custom cut lengths to meet your specifications.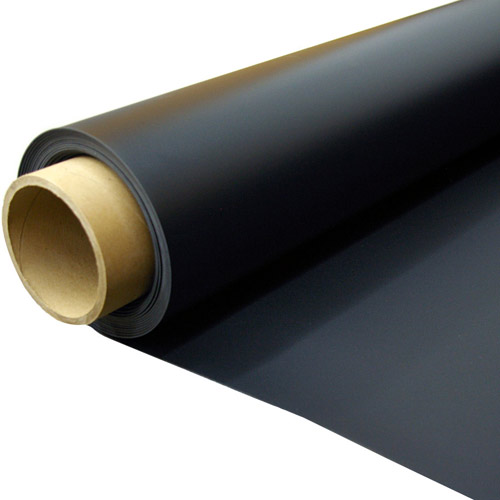 Consider the
Rosco Adagio Marley
, which is designed specifically for use with taps. This versatile flooring can accommodate both hard and soft dance shoes, and offers excellent traction to help prevent slipping. When choosing marley flooring for use with taps, it's advisable to opt for the black flooring, which the tap marks tend to blend in well with. Tap marks are more noticeable on the gray marley.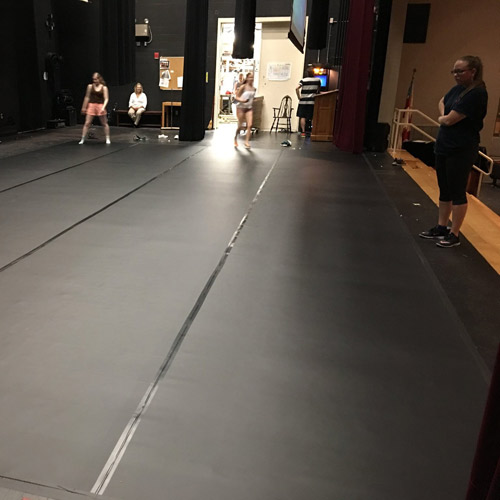 If you'll be traveling, then the
Rosco Adagio Touring Portable Roll
may be a better choice. This flooring is designed for use with taps. The touring portable roll is versatile and portable, so it's ideal if you plan to travel to performances where you may need to supply your own flooring. This flooring is both tough yet lightweight, and can accommodate all types of dance shoes. Keep in mind, though, that because this flooring is thinner than the Rosco Adagio roll, it won't give you the same durability as traditional Adagio marley, especially when used with taps.
Hear what one professional clog dancer and the owner of
River City Dance
studio decided to use for her own clog dance flooring.
Considerations When Installing Your Clog Dance Floor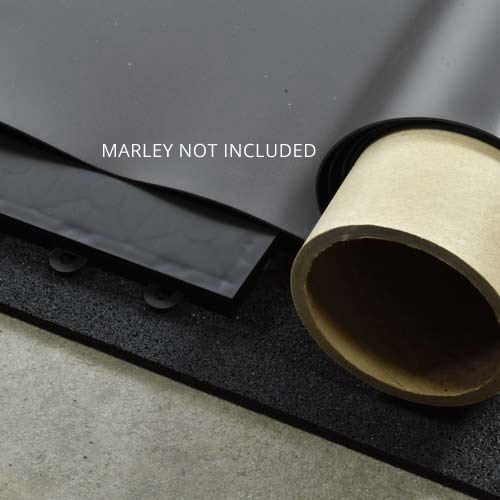 When choosing a location to install your dance floor, avoid placing the floor directly on concrete. Concrete is unforgiving, and can even cause injuries to your knees and ankles. If you absolutely must install a floor over a concrete surface, then use a
cushioned
or sprung floor to create a surface with some give to it for your safety.
You'll also want to refer to the specifications for the particular floor that you're working with. Some flooring, such as the Rosco Adagio Touring Portable Roll, cannot be used outdoors.
Ordering Your New Clogging Floor
If you have questions about which product is right for your needs, please give our customer service representatives a call. We would be happy to discuss your flooring needs and your options with you to help you find a product that is just right for your clogging floor.