Interlocking Carpet Tiles Royal 20x20 Ft Kit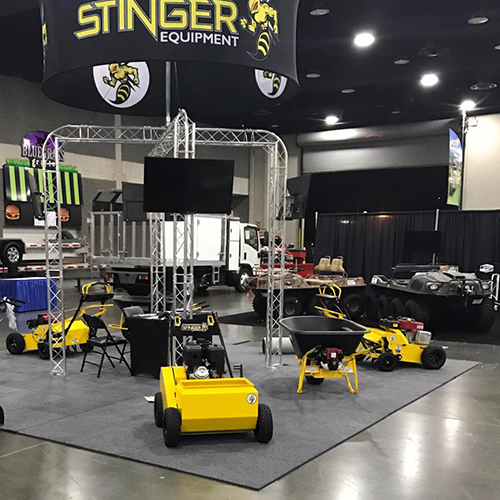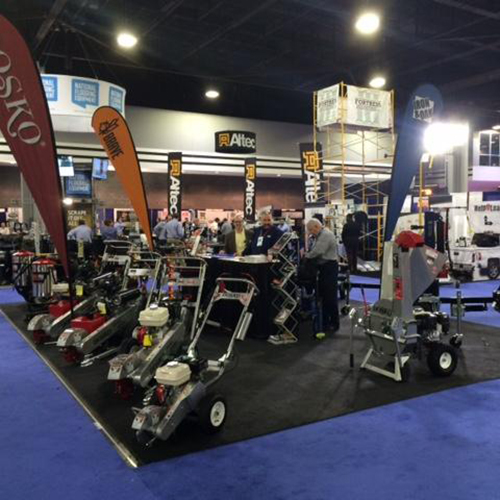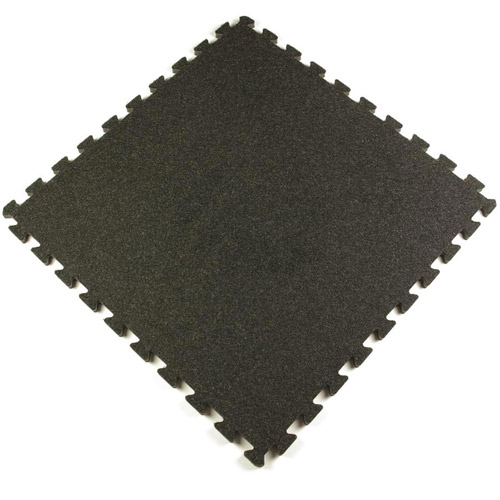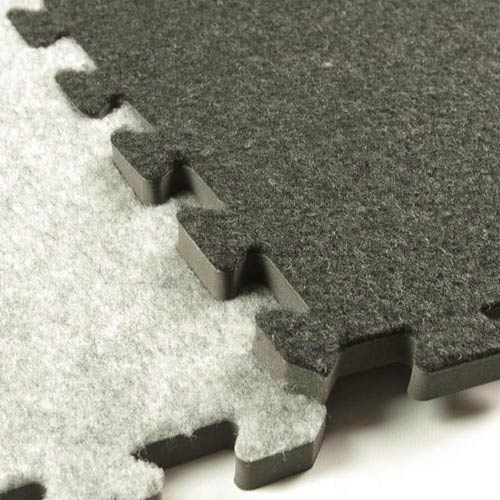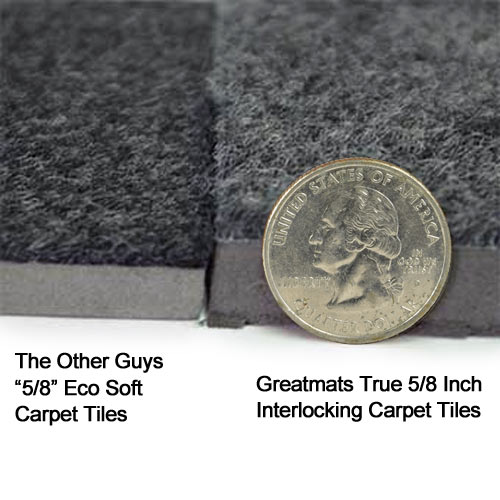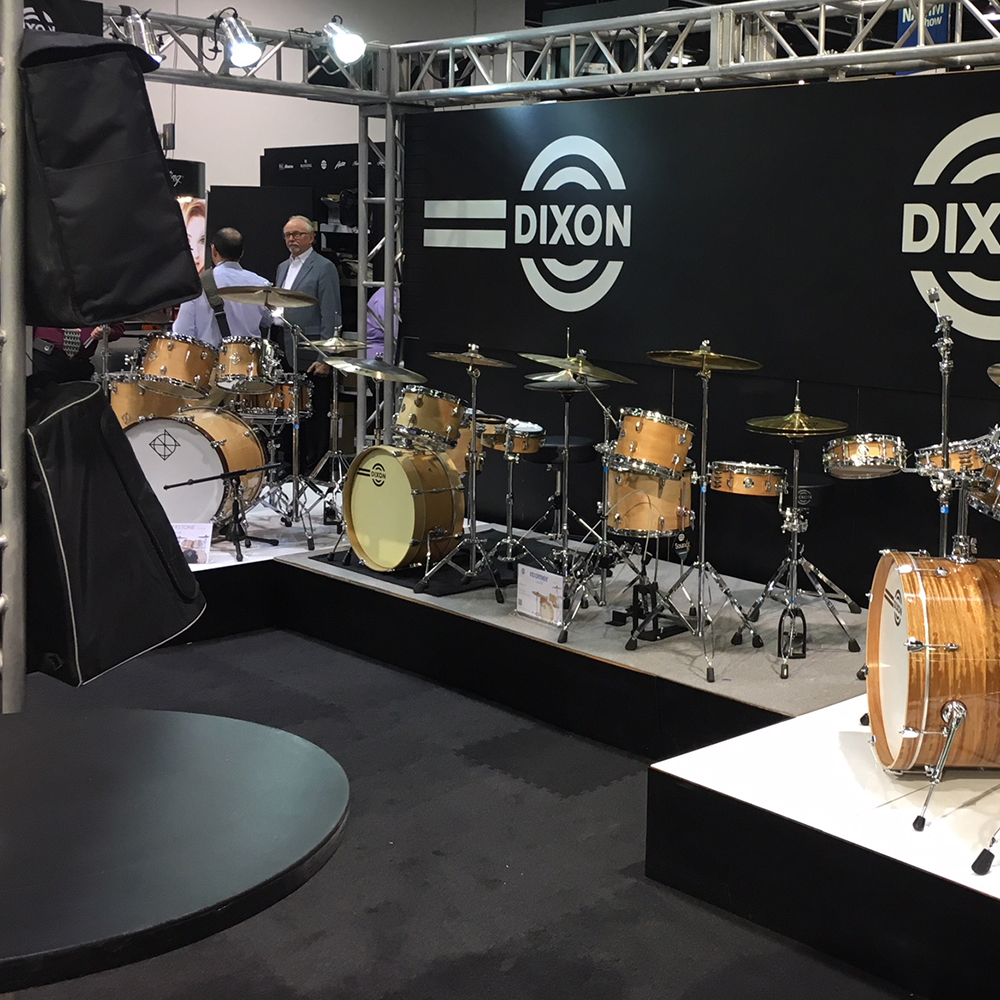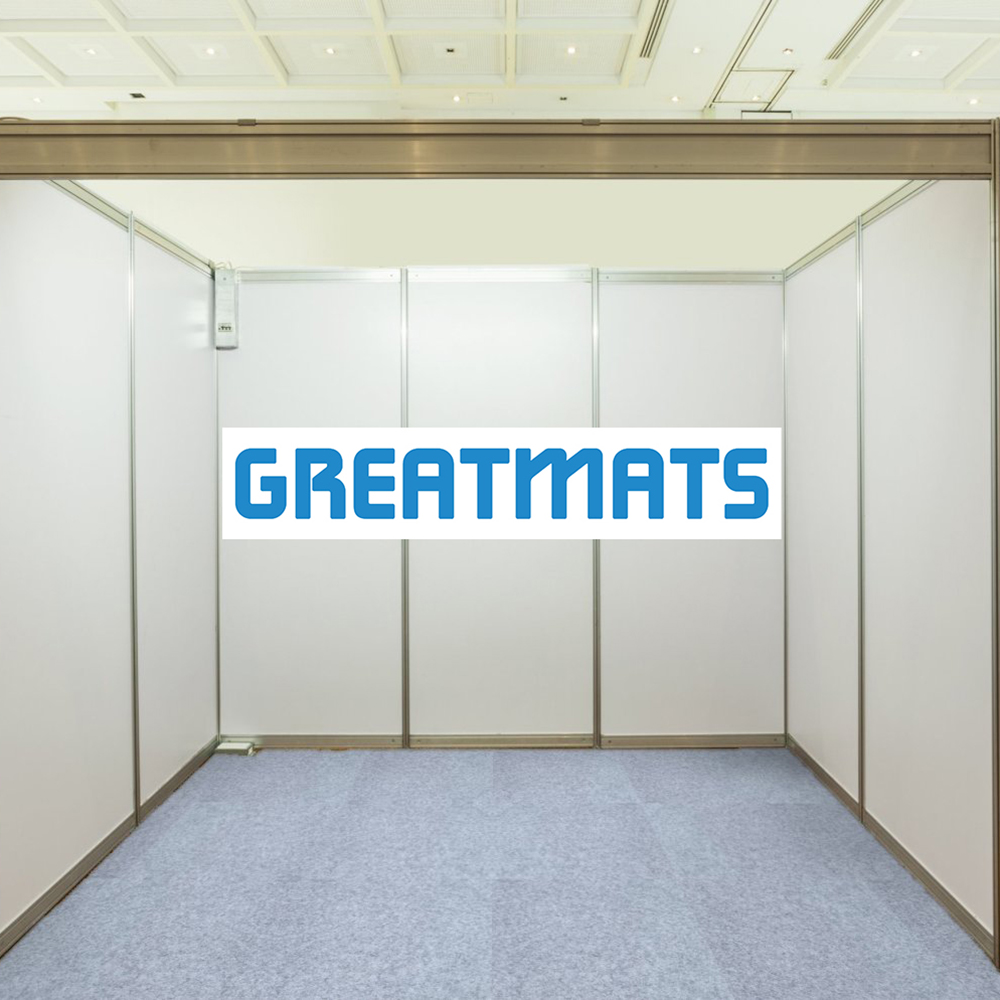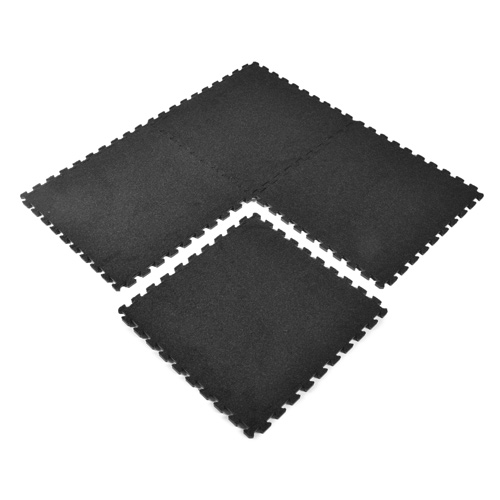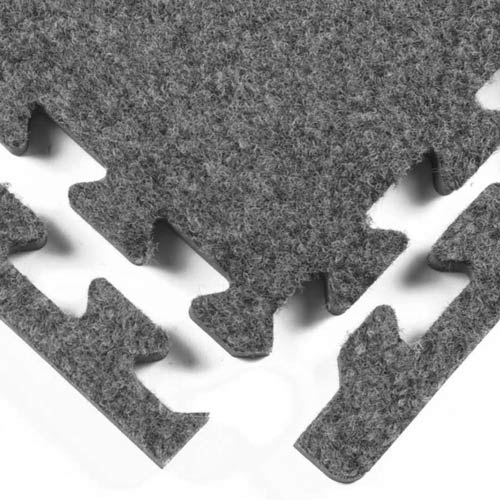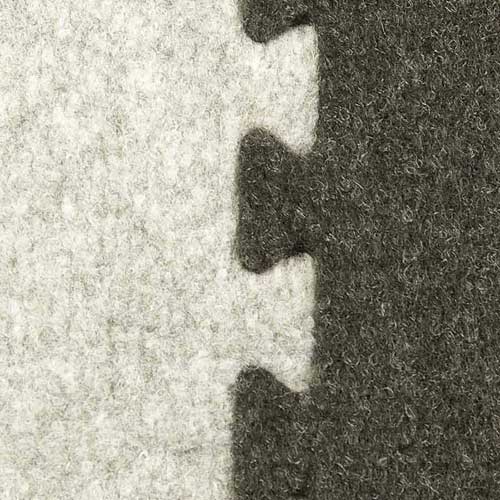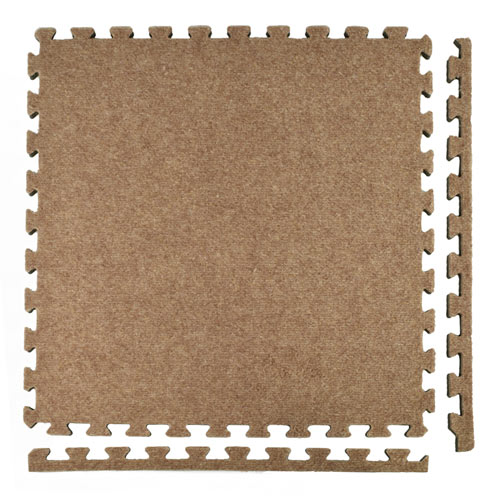 Convenient kit
Place directly on concrete or tile, no adhesive needed for a snug, tight fit
Easy to install, easy to take up, lightweight and portable
Handling Time Estimate: 1-3 Working Days

Charcoal

Dark Gray

Light Gray

Tan
Convenient kit
Place directly on concrete or tile, no adhesive needed for a snug, tight fit
Easy to install, easy to take up, lightweight and portable
Interlocking design makes for continuous surface system
Waterproof and odor proof and easy to clean
Ideal for use as trade show flooring
Border strips included for a finished floor or island layout
After interlock loss, covers 387.5 square feet
Basements, Trade Show Booths, Theaters
Trade Show Flooring 20x20 ft Carpet Tile Kit
There will be many times where you will want a full room carpet installation, giving you a finished look. Other times though, you may just need a small area of carpet, more like the covering you'd receive from a rug. The 20x20 kit is great for installing fatigue relieving flooring for a large trade show booth in under an hour.
When you have to move this flooring from place to place, and when you aren't sure what size of floor covering you'll need at each location, a rug isn't the most convenient option. Instead, we have the perfect product with the
Interlocking Carpet Tiles Royal 20x20 Ft Kit
. This adhesive free carpet tile kit gives you a lot of flexibility in the size of the flooring you'll be installing.
Our 20x20 foot interlocking carpet tile kit provides a professional, finished look for a business setting. Or you can use this puzzle carpet tile 20x20 kit at home, creating a temporary flooring when you're hosting a kids' club where they'll be sitting on the floor or when you need an exercise area.
High Quality Materials
Our customers love this trade show carpet kit, as it delivers the perfect mix of durability and looks. Our Royal brand of interlocking carpet tiles is the among the highest quality we have to offer.
This portable carpet kit has a thick and comfortable foam cushion on the back of the tiles, ranking among the best in the entire industry, which makes this product a smart choice for any area where people will be standing for long periods of time. Additionally, this 20x20 display booth carpet tile kit surface is soft to the touch, which works great for applications where people will be sitting on the carpet.
Our 20x20 foot interlocking carpet tile kit pieces are completely waterproof, which makes them a good option to use in areas where you may have moisture from time to time. The carpet will resist absorbing odors, which you'll appreciate. This interlocking carpet is commercial quality, and it's designed to last for years of retail and commercial usage.
Keeping this carpet product clean is also an easy process. You will start by vacuuming these carpet tiles, just like you would with any other type of carpet product. Vacuuming them regularly will ensure that this 20x20 display booth carpet tile kit will maintain its good look for as long as possible without suffering matting.
Remove any liquid spills or solids from the surface of the carpet tiles as soon as you see them. Do not rub the materials when trying to remove them. Instead, use a blotting motion to prevent these soils from becoming further embedded in the carpet fibers.
We suggest that you vacuum the carpet and clean any spots before you disassemble the tiles and place them in storage, so they will be fully cleaned and ready to use the next time you need them without having to spend time cleaning them.
Multiple Use Cases
The Interlocking Carpet Tiles Royal 20x20 Ft Kit has plenty of versatility. Our customers have come up with numerous reasons for using the 20x20 foot interlocking carpet tile kit, and our eight favorite uses for this kit are as follows.
Trade Show Booths:
Many of our customers prefer this 20x20 display booth carpet tile kit for use with trade shows. It provides some anti-fatigue capabilities for people who have to stand all day in the booth. Because it can be broken apart into individual pieces, it's easy to carry from location to location as well.
Basements and Garages:
If you have a concrete basement floor that needs an improved look when people will be visiting, our trade show carpet kit is easy to install. You can break it down quickly after everyone leaves, placing the individual tiles into storage until they're needed again.
Conventions:
When you have a speaker on a stage at a convention setting, you can use this 20x20 foot interlocking carpet tile kit to dress up the area where the speaker will be. If it's a fireside chat type of speech, this flooring will accommodate chairs too.
Retail Settings:
This trade show carpet kit will work in any retail installation where a carpet top with anti fatigue flooring is needed, yet you also need a type of flooring that looks professional. If a black anti-fatigue type of mat would fit the look of your retail establishment, contact our customer service team as we offer a large number of anti-fatigue options.
Showroom Flooring:
Dress up an area on your showroom where you want to showcase a particular product with these tiles. You can use a smaller size than the 20-by-20-foot coverage area of the full kit for your showroom by using fewer tiles.
Sun Rooms:
With the interlocking style of pieces in this 20x20 display booth carpet tile kit, you can use these pieces nicely in a sun room at your home. You can create any kind of size of carpeting with the kit, making it a perfect option for creating a feeling of a warmth in the decor in the sun room.
Theaters:
You can make use of the 20x20 foot interlocking carpet tile kit in a few different ways at a theater. For example, you can create a carpeted area with the other props in a scene. Because of the versatility of this trade show carpet kit, you can create many different sizes of carpeting to match whatever you need for the scene.
Workspace:
If you need to create a temporary office setting inside a warehouse or factory building, our 20x20 display booth carpet tile kit will give you the performance and look you're seeking, all with a desirable anti-fatigue backing on the carpet. You can keep these tiles in storage at the warehouse until they're needed.
Comfortable Materials
If you must stand on the trade show carpet kit to work, you'll like the softness and comfortable feel you'll receive. The bottom structure of this interlocking carpet tile is a dense foam material that measures 1/2 inch in thickness. This thick foam allows the product to provide excellent anti-fatigue characteristics for people who need to stand for long periods of time.
Even with its foam base, the 20x20 display booth carpet tile kit is durable enough to support tables and chairs, which makes these interlocking carpet tiles a great choice for sitting areas. You even can use our Interlocking Carpet Tiles Royal 20x20 Ft Kit in situations where you'll have high levels of foot traffic.
Quick Installation
Our 20x20 foot interlocking carpet tile kit pieces will give you an easy DIY installation project. You can install this interlocking carpet tile directly over any hard flat surface including concrete, wood, or ceramic. Just clean the sub-floor, keeping it free from soils or loose debris, to avoid damaging the underside of the trade show carpet kit pieces.
When you order the Interlocking Carpet Tiles Royal 20x20 Ft Kit, you'll receive 100 individual tiles, each of which measures 2 by 2 feet. When you use all of the pieces, you'll finish with a layout of 20 by 20 feet, giving you 387.5 square feet of coverage area after interlock loss. Each tile measures about 5/8 inches in thickness and weighs a little more than 1 pound, which makes it easy to handle the tiles and carry them wherever needed.
The edges of the trade show carpet kit pieces have a puzzle style that simplifies installation. Just line up the tabs on one tile with the slots on the adjacent tile and press them together, which will tightly bond them without the need for adhesives.
The kit also has border strips, ensuring you can create a finished edge when you're using an island installation, which is the most common style for installation. The border strips for the 20x20 display booth carpet tile kit have the same puzzle style edges, further simplifying installation.
Picking up the tiles after using them is just as easy as installing them. Stand on one tile and pull up on the adjacent tile to pop the tabs out of the slots and separate the two tiles.
Multiple Color Options
Another reason our customers love the 20x20 foot interlocking carpet tile kit is for the multiple color options they have. We offer these tiles in five different colors, as follows.
- Charcoal
- Dark Gray
- Light Gray
- Tan
Some of our customers will choose to order multiple colors of the 20x20 foot interlocking carpet tile kit and then use those colors to create a checkerboard or other type of color pattern in the carpeting. Understand that because of the puzzle style edges on each tile, creating a checkerboard color pattern in the flooring will not result in a straight edge between tiles, as the contrast in tile colors will clearly highlight the jagged puzzle edges.
Note that color and shade may vary somewhat from carpet tile to carpet tile within the same order, lot, or batch of carpet tile. This is common with this type of interlocking carpet tile.
Some of these colors will require a little bit of extra time to receive the order, so please contact our customer service team to figure out your best options for ordering this trade show carpet kit.
Greatmats Trade Show Event Floor Carpet 20 ft x 20 ft Kit Interlocking 2ft x 2ft Puzzle Carpet Tiles
Maintenance
Vacuum regularly
Shipping
This Product Ships UPS Ground, FedEx Ground and/or Freight.
Please review our shipping disclaimer.
| | |
| --- | --- |
| SKU# | ICT20x20 |
| In Stock | Yes |
| Product Type | Tile |
| Material Type | Carpet bonded Foam |
| Product Edging | Interlocking |
| Thickness | 5/8 inch |
| Width | 20.00 feet |
| Length | 20.00 feet |
| SF per Item | 400.00 |
| Weight | 138.00 lbs |
| Packaging | Cartons |
| Number of Pieces per Package Type | 15 |
| Non Absorbent | Yes |
| Special Adhesives | No |
| Universal Interlock | Yes |
| Interlock Loss | 0.03 feet |
| Material Hardness | Shore C 32 |
| Interlocking Connections | Yes |
| Made In | Taiwan |
| Surface Finish | Carpet top |
| Surface Design | Solid color |
| Installation Method | Interlock, Dry lay |
| UV Treated | No |
| Reversible | No |
| Border Strips Included | Yes |
| Manufacturer Warranty | 1 year limited |
RELATED PRODUCTS