Carpet Square Modular Trade Show Tiles 10x20 Ft. Kit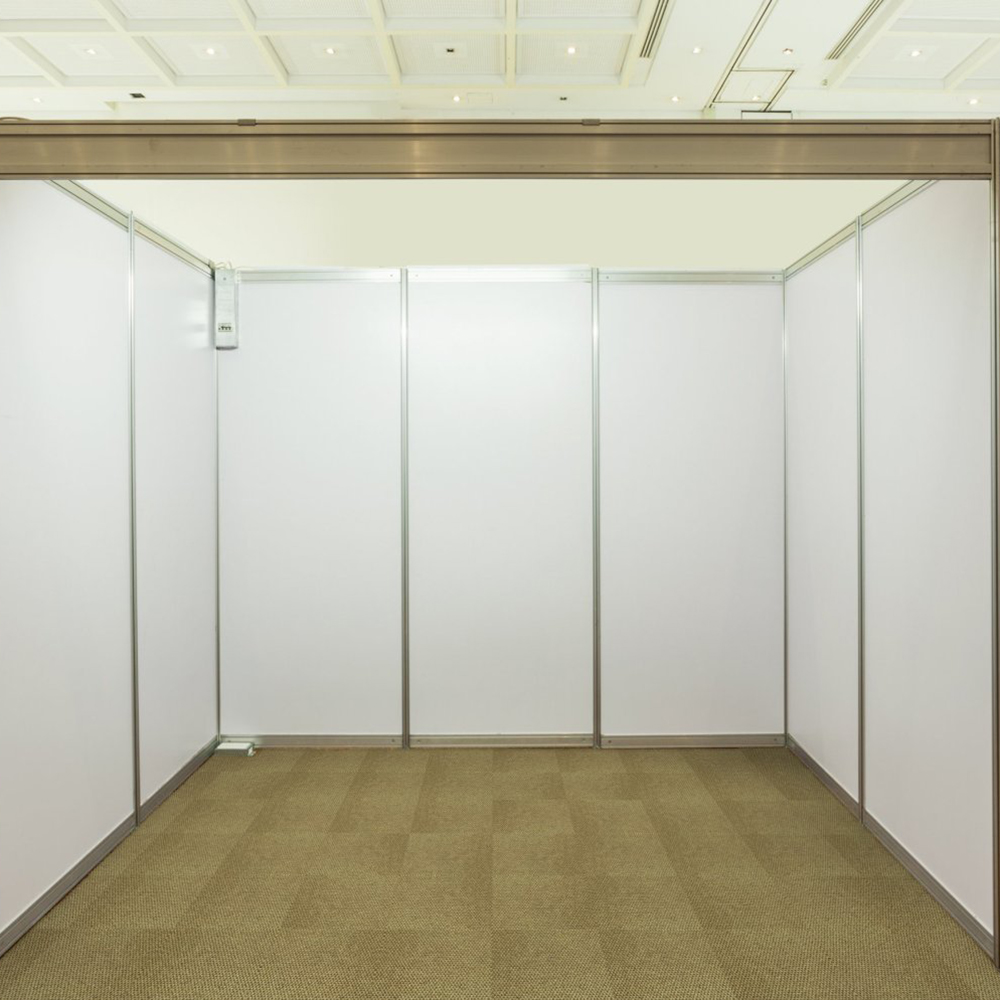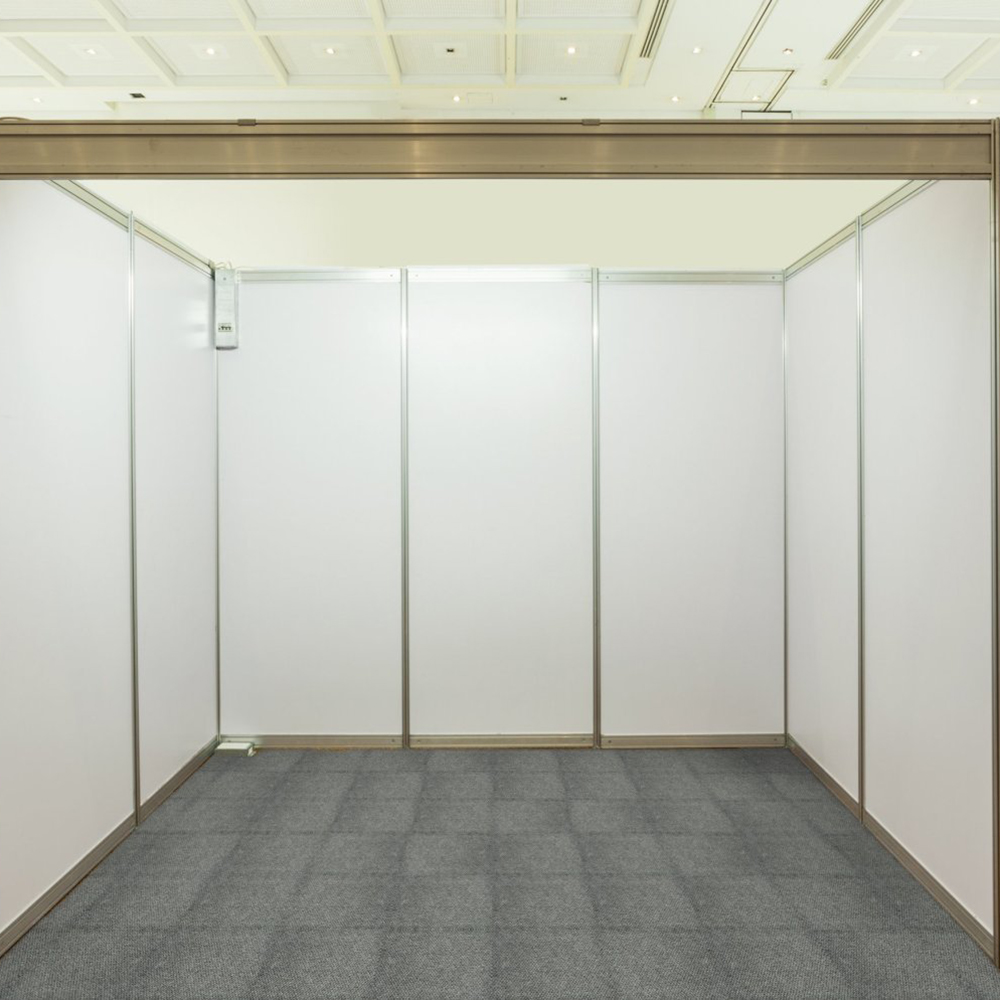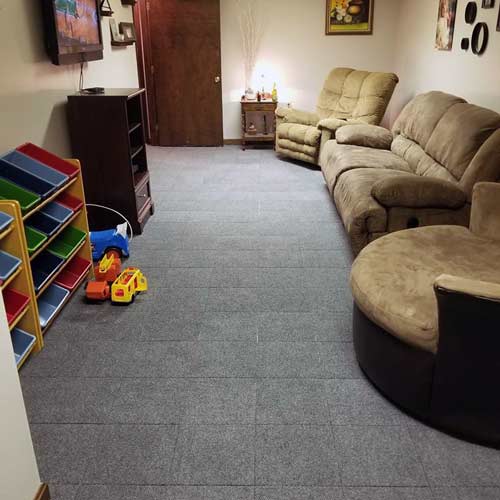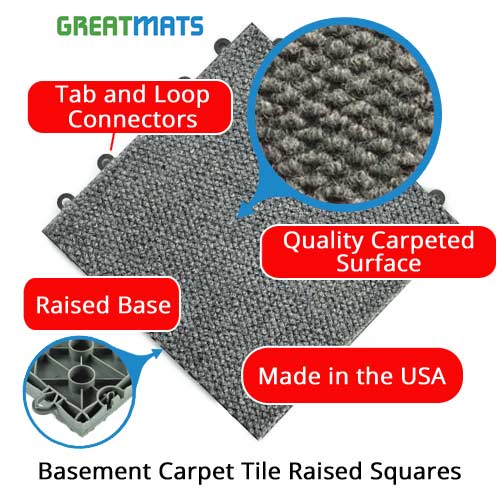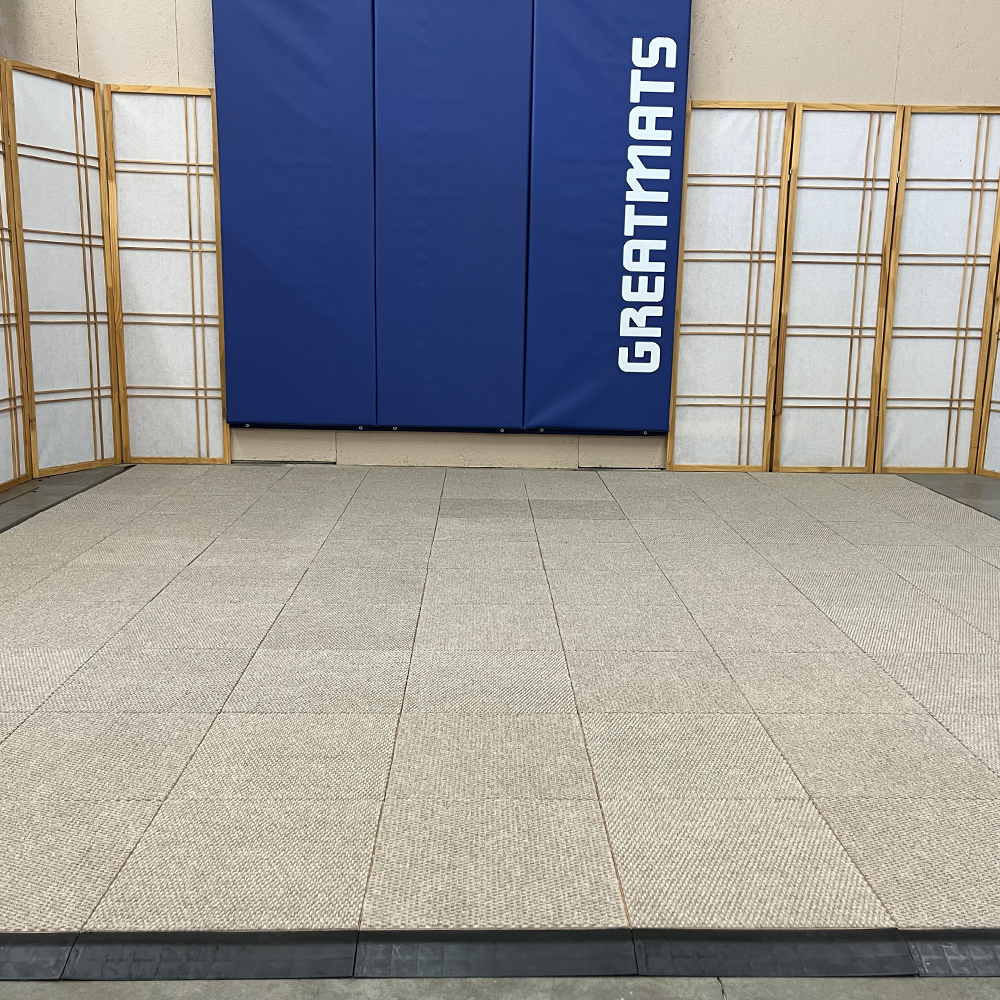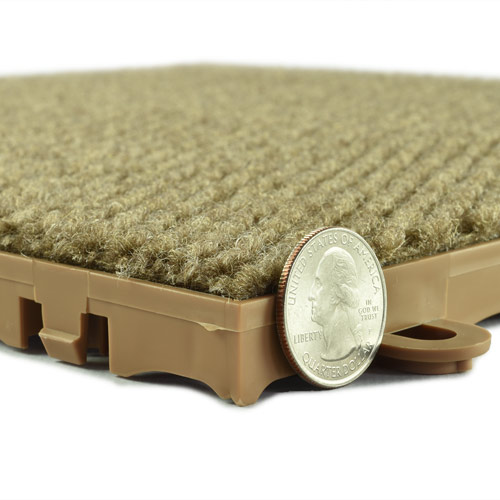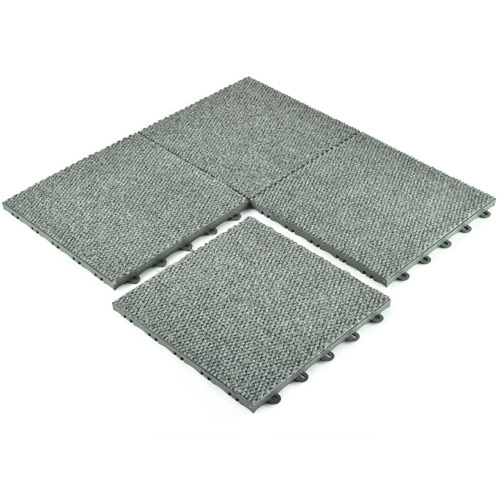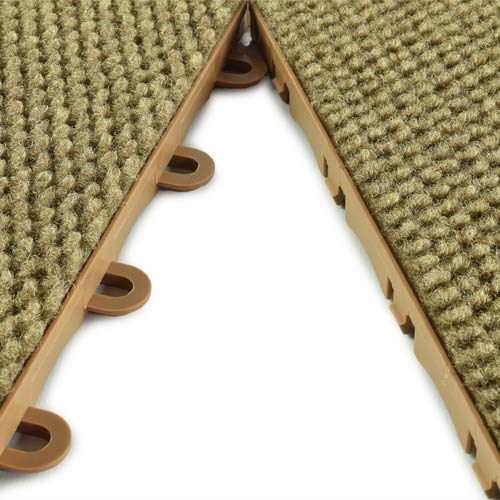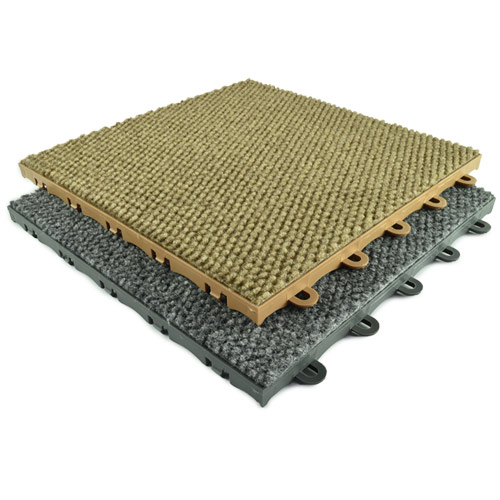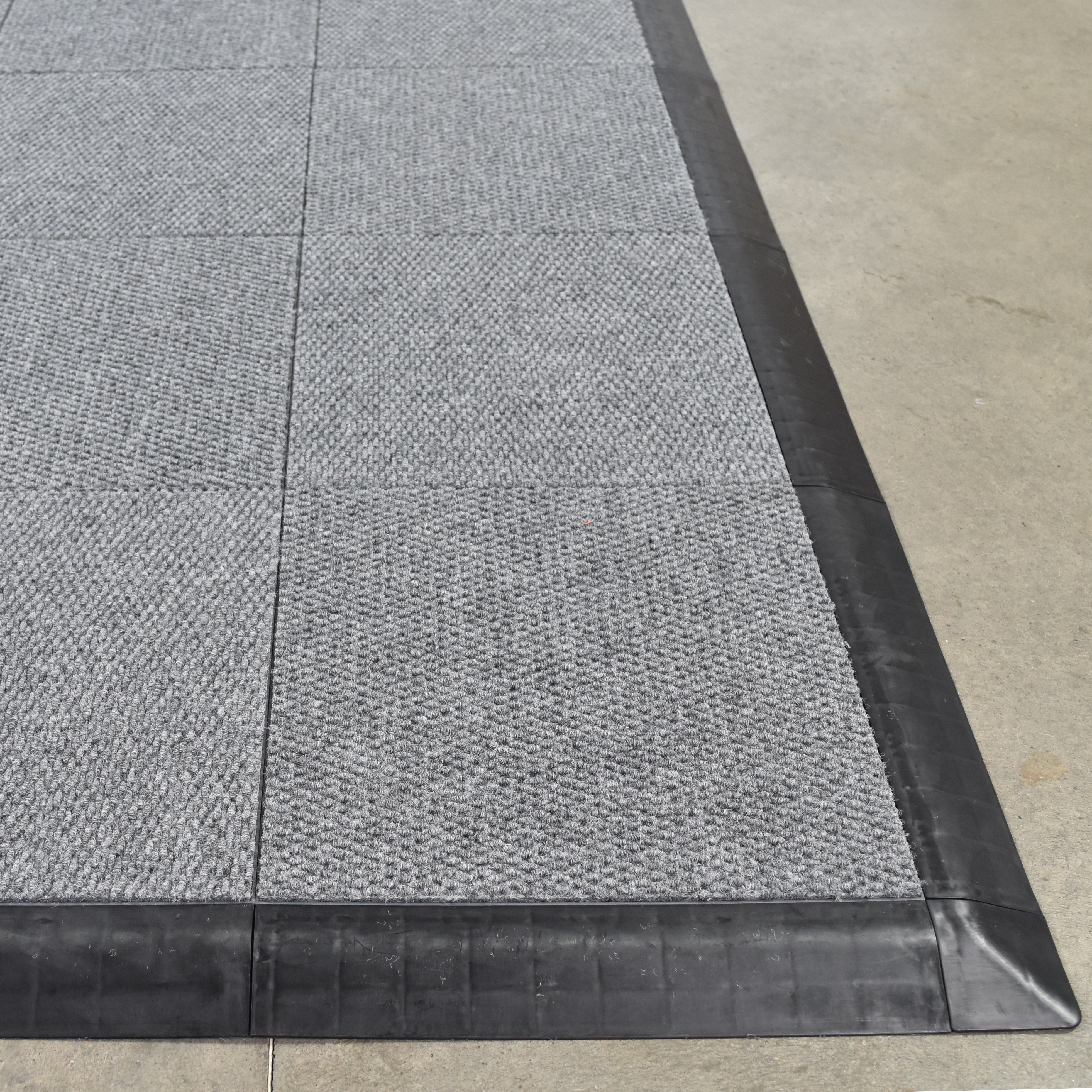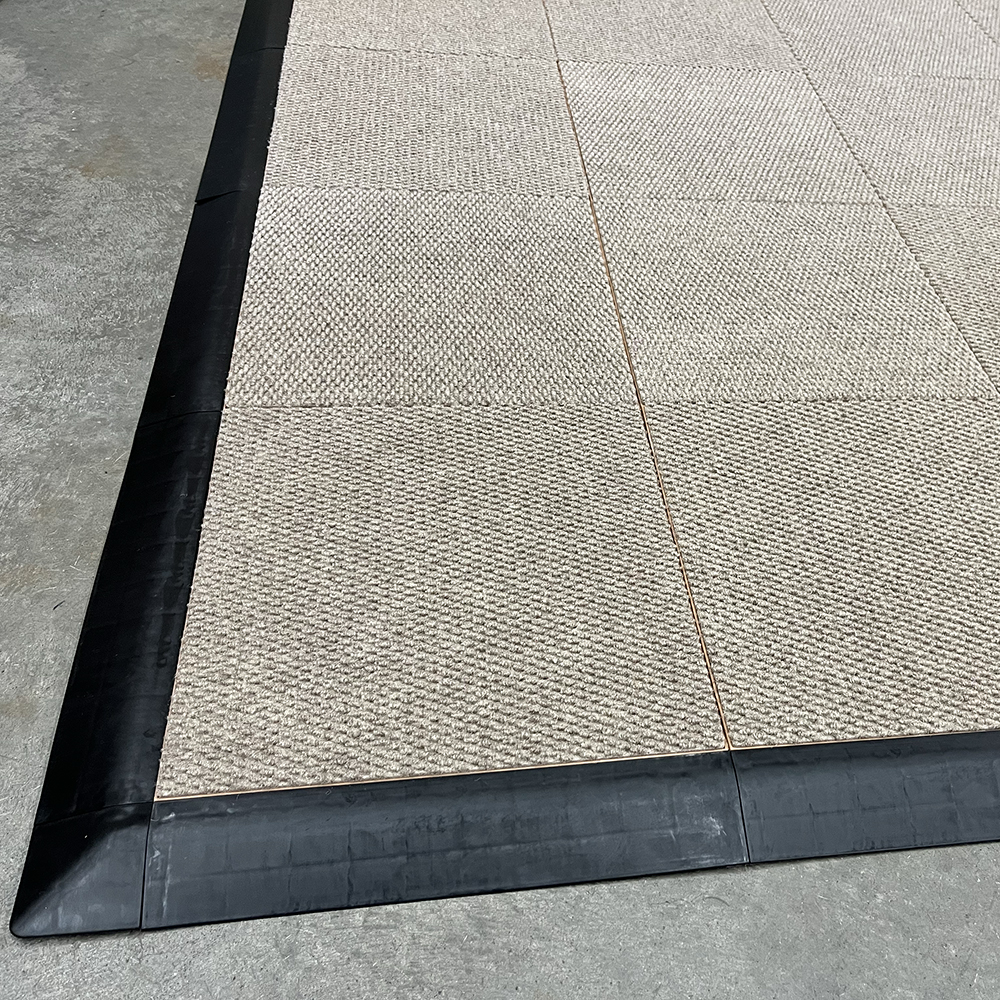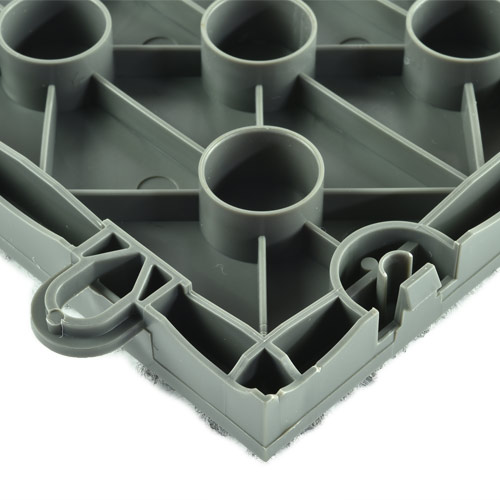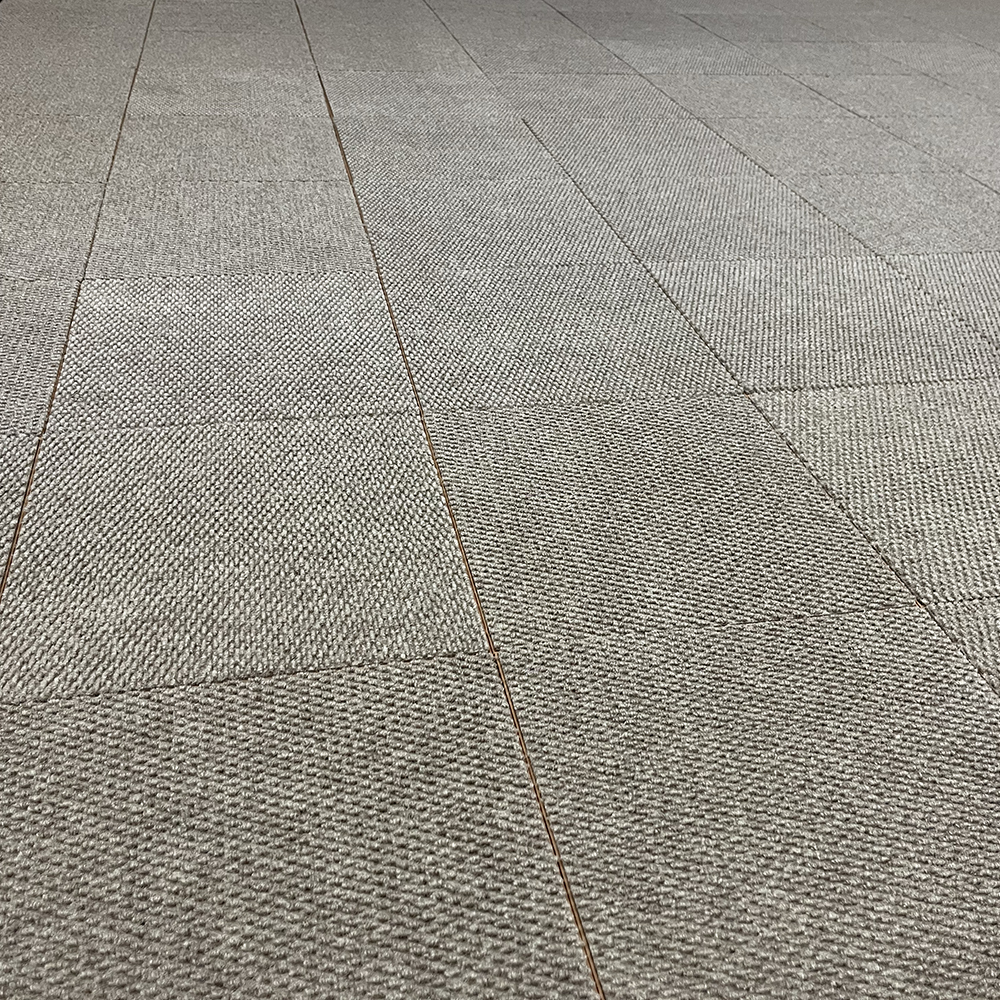 Kit contains 200 tiles, each 1.1 x 1.1 ft x 3/4 inch thick, covers 204.02 square feet
Border and corner edge pieces included
Made from recycled content in the USA
Handling Time Estimate: 1-3 Working Days
How Much Flooring Do I Need?
Kit contains 200 tiles, each 1.1 x 1.1 ft x 3/4 inch thick, covers 204.02 square feet
Border and corner edge pieces included
Made from recycled content in the USA
Raised base allows airflow
Buffers against cold concrete subfloors
Easy click together interlocking connectors for DIY installation
Handles high roll loads, quality construction
Soft and durable removable floating floor system

Trade Shows, Basement Floor, Portable Floor, Event Floors, Office Floors, Entry Ways, Laundry Rooms
Carpet Tiles for Trade Shows and Basements with Raised Base 10x20 Ft Kit
Our own Carpet Square Modular Trade Show Tiles 10x20 Ft. Kit are made in the USA and are easy to install on hard flat surfaces, such as concrete. They will not absorb moisture. If the subfloors do become damp, these ensure airflow beneath the base platform. They can be disassembled and reinstalled as needed. These raised carpet squares work anywhere. And because they are easily assembled and disassembled, them make a great temporary solution. This kit contains 200 1x1 foot carpet tiles as well as 30 male border strips, 30 female border strips and 4 ramped corners for easy island installations.
Construction of Modular Carpet Tiles

The modular snap together carpet tiles feature durable plastic polypropylene bases with carpeted tops made of recycled plastic bottles.

This yields the best trade show carpet surface for trade show booths that need to accommodate rolling loads with a firm, yet comfortable low pile carpet top and sturdy plastic base.


Installation

Each carton contains both vertical and horizontal orientations. The carton has half of each type of orientation. Install them in alternating orientations to yield a checkerboard pattern. These are common types of installations with modular carpet tiles, as the lay of the grain varies across the manufacturing run.

Rather than laying them with the orientation matching throughout the room, which would result in these variations in grains becoming more noticeable, alternating delivers the most desirable looks in the patterns.

These portable carpet squares go down very easily, providing a raised base that is ideal for cold concrete. Each contains a loop and tab type of design.

This type of construction serves a pair of purposes. They will stay together tightly after connecting them, so no adhesive is required. Additionally, the layout goes quickly. If disassembly is required, it goes fast too, which gives these models a lot of versatility for usage cases.

For your first time installing the 10x20 trade show booth floor, allow 70 minutes to install the tiles themselves and another 25 minutes for border strip installation on all four sides. This time estimate is based on a lone novice installer. Having a second person helping can drastically reduce the installation time - as will experience installing the floor. For disassembly and reboxing of the carpet tile exhibition floor, allow 40 minutes for the first time.

Individual tiles have female loops on two sides and tabs on the opposite sides. This layout makes the snap together edges installable with minimal effort.

To follow the proper steps in connecting them properly, start in a corner of the area with the loops pointing in the direction the next parts will go. Then lay the tab over the loop portion of the adjacent one in perfect alignment and gently step on the seam between them to connect them.

If having trouble locking the two carpet tile pieces into place, make sure that the two are perfectly aligned, where the tabs are directly over the opening in the loops on the next one. The first time installing them, it takes little extra force to push the tabs through.

With tool-free installation, there is no need to worry about broken tabs or loose connections. We do not recommend the use of mallets or hammers to install the flooring.

The plastics on the underside are very durable but the tabs are not designed for high impact from tools

The glueless square carpet tiles will not pull apart unintentionally once they're installed, no matter how many times assembling and disassembling them.

They carry a 1-year manufacturer's warranty.
Island Installations
In areas where dampness will be a problem in the cellar, these carpet tiles offer a built-in vapor barrier. These will prevent the moisture from building up in these areas, which reduces the potential of mold and mildew forming - especially for long-term installations.
If putting them into an island installation – meaning connecting these in the middle of the room away from the walls – consider installing border edging pieces on them for a beautifully finished configuration.
Each measures 3/4 inch in thickness, which means there is a slight lip on the edge when creating an island. This could end up creating a tripping hazard for people as they step onto it. We offer reducer borders, for those interested in created a ramped edge. This gradual ramp up to the surface of the Modular Carpet Tiles model greatly reduces the possibility of a trip.
Simply contact our customer service team to learn more about how to order borders that use the same peg and loop installation system for a simple connection. We also offer products with the identical style of raised plastic base that allow a transition seamlessly from carpeting to vinyl.
If inside corners are needed, two border ramps will have to be manually cut at diagonal to fit. Use a sharp utility knife to cut this product or a table saw.
Carpet Squares for Portable Durability
Here are ideas for making use of carpet square parts indoors in a portable usage case.
1. Events:
 For a warehouse setting or another building that contains cold, hard floors, our models are appropriate for delivering a warmer atmosphere for the event. Just lay them out where groups will be gathering to create something that looks great and will be impressive to visitors. Put tables and chairs on top of them, and these Made in America products will hold up to the weight.
2. Creates Walkways:
 For events like graduation and awards ceremonies, make a special walkway that will draw attention to the people being honored. Use a pattern for the walkway that everyone can follow toward a stage. Not only does this walkway look great, but it could be safer to walk on than a slick surface.
3. Entryway:
 For businesses that primarily operate out of a warehouse, use these, and the final project created will be a welcoming area for customers for a couple of days of business meetings. Once the meetings are completed, just pull them up and return to the original subfloors.
Once the special use is completed, disassemble them and place them in storage until the next time they're needed.
Interlocking Carpet Tiles
Ours do not have any loss of coverage space for the edges of the interlocking trade show floor tiles, like what occurs with a puzzle style of tile. It measures 1.01 by 1.01 feet and will cover 1.02 square feet of space per tile. This 10x20 trade show booth kit will measure slightly larger than 10x20 feet when fully assembled as border pieces add an additional 2 1/2 inches to each side.
Some customers have created a checkerboard that has more than a single color. We will be offering gray and tan, and both types can be combined in a single order if desired. Because of this standard connection system, easily connect different colors, making any kind of pattern in the carpet tiles for trade shows, while ensuring they all will be fitting properly.
For those who have ordered these in the past, their previous name was Home ClickBase. For questions regarding this product or for advice with figuring out what to order to achieve the coverage desired, please contact us to receive answers to every question.
If seeking to create areas where they will butt up against other layouts, we have a large selection in the same family that allow skipping the process of using transition strips. They simply click together in a same manner as the others.
This could allow for a vinyl entryway, hallway, or kitchen in the house that effortlessly connects to carpeted family rooms or dens. Using this ClickBase family creates kids play rooms or multipurpose garage floorings with carpeted walkways that are rugged and stylish.
Carpet Tile Q&A
Can carpet tiles be installed over concrete floors?
Yes, but we would recommend adding a rubber underlay atop the subflooring first. Our home underlayment options feature thicknesses running from the 2 mm EZ Floors to a 6 mm rubber underlayment. If installing them in an area where leaks or condensation may occur, however, then we do not suggest adding the rubbery layer.
What is the best flooring for a exhibition hall cement floor?
Our recommendation involves employing carpet tiles with padding for concrete atop the hard subfloors. Our
Royal Interlocking
product is one of our best sellers, as it provides a high level of cushion underneath. These ship with border strip pieces, so it's easy to yield a finished look in the room's center. These do not soak up moisture, and they have no odor, meaning they fit nicely for indoors use.
What goes under carpet tiles in a display booth?
If putting these atop concrete, we would suggest using a 2 mm to 6 mm rubbery underlay to provide shock absorption, to increase comfort, and to muffle sound. For residential installations, this material may reduce the potential for a clicking noise occurring when people walk on them.
Do you have to glue down floor carpet tiles?
Not necessarily. Although gluing down is a possibility, our customers often choose to make use of commercial peel and stick carpet tiles on an original firm subflooring. These are easy to clean and have plenty of durability. They create far less mess than the typical models, as there's no need for adhesives. For a use case where disassembly and storage of the units is desired, do not use glues. The overall size and weight of the finished product will keep it in place adequately for most installs.
Can this be installed over carpet?
This modular floor tile can generally be installed over carpeting in commercial and many home installations. This installation is not guaranteed to work, as with some home carpeting, the padding and carpet thickness can vary. If the user is experiencing any issues when installing over carpet then the user may have to install some other flat surface under the tiles, such as plexiglass or plywood.
Maintenance
Vacuum as needed.
Shipping
Ships in cartons via ground service, larger orders may ship via freight delivery.
This Product Ships UPS Ground, FedEx Ground and/or Freight.
Please review our shipping disclaimer.
| | |
| --- | --- |
| SKU# | CCT1/2-10x20 |
| In Stock | Yes |
| Product Type | Tile |
| Material Type | Carpet on Plastic |
| Product Edging | Interlocking |
| Thickness | 3/4 inch |
| Width | 10.10 feet |
| Length | 20.20 feet |
| SF per Item | 204.02 |
| Weight | 180.90 lbs |
| Packaging | Cartons |
| Number of Pieces per Package Type | 20 |
| Non Absorbent | Yes |
| Special Adhesives | No |
| Universal Interlock | No |
| Interlock Loss | 0.00 feet |
| Interlocking Connections | Yes |
| Made In | USA |
| Surface Finish | Carpet top |
| Surface Design | Solid color |
| Installation Method | Click together tiles |
| UV Treated | No |
| Reversible | No |
| Border Strips Included | Yes |
| Manufacturer Warranty | 1 Year limited |
RELATED PRODUCTS