Carpet Tiles VS. Carpet Rolls For Basements
By Lisa Hobbie Created: August, 2021 - Modified: August, 2023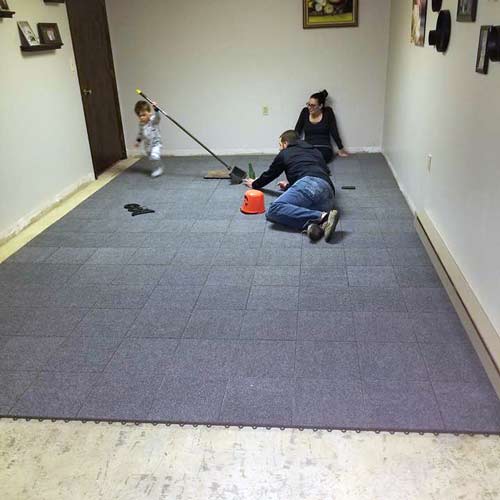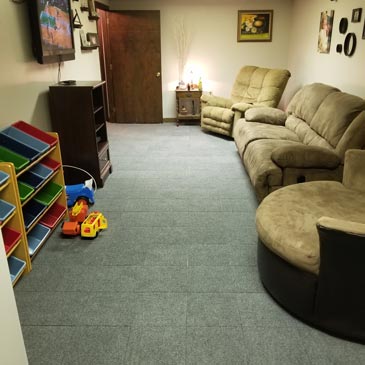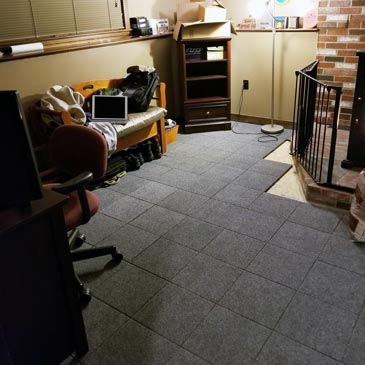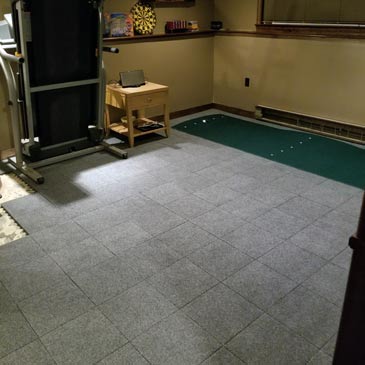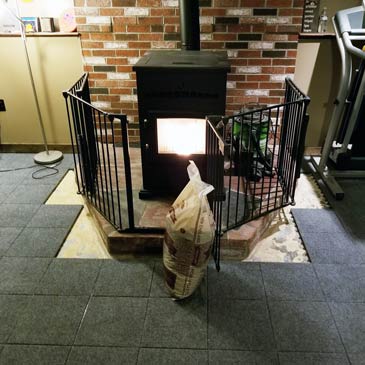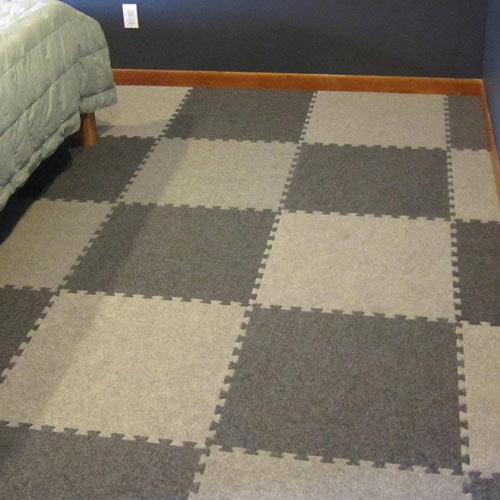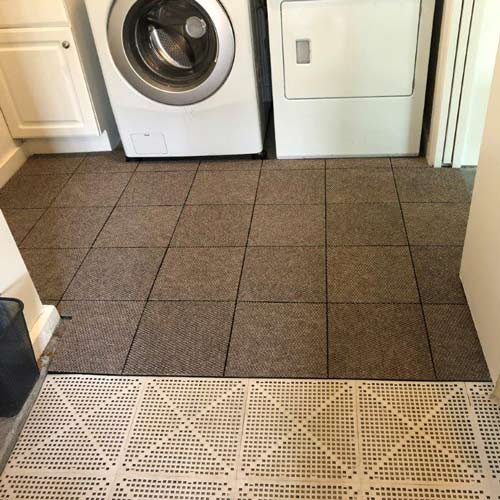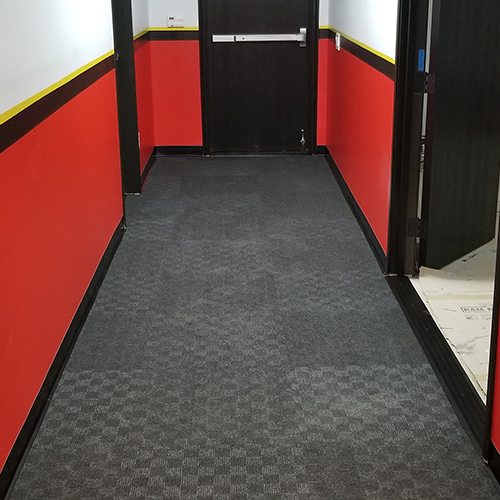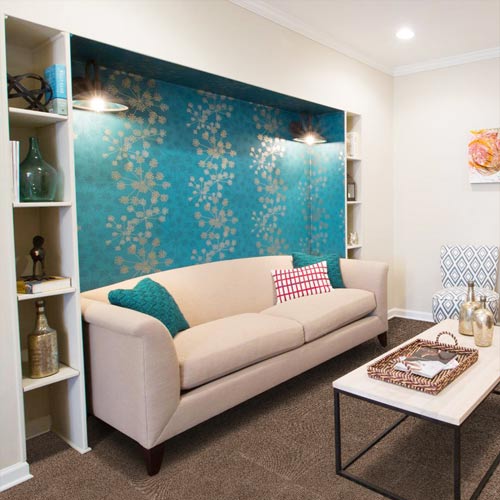 Why Do People Choose Carpet Tiles over Roles?
Many people choose to install carpet tiles for basement applications instead of traditional carpet rolls because carpet tiles tend to be more suitable for basement environments.
Carpet tiles come in many forms, with certain types that feature a raised, modular design to allow for air and water flow beneath. Others are non-absorbent and designed to resist the growth of mold and mildew - making them desirable for damp basement settings.
Another reason why people often choose carpet tiles for basement installations vs. carpet rolls is the simple fact that they generally do not require professional installers, and instead, offer a DIY solution. This can save a lot of wait time and money.
5 Popular Choices of Carpet Tiles for Basement Settings
These carpet tiles look nice and perform well when used for a basement application, and they offer a number of desirable features and benefits. Deciding on which one to choose will come down to your budget, material, and style preference, installation type, and the benefits you want for the carpet tile to deliver.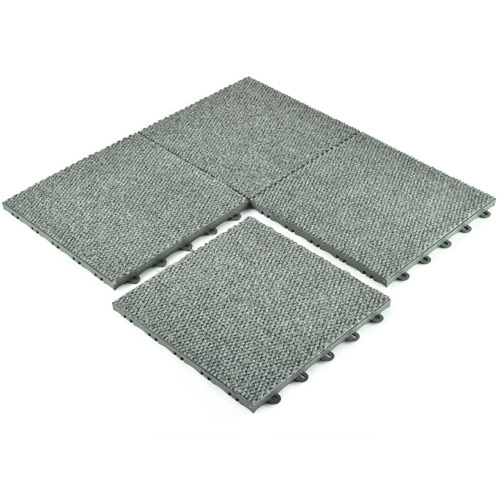 Modular Square Carpet Tiles
are great for basement settings. They have a raised design to allow for air and water flow, which also reduces the transmission of cold temperatures from a concrete subfloor.
This floating floor is made using recycled materials with a Berber-like carpet top. It is designed to handle heavy furniture and foot traffic with its quality construction and is easy to snap together and install without padding or adhesive. It's also equally as simple to remove tiles for temporary basement installations or to check subfloors.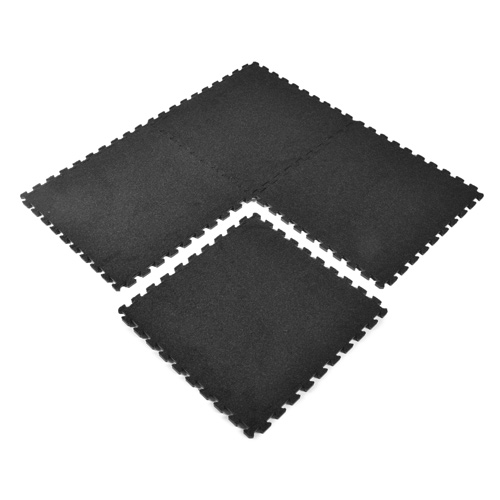 The Royal Interlocking Carpet Tile
is one of the most popular basement flooring products. These carpet tiles interlock for a super simple installation process that results in floors that look good and perform well in damp settings.
This product features a soft, closed-cell foam base topped with a durable plush carpet. It's designed to withstand heavy foot traffic, furniture, and years of use.
These carpet squares offer water and stain resistance, and they are odor-proof, easy to clean, and deliver a comfortable anti-fatigue surface with an insulation value similar to traditional plush carpet rolls.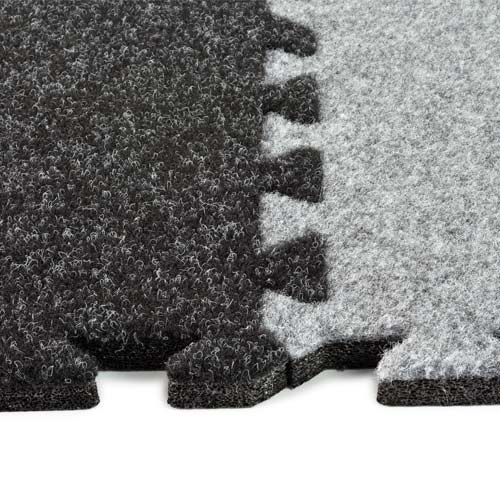 Plush Comfort Carpet Center Tile
is a good choice if you want a carpeted texture that is extra durable. These carpet squares are anti-fatigue, waterproof, and odor-proof.
Made in the USA, this flooring system is simple to install with its interlocking design, and the resulting flooring surface gives an inviting, attractive look.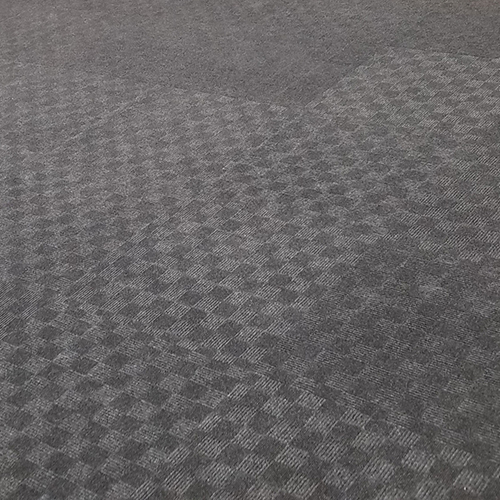 Smart Transformations Crochet Carpet Tile
is a product constructed from recycled purified plastic bottles with a crochet look on the surface that presents the appearance of individual square patches across the top.
This carpet tile has fibers that will not fray and a color that will not fade. It is an extremely durable product with a peel-and-stick, pressure-sensitive adhesive that makes it fast and easy to install.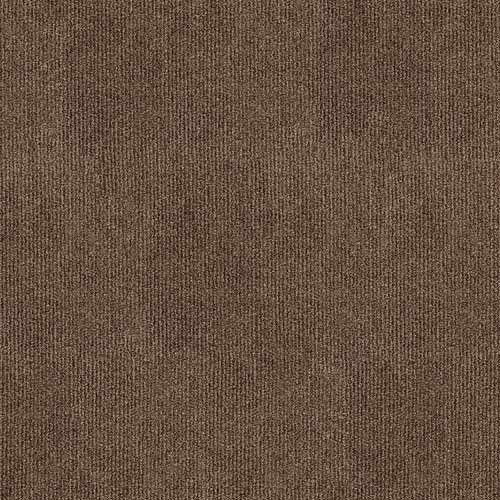 Style Smart Riverside Carpet Tile
is another option made from 100 percent recycled purified plastic bottles with excellent color fastness and fibers that will not fray, pull out, or unravel.
Suitable for inside or outside, it's also perfect for basements. It's a breeze to install with a peel-and-stick, pressure-sensitive adhesive, with pieces that fit together very tightly, making it appear as though they're a single piece of carpet. It is commercial grade and will not fade, wear, soil, or stain.
Greatmats - For The Best Carpet Tiles For Basement
Greatmats offers the best carpet tiles that are suitable for basement use. Where traditional carpet rolls look and feel great underfoot, they are not always basement friendly like carpet tiles are. Aside from those highlighted, there are numerous other flooring products, as well. Most are waterproof and offer a quick and easy application process, look anything but cheap, have mold and mildew resistance qualities, are affordable, and are among the best-performing basement floor options.
Reach out to the staff at Greatmats who are ready and willing to answer questions, provide you with samples, help with ordering, and work with you to decide which product is the perfect one for your basement space. Regardless of the particular product you choose, you can be confident that you're getting the best value, service, and quality when you purchase from Greatmats.