Can You Put Floating Carpet Tiles Over Tile Or Concrete?
By Lisa Hobbie Created: January, 2021 - Modified: June, 2023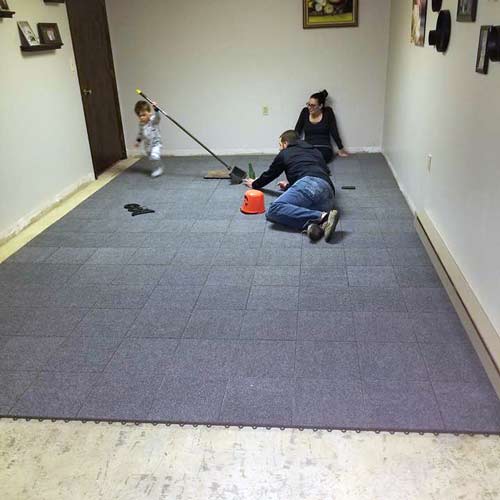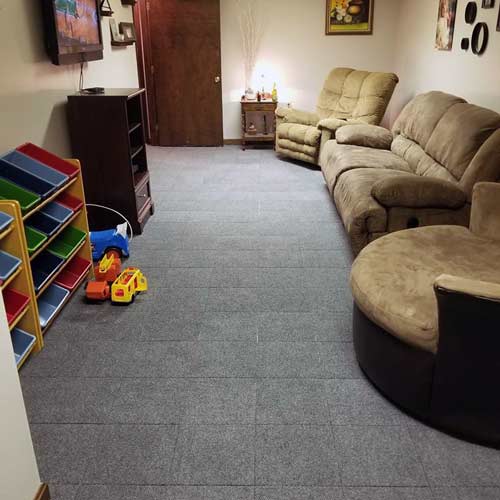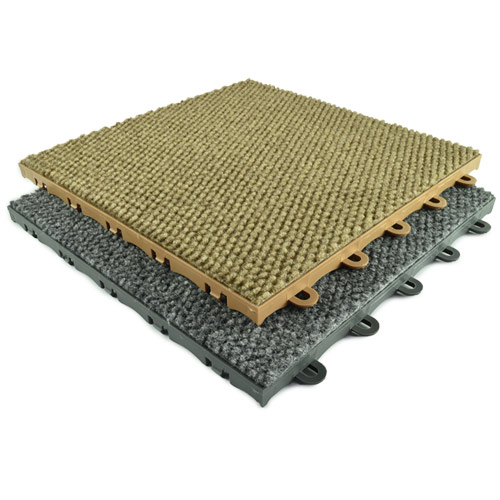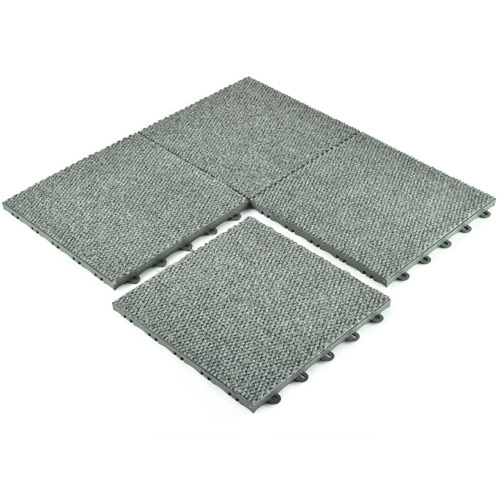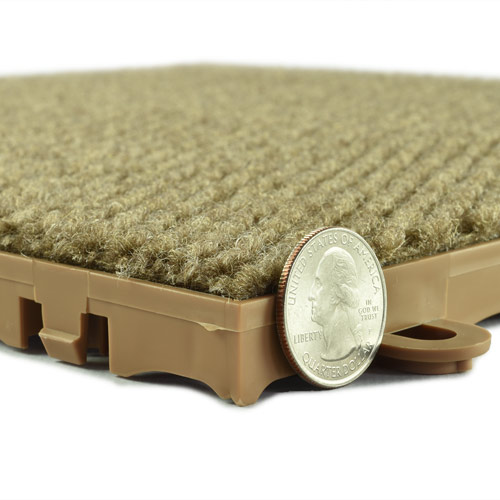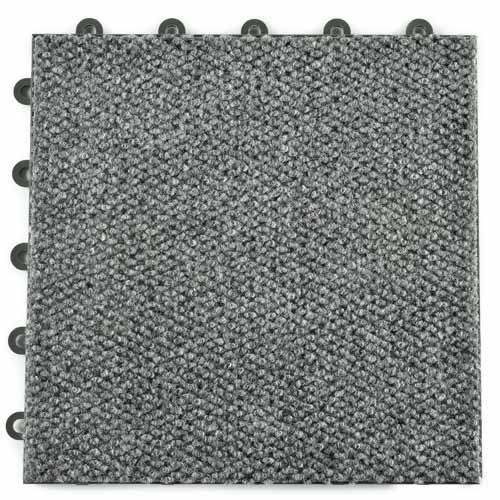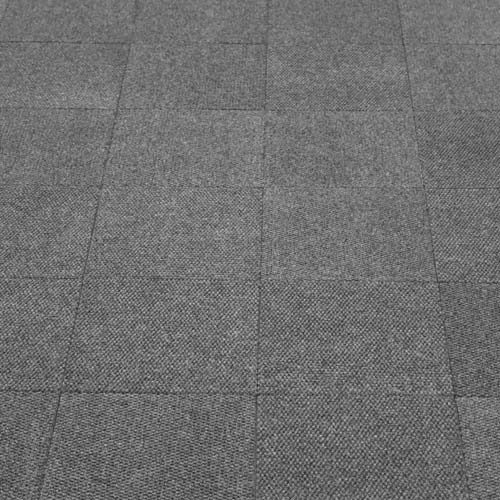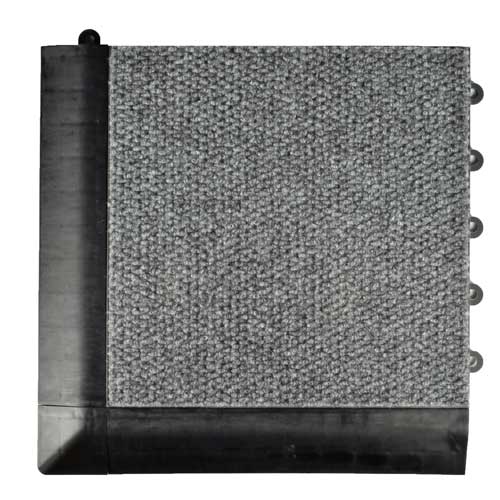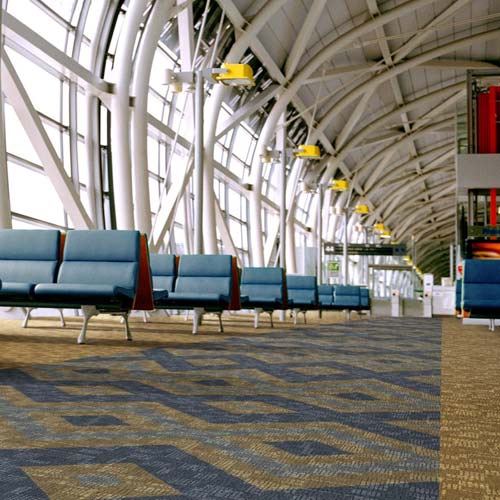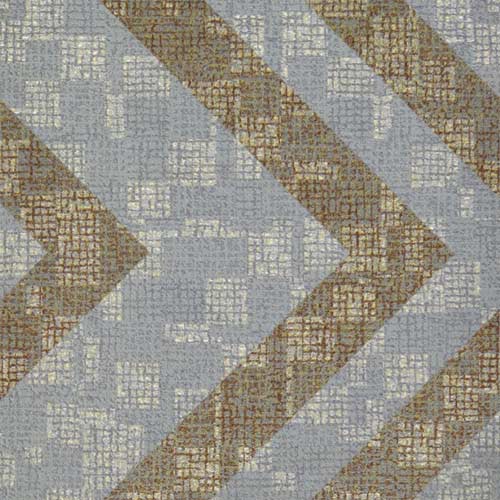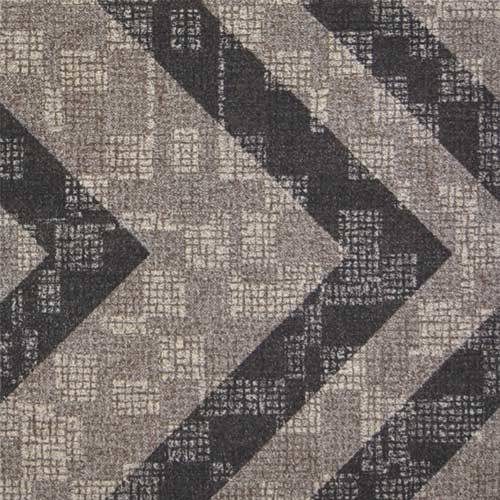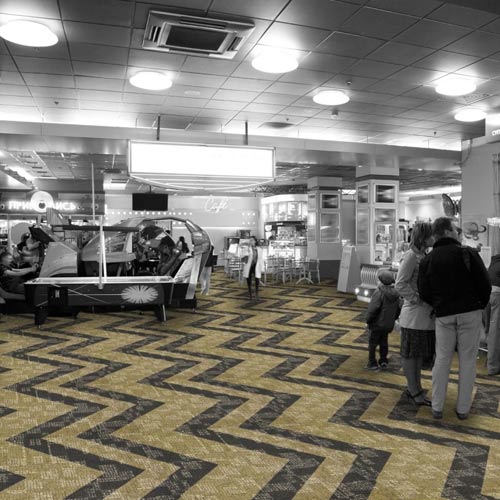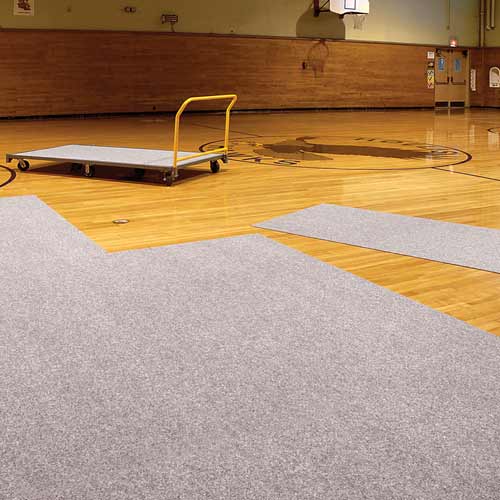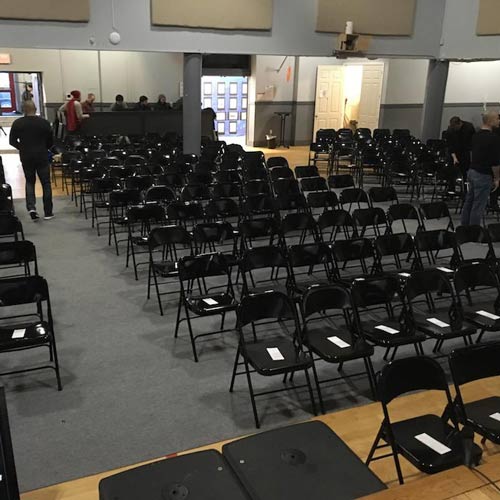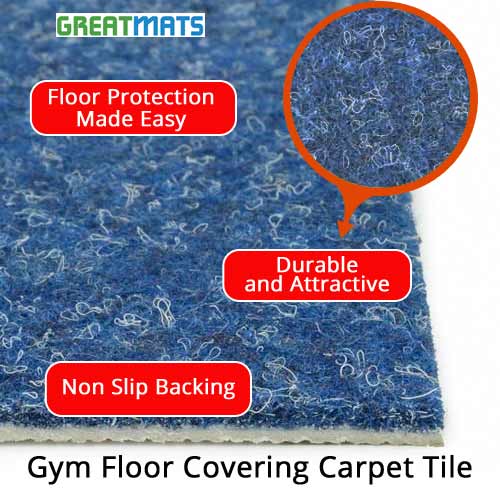 When shopping for carpet tiles or modular carpet, you may be wondering if you can install it directly over tile or over concrete. If so, the quick and easy answer is yes.
Installing Carpet Tiles Over Concrete or Tile Floors
Most carpet tiles, whether modular, interlocking, or peel and stick can be directly installed over the tile and over concrete as long as the existing flooring is hard, flat, level, and properly prepared.
What needs to be done to prepare for carpet installation over the tile and over concrete?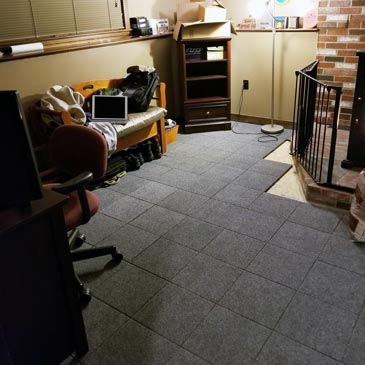 Proper preparation of an existing subfloor, whether tile, concrete, or other existing flat surface is imperative to a successful carpet installation.
Thoroughly clean the floor. Before installing carpet over tile or carpet over concrete, make sure that it is swept, vacuumed, dry mopped, and if needed, damp mopped, to ensure that any dust, dirt, debris, tacky substances, or adhesives are completely eliminated.
Once the existing floor is clean, make certain that it is free of cracks and holes. If there are any larger than ⅛ inch (3.2mm), they should be filled using a Portland Cement based floor patching material such as W.W. Henry 547 Unipro™, DAP "Webcrete 98", Maipei "PlaniPatch", Ardex "Featherfinish", or similar. Gypsum based compounds are not recommended.
Now that the existing floor is clean, smooth, flat, and free of cracks and holes, simply follow the manufacturer's guidelines for installing your carpet over tile or carpet over concrete.
What Are The Best Products To Install Over Tile Or Concrete?
Putting carpet over the tile and over concrete is a relatively easy process when you choose one of the four most popular floating carpet tile types at Greatmats - foam-backed carpet puzzle tiles, raised modular carpet tiles, high friction backed carpet squares and protective carpet tiles. Below are examples of each:
Carpet Puzzle Tiles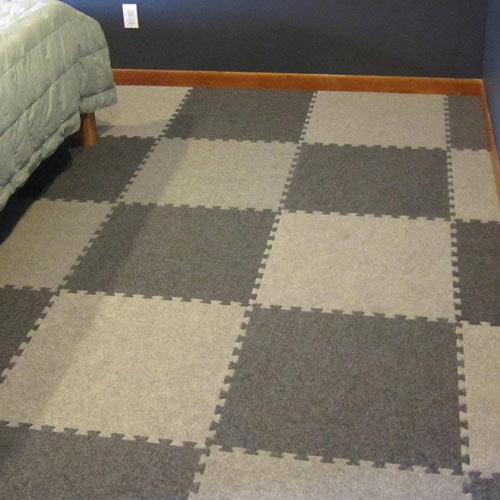 Installing Royal Interlocking Carpet over tile or over concrete, as well as over a basement slab or cement floor, is nothing short of a breeze.
Once the existing flooring has been prepared, it's easy to begin. The carpet has edges that have been precisely cut into designs resembling puzzles, using slots and tabs. Each carpet tile is easy to put together by matching the tabs with the slots on the adjacent tile. It goes right over concrete or over tile, and no glue or pad are needed.
Start in one corner of the room with the first piece tight to the wall, and just add new tiles to expand outward. Once the opposite end of the room is reached, just cut the tiles to match the dimensions of the room, leaving a ½ inch gap from each wall to account for potential expansion.
Make note of the directional arrow printed on the bottom of each tile, which helps to ensure that the carpet grain will run in the matching direction. There are finishing borders included with this product, which create a crafted edge that's perfectly straight. Upon installation, the carpet's seams fit so tightly that they almost disappear from view. Additionally, each tile weighs only 1.5 pounds and is 2 feet by 2 feet, so it's a great product for a DIY project that saves time and money.
Not only is this carpet for over concrete or tile easy to install, it features numerous other benefits and features. It is among the most durable and versatile carpet products at Greatmats. The high end EVA foam backing on the carpet is water resistant and easy to maintain, making it suitable for virtually any residential or commercial setting.
The carpet squares are very attractive, presenting a professional, clean appearance. They are completely non-absorbent and stain and odor resistant. This makes this particular carpet perfect for a basement setting or other space where water and moisture are present. It's also a great product where spills or accidents from children or pets may occur.
For a carpeted flooring system over tile or concrete that is durable and versatile, it is also extremely comfortable. It provides the cushion, warmth, anti-fatigue properties and insulative value similar to traditional plush carpeting. It is also easy to clean by simply vacuuming it.
Raised Carpet Tiles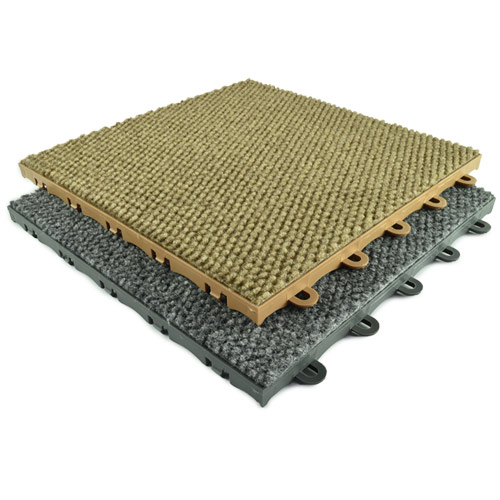 Modular Carpet Tile Squares are another option for carpet over concrete and ceramic tile, and installation is the same for both scenarios and relatively easy.
Like all other products, make sure the existing floor is prepared properly. Then, simply start in one corner of the room. Identify the female loops on two sides of the tile and tabs on the opposite two sides. Place the first carpet tile with the loops pointing in the direction the next parts will go, and then lay the tab over the loop portion of the adjacent one in perfect alignment.
Next, just step on the seam between them to connect them. There are sometimes variations in grains throughout the tiles, so don't lay them with the orientation matching throughout the room, as that would result in the grain variations becoming noticeable. The tiles will go together quickly and stay together tightly after connecting them, so once again, there are no adhesives necessary.
The tabs will not break off or become loose under normal use methods, as the plastics on the underside are extremely robust. This ensures that the carpet tiles will not pull apart once you lay them. The carpet tiles can be cut for wall-to-wall installations or you can add a ramped border strips on exposed edges to finish the floor.
The tiles are easy to manage, as they weigh 1 pound and are each 1.01 by 1.01 feet - covering 1.02 square feet of space.
If you want to do an island installation of carpet over tile or over concrete, this product works well for that application, too. Use the same installation method as described above, and install the border edging pieces on them for an attractive finished configuration.
These carpet tiles are another option that is great for damp areas such as basements, with its raised design. This allows air and water to flow beneath, and it prevents the growth of mild and mildew. They are also great for basements as they reduce transmission of cold temps from the subfloor through the carpet by way of the layer of air in between.
This modular flooring is constructed from recycled materials, and it features a berber like carpet top that delivers all of the benefits of traditional, plush carpeting - including softness that other modular or cheap laminate products do not provide.
High Friction Backed Carpet Squares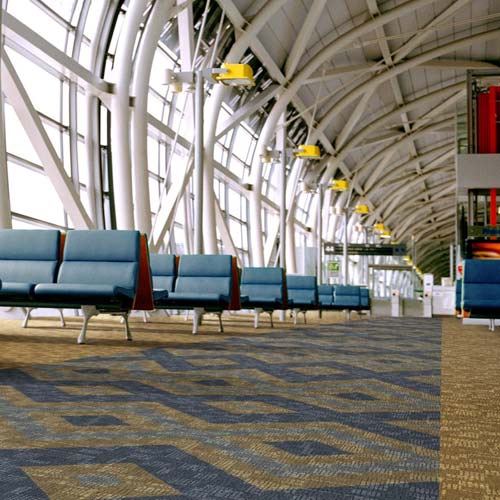 The Etruscan Carpet Tile is another fabulous product that can be installed over tile or over concrete.
This one features the StayTac backing system, so it is imperative that the existing floor is completely clean, thoroughly mopped, and any scuffs and holes are filled in as described in the preparation process, above. For StayTac to effectively prevent lateral movement, all dust be removed before installing the carpet over concrete or over tile.
Once floor preparation is completed and the floor is thoroughly mopped, two working chalk lines must be applied to the floor to ensure a straight, square, and properly aligned installation. These chalk lines intersect at the starting point and are exactly 90º to each other. Installation instructions are included with the carpet that provide two detailed methods for applying the chalk lines.
The StayTac coating on the back of this carpeting provides a high friction component that prevents lateral movement of the tile. It also has a vertical grip that allows the tile to be rotated, removed, or replaced if needed. This coating eliminates the cost and time associated with applying traditional wet adhesives. It can also be installed individually or in sections, and it can be used to create patterns, designs, accents, borders, and area rug effects.
This versatile and cost effective carpet square for over concrete or over tile has many features and benefits, as well. These carpet tiles are very durable, stain-resistant, eco-friendly, cost-effective, and rated for commercial applications. They boast an attached, waterproof cushion that provides amazing comfort. It is PVC-free polyurethane and is engineered to absorb foot traffic, which keeps the product looking nicer longer, and reduces the likelihood of it buckling.
Protective Carpeting System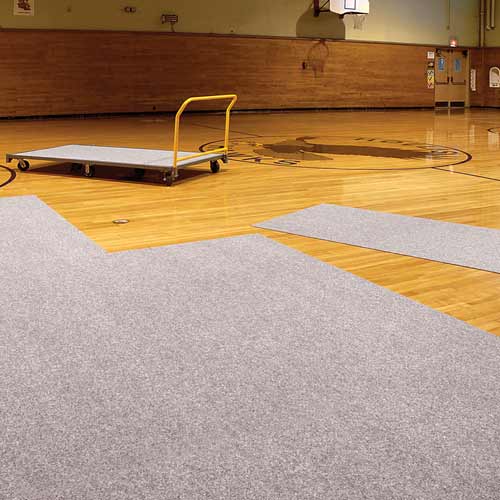 Gym Floor Covering Carpet Tile is the final Greatmats product that is among the best floating carpet over tile or over concrete, as well as over wood or other hard, flat surfaces. These heavy tiles weigh roughly 14 pounds each and are 3.28 feet by 6.56 feet, so once positioned against one another, they will not slide around. They are made to just be placed next to each other, without the use of adhesives or double-sided carpet tape. Just keep the carpet segments on a large cart that can handle a lot of weight. Roll the cart to the desired area, pull a carpet tile off, and lay it in place. Keep moving the cart forward and pulling off another tile until the desired space is covered. Each of the carpet tiles has straight lines on all four sides, so they sit tightly against each other. The carpet tile also features a non-slip backing to help keep the pieces in place.
This carpet protects hardwood, concrete and ceramic tile flooring while providing a comfortable surface where people may be standing for a long time, compared to a hard floor. It also provides a professional look and acoustical benefits. These carpet tiles will last several years, as they are durable enough to endure having tables and chairs placed on them. They are not waterproof, but they are water repelling. Their 0.35 inch thickness provides cushioning, but they are still firm. They have a Shore C material density rating of 60, and they offer a 3-year warranty.
Greatmats - For carpet over tile and carpet over concrete
The four products highlighted are the four best floating floor options for carpet over tile and over concrete. If you have questions about any of these products, or, would like to receive a product sample, simply reach out to the friendly and knowledgeable Greatmats' staff. Together, you can decide which of the options are best for your space, budget, and design preferences.