What's the Best Style of Modern Farmhouse Flooring?
By Kyle Schurman Created: April, 2021 - Modified: February, 2023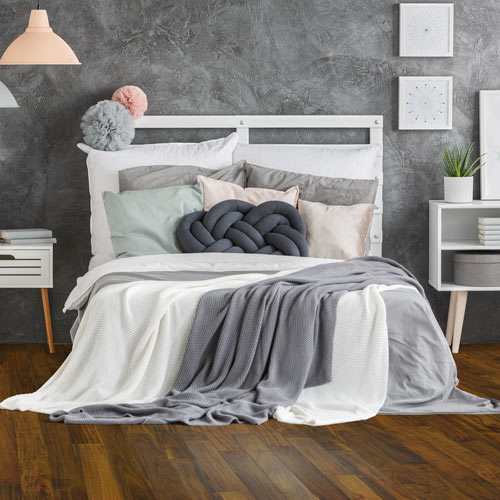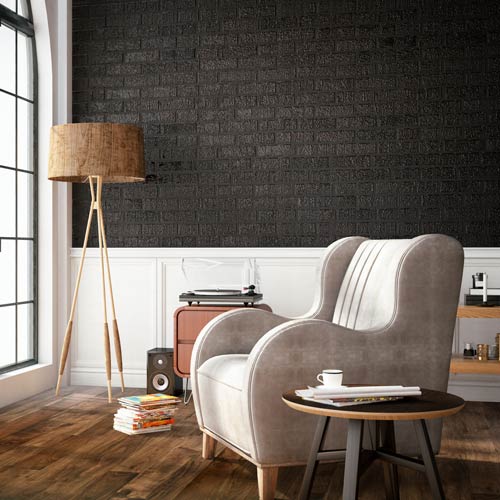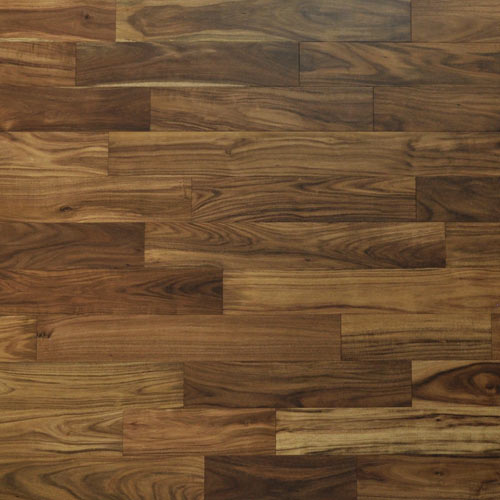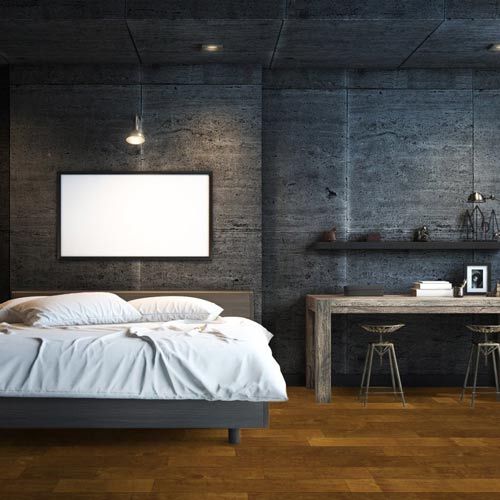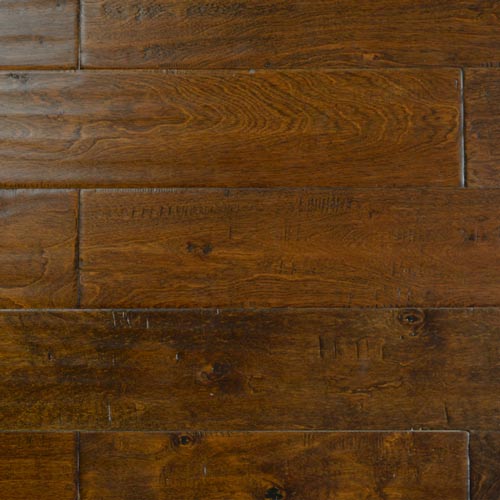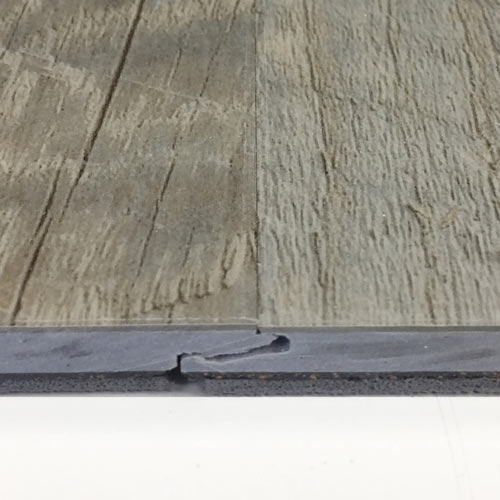 Because true hardwood farmhouse flooring is expensive, achieving this design may not fit into the budget of everyone. Fortunately, there are multiple products that create the look of these types of floors at a much more affordable price. Some of the best ideas for simulating actual wood floors and creating a farmhouse type of decor include:
Wilderness Edge Engineered Hardwood Flooring

Cottage Tour SPC Flooring

English Country Engineered Hardwood Flooring

Florence Engineered Hardwood Flooring

Golden Age Engineered Hardwood Flooring
Farmhouse flooring typically involves installing a style of wood flooring that has a worn or textured look, appearing as if it is handmade. It should deliver a rustic feel, showing off the grain of the wood and any distress marks. This is a far different look than modern, polished wood floors that were popular several years ago.
Engineered hardwoods
do a great job of simulating the desired farmhouse flooring look without the same level of expense of full hardwood planks. Additionally, the engineered hardwood planks are easy to install, which makes a DIY job possible, saving more money versus having to hire a professional.
What Is Farmhouse Flooring Engineered Hardwood?
With engineered hardwood, the top layer of the planks contains actual hardwoods. This is a veneer layer that gives these planks a perfectly realistic look, while saving money versus a thick plank of authentic hardwood.
The veneer layer even can have open markings and textures that approximate the look of an old wood flooring installation, such as might be found in a vintage farmhouse. This gives the engineered planks a more realistic look than a vinyl or laminate tile with a faux wood grain pattern printed on it.
Typically, this type of flooring will have a thick base layer of plywood or another firm and durable material. This base layer creates the ability to assemble the wide plank pieces without the need for glue.
What Are Some of the Best Textured Faux Hardwood Floors?
For those who want natural markings on the surface of the individual planks of the farmhouse flooring to create a rustic feeling in the room, a few different options exist.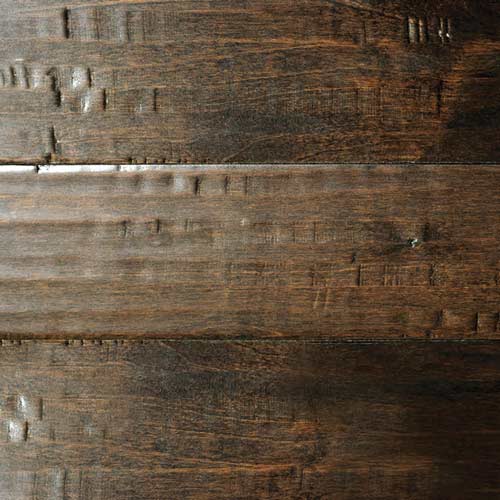 The Wilderness Edge Engineered Hardwood Flooring product is available in multiple stain colors over a birch veneer layer, including a dark Bison Birch color, a light-colored Homestead Birch, and other colors in between.
It uses a tongue and groove system in the base layer that greatly simplifies the installation process. The Wilderness Edge product uses wide planks of 5 inches apiece and random lengths of 11 to 47 inches for a vintage offset look.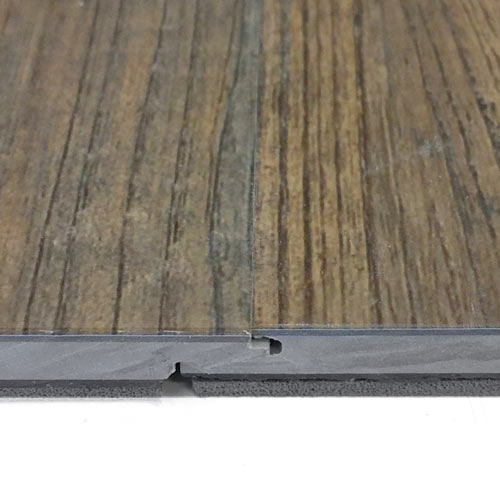 The Cottage Tour SPC Flooring has nearly a dozen different wood stain colors available in various shades of gray and natural wood with textured scratches and marks in the top layer. This is an extremely wide style of plank, measuring 7-1/8 inches, which creates a unique farmhouse style type of look in the faux hardwood flooring.
Each plank measures 48 inches in length, but installers can cut each plank with a power saw to make it fit a certain spot and to give the flooring a realistic look with offset edges in the planks.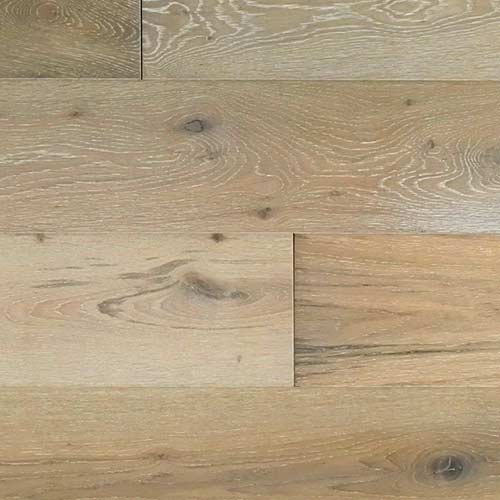 For an oak hardwood flooring option with a slight texture in the planks, consider the English Country Engineered Hardwood Flooring, which has a wire brushed texture. Each plank of this material measures 4-1/4 inches in width and uses random lengths up to 7 feet to create a vintage offset look in the installation. Each tile measures 9/16 inches in thickness.
What Are the Best Hand-Scraped Planks for a Farmhouse Floor?
Rather than looking for a model with significant markings in the top layer of the engineered hardwood, some installers will prefer a plank that resembles a hand scraped look.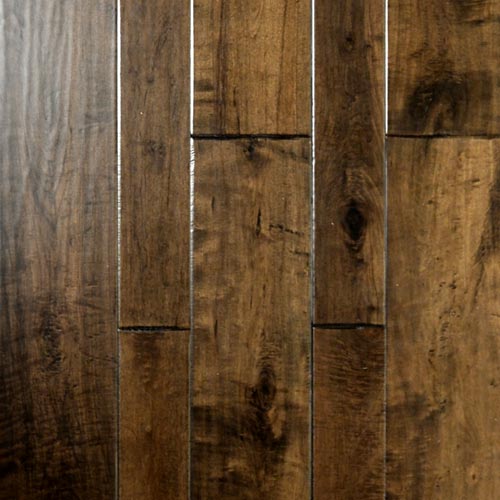 The Florence Engineered Hardwood Flooring is an excellent choice when seeking a hand scraped look. It offers an understated texture that's perfect for this type of design. It's available in a dark Sunset Maple stain color in the hardwood veneer over the top of the plywood layer.
For those who want to approximate the random pattern of planks in a vintage hardwood floor installation, the Florence product offers planks of 4-1/2, 6, and 7-1/2 inches in width, so the installer can create a random look. Lengths in each plank are random too, ranging from 11 to 72 inches.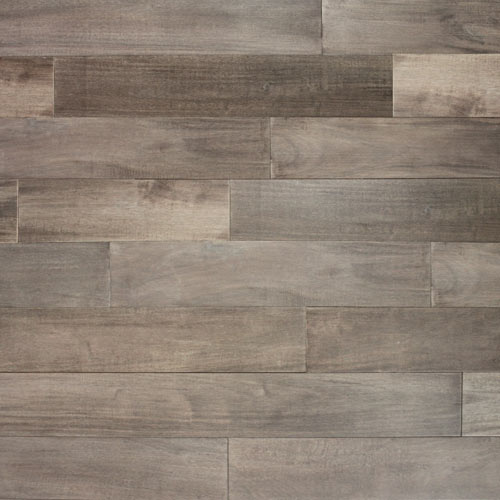 Another hand scraped option is available in the Golden Age Engineered Hardwood Flooring product. This results in a warmth in the look of the planks that enhances the decor of the entire room.
It also includes beveled edges and filled knots in the veneer layer, enhancing the Victorian style design in the flooring.
These planks measure 5 inches in width, which creates a vintage look in the final installation. The lengths of planks include random measurements between 11 and 47 inches, which hopefully will reduce the number of cuts the installer will have to make to complete the installation to fit against the wall.