The Best Soft And Flexible PVC Garage Floor Tiles
By Paige Cerulli Created: October, 2023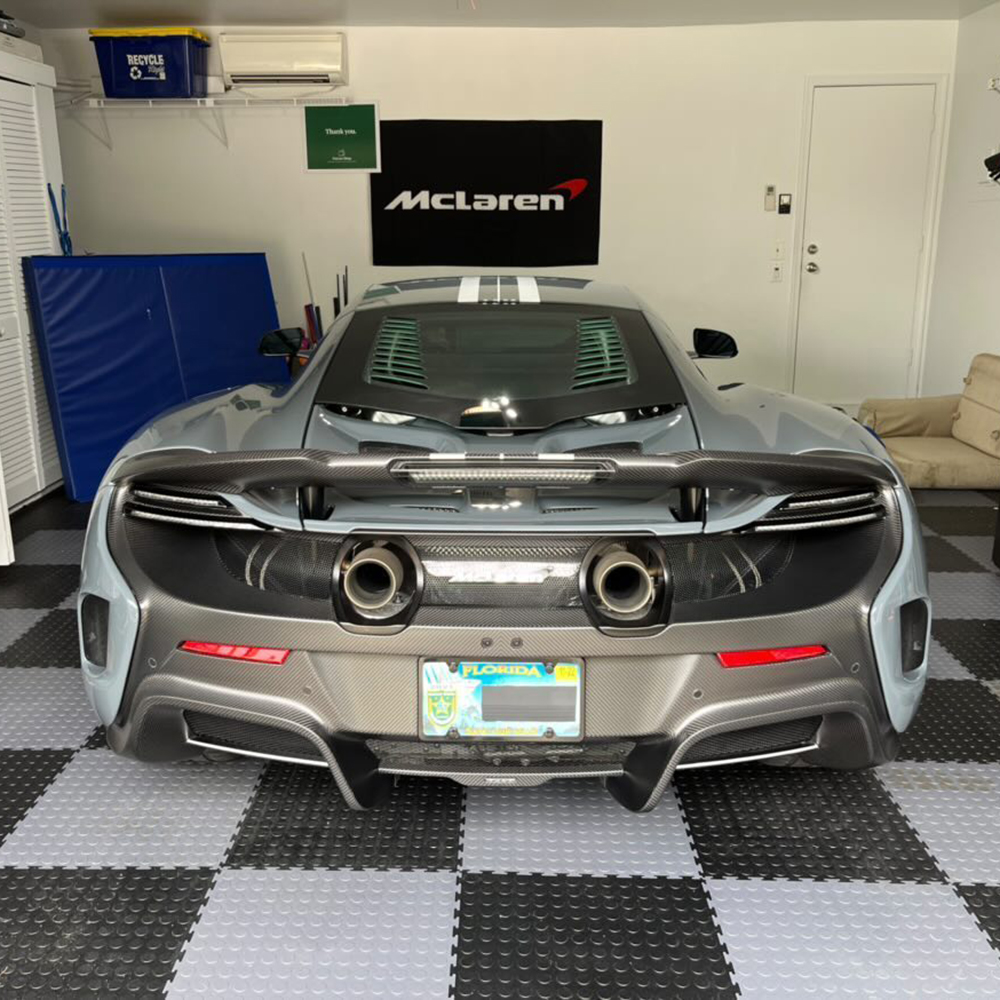 A new floor can revitalize your garage while also making it suitable for different uses. Whether you want to convert your garage into a vehicle showroom, a workshop, a home gym, or a space for another use, soft and flexible PVC garage floor tiles can help you to make your vision into a reality.
Why Soft and Flexible PVC Garage Floor Tiles Are Ideal for Garages
While traditional rigid flooring tiles can be helpful for certain applications, PVC garage floor tiles offer a softer, more flexible design that comes with specific benefits. These soft garage tiles help to maximize your comfort compared to a more rigid plastic, so they're ideal when you're going to be working in the garage for long periods of time. PVC tiles also typically feature excellent traction to help prevent slips and falls.
Many flexible garage floor tiles are also resistant to chemicals, solvents, and other liquids, so they can withstand the elements they may be exposed to in a garage setting. They can help to buffer the space against the cold of a concrete floor, and they help to absorb sound, making the garage a more enjoyable space to work in.
The Best PVC Garage Floor Tiles
We carry many soft and flexible PVC garage floor tiles at Greatmats. We've highlighted some of the best options below to help you plan for your garage floor renovation.
SupraTile Diamond Pattern Black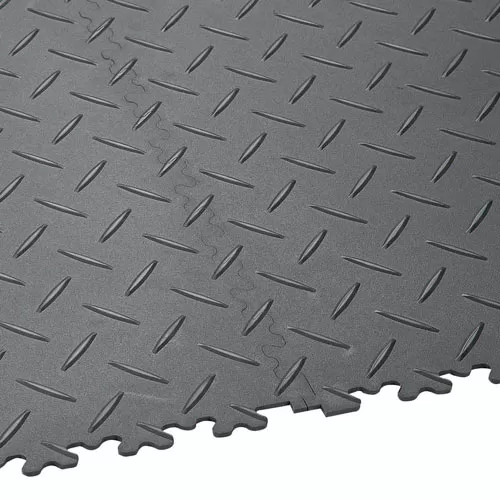 The SupraTile Diamond Pattern Black is an interlocking tile that is warm and comfortable underfoot. While it's a highly economical choice, it delivers a top performance. The tile is quiet when you walk on it, and it doesn't create the noise that's common with polypropylene garage tiles. Measuring just 4.5 mm thick, the tile won't add significant height to your garage floor, so you don't have to worry about adjusting swinging doors or door frames to fit the flooring.
This PVC plastic tile is strong enough to support the weight of your vehicle, but it's still comfortable and forgiving. It features a diamond-shaped tread to maximize traction, even when wet. The tile won't soak up moisture, and it's resistant to oil, chemicals, mold, and mildew, ideal for garage settings.
This tile is available in black and in several
other colors
.
Coin Top Home Floor Tile Colors
The Coin Top Home Floor Tile Colors is a highly durable tile ideal for garage floors. It can withstand heat, colt, and humidity without negative impact to color or tensile strength. This loose lay raised flooring system features an interlocking design that makes the tiles simple to install. Universal interlocks mean you can position the tiles in any orientation during installation. These tiles have a more rigid structure and can be removed and reinstalled if needed.
A small coin top texture helps to maximize traction. These tiles are resistant to oil, gasoline, and most solvents and caustics, so they can be used in a garage where you plan to work on vehicles. They also help to slow bacteria growth, and are resistant to mold and mildew. The tiles are available in a variety of colors, so you can design a pattern or opt for a single floor color.
SupraTile T-Joint Textured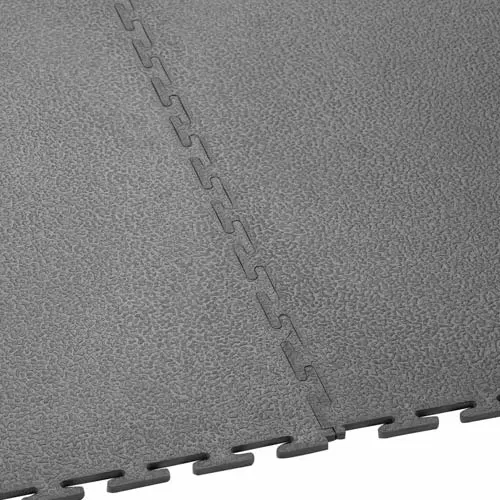 The SupraTile T-Joint Textured tiles offer the durability needed for a garage setting, but they're also flexible enough to be comfortable to stand on. The tiles are warm underfoot, ideal for buffering the cold from a concrete floor. They're also resistant to impact, moisture, and abrasion, as well as oils, chemicals, mold, and mildew, so they can withstand the common challenges of a garage installation.
These tiles deliver excellent sound absorption, ideal when you're working and using machinery in the garage. Most styles have an integrated ramp edging for a smooth transition onto and off of the tiles. You can install them over old, uneven, and contaminated sub-floors, revitalizing your garage without the expense of completely relaying your floor.
These tiles are also available in
colored options
.
Tuff Seal Floor Tile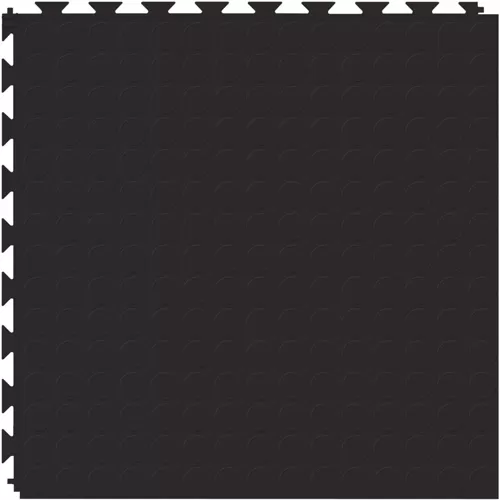 The Tuff Seal Floor Tile is made of a flexible PVC which naturally offers grip to help keep you safe. The tiles are available in a coin top or diamond tread texture for extra traction. These durable tiles are suitable not only for garage use, but also for industrial and commercial applications.
You can install the tiles on any clean, flat surface, and there's no adhesive required. Installation is simple, and the tiles fit together securely. You can also remove them again in the future if needed.
These tiles are also available in
various colors
.
SupraTile Hidden Slate
The SupraTile Hidden Slate is a durable flooring option that can withstand garage installations. It's resistant to elements like oils, chemicals, mold, and mildew, to help keep the garage clean and safe. It's also resistant to impact, moisture, and abrasion, for long-term installations. The tile is comfortable underfoot and helps to buffer the cold of your subfloor.
Most styles feature integrated ramp edging for a smooth transition onto and off of the tile. You can install these tiles over uneven or contaminated subfloors, saving you installation time. The tiles feature tab and loop edges, so they can be pressed together and tightly connected without any need for adhesive. That design also allows you to remove the tiles if needed.
The tiles are available in
color options
, too.
Buying PVC Garage Floor Tiles
As you shop for PVC garage floor tiles, don't hesitate to reach out to the Greatmats customer service team with questions. We're happy to answer questions, provide shipping quotes, and help you decide which product is best for your needs.