What Are The Best Gray Deck Tiles?
By Paige Cerulli Created: April, 2022 - Modified: May, 2022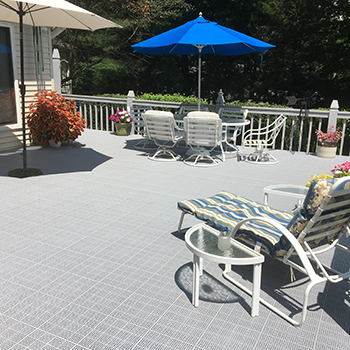 Gray deck tiles are highly popular. Not only are they stylish and versatile, but they're easy to install and complement many colors. Before you start shopping for gray deck tiles, it's important to understand what to look for in a quality tile.
How to Choose the Best Gray Deck Tiles for Your Project
As you explore the many gray deck tiles available, consider the following features to determine which is right for your needs.
Gray Color and Shade
You'll find that tiles are available in many different shades of gray. While those shades contribute to the overall appearance of the tile and the area, they have other effects, too.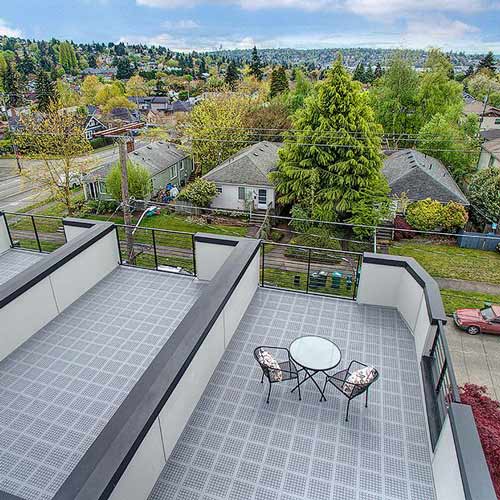 Light gray tiles will tend to be cooler underfoot, since they absorb less sunlight. Dark tiles will often be warmer, so it's important to think about whether people will be walking barefoot on the surface when deciding which shade is right for you.
Installation Method
Consider which type of installation method is best for your project, too.
Interlocking tiles often provide a simple, DIY-friendly installation that doesn't require adhesive. You can remove and reinstall the tiles as needed, making for a versatile flooring choice.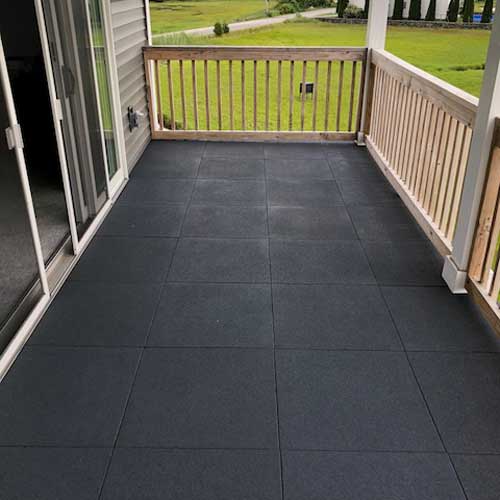 A permanent installation can also be beneficial if you know you'll be using the flooring long-term. If you know you want to install the tiles permanently, be sure to buy a product that supports that type of installation.
Comfort and Safety
You'll also want to think about the other features of the tiles and how they contribute to the tile's performance, comfort, and safety. The tile's texture can contribute to its traction and a tile with a more aggressive texture may help to prevent slips and falls.
If someone does fall, a tile that offers some shock absorption and that has an ASTM fall height rating may help to prevent or reduce injuries that result. These features are particularly important for areas where slips and falls are more likely, like pool surrounds.
You'll also want to consider how the tile will perform when the area is wet. Many tiles are perforated to allow water to drain right through, but if you're looking at a solid tile, make sure it's designed to channel water away to prevent puddles from forming.
The Best Gray Deck Tiles for Sale
At Greatmats, we offer several gray deck tiles for sale suitable for outdoor use and a variety of applications.
StayLock Tile Perforated Colors
The StayLock Tile Perforated Colors are waterproof tiles that can be installed on decks, rooftops, pool surrounds, and wet areas. They resist many oils and acids, and can even be used indoors for showers, spas, and industrial applications.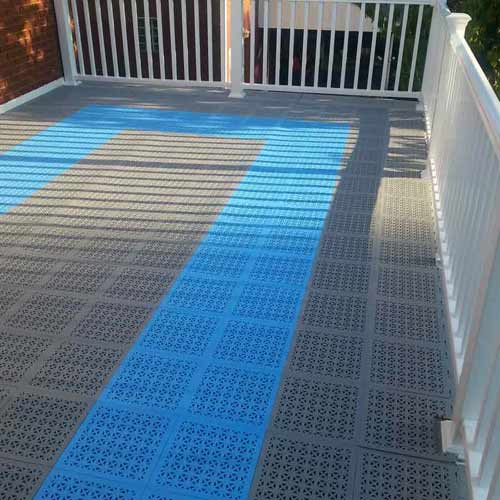 Treated with a fungal additive, the tiles can be repeatedly exposed to moisture and are designed to drain liquids away quickly. Their color is also UV stable for three to five years.
Their 20-inch ASTM fall height rating makes them a safe choice if falls do occur. While they are a forgiving surface, the tiles are strong enough to withstand the weight of lawn furniture with leg pads that are larger than 1.5 inches in diameter.
An interlocking tab system keeps the tiles connected securely. You can even leave them in place throughout the winter, since they're resistant to temperature extremes.
Ergo Matta Perforated Outdoor Tile
The Ergo Matta Perforated Outdoor Tiles are made from recycled materials, so they're an eco-friendly choice. They're ideal for outdoor play surfaces and playgrounds.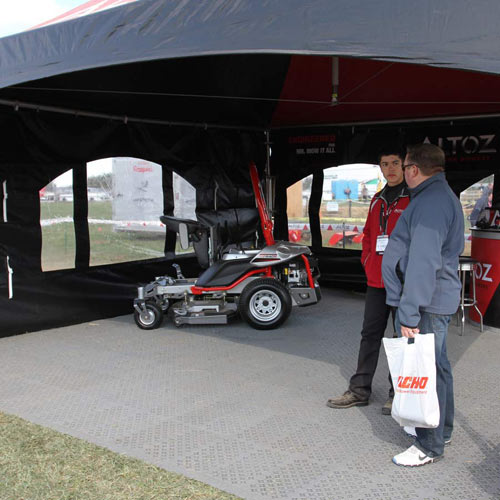 The tiles feature a 20-inch fall height rating, which can help to keep kids safe in the event of a fall. They're perforated, so water quickly drains through them to prevent puddles from forming.
The rectangular shape features straight edges and hook and loop tabs, which makes the tiles easy to connect and install. They're highly durable and can be left in place year-round in all climates.
Patio Outdoor Tile
The Patio Outdoor Tile features a non-slip texture and perforations to drain water away, so it's ideal for both indoor and outdoor use. Consider using it for pool surrounds, decks and patios, and balcony flooring.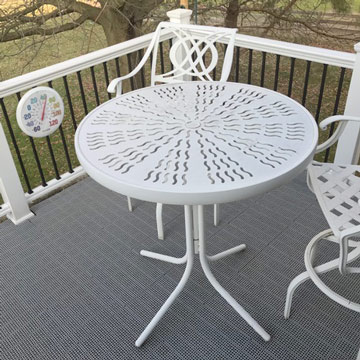 The tile is made of a flexible PVC, so it's comfortable underfoot. You can install it over compacted surfaces, including concrete, wood, stone, and brick.
These non-absorbent tiles are UV stables, and they're designed to quickly channel water away to prevent mold and mildew growth. Their interlocking tab design makes for an easy, DIY-friendly installation.
Sterling Roof Top Tile
The Sterling Roof Top Tile is a durable tile made of rubber that measures a full two inches thick. The tile is manufactured from recycled rubber, so it's an eco-friendly choice for your home or business.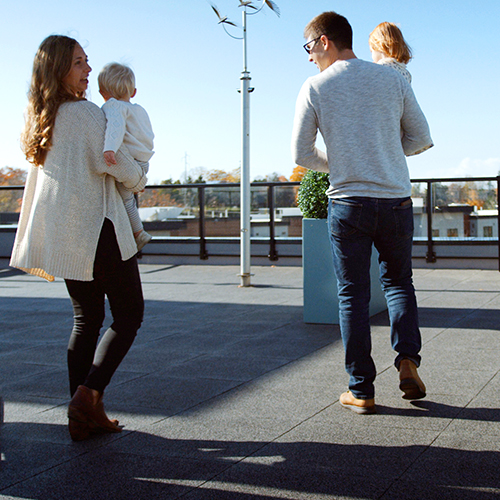 These tiles are ideal for rooftops, decks, and golf courses. They are a high-end flooring choice backed by a limited lifetime warranty.
In addition to grey, the tiles are available in many other colors. They feature interlocking edges for an easy installation and can be glued together by those interlocking tabs.
Once installed, they're easy to clean with a damp mop.