What Is the Best Flooring for a Punching Bag Workout?
By Kyle Schurman Created: May, 2021 - Modified: August, 2023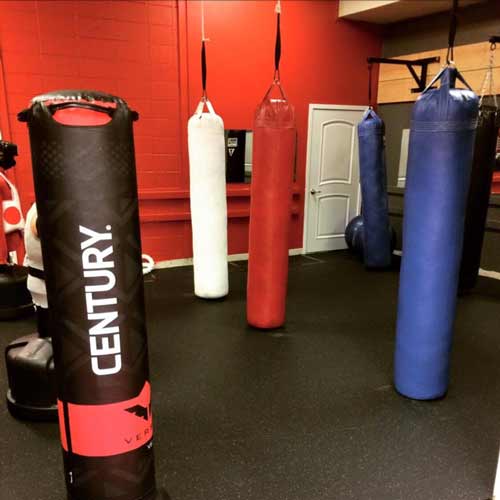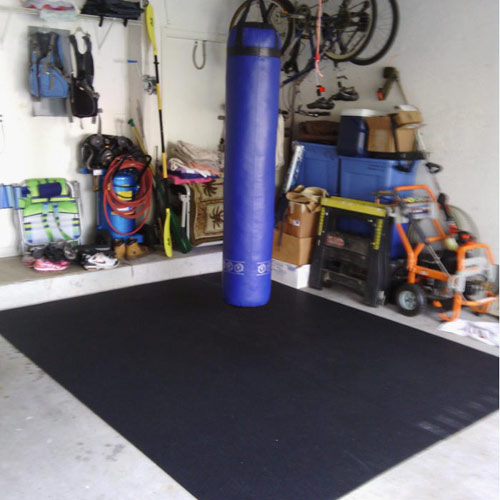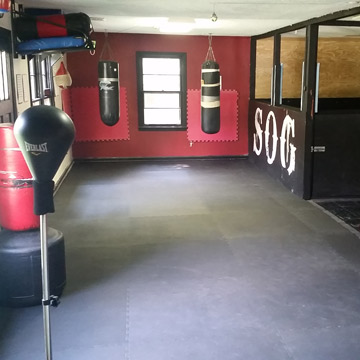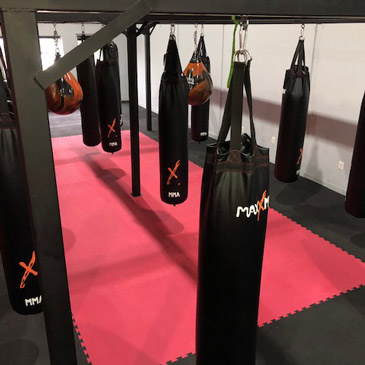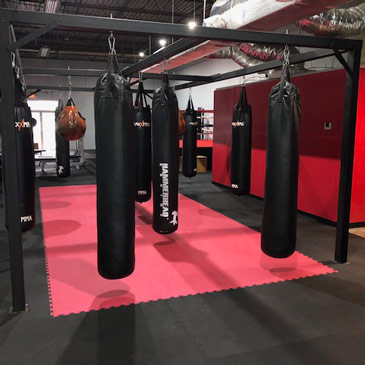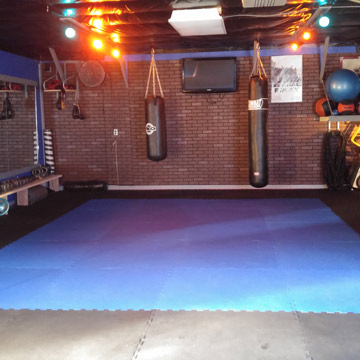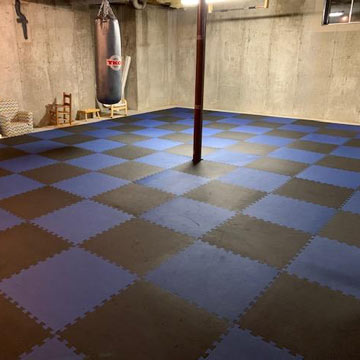 A punching bag workout can provide plenty of cardio benefits, while helping athletes work on upper body strength at the same time. Having the right give and support in the flooring during use of the heavy bag will protect the knees, ankles, and hips of the boxer, allowing for longer, more intense workouts.
The best punching bag workout floors will have an ideal mix of durability, cushioning, and grippy texture.
The best models include:
Rubber Flooring Roll Geneva Regrind

Rubber Flooring Roll With Color Flecks

Plyometric Rubber Roll Geneva

Home Sport and Play Mat

Roll Out Wrestling MMA Mat
What Type of Boxing Workouts Use a Punching Bag?
With a large punching bag, the unit can weigh 50 pounds or more. Working out with a heavy bag can provide significant benefits when seeking to improve upper body strength. The heavy bag's weight delivers the resistance that makes this type of workout successful, as long as the boxer can maintain a sure grip on the floor at the same time.
A small speed bag offers less resistance, but it gives the athlete more of a cardio workout. The boxer can strike the bag repeatedly, raising the heart rate in very little time.
What are Some of the Most Durable Punching Bag Workout Floors?
When performing a fitness routine that makes use of a punching bag, the athlete will be moving around the bag repeatedly or will stand in front of the bag. With a non-durable type of floor, this could cause significant scuffing and wear in the immediate area.
Additionally, athletes may wear a variety of types of shoes when working out and trying to box at the home gym, so the flooring in use needs to have a high level of durability to stand up to these shoes. Many punching bag workouts are even done barefoot, such as those involving many martial arts.
Rubber flooring one ideal punching bag workout flooring for those wearing footwear. It can withstand a lot of weight, and it provides a good footing for both beginners and advanced athletes.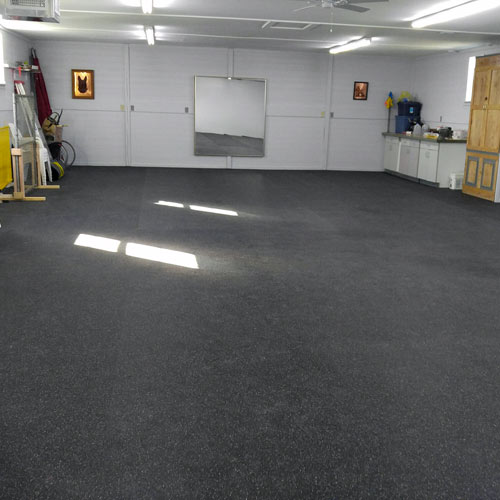 The Rubber Flooring Roll Geneva Regrind floor offers a large coverage area, measuring 4 by 25 feet. At 1/4 inches in thickness, the entire roll weighs only 150 pounds, which is lighter than most large sized rubber rolls.
This roll has environmentally friendly materials, making use of regrind recycled rubber. The rubber roll creates a suitable boxing workout surface, giving the shoes a good grip and preventing slips, according to customer Lizette of Concord, Calif., while also protecting the subfloor.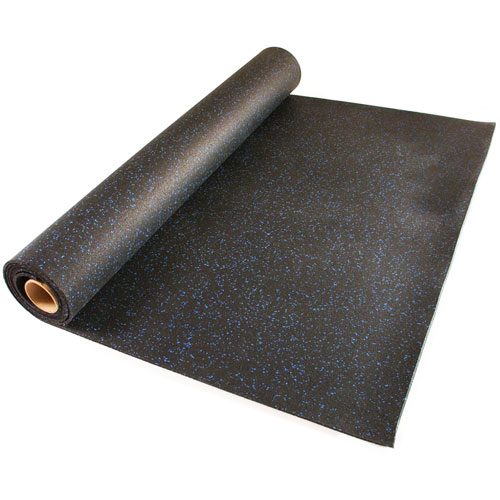 For those who want a little bit of color versus the base black of the rubber roll, the Rubber Flooring Roll With Color Flecks is a good choice. The black rubber includes 10% blue flecks or 10% gray flecks to create a little bit of color, yielding a more interesting look than basic black.
This roll is easy to handle in a residential home gym, as it weighs 49 pounds in total. It will cover 4 by 10 feet, while measuring 1/4 inches in thickness.
Just roll out the flooring to work with the punching bag or heavy bag and roll it back up for placement in storage afterward. As another option, its durability allows the installer to leave it in place between workouts, and it will continue to look like new, according to customer Mica of Jacksonville, Fla.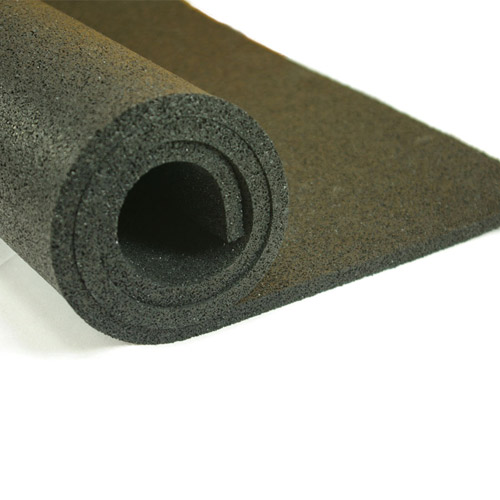 For the maximum level of shock absorption in a rubber roll, consider the Plyometric Rubber Roll Geneva. This is a Made-in-the-USA rubber product, meaning customers can trust the safety of the quality of the materials in use, as well as the construction process.
This roll measures 1/2 inch in thickness and is 4 feet wide. This is a professional-style design, meaning it's suitable for the busiest studio settings. It doesn't need adhesive, as it's natural weight will keep it in place when dry laying it for a workout, according to customer Kenc of Coral Springs, Fla.
Do Cushioned Floors Help With Boxing Routines?
Rubber flooring offers some cushioning for a punching bag workout, but for a higher level of cushion, look for a flooring made from a foam material. Cushioned floors can be beneficial for a boxing workout, as the athlete will be standing upright and bouncing on the balls of the feet throughout the process.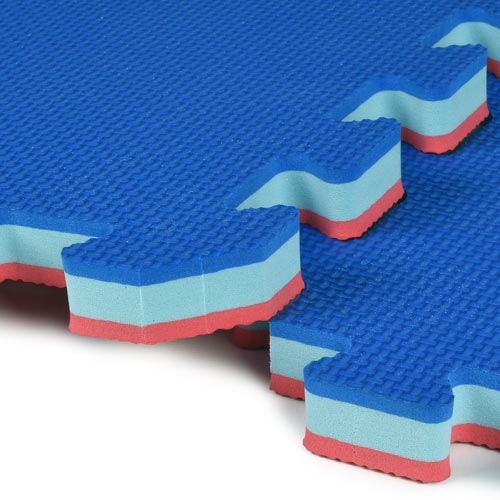 The Home Sport and Play Mat makes use of 3/4-inch thick EVA foam, which offers a nice level of cushioning, according to customer Jessica of Wayland, Mass. These lightweight tiles pop together using the puzzle style edging, which holds them in place tightly without needing glue.
They will provide a long lasting design too. Should one side of the tile suffer damage, just flip it over to the other side and replace it back in the grid. Additionally, the surface of the tile has a scuff resistant texture, which keeps it looking like new.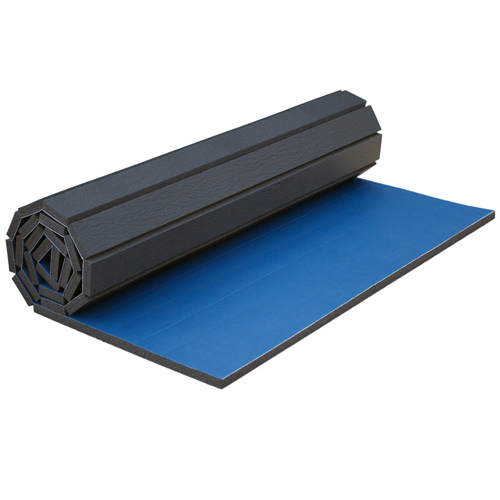 Maximum cushioning levels are available in the Roll Out Wrestling MMA Mat, which measures 1.25 inches in thickness. The highly cushioned foam layer attaches to a vinyl layer on top. The vinyl gives athletes a sure footing when working out, even with the thick foam underneath.
Each mat measures 5 by 10 feet in coverage, which is the perfect size for a boxing workout. It also works for kickboxing, providing a cushion against potential falls, according to customer Susan of Blue Mounds, Wis.