What Is the Best Flooring for Medicine Ball Workouts?
By Kyle Schurman Created: July, 2022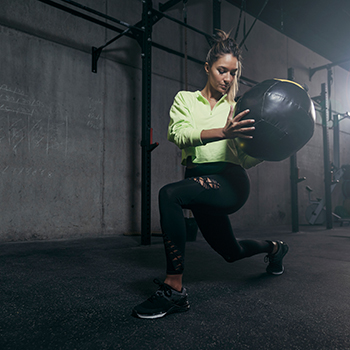 Medicine ball workouts may seem like they belong in high school and university gymnasium and P.E. classes from decades ago, but they do have a place in modern workout sessions. An exercise with the weighted ball can build strength and balance in a variety of areas of the body, including the core.
Because of the weight of the medicine ball, having the right flooring for this type of workout routine is important. Some of the best flooring options for safe medicine ball workouts include:
Pebble Gym Floor Workout Fitness Tile
1/4-Inch Rubber Flooring Roll
3/8-Inch Plyometric Rubber Gym Roll
3/8-Inch Rubber Confetti Flooring Roll
Interlocking Rubber Floor Tile
What Is a Medicine Ball and How Do You Use It for Workouts?
Modern medicine balls barely resemble the old brown, leather weighted ball from long ago. These exercise balls are available in multiple different weights, much like handheld dumbbells or kettlebells, so athletes can select the ball and weight that matches up with the planned medicine ball workouts for the day.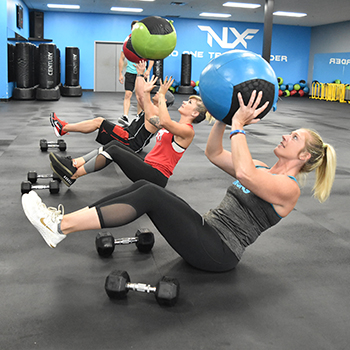 Some people use a medicine ball to help with crunches during an ab workout or to build the core muscles in the back. When throwing the ball with a partner, athletes can even work on cardio fitness and aerobic training.
Beginners can find a workout video to watch for ideas on incorporating the medicine ball into a full body exercise routine. This weighted ball will work for both high- and low-intensity workouts at home or at the gym.
Why Do You Need Special Flooring for Medicine Ball Workouts?
Although they have a weight and size that may look a bit like a hard-sided bowling ball, medicine balls have a soft exterior, so they shouldn't damage the floor during exercise if occasionally dropped.
However, when doing these kinds of workouts, installing exercise flooring over the top of any existing flooring is a good idea. These slightly cushioned floors provide protection for the subfloor, for the athlete, and for the medicine ball.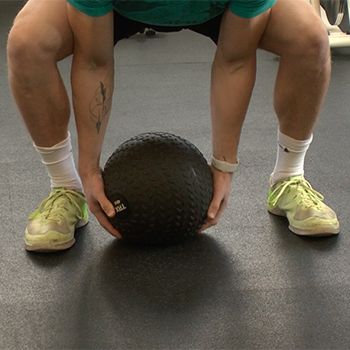 Some people may use a "slam" type of exercise with the medicine ball, which involves repeatedly throwing the ball downward onto the ground with force. If throwing it onto cement over and over, the ball could eventually split on its seams. Repeatedly throwing the ball onto the same spot of a hardwood floor could eventually damage the expensive floor too.
Additionally, working out with a medicine ball often requires the athlete to use the ground as leverage. Stone, vinyl, cement, and hardwood floorings all could cause the athlete to slip when applying pressure. Slipping with a medicine ball in an awkward position could result in a pulled muscle or a worse injury. Placing flooring with a grippy surface over the top of the hard floors is the better option.
Does Thin Flooring Help When Exercising With a Medicine Ball?
Installing a cushioned floor with a bit of grip on its surface will serve the athlete well during medicine ball workouts. The flooring doesn't necessarily need to be thick, which simplifies installation. A thin, durable material works well for protecting the subflooring and the athlete at the same time.
The Pebble Gym Floor Workout Fitness Tile is a popular selection in professional studios and for at-home workouts. It consists of lightweight, but dense, EVA foam that provides cushioning in its approximately 3/4-inch thickness measurement.
The top of the foam has a slight texture resembling small pebbles, which helps the athlete maintain a sure flooring during the exercise session. It has plenty of durability and density too, as it can support the weight of exercise equipment safely.
Rubber is another popular flooring option when working out with a medicine ball. It has excellent durability for almost any kind of workout involving weights, such as with barbells, dumbbells, kettlebells, and medicine balls.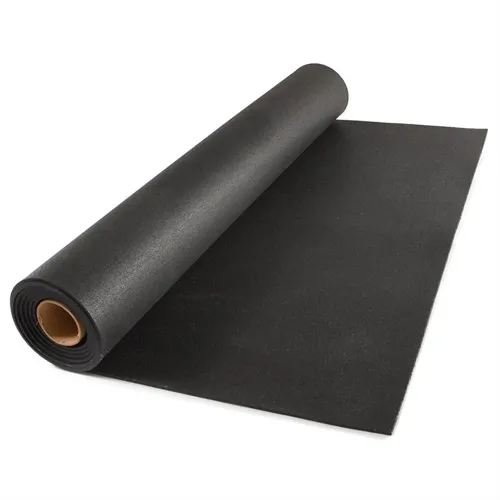 The 1/4-Inch Rubber Flooring Roll product measures 4 by 10 feet with 1/4 inches of thickness. It is easy to roll out for the exercise session. Once the workout is over, just roll it up and place it in storage. It doesn't require adhesive to stay in place.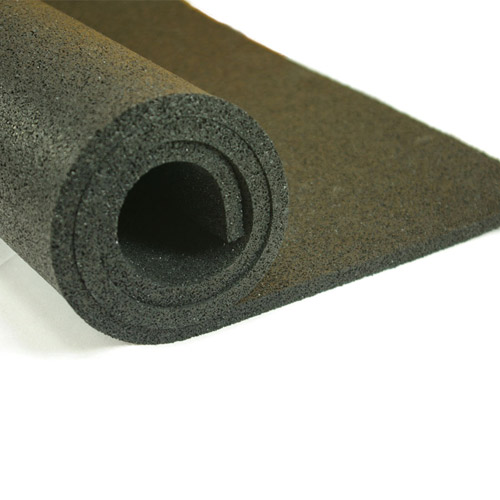 For a slightly thicker option, the 3/8-Inch Plyometric Rubber Gym Roll also measures 4 feet in width. Customers can order a custom cut length, so it is a good choice for a fitness studio with a lot of space to cover. It's durable enough for almost any kind of workout involving shoes.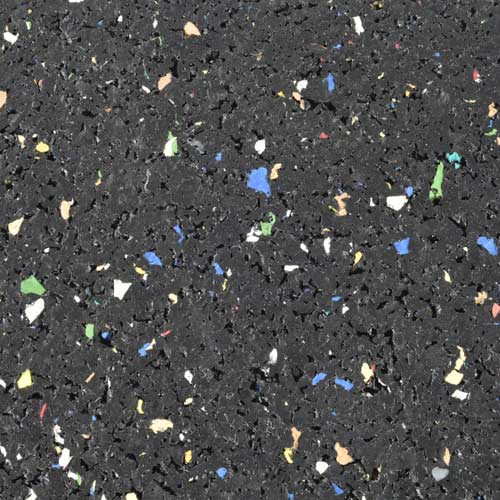 The 3/8-Inch Rubber Confetti Flooring Roll has a similar width and thickness measurement to the Plyometric roll, but it includes a more dense material and color flecks against the black base color of the rubber, creating a more pleasing look for use at home or in a studio. The confetti color refers to multiple random flecks of color in the roll.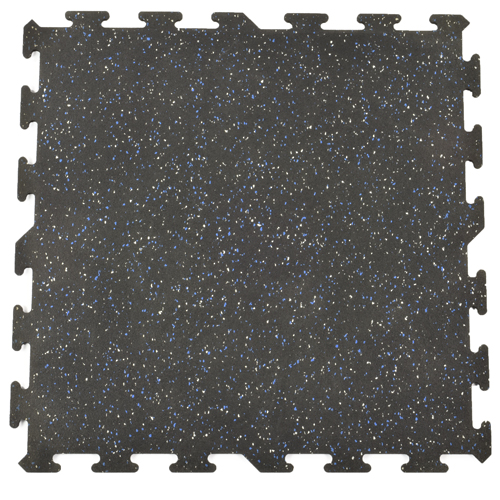 For those who prefer the convenience of tiles for installation, the Interlocking Rubber Floor Tile is a smart choice. Each tile has puzzle style edging, so the tiles pop together with very little effort. These tiles measure 2x2 feet and about 5/16 inches in thickness. They're easy to handle at 7.4 pounds per tile.