What's The Best Flooring For An Automotive Shop?
By Paige Cerulli Created: March, 2022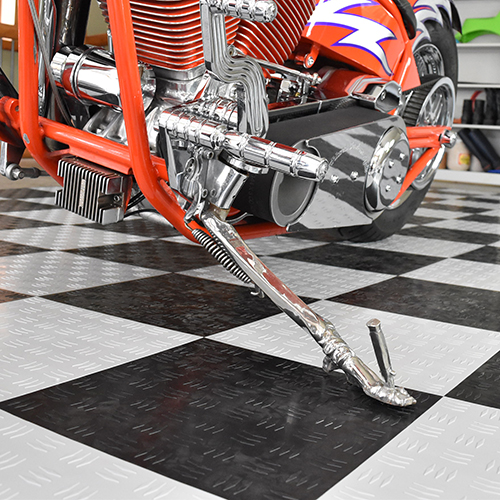 When you're shopping for automotive shop flooring, it's important to choose a product that's specifically designed for the demands of an automotive setting. Carefully choosing your flooring means that you'll get the best value for your money, and that flooring can play an important role in mechanic safety and comfort, too.
Features to Look for in Automotive Shop Flooring
Before you start shopping, think about the specific elements in your facility that the flooring will need to withstand. It's also important to consider the features that you want in your flooring.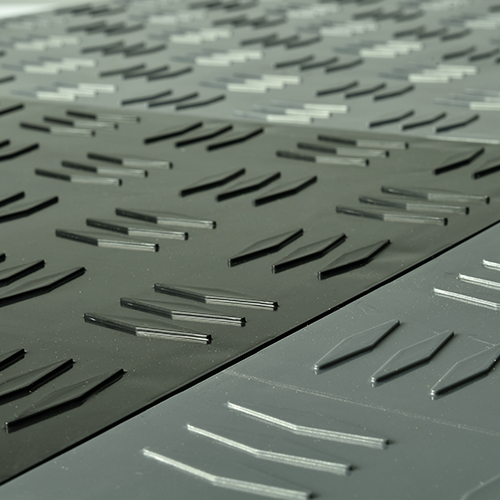 Durability
In addition to being hardwearing and strong, your flooring needs to be durable enough to withstand the chemicals and agents it will be exposed to. Look for a product that's designed to withstand degreaser, paint, oil, epoxy coatings, and other elements.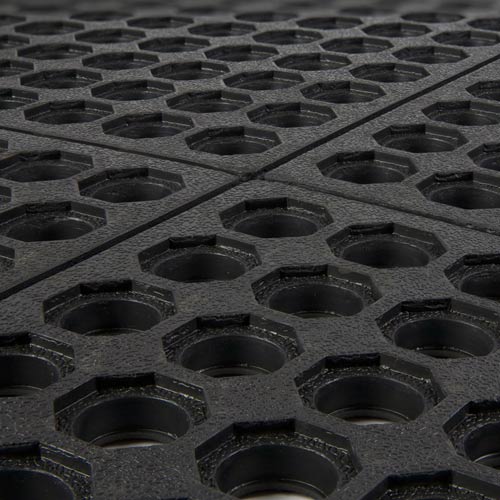 Traction
Automotive shop flooring needs to have plenty of traction, particularly when it's wet or exposed to oils. That traction can help to prevent slips, falls, and resulting injuries.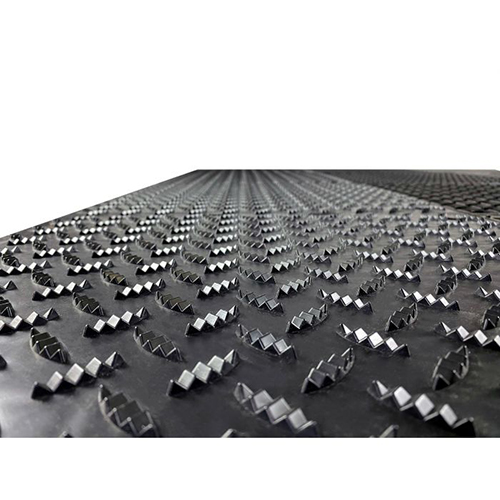 Anti-Fatigue Properties
Choosing a flooring that features anti-fatigue properties can help to keep your mechanics comfortable. This type of flooring will allow your mechanics to stay focused on their work and to stay more comfortable when working longer hours.
Ease of Installation
You'll want to choose a product that's easy to install. Modular tiles are often ideal, since you can remove them to periodically perform a deep cleaning of your entire body shop.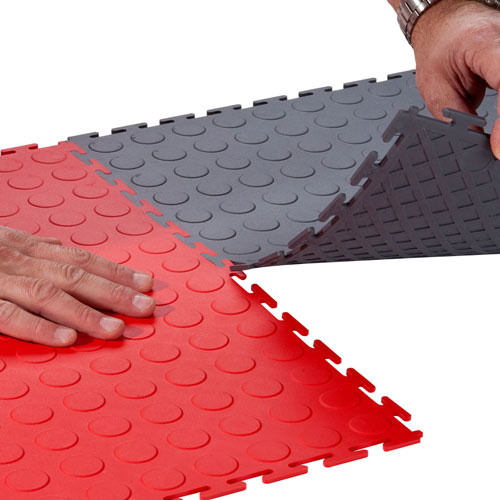 Easy to Clean
When it comes to maintaining your shop, you'll appreciate a flooring that's easy to clean. Look for products that can be swept or damp mopped with household cleaners, so you can focus on your work, rather than spending too much time maintaining your floor.
Automotive Shop Flooring Options
At Greatmats, we carry many products that are ideal choices for your automotive shop.
SupaTile 6.5 mm T-Joint Coin
The SupraTile 6.5 mm T-Joint Coin tiles are ideal for auto shops, restoration services facilities, and more. These tiles are resistant to oils, chemicals, mold, and mildew, so they can withstand the demands of installation in an auto shop.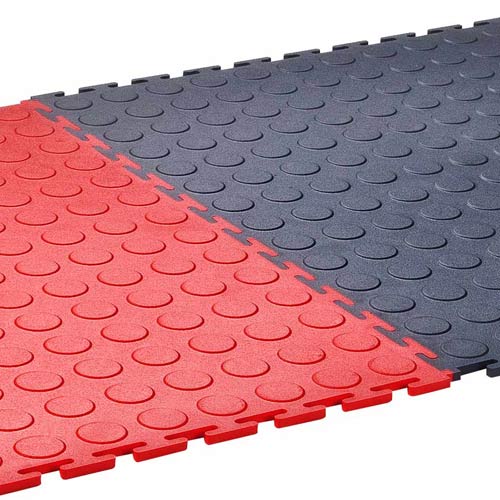 The tiles feel warm and comfortable underfoot, while also being resistant to impact, abrasion, and moisture. They offer excellent sound absorption, which can make your shop a more enjoyable environment.
With their interlocking T-joint design, the tiles connect together securely. They can be installed over uneven and old subfloors.
Even once installed, the tiles can be easily removed. With their 16,000-pound weight capacity, they're plenty strong for use in automotive settings.
Garage Floor Tile Diamond ⅝ Inch
The Garage Floor Tile Diamond tiles feature a raised diamond pattern to maximize traction and help to prevent falls. Made in the USA, these tiles are crafted with a no sink virgin polypropylene for excellent durability.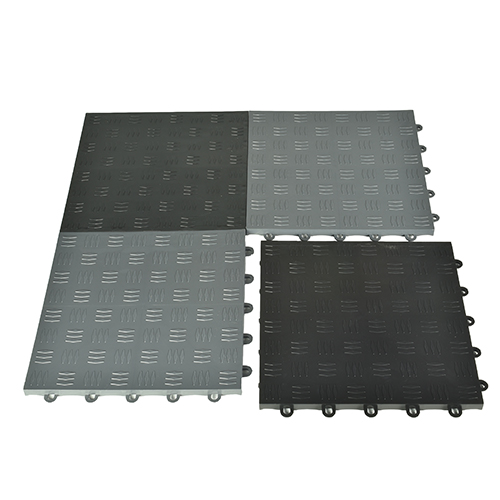 These garage tiles are rated for loads up to 10,000 pounds. Their peg and loop system makes for easy assembly and disassembly.
Designed for use in garages, the tiles can withstand moisture, solvents, and fuels. They're backed by a five-year limited manufacturer's warranty and carry a Shore A 100 material density rating for excellent toughness.
Ultimate Diamond Foot Solid 2x3 Ft Mat
If you're looking to maximize comfort for your repair workstations, consider the Ultimate Diamond Foot Solid 2x3 Feet mat. This 15/16-inch-thick mat provides excellent comfort and traction, thanks to its rugged diamond deckplate.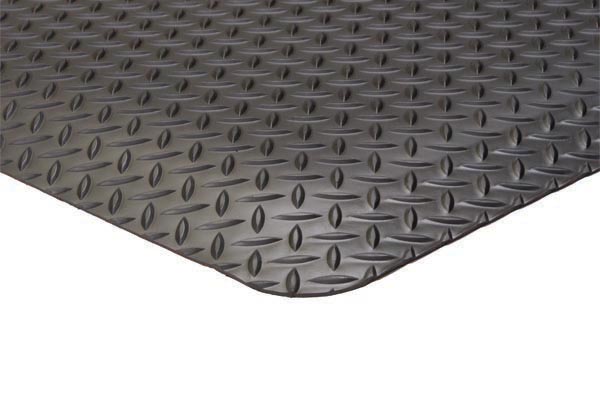 The mat is spark resistant, so it's suitable for all welding applications. It can also enhance comfort and add durability to your workstations, which see increased foot traffic and wear.
The mat features beveled edges for smooth and safe transitions onto and off of the mat. It's Made in the USA and features a three-year warranty against wear and delamination.
Wearwell ErgoDeck General Purpose Open 18x18 Inch Tile
The Wearwell ErgoDeck General Purpose Open 18x18 Inch Tiles are an ideal way to add fatigue relief to both wet and dry areas of your shop. It's made of a softer PVC that adds just a bit of cushion for valuable joint support and fatigue relief.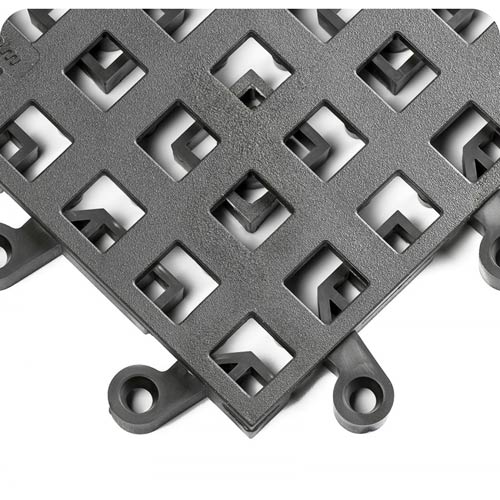 You can use the mat in dry areas, but its open grid surface will also help to keep workers up and out of water. The tiles' positive interlocking system keeps them securely connected and helps to prevent them from separating.
If the tiles become worn or damaged you can easily replace single pieces or sections as needed.
Wearwell Foundation Platform System Diamond Plate
The Wearwell Foundation Platform System Diamond Plate is a stationary work platform system that gives your mechanics a safe, comfortable place to work. The system is lightweight and is designed to maximize traction for safety.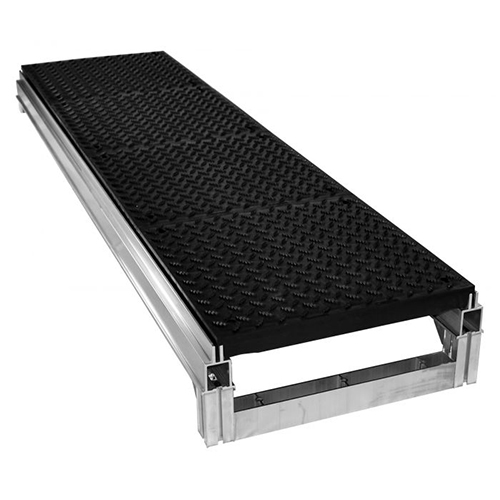 All of the segments of the system are corrosion resistant, and they also resist many chemicals. You can place the system over hoses, cables, and other hazards, helping to keep your employees safe.
Wearwell 24/Seven GR Perforated 3x3 Ft Mat
With the Wearwell 24/Seven FR Perforated 3x3 Ft Mat, you can easily keep employees up off of water or dry debris. The mat's perforations let liquids flow right through, and the mat won't absorb liquids.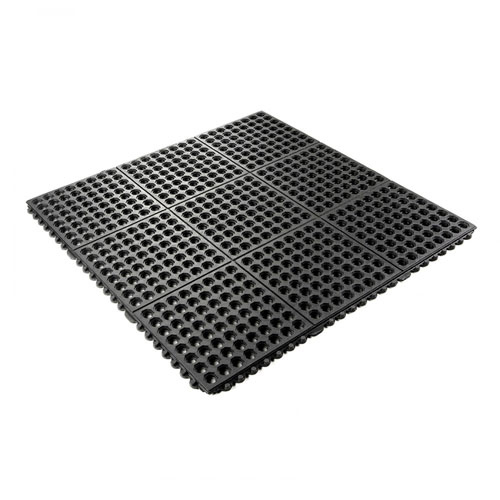 The mat is grease-resistant and offers valuable fatigue relief for increased comfort throughout the day. It's made of more than 50% recycled material, and is a highly durable flooring choice.
The mat features hidden interlocks, so you can connect multiple mats together for a single, cohesive surface. The mats are ideal for workstations where you want to increase safety and comfort.