What's The Best Flooring For Aerial Bungee Dance?
By Lisa Hobbie Created: December, 2021 - Modified: August, 2023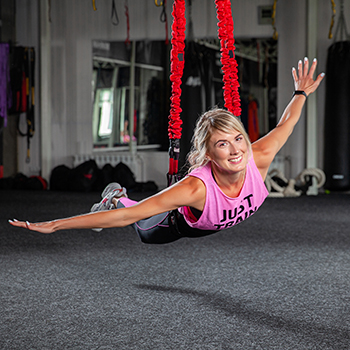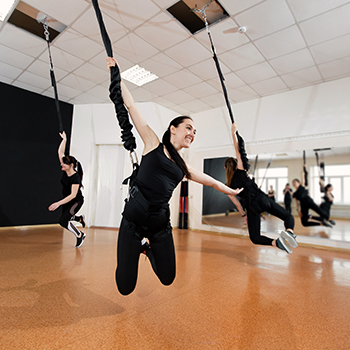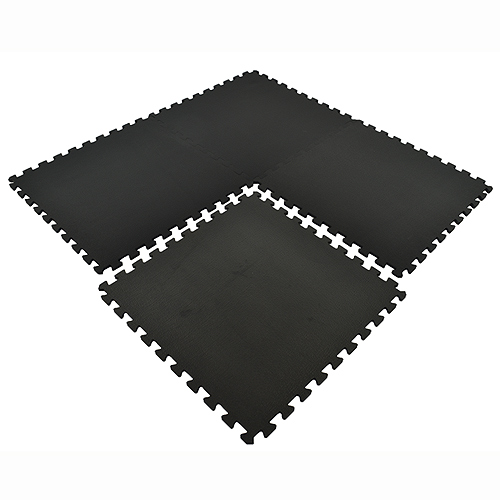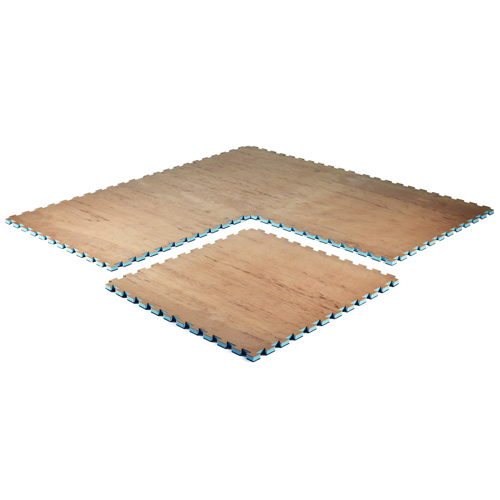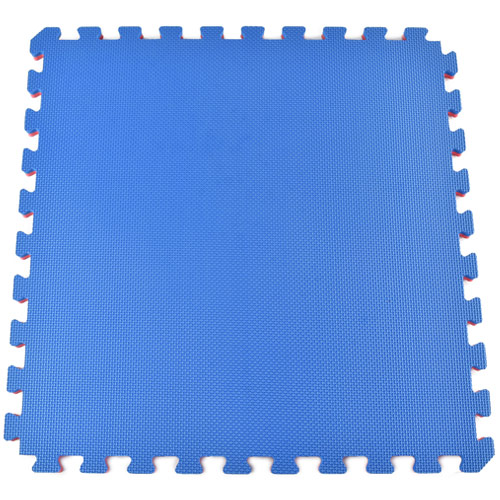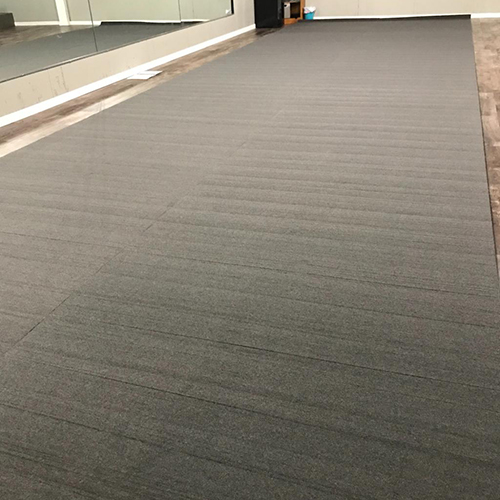 Aerial bungee dance is a fun and exciting addition to any fitness regime, and it's for anyone who loves leaping and dancing through the air.
Aerial bungee dance can be seen as a great workout and allows participants to work with gravity to build muscles and sculpt a leaner physique. Perfect for anyone looking for an effective exercise program, this low-impact cardio workout class incorporates the use of an elastic bungee cord attached to the participant's back via a harness and carabiner. It is easy on the body's joints and a fun combination of flight, acrobatics, and aerobics.
Safety is a huge aspect of aerial bungee dance, and adequate mats and safety flooring should be in place to protect from fall-related injury, equipment malfunction, or other hazardous events that could occur anytime you're hanging off of a wall or ceiling. Certification of instructors is a must, and safety measures must be in place anytime you're taking a class, participating in a workshop, or mastering your skill.
Greatmats offers a
wide variety of aerial bungee dance mat
options, with the following 6 products representing some of the best and most popular choices:
These soft mats would all offer a level of cushioned protection for those practicing aerial bungee dance, and they deliver some outstanding features and benefits.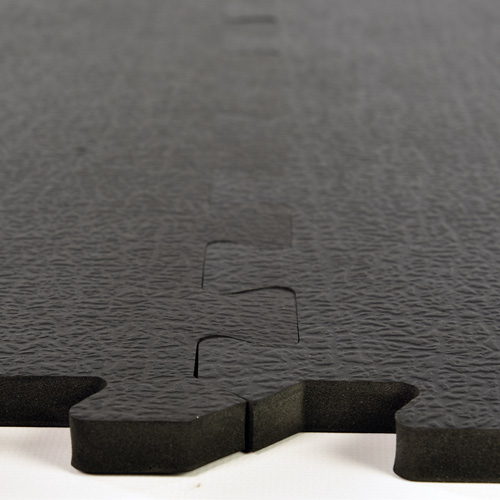 Sport Plus Designer Foam Tile boasts an interlocking puzzle tile installation design - making it great for a fast and easy DIY assembly method. It's an option that is lightweight and portable, and it's lead-free, latex-free, waterproof, and non-absorbent.
This durable and dense closed-cell EVA foam mat absorbs impact, offers anti-fatigue benefits, and is dense enough to offer a sure footing over which to perform bungee or similar fitness activities. It is also very easy to clean.
This is a commonly-used dance flooring and/or underlayment when fatigue relief is a must.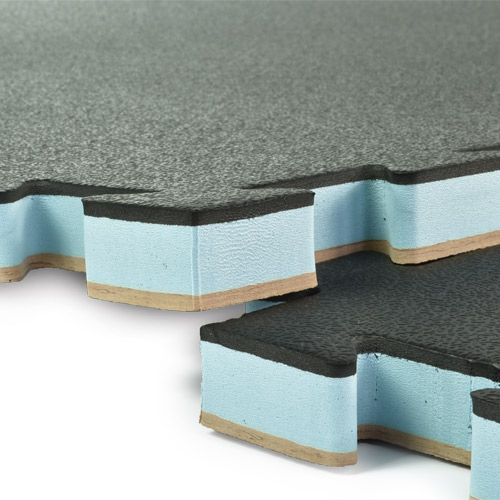 Premium Martial Arts Karate Mats are 1 inch thick, double-sided mats that provide a top-notch floor that looks great and offers an adequate level of safety. Made of high-density EVA foam with a smooth surface, these mats are best suited for use with bare feet or soft shoes.
The karate mats promote freedom of movement, and they are firm, yet flexible. They are very easy to install for a full flooring system with their interlocking design. They are low maintenance, and they resist mold, mildew, and odors.
This firm foam floor is extremely popular for aerobic and cardio dance studios with the added protection of 1 inch of impact-absorbing foam. It even has the option of a wood grain look.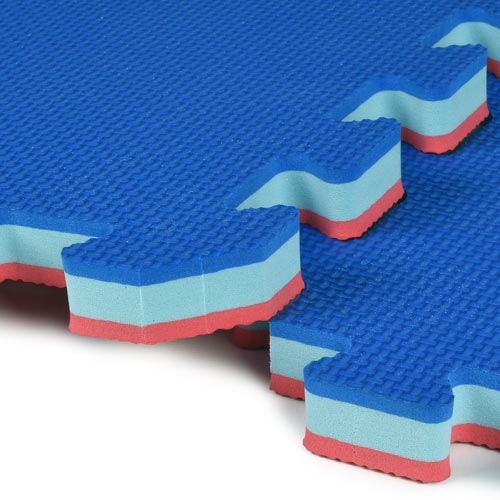 Home Sport and Play Mat is another interlocking foam mat option, but this one is smaller, lighter, and slightly thinner than the Premium mat product. This particular mat is a great choice if you want ease of portability and storage.
These EVA foam mats are latex and lead-free, and they are reversible and double-colored - offering a nice, cushioned, floating surface over a hard concrete, wood, or tile floor. They have tight-fitting interlocks and are designed to be used with shoes or bare feet.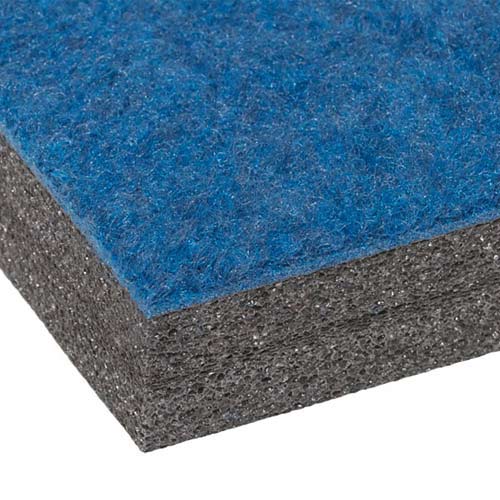 Cheerleading Mats 6x42 ft x 1-3/8 Inch Flexible Roll is a roll topped with needle punch carpet. It measures 42 feet by 6 feet and weighs 125 pounds, comes in many different colors, and boasts a convenient roll-up design for flexibility and portability.
This mat is manufactured to the highest quality assurance standards in the industry, so it will perform perfectly for years without looking worn or discolored. Additionally, the robust foam used in these mats allows for constant pounding from tumbles and stunts without losing shape or cushioning. The carpet surface also eliminates the "slap" that can sometimes occur if a fall takes place on a smoother surface.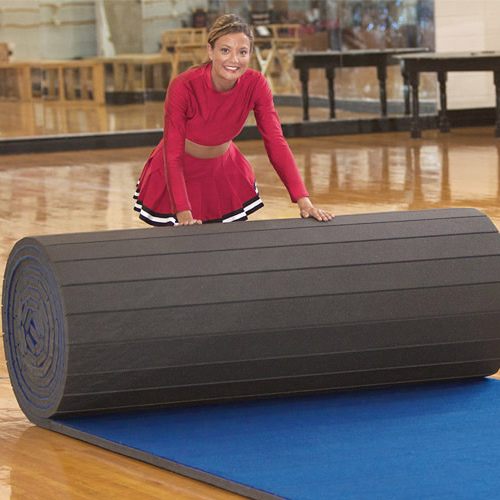 Cheerleading Mats 6x42 ft x 2 Inch Poly Flexible Roll is another option that can easily and quickly be rolled out or taped to additional mats for use, and they offer the perfect amount of cushioning to deliver protection. They also have a carpeted top, so the sting or slap that can sometimes occur when falling on vinyl mats is eliminated.
These mats are commercial-grade, professional-looking mats made in the USA and deliver 252 square feet of coverage. Once unrolled and in place, they stay put without unintentionally rolling back up. For maximum fall protection under your aerial bungee dance space, this is your best option.
Greatmats - For The Best Mats For Use With Bungee Aerial Dance & More!
Greatmats offers a wide variety of safety mats that are simple to use and install. The products featured have been designed to perform in many different settings, and they have been used in studios, gyms, and dance centers nationwide.
If you have questions about these products, reach out to the fantastic staff at Greatmats. They can provide you with all of the information you need to decide which product is the right one for your practice. If needed, they can also send you samples, help with your order, and so much more.
When you're ready to purchase safety flooring, let Greatmats go to work for you. With the best quality, service, and pricing anywhere, you can be confident in your purchase, regardless of the specific mat or flooring system you choose.