PortaBarre with Case 4 Inch x 3.7x9 Ft.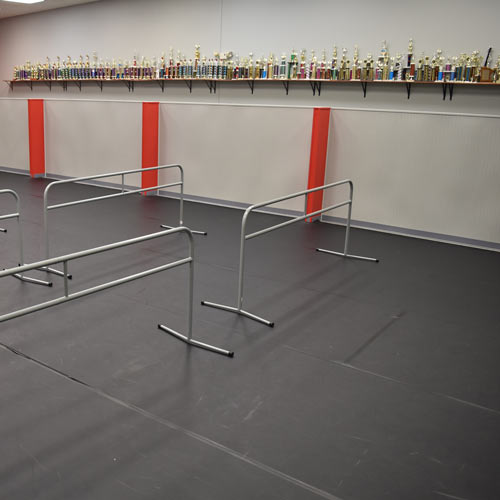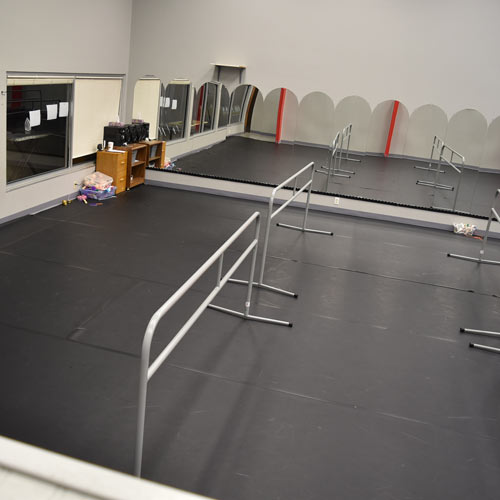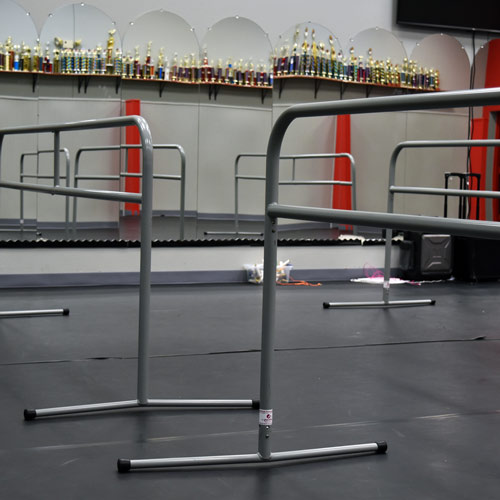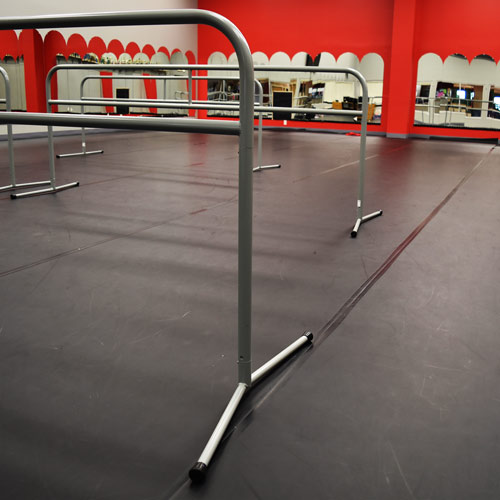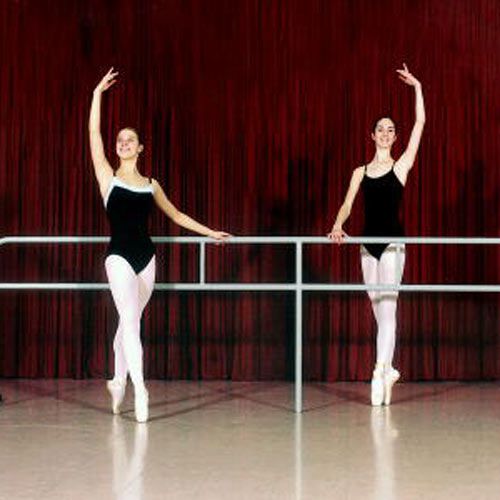 Easy to set up and use
Take down and take with you
Carrying case included
Handling Time Estimate: 1-3 Working Days
Please Call for Sample Options
Easy to set up and use
Take down and take with you
Carrying case included
Install anywhere to practice ballet
9 ft length in two pieces
Ballet Portable Barre, Dance Studio Ballet Barre, Home Ballet Barre
PortaBarre with Case 4 Inch x 3.7x9 Ft.
PortaBarre with Case 4 Inch x 3.7x9 Ft. is exactly what the name describes, a truly portable ballet dance barre. Designed by dancers, PortaBarre is extremely lightweight, yet highly durable and stable - perfect for dance studio barre exercises and barre workouts.
PortaBarre Portable Barre Collapsible Kit, 9 Feet Length

Make a temporary ballet practice area anywhere with the PortaBarre Portable Barre Collapsible Kit. This is a professional quality portable barre that is made in the USA for ballet and other types of exercise, delivering an impressive level of stability for children and adults.

At 9 feet in length, several students can use our portable fitness barres at the same time - whether for ballet, gymnastics or other barre based workouts. This creates a highly efficient practice area for a studio that doesn't want to add permanently installed barre bars to the walls.

Instead, set up these high quality portable kits in the middle of the room during a warm up or stretching session before ballet class or before a fitness class. Following the warmup, instructors can disassemble the bar system, leaving the full dimensions of the room for practice.
Travel Barre for Practicing Anywhere
The entire system makes use of an interlocking design that ensures each bar remains tightly in place after the installation. The double button interlock system secures the bars together. They will not pull loose when placed under stress.
When it's time to disassemble the double bars, just press on the buttons to loosen each bar. The system pulls apart almost as quickly as it goes together.
Installers do not need any special tools or tiny connector pieces to assemble this freestanding ballet barre. The bars pop together tightly on their own, thanks to the button system. This greatly simplifies installation and ensures the customer won't lose small pieces or special tools needed for assembly.
After disassembling the double barres, just place them inside the included carrying case. All of the bars fit inside, making this the best system for creating a portable barre that truly can go anywhere.
At 25 pounds for the entire kit, it has a perfect weight for travel or for carrying between different rooms in the house or studio. Our aluminum bars weigh far less than barres made from wood or steel. Yet our system remains sturdy enough for ballerinas and students of any age to use effectively.
As part of the assembly process, horizontal bars serve as legs across the base of the free standing barre. These give the necessary stability to allow students to feel safe while using the kit. Reviews of this system show that customers appreciate the build quality and the durability of the system, yielding a great value.
Use Cases for Barre System
Although many of our customers use our portable barre kit for creating a practice ballet space at home, these support barres have a few other potential use cases available beyond home use for a ballet dancer.
Fitness centers may use the barre to give their athletes the ability to perform stretches before participating in an exercise class. They also may offer exercise classes that incorporate the barre to focus on particular muscle groups, encouraging flexibility and toning.
Some exercise sessions that make use of a barre bar will bring in elements from workouts like yoga, dancing, Pilates, and strength training barre classes. Athletes who use barre in their sessions often are seeking a toning of the muscles that will help them resemble a dancer's body.
Learning the Proper Barre Technique
When using our portable kit for ballet exercises, customers should understand that the setup will not work for supporting the entirety of the weight of the student. This ballet studio barre system should provide a means of helping the student maintain balance more efficiently by only providing support.
With a permanently installed bar at a studio, students may begin relying on the security of the bar to support their full weight. This is not the proper technique for using a barre for ballet, however. Our portable system ensures students cannot fully lean on the bar and develop a bad habit.
Ideally, when using the proper technique for ballet, students will place very little weight on the bars. This portable unit works best when students lightly balance themselves against the barre, encouraging excellent technique and the desired results from practice time.
Free Standing Ballet Bar Kit Specifications
Lower Barre Height: 2 feet, 8 inches

Upper Barre Height: 3 feet, 7 inches

Length: 9 feet

Post Diameter: 4 inches

Weight: 25 pounds

Color: Gray

Material: Powder coated aluminum
Maintenance and Care
By using aluminum in the bar, this kit is easy to maintain. It does not require significant levels of extra care from the customer, giving it an advantage over materials used in permanent barre bar installations, such as wood.
Customers may use a dry microfiber cloth to remove dust or water spots from the powder coated aluminum. Should the portable barre require a more extensive cleaning, customers can use a damp microfiber cloth to wipe down the bars.
The powder coated finish on the portable bars should stand up to regular use without showing damage or scratches far better than cheap materials. Customers could damage the powder coating by using steel wool or a harsh, abrasive cleanser on the bars.
This 9-foot length kit for sale has a 5-year limited manufacturer warranty.
Shipping
Ships via ground service in cartons to your door
This Product Ships UPS Ground and/or Freight.
Please review our shipping disclaimer.
| | |
| --- | --- |
| SKU# | 09095-0108 |
| In Stock | Yes |
| Thickness | 4 inch |
| Width | 0.00 feet |
| Length | 9.00 feet |
| SF per Item | 0.00 |
| Weight | 35.00 lbs |
| Packaging | Cartons |
| Number of Pieces per Package Type | 1 |
| Non Absorbent | Yes |
| Special Adhesives | No |
| Interlock Loss | 0.00 feet |
| Interlocking Connections | No |
| Made In | USA |
| Surface Design | Solid color |
| Installation Method | Set up and use |
| UV Treated | No |
| Reversible | No |
| Border Strips Included | No |
| Manufacturer Warranty | 5 years limited |
RELATED PRODUCTS