How to Choose Dog Agility Turf
By Paige Cerulli Created: April, 2018 - Modified: May, 2023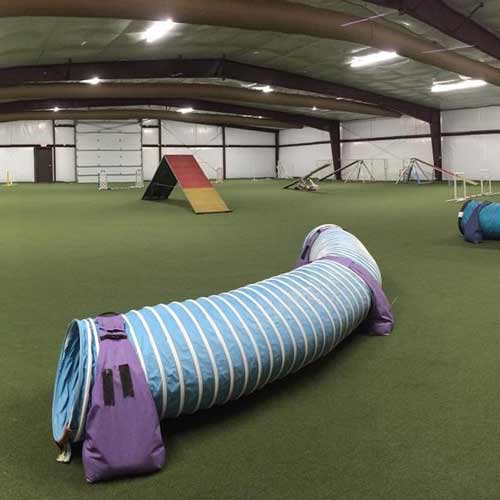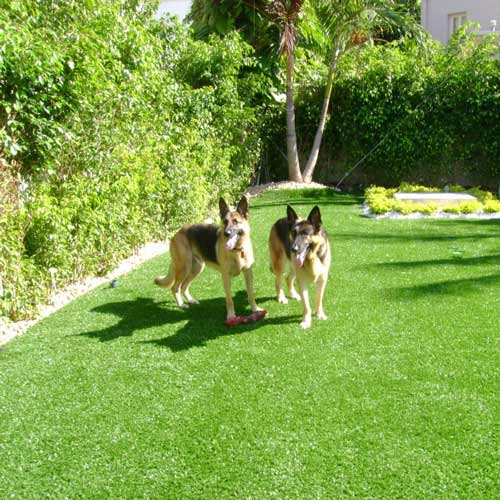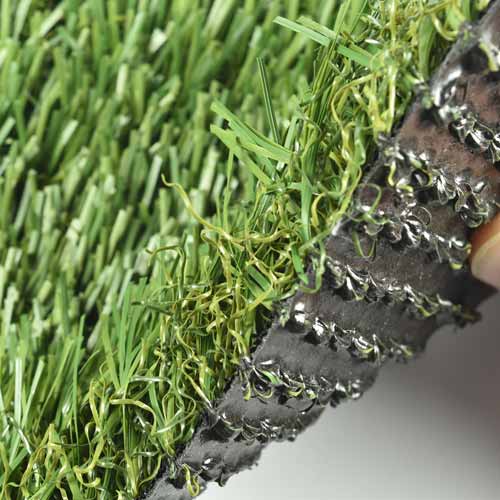 A great dog agility course starts with ideal flooring designed to keep dogs and trainers safe while also providing durability and a great aesthetic. That's a lot to ask of flooring, but our dog agility turf options are all up for the task.
When you choose artificial turf for dog agility facilities, you need to make sure that you're purchasing a product that's just right for your intended use. A sub-quality product won't hold up to the demands and traffic that it will see in your facility. A product that doesn't create a forgiving surface will take a toll on your joints and on your dog's comfort. Plus, there are other issues like maintenance, UV resistance, and installation to consider.
But don't worry, we'll guide you through the process of choosing the perfect dog agility grass for your facility.
Why Artificial Grass for Dog Agility Makes Sense
When it comes to choosing a flooring product for your dog training facility or agility course, you have a lot of options to select from. There are plenty of flooring products that are forgiving and comfortable, yet are also durable enough to withstand the traffic they'll see in a professional facility.
But artificial grass for dog agility offers a number of benefits that other flooring types don't. It's no wonder that it's so popular for agility facilities. Here are just a few of the reasons why artificial turf makes sense:
- Attractive finish: Faux grass for dogs makes for a beautiful finish that will truly transform the look of your agility course. It's a great way to brighten up an indoor course, or to make an outdoor course look great. Photos come out wonderfully thanks to the bright turf's color, and dog owners will appreciate the ability to get great photos of their dogs during training and competition.
- Low/no maintenance: With artificial turf, your maintenance time and costs will be greatly reduced. There's no dealing with mud or divots or patches of dead grass. Most of our dog agility turf options can just be hosed off regularly. This means you can focus on running your facility, rather than maintaining it.
- Comfort and safety: Artificial turf for dog agility makes a comfortable surface that can help to keep dogs and handlers safe. It's forgiving enough so that you can complete course runs comfortably, but also provides enough firmness so that dogs can get good traction during their runs.
- Durability: While artificial grass is forgiving, it's also highly durable. The options suitable for dog agility are designed to withstand high degrees of traffic and won't be easily torn up by claws.
- Year-round use: You can use artificial turf year-round, both indoors and out. Because it's designed to provide plenty of drainage, you can get back to using your outdoor course soon after a rain. Plus, you'll always be able to enjoy the attractive look of green grass, no matter what the weather has been like.
- Indoor and outdoor versatility: Many of these products can be used both indoors and outdoors.
- Fast installation: Installing artificial turf is a fairly simple process that can be quickly completed. Once the turf is installed, you can put your agility facility right to work.
From setting up a practice course in your backyard to outfitting your professional training or competition facility, artificial grass for dog agility makes great sense.
How to Choose the Right Artificial Grass for Dog Agility
Consider the following factors when determining which product is best for your facility's needs.
- Durability: Great durability is a must-have for any turf that will be used for agility. Look for a product specifically designed to withstand dog claws and the high degree of traffic that your course will see.
- Pile height: Artificial turf comes with different pile heights, which refers to the height of the blades of grass. For agility, you'll want a pile that gives dogs plenty of grip without being too deep.
- Installation location: Consider where you'll be installing the turf. Will you be placing it on top of a concrete base indoors, or do you want something that can be installed outdoors? If you're considering an outdoor installation, then factors like drainage, the ability to withstand extreme temperatures, and UV resistance also become important.
- Tiles versus rolls: Artificial turf is available in both tile and roll form. While tiles are conveniently sized for easy transportation, rolls usually make more sense when performing a large installation. Turf rolls leave fewer seams in your finished surface, and are often a more economical choice for larger projects.
- Required maintenance: Most artificial grass products are designed to be low-maintenance. In most cases, you can hose off the turf to keep it looking fresh. There's little else that you'll need to do for your flooring.
- Budget: Different artificial turf products come in at different price points. When deciding whether a product is suitable for your budget, don't forget to factor in the price of the product, the cost of any infill, and the cost of installation.
Ready to get shopping? We've outlined a few of our favorite artificial turf for dog agility options for you below.
True Turf Artificial Grass Turf Roll
Durable, beautiful, and comfortable underfoot, our
True Turf Artificial Grass Turf Roll
is our top choice for dog agility turf. This turf can be installed both indoors over concrete, as well as outdoors. Because the design of this turf allows water to pass right through it, you can promptly start using the surface again soon after a rain. It also makes for easy cleaning, since you can flush the turf with water (just make sure that you allow for drainage beneath the turf when you install it - a crushed stone base is recommended for outdoor installations).
With a 9/16-inch pile height, this turf looks natural and feels great underfoot. It's highly durable, and the individual yarns of grass are embedded into the backing. This quality construction contributes to the turf's extreme durability. Even under the high traffic that your dog agility course may see, this turf is strong enough to hold up for years.
Pet Heaven Artificial Grass Turf Roll
Combining excellent durability with a high-quality turf, the
Pet Heaven Artificial Grass Turf Roll
is a great option for agility courses. This turf has been specifically designed to withstand pet traffic and a high degree of wear. Its backing is made of a dual-layer woven polypropylene with a SilverBack polyurethane coating. This unique construction contributes to this turf's extreme toughness and durability.
Maintaining this turf is incredibly simple - just flush it with water as needed, and it will be cleaned and ready to go again. Its 12-foot-widths quickly cover large areas, and you can order custom lengths (with a 20-foot minimum). This turf reacts naturally underfoot, making an excellent surface for both dogs and handlers to navigate.
UltimatePet Artificial Grass Roll
For the ultimate in realism, consider the
UltimatePet Artificial Grass Roll
. But this turf is more than just great looks. It's versatile, and can be used both indoors and out. The 1-5/8-inch pile height provides plenty of cushion underfoot and makes for a natural feel and performance. The turf can perform in all kinds of climates, and drains away water well after a rain. You can simply hose the turf down to clean it. It's virtually maintenance-free.
La Jolla Artificial Turf Roll
Extremely durable and backed by a 5-year warranty, the
La Jolla Artificial Turf Roll
is a great choice for agility courses that will see lots of traffic. This high performance turf can be used indoors or outdoors, and is incredibly durable and versatile. The 1.75-inch pile height looks and feels realistic underfoot. Additionally, the thatch pattern provides added body, so the turf looks and feels full while requiring less infill - which will save you money.
The 15-foot-wide rolls will quickly cover large areas, resulting in minimal seams in your finished product. Just occasionally flush the turf with water to restore its original beautiful color. It couldn't be easier to maintain.
Choosing Your Artificial Grass for Dog Agility Use
At Greatmats, we offer plenty of options that make a great addition to any dog agility course or facility. If you have any questions, please give our customer service representatives a call. We would be happy to help you choose the perfect product for your needs.