Are Carpet Tiles Durable? Commercial and Residential Carpet Squares
By Kyle Schurman Created: February, 2020 - Modified: June, 2022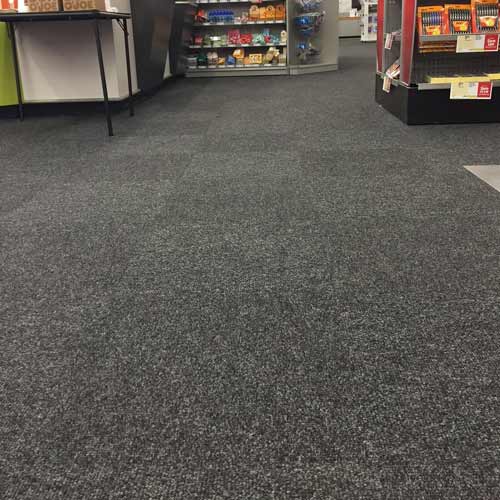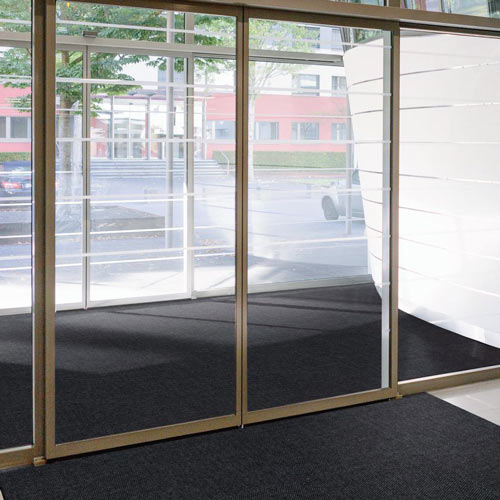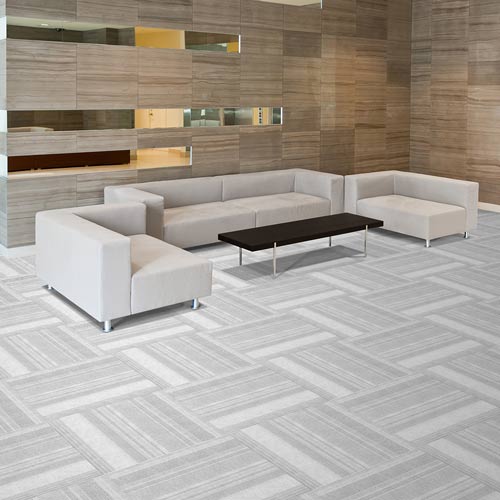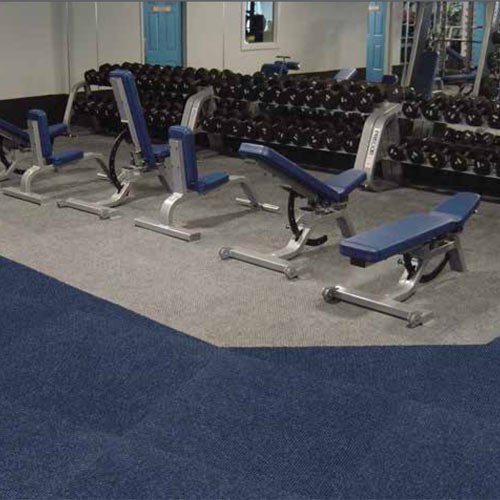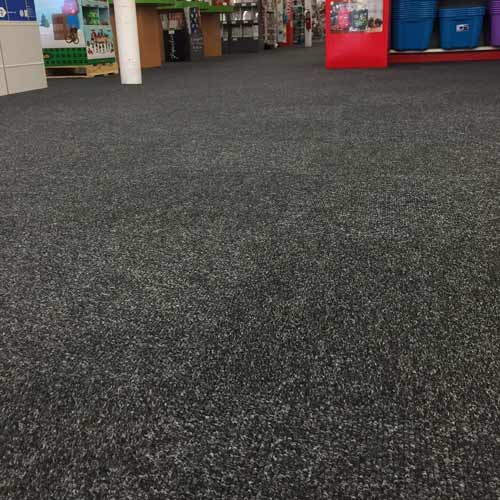 Carpet tiles are a popular type of flooring option for use in the home and many commercial areas because of the simplicity of installation. But durability is also a key component for these squares, making them a popular option for use in a commercial setting or a gymnasium where heavy use is common.
You'll find long-lasting products when you install carpet tiles, as they carry multiple year warranties. You can expect hardwearing results with many of these squares, as they may last 10-20 years, even in a business setting.
Durable Residential and Commercial Carpet Tiles
At Greatmats, we have many
tough carpet tiles
in stock that will deliver excellent results in your commercial enterprise. Here are some of the best carpet squares we offer in terms of durability.
Propel Commercial Carpet Tile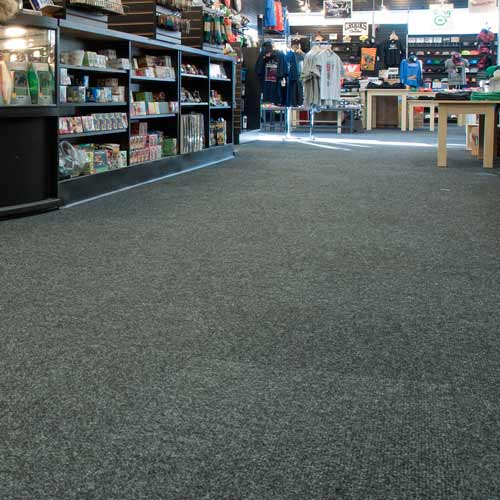 For a commercial setting, the Propel Commercial Carpet Tile product is a type of flooring created to work in places like banks, churches and hospitals.
The surface contains a ribbed design that's made to pull dirt and moisture away from the shoes of people walking on it. This material is stain resistant, so it stands up to regular foot traffic nicely.
You'll use adhesive during the installation process over the subfloor. Be sure to remove any contaminants, paint, or other debris from the subfloor before applying the adhesive, or it will not stick properly.
Even though they're only 9/32 inches in thickness, these carpet tiles are strong, as they carry a 3-year limited manufacturer warranty.
Dominator Gym Carpet Tile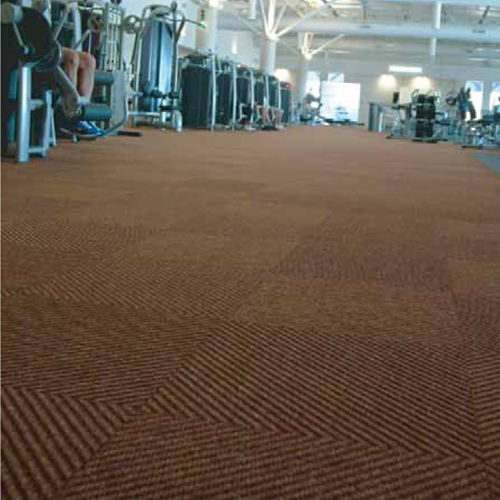 The diagonal ribbed surface on the Dominator Gym Carpet Tile will remove moisture and debris from shoes, making this product extremely sturdy and practical. The ribbed surface creates an eye-catching texture too, as the tile pieces look great in almost any setting.
You can use this product to cover and protect the gym floor. It is engineered to withstand constant usage, making it ideal for pedestrian traffic areas in gymnasiums.
It's an anti-static type of carpeting, thanks to the polypropylene material. It has a 5-year limited manufacturer warranty.
Imperial Hobnail Heavy Duty Carpet Tile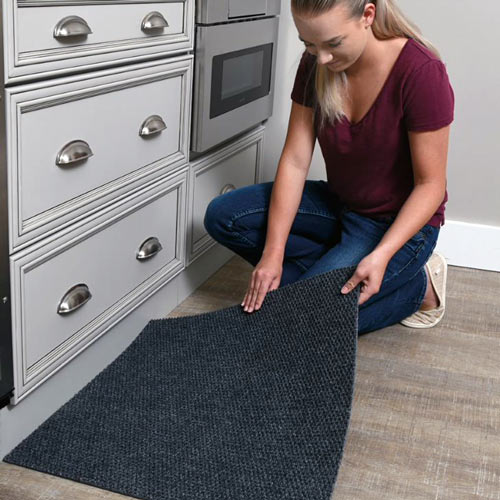 When you want carpet tiles that are easy to install, the Imperial Hobnail Heavy Duty Tile squares give you excellent results. The fibers remain in place, resisting unraveling or fraying, even when placed under heavy levels of traffic.
Installation is a simple process, as you can lay out these large 2-by-2-foot tiles in no time at all. Additionally, these are peel and stick squares, so there is no messy adhesive required to install them.
The Hobnail product consists of recycled purified plastic bottles, so this is an eco-friendly option for protecting your subfloors. It's safe to use around small children and pets, and it carries a 5-year limited manufacturer warranty.
Smart Transformations Couture Carpet Tile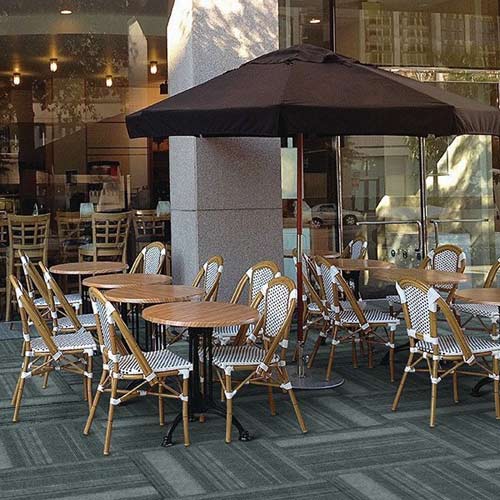 One of the most durable tiles we offer is the Smart Transformations Couture Tile. It makes use of Dura-Lock, which is a premium carpet backing design that holds the fibers in place, even when the carpeting is exposed to heavy foot traffic.
These fibers will not pull out of place or fray, giving you a product that's sure to last. These squares are made in the United States and carry a 5-year limited manufacturer warranty for fade, wear, soil, and stain.
Entrepreneur Carpet Tile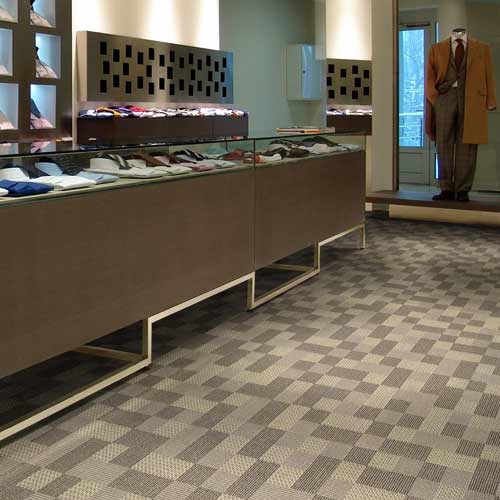 For the longest lasting carpet square design we offer, count on the Entrepreneur Carpet Tile, which carries a limited lifetime manufacturer warranty.
You do not need adhesive to install these tiles, thanks to the StayTac backing. To use this backing, the subfloor needs to be free of debris before you slide and stick the tiles into place.
This durable carpeting is rated to deliver excellent performance in a commercial setting. It's also stain resistant, so it's made for locations where other types of carpeting aren't tough enough to handle the use case you have planned.
Maintaining Carpet Tile Products
To contribute to the length of time your carpet tiles will give you a high level of performance, you can undertake regular maintenance on them. Maximizing the lifespan of these heavy duty carpet squares often is as simple as keeping them as clean as possible.
Vacuuming. Vacuuming the tiles removes soil and particles from deep in the fibers. It also restores the pile height. Heavy traffic areas should be vacuumed daily, while medium and light traffic areas can be vacuumed once or twice a week.
Cleaning. A wet carpet cleaning several times a year loosens stubborn soils and returns the carpet closer to its original color. When wet cleaning the carpet tiles, you have to take care that you don't oversaturate the fibers, which can cause shrinkage.
Catch-all mats. If you use rubber entry mats and thick entryway carpet mats at the doorway to your commercial building, people entering from outdoors can remove some of the dirt, debris, and moisture from their shoes, keeping it away from the main carpeted areas.
By using all of these maintenance methods, fewer contaminants will be embedded in the carpeting inside the building, which keeps the carpet tiles in a good condition for a longer period of time, giving them greater longevity.