What Is The Best Way To Clean Carpet Tiles?
By Lisa Hobbie Created: August, 2021 - Modified: December, 2022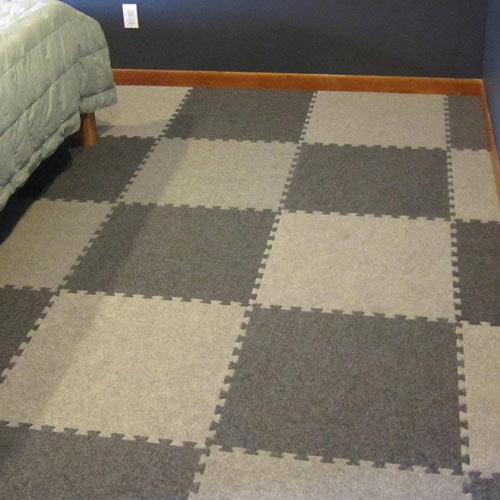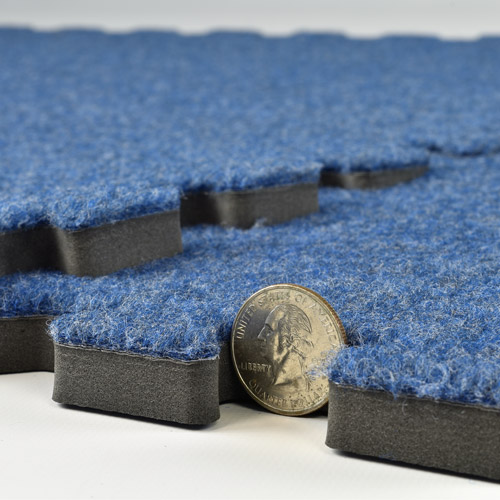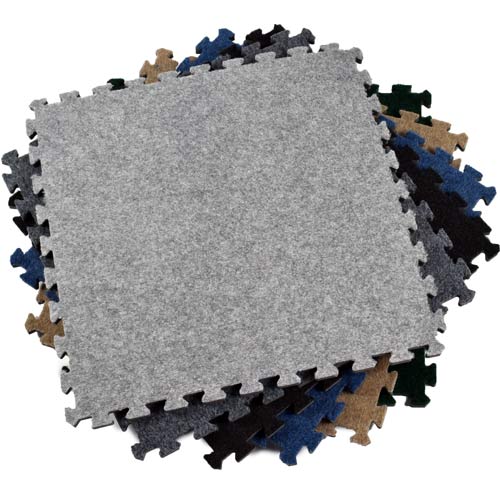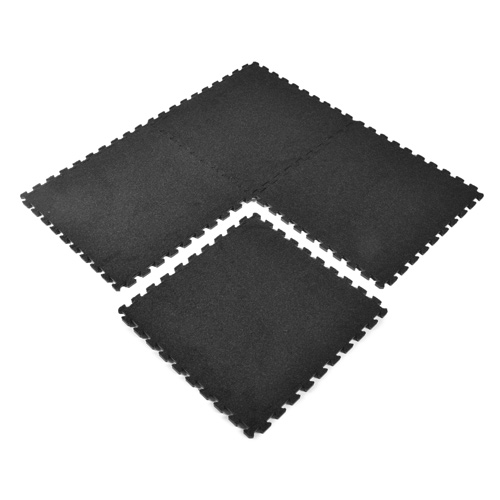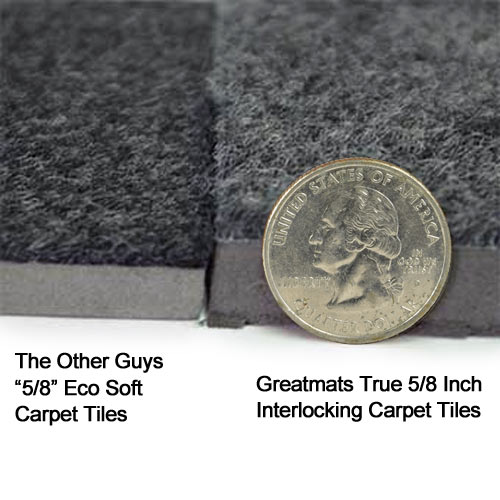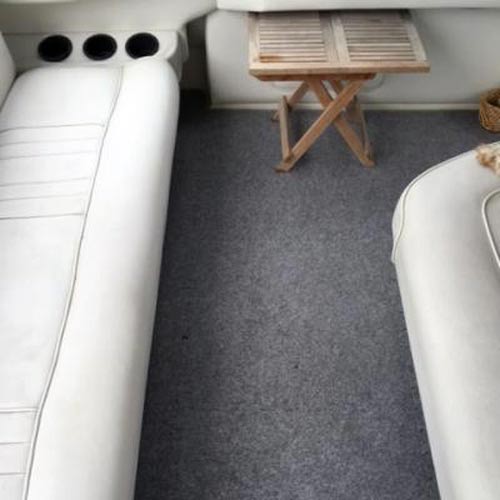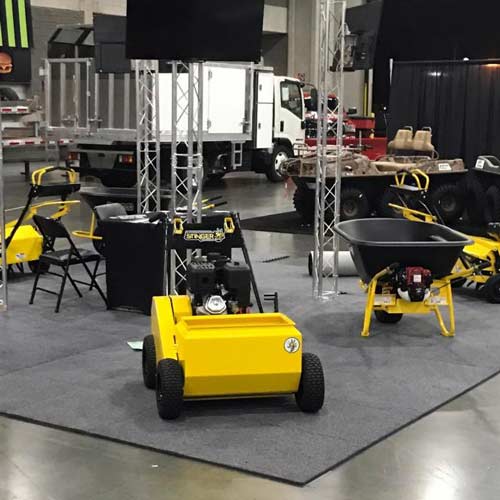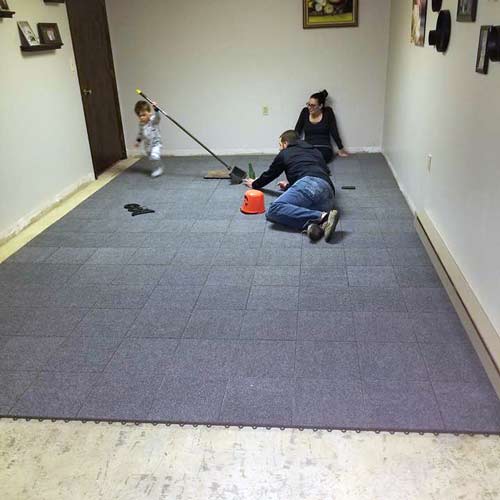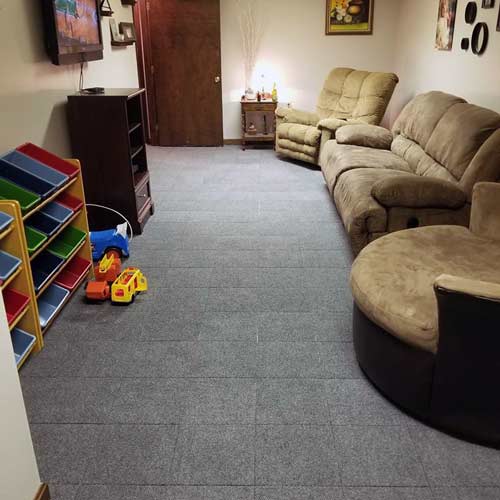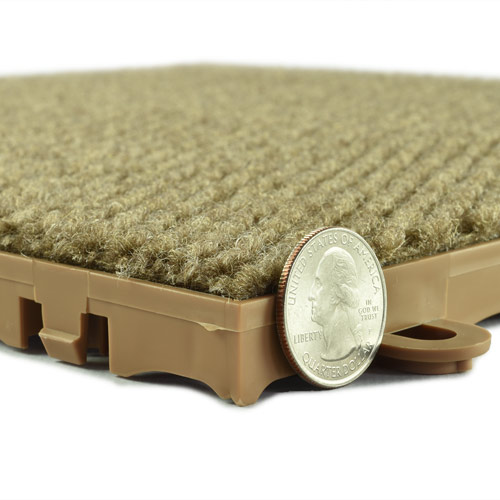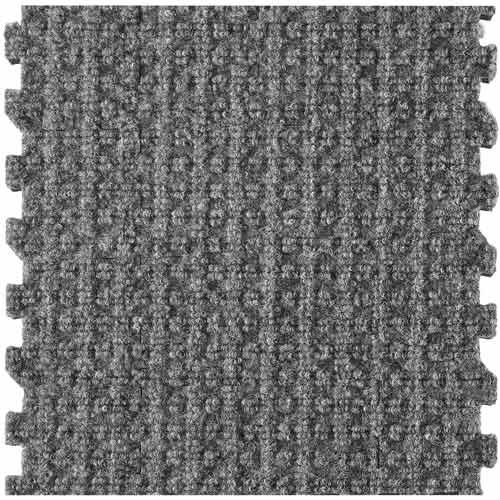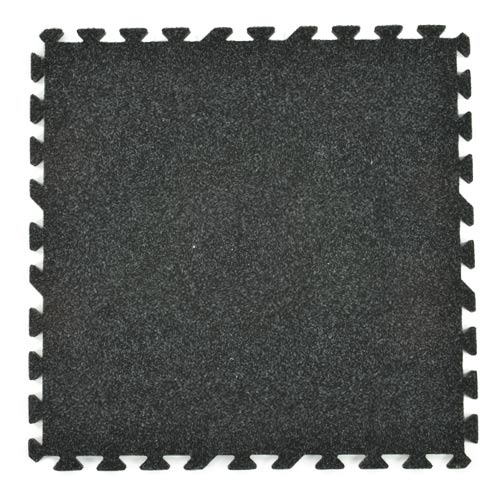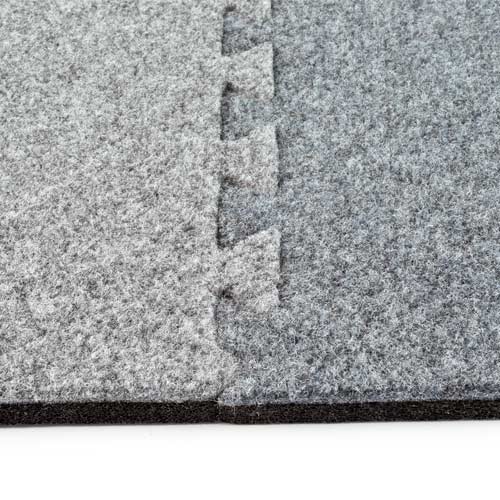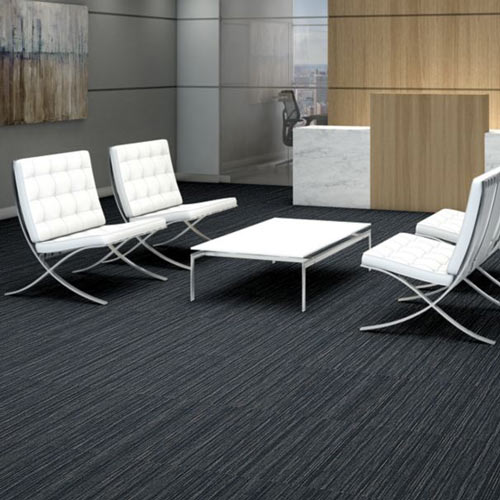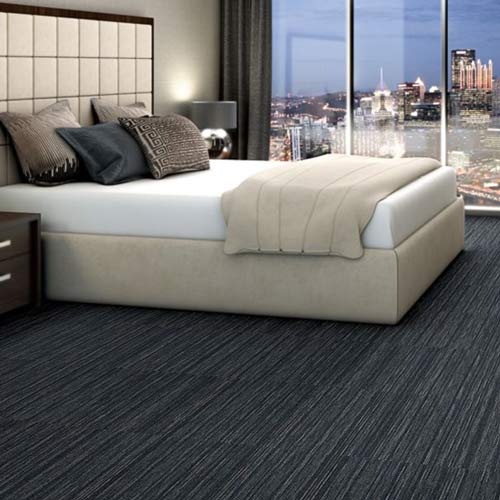 Cleaning carpet tiles
is as easy as it is to clean traditional carpet. They can be vacuumed, shampooed, and for a deep clean, some can even be steam cleaned.
Methods for Cleaning Carpet Tiles
Vacuum
Spot Scrub
Professional Shampoo
Deep Clean
Steam Cleaned
Use Caution with Steam Cleaning:
If you do plan to use a steam cleaner, keep in mind that if your carpet tiles have a closed cell foam backing, steam cleaning can cause some expansion. Some steam cleaners can also force water between plastic-based tiles allowing water to get underneath them. Typically, the water will evaporate due to the raised base design. If you're unsure if heat will cause problems with the adhesive used to attach the carpet to the base, reach out to the Greatmats' staff.
You can spot scrub problematic areas, or, the carpet square can be removed for scrubbing in a sink or hosing it down. This works for many floating carpet tile systems.
Commercial & Residential Carpet Tiles Available at Greatmats
Not only are these home or commercial carpet tiles easy to clean and maintain, but they offer many great features and benefits!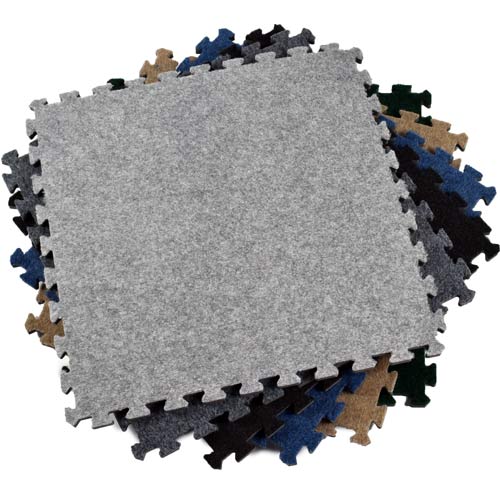 Royal Interlocking Carpet Tile is a
stain resistant
product that is extremely easy to clean and maintain. It offers the cozy appeal of traditional carpet in a durable tile that is waterproof and non-absorbent - preventing the unwanted growth of mold and bacteria.
These interlocking carpet squares are made from a mix of durable carpeting and a soft closed foam base, resulting in a floor that will withstand it all - foot traffic, furniture, and years of use. It can be installed directly on a clean, hard surface without glue, and it delivers anti-fatigue and insulation values much like traditional plush carpet does. To keep them looking their best, just vacuum them regularly.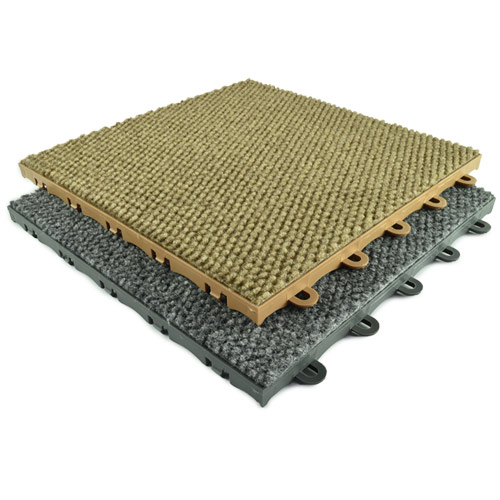 Modular Square Carpet Tiles are modular removable tiles which create a floating floor that is a green product made from recycled materials.
This tile is made to withstand heavy furniture, foot traffic, and even high roll loads with its top notch construction. The tiles are easy to snap together without padding or adhesive, and they are just as easy to remove for temporary installations or to check the subfloor. To clean and maintain this floor, just vacuum it regularly.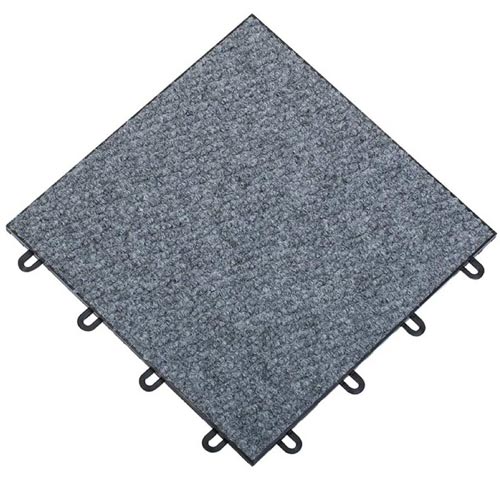 CarpetFlex Floor Tile is a raised carpet tile made in the USA that is easy to install with a simple snap together design.
This product offers anti-fatigue, non-slip, and waterproof qualities, and the raised design allows for airflow beneath - reducing the risk of mold and mildew. And unlike traditional plush carpet with an open cell foam underlayment, moisture does not cause a spot or stain to appear as the seepage will likely never reach the carpeting and doesn't have any padding to soak into.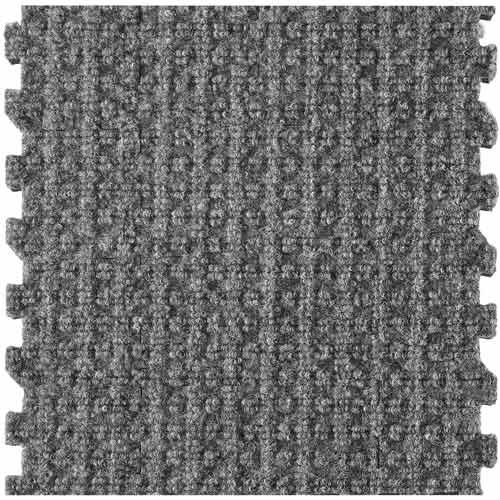 Designer Impressions Interlocking Carpet Tile is a commercial grade option that is easy to install over a hard surface without glue, tape, or staples by using its interlocking design.
This product is suitable for a wall-to-wall or island installation, and the individual tiles can be custom cut with a utility knife and straight edge. This product delivers anti-fatigue and insulative properties, and it's waterproof and odor proof. It's a great choice for trade shows, showrooms, basements, entryways, expos, booths, home theaters, or most other settings that have a flat, smooth subfloor.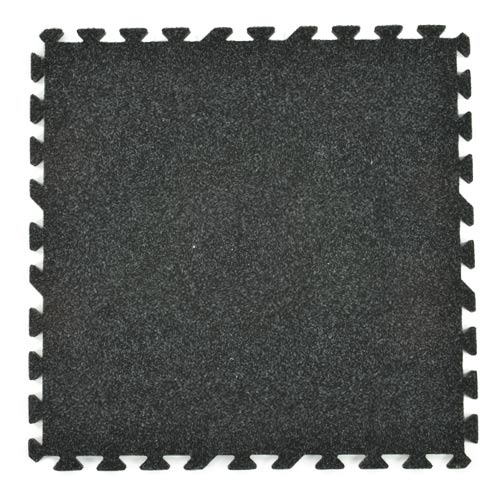 Comfort Carpet Tile is another interlocking product designed to withstand constant, heavy foot traffic. It is also designed to cover a large space with minimum individual tiles.
This product is a commercial grade, short hair carpet that is made to last with its padded foam base for extra comfort, and it is available in a wide variety of colors with ramped edging options.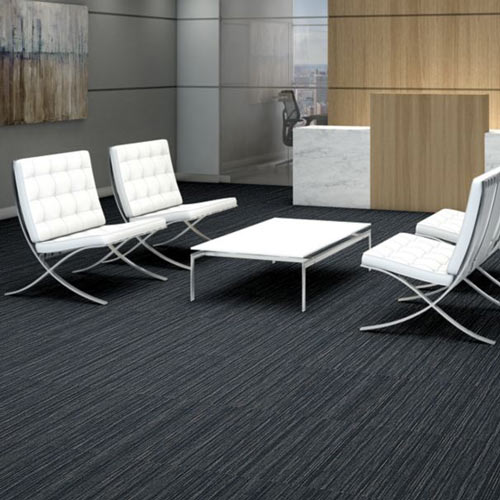 Intellect Commercial Tiles offer a lightweight flooring solution that is easy to install.
It is great if a basement or a high traffic area, as it is Class 1 fire rated and a breeze to clean and maintain. The tiles have a pressure sensitive latex carpet glue, and once installed, it offers excellent wear resistance, performance level, durability, and endurance, even under constant use and abuse.
This affordable nylon carpet tile is made in the USA and will provide optimum quality and dependability.
Greatmats - For The Best Carpet Tile That's Easy To Clean
The carpeted tiles at Greatmats are all very attractive, easy to install, and simple to clean and maintain, with the product featured among some of the best and the most popular. If you want the true, pure feel of traditional carpet, many of the tiles featured will offer just that.
If you have questions about the highlighted products or other options available at Greatmats, just reach out to the customer service staff who are ready and waiting to assist. They can answer questions, assist with ordering, and help you decide which product is the perfect one for you and your space.