Why Would You Put A Rubber Mat Under A Pool
By Paige Cerulli Created: August, 2022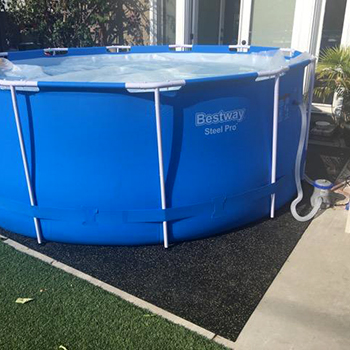 When you're installing an above ground pool in your backyard, picking the perfect site has a lot to do with the installation's success. But a rubber mat for under pool use can also help to ensure that your pool lasts for years to come.
Why Choose a Rubber Mat for Under Pool Use?
When you install an above ground pool, you will need to start the process by reading the instructions provided by the pool manufacturer. You will find plenty of guidance about choosing and preparing the site for your pool.
Since outdoor swimming pools have soft bottoms, it's particularly important to strategically place them to preserve and protect that bottom. You will need to start with a flat, even surface.
Most pool manufacturers will instruct you to place the pool on a surface like a patio, a concrete slab, or an area of flat dirt or grass. But these surfaces aren't always ideal when placed up against the bottom of your pool.
Protection From Punctures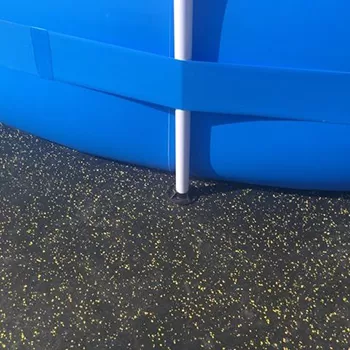 Using a rubber mat under the pool helps to solve many of the challenges that these surfaces create. A rubber mat helps to protect the bottom of the pool from rough concrete.
It can also help to prevent punctures from small rocks and sticks. Even when you carefully prepare the site, missing just one stick or rock can ruin your brand-new pool.
Cushion for the Pool Bottom
Rubber mats also provide some cushion, which can make your pool more enjoyable. The mats create a smooth, even surface, so you won't feel the uneven ruts that can result from installation over dirt or grass while you're in the pool.
Structure and Support for Your Pool
Using rubber mats also provides valuable structure to support your pool. This is particularly important when you aren't installing the pool over concrete.
Even with careful site preparation, it's difficult to get an area of dirt or grass perfectly flat and level. Rubber mats can create a firm, flat surface to support the legs of the pool, evenly distributing the pool's weight.
This type of site layout can help to preserve the life of your pool. It can protect your investment and make the pool a more enjoyable space to enjoy with your family.
How to Choose Rubber Mats or Rolls
When you explore the
under pool mats
available for sale at Greatmats, you will find a selection of both rubber tiles and rolls. You will need to consider the pros and cons of each option to decide which is right for you.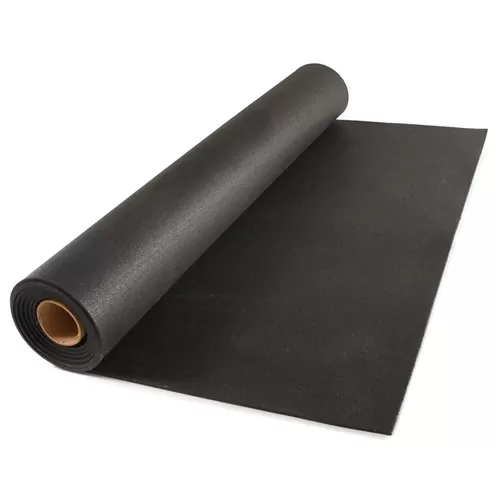 In terms of price, rubber rolls are the more economical choice, which may be important when you're installing a larger pool. The rolled rubber is easy to unroll and then roll up again when you're done, and you can easily tape the edges of the rolls together to create a flat, cohesive surface.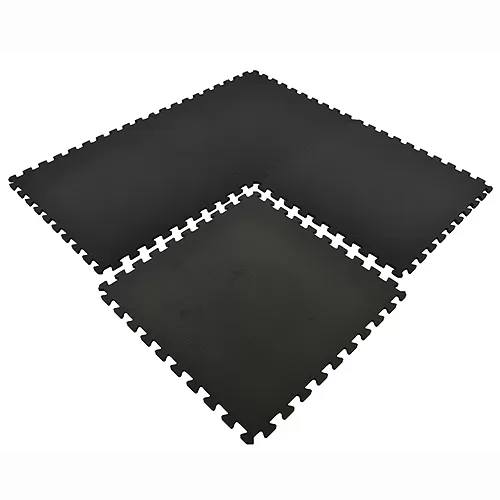 Rubber tiles are slightly more expensive, but they interlock together like puzzle pieces to create a connected surface. Most tiles also include edge pieces, so you can create a mat with clean, finished edges.
When you're done with the rubber tiles, you can disconnect them and then store them away. The tiles are conveniently sized at 2x2 or 3x3 feet, so you can quickly and easily cover a larger area while also being able to easily carry the tiles.
Why Choose Rubber Mats over Foam Mats
In addition to rubber under pool mats, you will also find some mats that are made of foam. While either material is suitable for use under pools, there are several advantages to using a rubber mat instead of a foam one.
Rubber is more durable than foam, and it can withstand significant weight and temperature extremes without being damaged. Some types of rubber are also waterproof, so the rubber won't be damaged when repeatedly exposed to rainwater or pool water.
Rubber also has an impressive lifespan. Many rubber products are backed by warranties of five years or more.
While rubber is strong and durable, it is also highly affordable, especially if you choose a product like rolled rubber. The price per square foot of rubber is less than the price for a foam product, so rubber can be ideal if you're working on a budget or are installing a large pool.
Finally, rubber is often an eco-friendly product. Many rubber products are made from recycled rubber, so by buying a rubber under-pool mat, you will be helping to keep rubber tires out of landfills.
But foam offers several advantages, too. Foam tiles are lighter to carry than rubber tiles, which is ideal when one person is performing the installation or removing the flooring at the end of the season.
Foam also offers more cushion than rubber does. If you're installing your pool over concrete and want to create a more comfortable pool bottom, then using a foam mat may be the best way to go.