Where Should You Install Rubber Floor Mats at Home?
By Kyle Schurman Created: June, 2021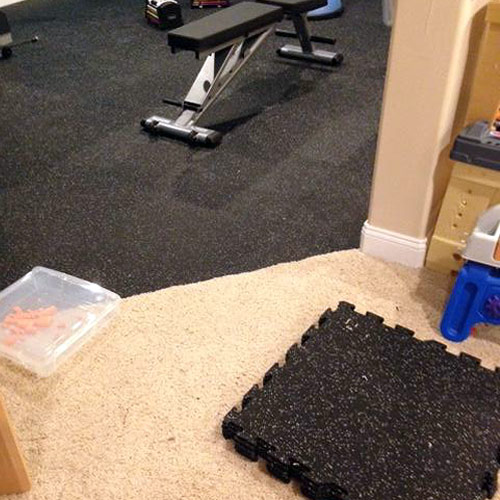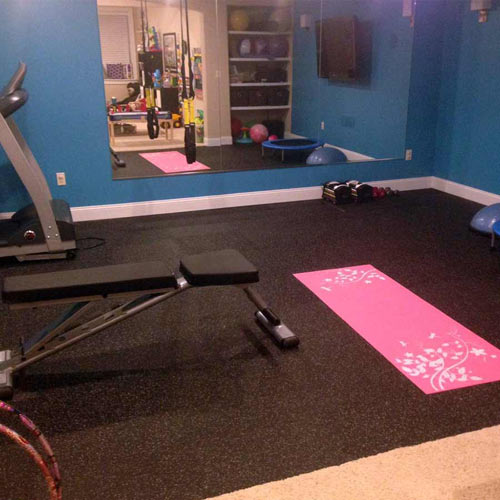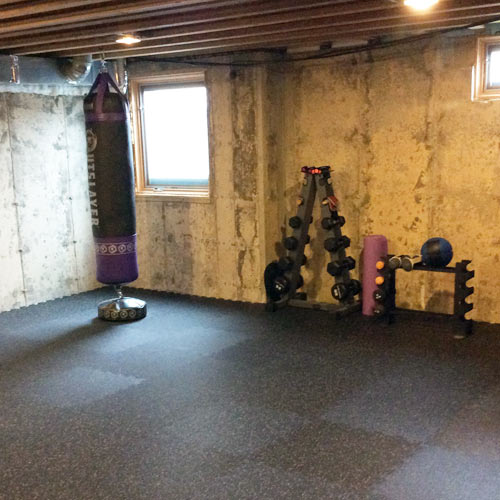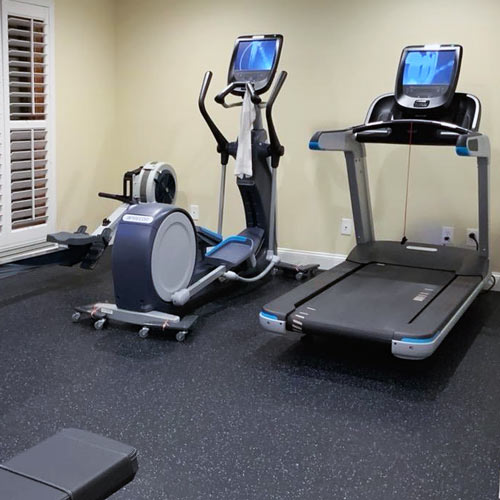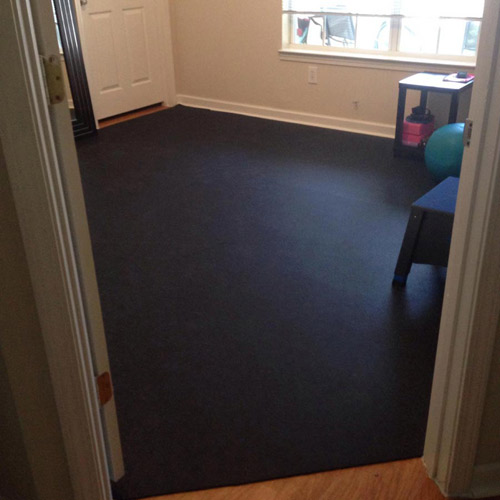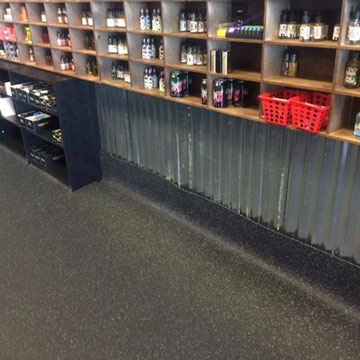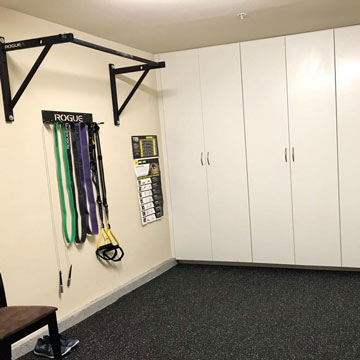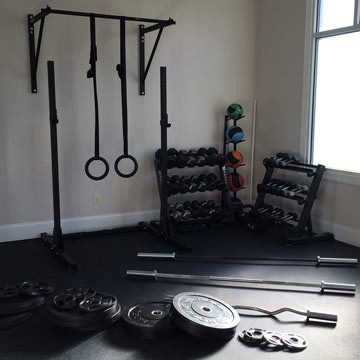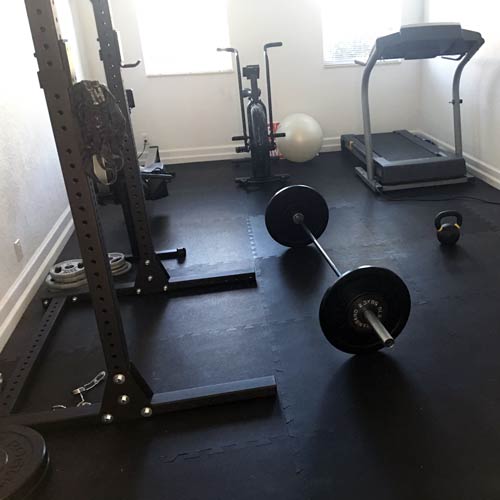 Heavy duty rubber floor mats for home will work in multiple locations, providing traction, subfloor protection, and a high level of durability and wearability.
Some of the best areas to lay out rubber floor mats, interlocking rubber tiles, or a roll of rubber for home include:
Home gym in a garage or basement

Man cave

Weightlifting area

Underneath exercise equipment

Patio or deck flooring

Horse barn or grooming area

Dog run or kennel

Underneath cat litter box

Inside rabbit or guinea pig cage

Music room

Food preparation area

Near bathtub or shower area

Laundry room

Floor of trailer

Workshop

Power equipment storage area
Rubber is a highly versatile type of flooring. It has the desired level of safety and grip in wet areas to prevent slips, while also cutting down on noise. It's easy to clean as well.
Foam is another popular selection for floor tiles in a residential setting. But rubber floor mats for home have a higher level of durability than foam.
Is Rubber Useful to Install Near Entryways to the Home?
Rubber floor mats for home are popular selections in areas where moisture could appear. This includes near entryways to the house, both indoors and outdoors.
The rubber will catch the moisture, providing a sure footing for people who may be entering the home with wet shoes. Rubber is an anti-slip material.
Where Can You Install Rubber Rolls in the Home?
A thin rubber roll is a great selection for several uses in a residential setting. Some of the uses include:
Laundry Room: Laying out thin rubber underneath a washer and dryer will cut down on noise from these machines, while keeping the machines from creeping across the floor.

Exercise Equipment: When creating a home gym, placing thin rubber rolls underneath an exercise bike or a treadmill reduces noise and prevents the machines from sliding.

Preparation Areas: If standing in a kitchen or workshop while doing work at a counter or workbench, laying down rubber can provide a fatigue relieving surface for standing.

Wet Areas: Areas of the home that frequently see moisture, such as near a shower or bathtub, can use a thin rubber mat to provide a secure footing to prevent slips.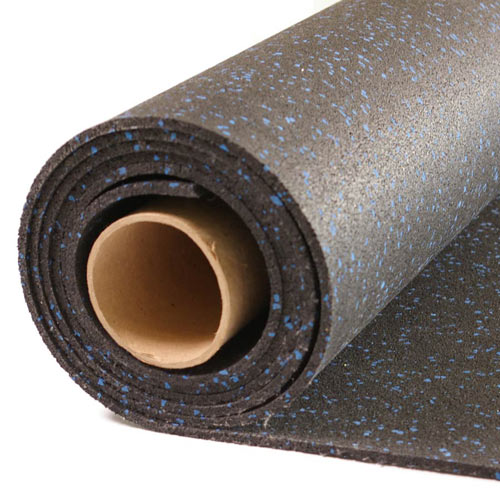 The Color Fleck Rubber Flooring Roll and
Black Rubber Flooring Roll
products both work well in the home. Both rolls have a black base color, but the color model has a 10% concentration of gray or blue flecks against the black base.
Each roll measures 4 by 10 feet, so it has a convenient size for use as rubber floor mats for home installations. At only 1/4 inches in thickness, installers can easily cut the roll to fit a smaller area, if desired.
To cover a larger area, such as a garage or basement to make a workout room or a man cave, lay these rolls side by side.
These rolls have straight edges, so they'll lay adjacent to each other securely. Installers can glue the rolls down, if desired. Vinyl tape or carpet tape can work as well.
What Are Good Uses for Thick Rubber Interlocking Tiles?
Some use cases for rubber flooring at home require thicker rubber materials. Thick rubber can protect the subfloor from damage from heavy items.
Thick rubber works nicely for use around animals too. Using rubber tiles in a horse stall or a dog kennel gives the animal a safe and forgiving area for standing and sleeping - and in some cases, playing.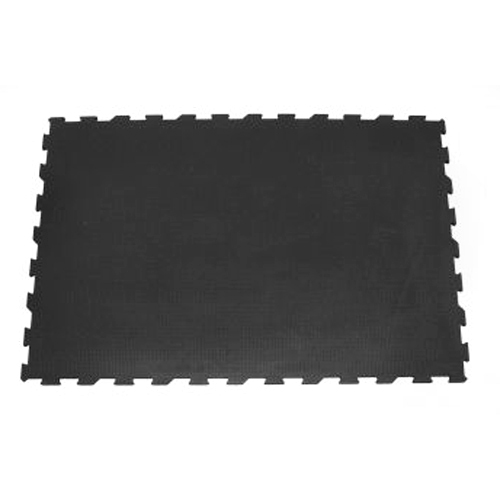 The Interlocking Sundance Mats are perfect for use around areas where animals will be present, including large horses. They're easy to clean.
Each mat covers 4 by 6 feet. The mat contains interlocking edges, so installers can connect multiple mats together for a larger coverage space.
It measures 3/4 inch in thickness, so it can support the weight of a horse without buckling. It also will work for supporting free weights and weightlifting machines, while protecting the subfloor.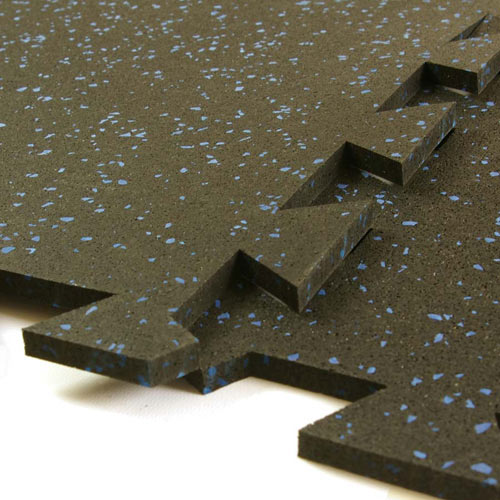 For a more manageable size in an interlocking rubber tile, consider the Geneva Rubber Tile. It measures 3/8 inch in thickness and measures 3 by 3 feet. Each tile weighs 18 pounds.
This tile has a base black color with multiple color flecks available to provide a more pleasing look. The color fleck options include:
Tan

Light gray

Blue

Blue and light gray mix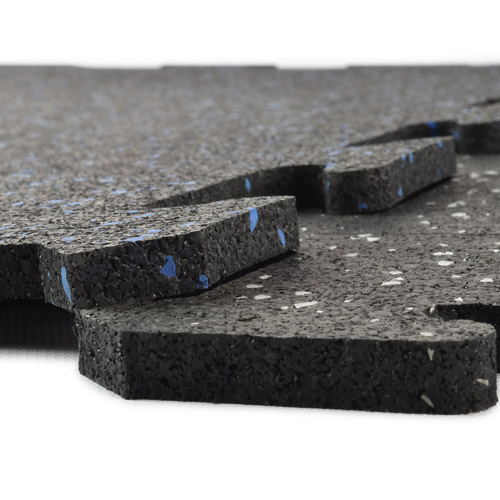 An even thinner interlocking rubber tile with color flecks is the Interlocking Rubber Floor Tile.
It measures 5/16 inch in thickness and covers 2 by 2 feet per tile. Each tile weighs 7.4 pounds, so it's easy to carry and move around. The color fleck options include:
For use at home, interlocking tiles are popular selections because of the manageable size. Versus a thick roll of rubber, the weight of an interlocking tile usually is quite a bit less.
Blue

Light gray

Blue and light gray mix
Interlocking tiles fit together tightly, using puzzle style edges. They do not require adhesive, which simplifies the installation and eliminates any mess from stray glue.