Is It Possible To Get A Yellow Rubber Floor?
By Paige Cerulli Created: March, 2022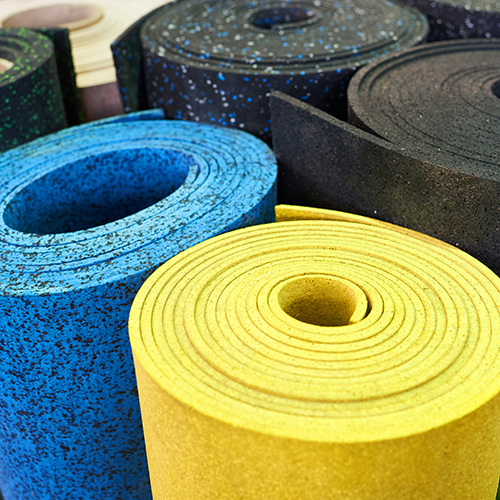 When you're installing a floor in your gym, school, business, or other space, you might want that floor to match your branding colors. If you're looking for a yellow rubber floor, you'll have lots of options to choose from right here at Greatmats.
6 Yellow Rubber Floor Options at Greatmats
At Greatmats, we carry several rubber products that are available in yellow, as well as in other color options, too.
1. Rolled Rubber Eureka 10% Premium Color 8mm
The Rolled Rubber Eureka 10% Premium Color 8mm rolls are available in color fleck options that include yellow. These rolls are affordable and sustainable, and since they're available by the square foot, you can order exactly how much you need for your project.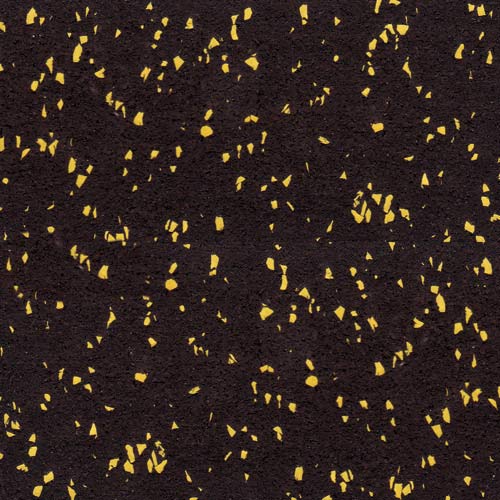 This professional quality rubber flooring is manufactured in the USA and is made with recycled rubber. It's slip-resistant and provides safety, ergonomic, and acoustic benefits.
Since this rubber absorbs shock, it's an ideal surface for your home gym, locker room, home weight room, ski lodge, or doggy daycare center.
You can easily clean this rubber with a neutral pH cleaner.
2. Sterling Athletic Rubber Tile 1.25 Inch 10% Premium Colors
The Sterling Athletic Rubber Tile 1.25 Inch 10% Premium Colors is available in multiple color options, including green, blue, and yellow. This heavy-duty professional sports flooring is highly durable and suitable for use in weight rooms, gyms, and professional sports facilities.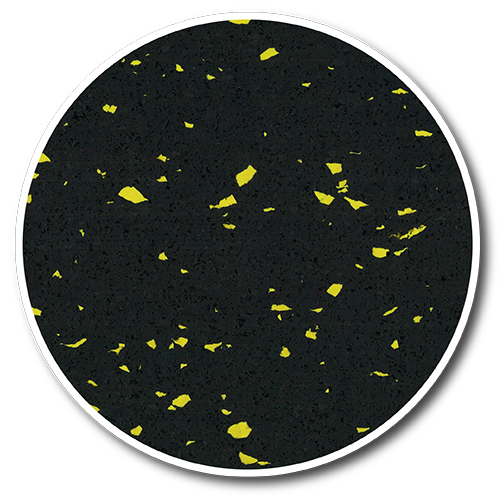 These tiles feature a unique interlocking edge style, where the interlock is hidden underneath the tile. The result is a tile that looks square, but that's easy to connect and install.
These high-end tiles can withstand dropped weights and help to protect your subfloor. They're easy to clean with a damp mop and can be installed and uninstalled as needed.
3. Rubber Flooring Roll 10% Color Fleck
The Rubber Flooring Roll 10% Color Fleck is a durable rubber flooring option that's made with recycled rubber content. The color flecks are distributed throughout the sheet, so they won't wear off with use.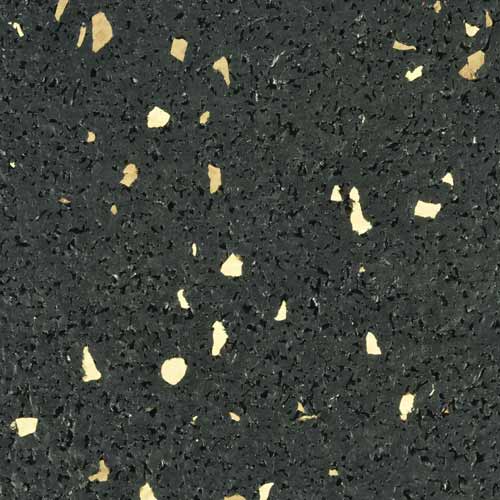 This low odor rubber flooring option is ideal for indoor use, and it's suitable for gym flooring, weight room flooring, ice skating rinks, and more. It may also contribute to LEED points in your building project.
This low-cost flooring option is also highly resilient. It can protect your floors from free weights and exercise equipment, and is an affordable way to convert your garage or basement into your own home gym.
You can install this flooring with a tape or glue down method for commercial operations. For your home installation, you can dry lay the mat.
This rubber is available in custom cut lengths over 25 feet, allowing you to order precisely how much flooring you need and nothing more. This option can save you money and keep your flooring affordable.
4. Rolled Rubber 20% Color ⅛ Inch Pacific
The Rolled Rubber 20% Color ⅛ Inch Pacific is a premium recycled rubber product that's made in the USA. This high-quality product is a top choice for weight rooms, retail stores, warehouses, golf courses, ice rinks, industrial floors, and tradeshows and events.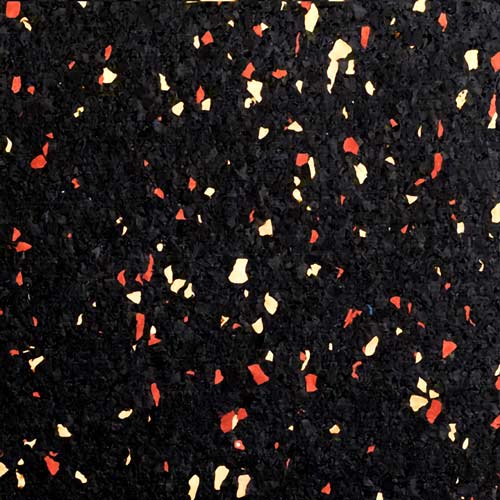 This flooring is thinner than many other rubber products, which means the floor weighs less. This can be a major advantage when you're buying the product for a home installation that you'll perform yourself.
The color flecks that are added to the base have the same quality as that base, so they don't affect the integrity of the roll. The rubber offers some cushioning to reduce lower body fatigue, and to help keep athletes more comfortable.
This roll can also help to absorb both noise and sound in areas like weightlifting rooms. It's safe for areas frequented by pets and children, too.
Since the roll is made from recycled rubber, it's an eco-friendly option that may qualify for LEED points.
5. Blue Sky Rubber Playground Tile 2.75 Inch
The Blue Sky Rubber Playground Tile 2.75 Inch is a rugged, thick tile designed for outdoor use in playgrounds. It's available in many tones, including yellow, so you can mix and match to incorporate your school or business' colors.
Shown in green, but yellow is available.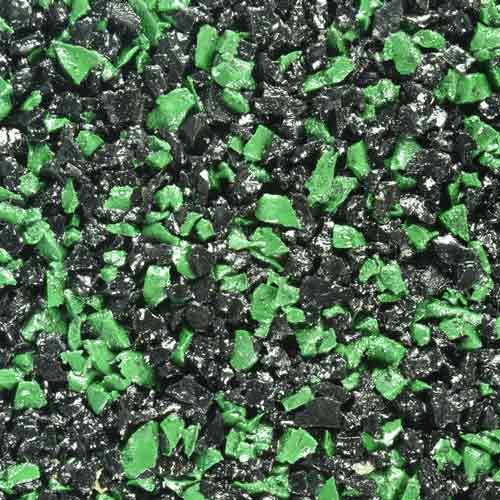 These tiles feature a six-foot ASTM fall height rating, meaning they can help to prevent injuries in kids. They're outdoor rated for use in all climates, making them a versatile option for outdoor playgrounds, but they're also suitable for indoor use.
These commercial quality tiles resist fading and mold and mildew. They feature an interlocking system that makes them easy to install.
The tiles are ADA compliant and are available with ADA ramps.
6. Max Playground Rubber Tile Daybright Colors 2.5 Inch x 2x2 Ft
The Max Playground Rubber Tile Daybright Colors is available in several vivid colors, including yellow, that will add a bright touch to your playground. This tile is ASTM fall height rates and is backed by a 15-year warranty.
Shown in Cardinal/Red, but is available in Desert Road/Yellow.
Designed for both indoor and outdoor use, the tile offers superior UV fade resistance. The tiles are allowed to let water drain around and underneath them, helping to prevent dangerous standing water.
While most playgrounds require a glue-down installation, the tiles are designed to allow for a non-glue-down installation when they're being placed on rooftops. They're made in the USA and are ADA approved.