Where Are Blue Outdoor Tiles Most Commonly Used
By Paige Cerulli Created: April, 2022 - Modified: August, 2023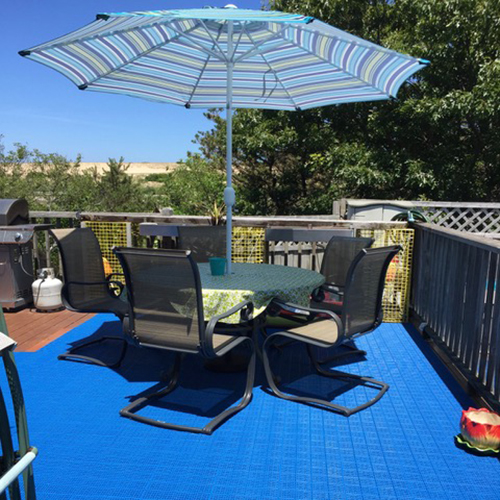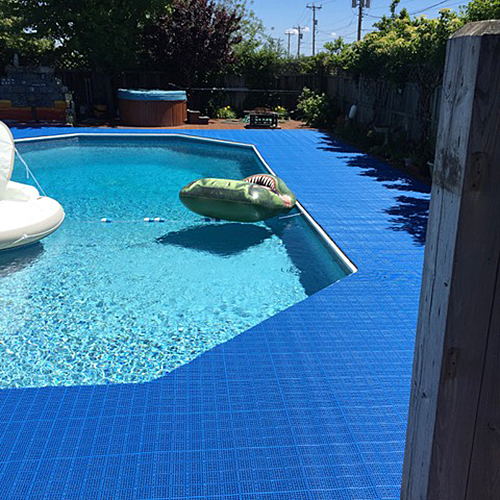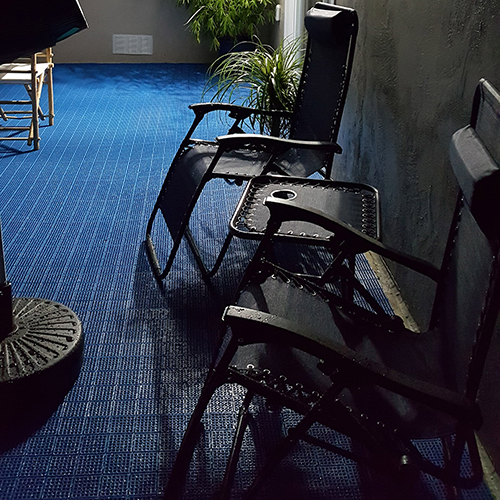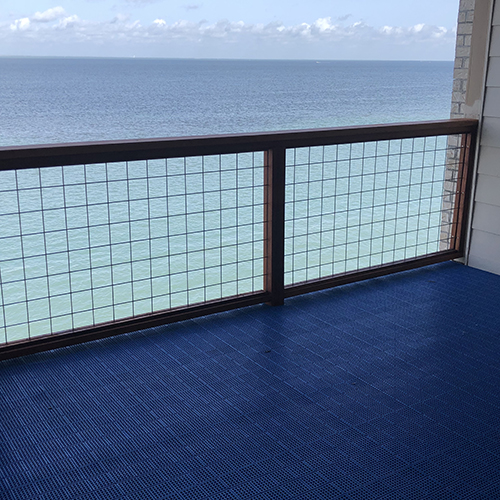 Blue outdoor tiles are versatile and highly popular, so you can use them in many potential applications. From where to use blue outdoor tiles to how to find the best ones that work for your project, here's what you need to know about this type of flooring.
The Benefits of Blue Outdoor Tiles
Blue outdoor tiles are appealing for multiple reasons. Their darker color can help to conceal dirt, making for an aesthetically pleasing surface.
Blue is also a versatile color that complements many other shades. Tiles are available in everything from a rich royal blue to a more subtle and natural slate or stone finish that incorporates blue shades, making these tiles a great choice for many decor schemes.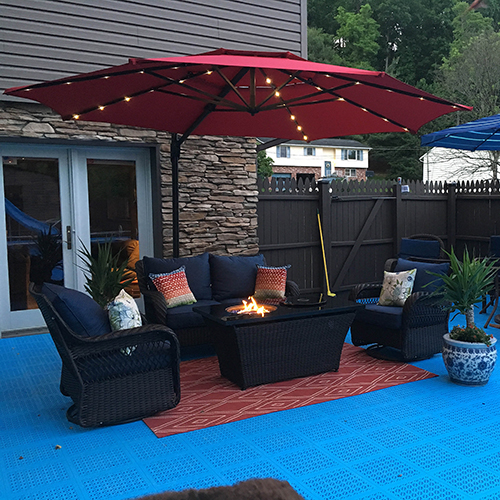 Where Blue Outdoor Tiles are Used Most Often
You'll find blue outdoor tiles in many different settings. One of the most common is their use in pool surrounds and locker rooms, since the blue is a natural color in these aquatic environments.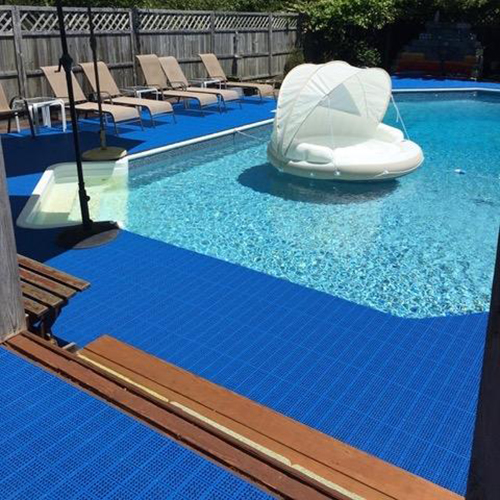 But you'll find blue tiles in other areas, too. They're an excellent choice for use in playgrounds, as well as for patios, bars, decks, and other outdoor spaces.
The Best Blue Outdoor Tiles for Sale
At Greatmats, we have several blue outdoor tiles for sale that are suitable for installation in many different areas.
Style Smart Riverside Carpet Tile
The Style Smart Riverside Carpet Tile features fibers that have been made with up to 100% recycled purified plastic bottles, making this flooring an eco-friendly choice. The carpet helps to keep bottles out of landfills, so you can feel good about your purchase.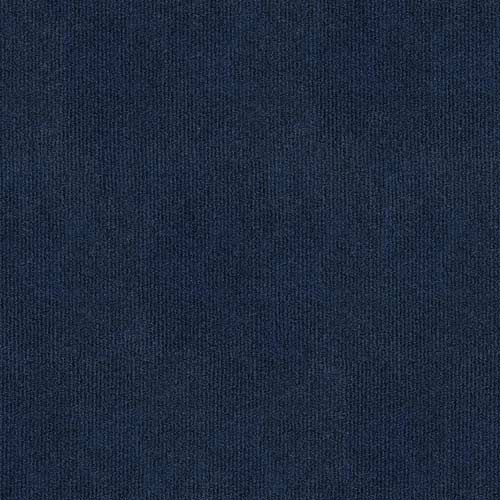 The carpet is colorfast and available in many colors and options, so you can mix and match colors in a pattern or just stick with your favorite. The tiles have been engineered to handle both home and business installations, and they're highly durable.
With these tiles, you can enjoy carpet both indoors and outdoors. Consider installing them on a patio, a porch, or another space where you want a comfortable and welcoming flooring solution.
These tiles are made in the USA and are backed by a three-year manufacturer's warranty. They feature a peel and stick backing for an easy installation.
Patio Outdoor Tile
The Patio Outdoor Tiles are made of a flexible PVC, so they're comfortable underfoot. These tiles are perforated, which lets water drain right through them, making them ideal for pool surrounds, decks, and wet areas.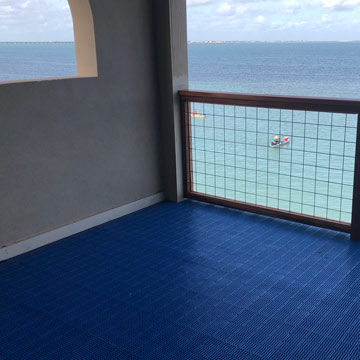 The tiles have a non-slip surface and help to prevent mold and mildew growth, contributing to a safer space. They measure 11.5 by 11.5 inches square and are suitable for indoor and outdoor use.
These interlocking tiles feature a snap together construction that means you can dry lay them over a hard, flat surface. You can also remove them and reinstall them as needed.
StayLock Tile Perforated Colors
The StayLock Tile Perforated Colors is a perforated tile made of a durable plastic. The tiles feature a slip resistant surface and are comfortable to stand on.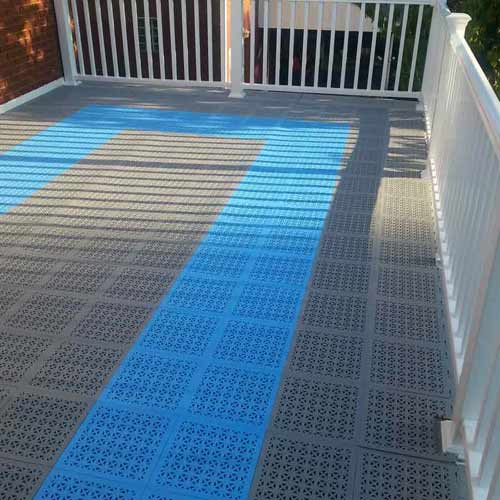 The perforated design lets water run through the tiles, making them ideal for use as rooftop flooring and in pool surrounds and other wet areas.
The StayLock tiles feature an active locking connector system that lets you easily connect them together. The interlocks hold the tiles together tightly, so they won't separate over time.
These tiles even feature a 20-inch ASTM fall height rating, so they can make an area safer just in case falls do occur.
Max Playground Rubber Tile Daybright Colors
The Max Playground Rubber Tile Daybright Colors are highly durable rubber tiles that are also forgiving for increased safety. They feature a 4 to 5 foot ASTM fall height rating and are made with recycled rubber, so they're eco-friendly.
These tiles feature a Quad Blok interlocking design that makes for a secure installation. They're available in multiple thickness options, and you can also purchase ADA border ramp pieces to make the surface ADA compliant.
These tiles are ideal for playgrounds, skateboard areas, and parks. They're also suitable for use in patio areas, and can support the weight of tables and chairs.