What's the Best Dance Floor Size for a Wedding Reception?
By Paige Cerulli Created: November, 2022 - Modified: November, 2022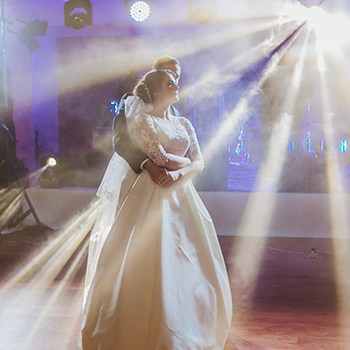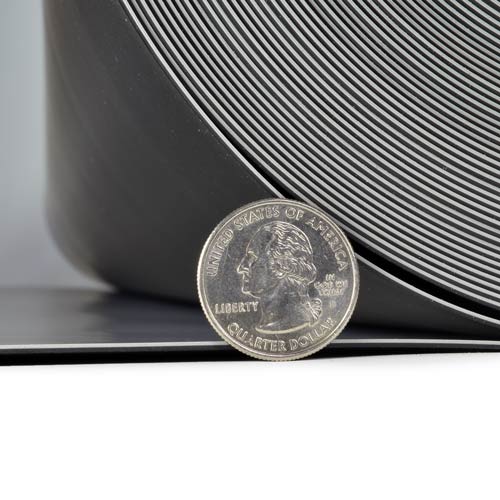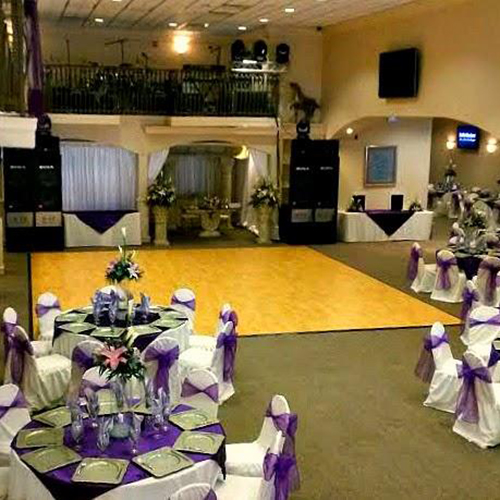 The dance floor is the centerpiece of many events, including weddings. Whether you're planning on hosting your first backyard wedding or are starting up an event venue that will host countless wedding receptions each year, it's important to accurately determine the right dance floor size for your needs.
How to Determine the Ideal Dance Floor Size
While a big, largely empty dance floor with just a few people on it will look intimidating and uninviting, an overcrowded dance floor is just as problematic. The size of your dance floor will depend on the number of people attending your event.
As a rule of thumb, you should assume that an average of 30 to 40 percent of your attendees will be dancing at any one time. Once you calculate the number of active dancers you'll have on the floor, you should allot nine square feet of dance floor per person.
For example, let's say that you have 100 guests attending your event. Forty percent, or 40 people, might be dancing at the same time. Multiply 40 by 9 and you will need a 360-square-foot dance floor to accommodate the wedding reception.
If you're expecting 50 guests, you could use a smaller 135-180 square-foot floor. For 150 guests you should plan on a 405-540 square-foot floor, while for 200 guests, you will need at least a 540-720 square-foot floor. An event with 300 guests should have a 810-1,080 square-foot floor.
| Number of Guests | Coverage Area | Dimensions |
| --- | --- | --- |
| 50 | 135 sq ft Minimum | Roughly 12x12 ft |
| 100 | 270 sq ft | Roughly 16x16 ft |
| 150 | 405 sq ft | Roughly 20x20 ft |
| 200 | 540 sq ft | Roughly 24x24 ft |
| 300 | 810 sq ft | Roughly 28x28 ft |
Once you've determined the square footage that you need, you can start to plan out your dance floor layout. Dance floor tiles are ideal for designing an event dance floor since you can customize the floor's dimensions by adding or removing tiles.
Most dance floor tiles measure 1x1 feet, allowing you to make precise adjustments to the floor's size and layout. For example, you might plan on a standard 20x20 dance floor, which gives you 400 square feet of space, or you might decide that a larger 24x24 dance floor, with its 576 square feet of space, is a better option.
When you use dance floor tiles, you can modify the floor's dimensions to accommodate the space that you have available, too. You can design a floor to fit your typical ballroom or modify it to fit around various installations that will be present during the reception.
Top Dance Floor Products for Sale
At Greatmats, we have an excellent selection of dance floor products for sale. All of these options are ideal choices for wedding receptions.
EZ Portable Dance Floor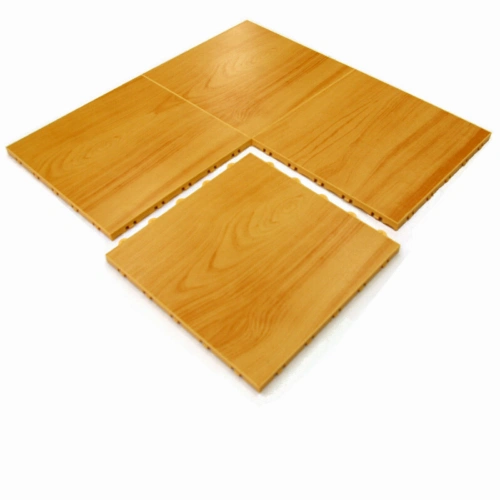 The
EZ Portable Dance Floor
tiles deliver a professional look, and they're designed with the durability needed for repeated installations. The tiles feature a commercial-grade vinyl top surface that stands up to heavy foot traffic and use, making them ideal for banquets, hotels, and more.
The tiles have a raised base design that allows air and water to flow underneath them for faster drying. They are backed by a five-year manufacturer warranty, and their 12x12-inch size makes them convenient to move, install, and store.
Thanks to their snap-together edges, these tiles are easy to connect. The connections fit together tightly, so the tiles won't separate during use.
Ramped border edging is also available, so you can create a smooth transition onto and off of the tiles.
Portable Dance Floor Seamless Wood Grain Cam Lock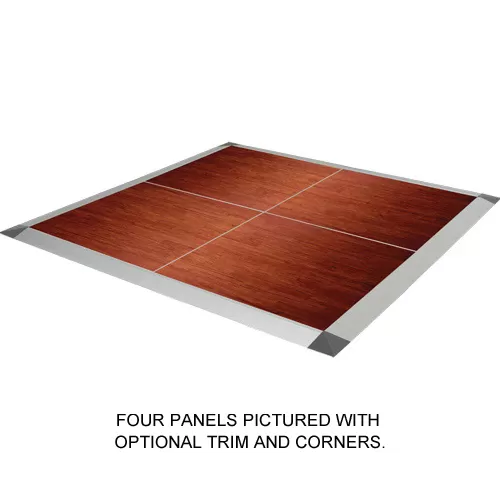 The
Portable Dance Floor Seamless Wood Grain Cam Lock
consists of heavy-duty 3x3 foot panels that save valuable time on large-scale installations. As a result, this flooring is a top choice for banquets and other large events.
This dance floor features a highly durable vinyl top surface, and each 3x3 foot panel features one solid vinyl sheet. The panels feature a semi-gloss finish, making them an attractive addition to your event space.
A solid plywood base gives the panels excellent stability, and cam-lock fastening makes for an easy setup. There is only one tool needed for assembly, and the cam-lock creates a strong, secure connection.
Maintaining the panels is easy, too. You can use a dry mop or sweep them clean and can use an all-purpose floor cleaner for heavier-duty cleaning.
Portable Dance Floor Seamless Solid Color Cam Lock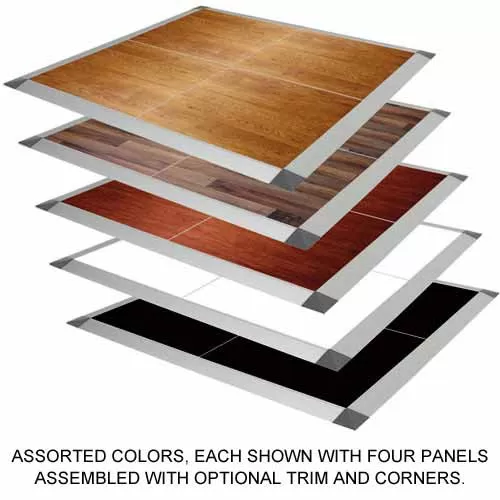 The
Portable Dance Floor Seamless Solid Color Cam Lock
is commercial-grade portable dance flooring suitable for banquets, event venues, and more. These panels measure 3x4 feet and allow you to quickly assemble a larger dance floor.
Because the panels connect with cam locks, you only need one tool to assemble the floor. The locks secure the panels together tightly, and you can also easily disassemble the floor and store away the panels.
Available in black or white, you can create a dance floor in a single solid color, or order the panels in both colors to create eye-catching patterns. The panels are backed by a five-year limited manufacturer warranty.
Greatmats Reversible Dance Roll Custom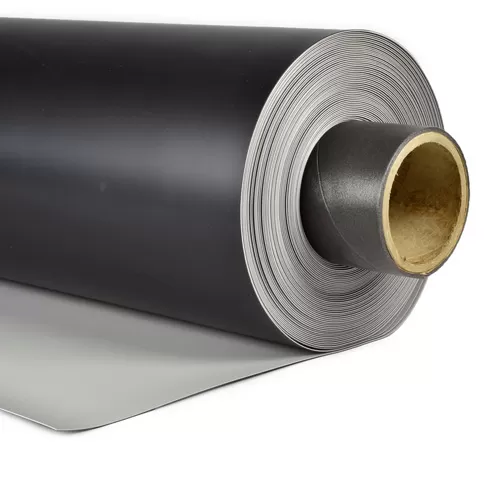 The
Greatmats Reversible Dance Roll Custom
is a top choice for ballet, jazz, hip-hop, and modern dance styles. This Marley dance floor roll is reversible and features a black surface on one side and a grey surface on the other.
Made of quality PVC, this floor offers slip resistance to help keep dancers safe. The floor won't absorb liquids or form mildew or mold, and it can withstand significant use well.
Since the floor is portable, it can be an excellent investment for your event venue. It won't curl after it has been stored, and it quills quickly lay flat once installed.