What style of flooring is best for home gymnastics practice?
By Lisa Hobbie Created: January, 2020 - Modified: January, 2020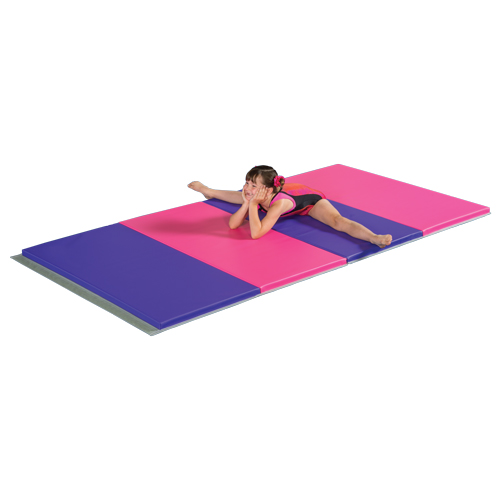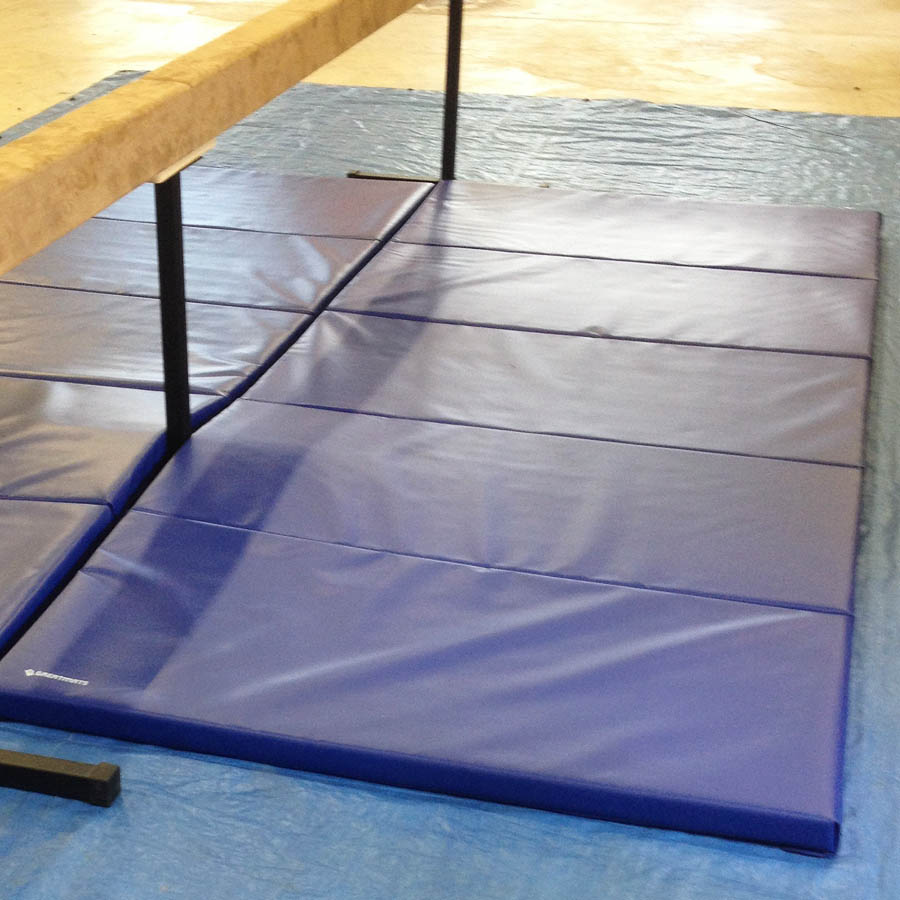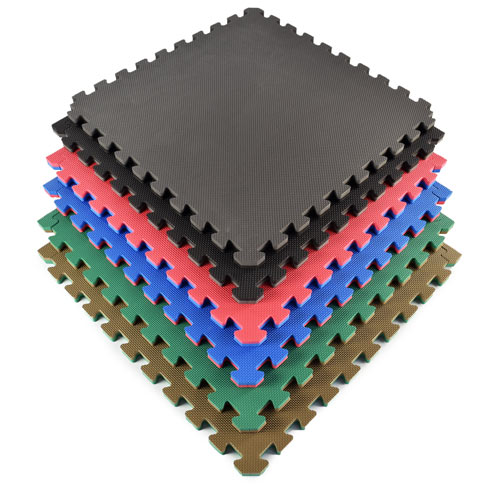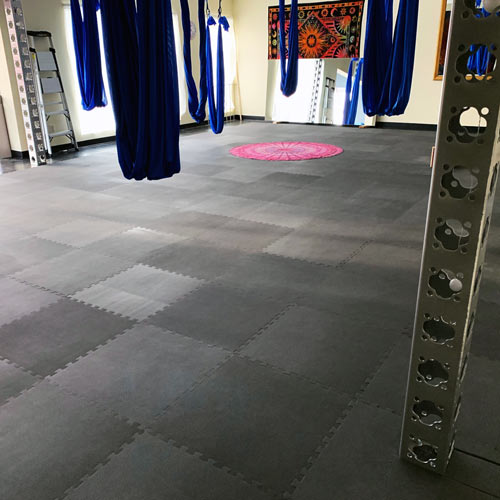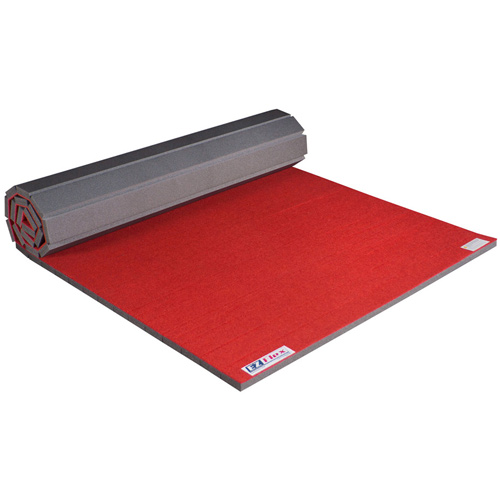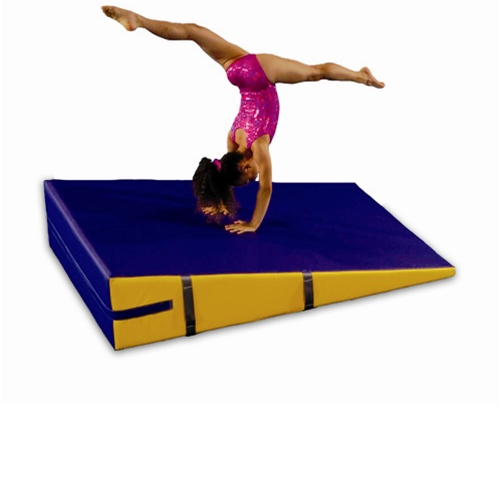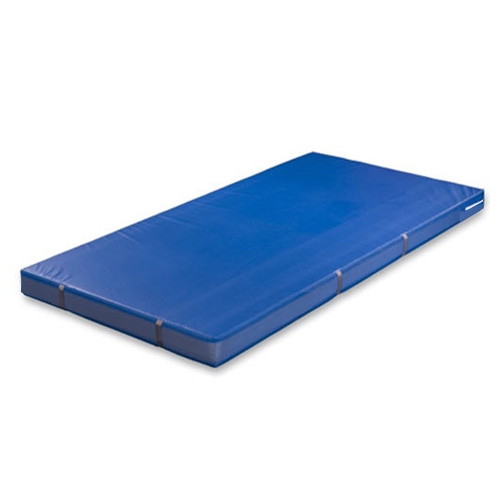 Gymnastics is among the most thrilling and exciting physical fitness sports to participate in and watch. The handstand, handspring, round off, split leap, and splits are all skills that take a lot of strength and determination for a gymnast to master. Many gymnasts spend countless hours outside of the gym - working to master various skills. So, a gymnastics floor in a home practice area becomes necessary. 
Home gymnastics practice requires a specific style of flooring, it must be cushioned and offer protection from falls. There are many flooring types available, specifically, foam tiles, roll out foam mats, and accordion style folding foam gym mats.
Greatmats offers options to meet all of your potential needs when you're ready to buy a gymnastics floor for home practice.
Foam Tiles for Home Gymnastics Floor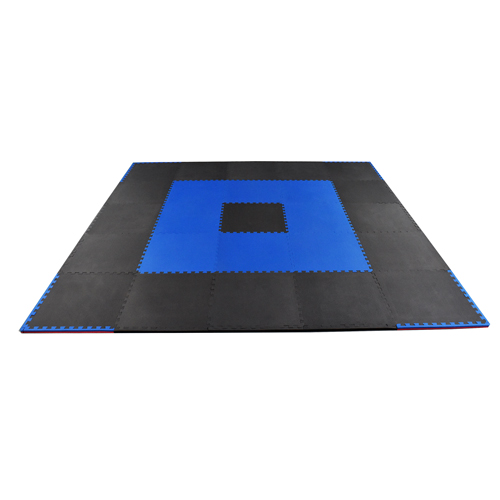 For home practice, a gymnastics floor option that appeals to many is an EVA foam tile. This works great for a space that will be a permanent or temporary practice area, as it is lightweight, portable, and can be installed and taken apart quickly and easily without the help of a mate. 
The
Home Sport and Play Mat
is among the best options for this type of gymnastics floor. These mats are made of thick EVA foam, which provides a flexible consistency similar to but more cushiony than rubber. They are waterproof and stain resistant, and they provide anti-fatigue properties, taking pressure off of the gymnast's ankles and knee joints and allowing the athlete to practice longer and harder. 
The tiles absorb shock extremely well, making them a safe option for tumbling, flipping, and even falling to help prevent winding up in a cast. These tiles also have a firmness that allows athletes to make quick and powerful movements like a turn on 1 foot. Without this firmness, the gymnast runs the risk of turning an ankle.
Installation of the sport and play mat is a breeze. Each mat is 2 feet by 2 feet with interlocking edges, fitting very tightly together. They can work as an island or wall-to-wall installation, depending on the purpose you want your gymnastics flooring to serve. When it needs to be cleaned, it can be damp mopped with common household floor cleaners.
Roll Out Mats for Gymnastics Flooring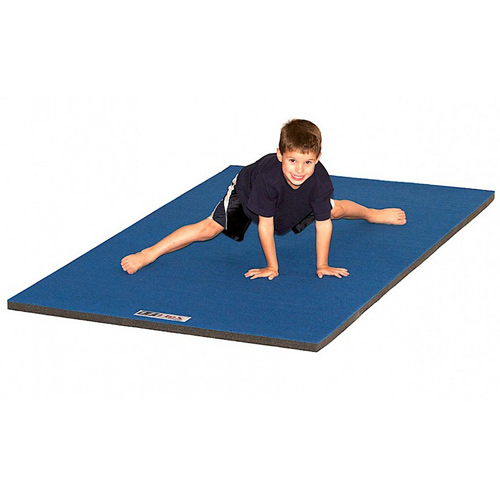 For a portable gymnastics floor that you can just unroll and use, a
Home Cheer Mat
is an excellent choice. These mats are made in the USA from high performance sports foam with a durable, needle punch carpet top. They are lightweight and portable. They perform well as a tumbling strip.
If conditions are right, these mats can be used for temporary outdoor gymnastics practices. Just make sure to avoid placing them over sharp objects or wet ground and don't leave them exposed to direct sunlight for extended periods of time as they are not UV treated.
Folding Gymnastics Panel Floor Mats for Home Practice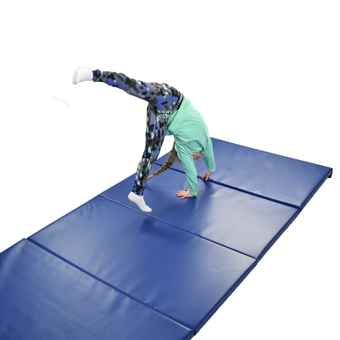 Gym mats
make up the most versatile gymnastic flooring option. There are many sizes, thicknesses, colors, and styles available, but a Folding Mat is among the most popular in-home options. Folding mats are versatile, durable, and dependable and can be used for anything and everything in the world of gymnastics from stretches to handsprings. They are constructed with
high quality foam
and topped with a durable vinyl cover. See
What Size Mat Should I Use for Gymnastics?
to see a comparison of sizes and thicknesses.
They are designed for superior shock absorption with a medium density, and the folded panel option can be easily moved or transported. These mats are easy to keep clean, as you can simply wash the vinyl exterior with hot, damp sponge.  
When thinking about creating a practice space at home, a safe and effective gymnastics floor can easily be created. Greatmats has it all!
Additional Gymnastics Floor Mats for Home Practice
Aside from the three examples given, there are a number of different types of mats, from folding and tumble to crash, and everything in between. They come in many different sizes and densities, and serve different purposes from general safety to intense training of new skills.   
A quality mat that is versatile for developing and mastering any skills involving forward rolls, leaps, tick-tocks, walkovers, and back handsprings is a gymnastics octagon mat. Another great mat used for learning and mastering new skills is an
incline gymnastics mat
, which allows for the gymnast work along the downhill portion of the wedge or vice versa. This helps the athlete adapt to making his or her body move correctly for a given skill or exercise until they are strong enough to perform it on a flat floor surface.   
Landing mats
are the best option to provide cushioning for landing areas or to protect against potential falls when learning and mastering difficult stunts. They provide a great mix of shock absorption and footing. A versatile, durable, and dependable mat that can be used for anything and everything in the world of gymnastics is a standard gymnastic mat, as previously described.
Greatmats truly is your one-stop-shop for all of your gymnastics floor and mat needs. There are so many customizable options - allowing you to get the exact style, thickness, size, and color you want or need.   
The customer service team provides top notch service and levels of expertise, and the flooring products are second to none with a price-match guarantee. With Greatmats, you can feel confident in your purchase!