What Are Gymnastics Mats Made Of?
By Paige Cerulli Created: February, 2018 - Modified: October, 2021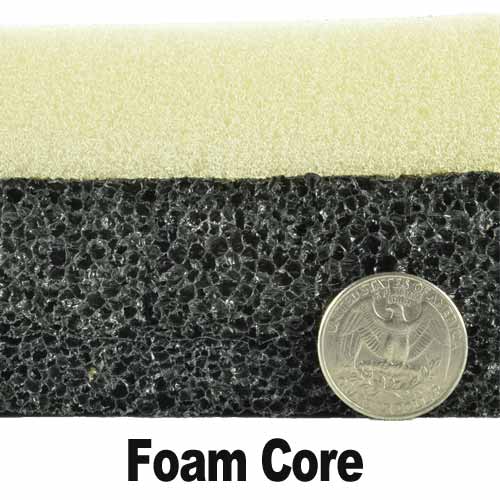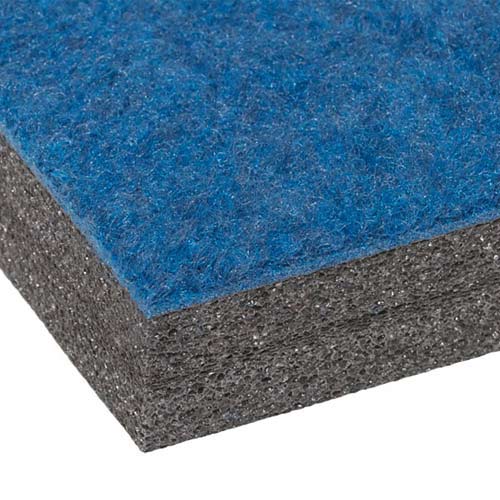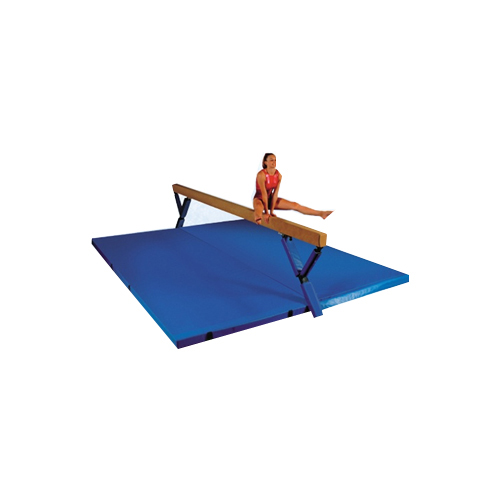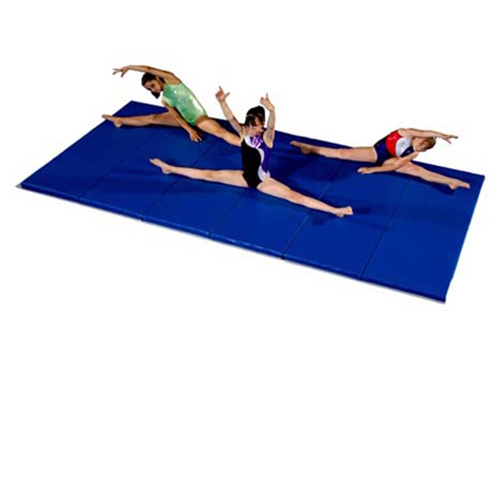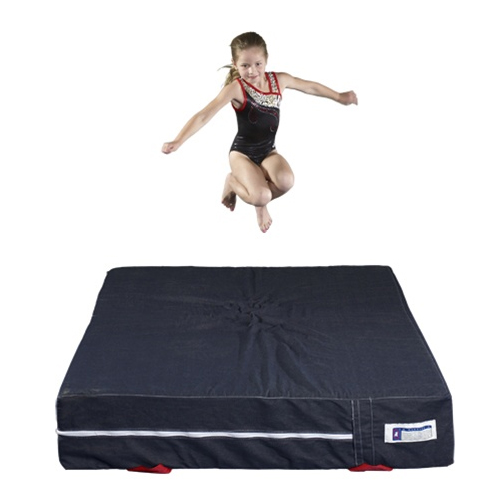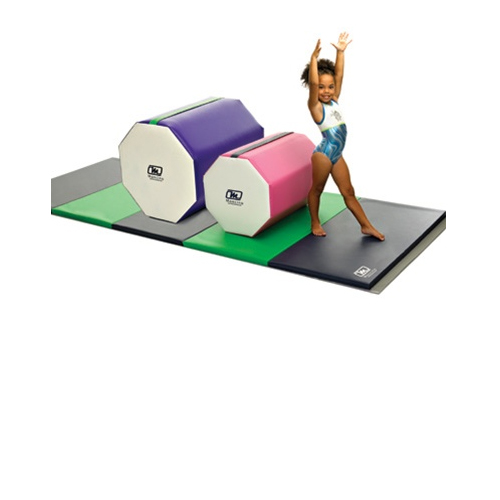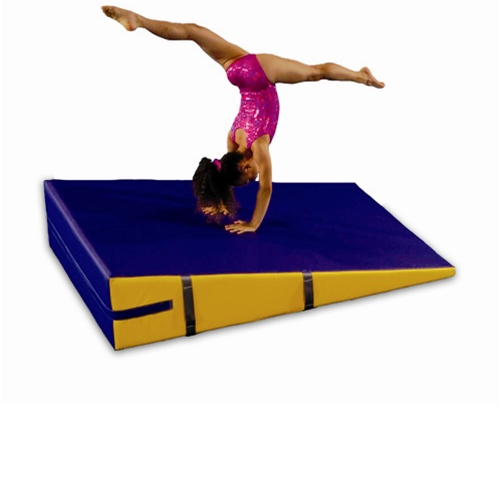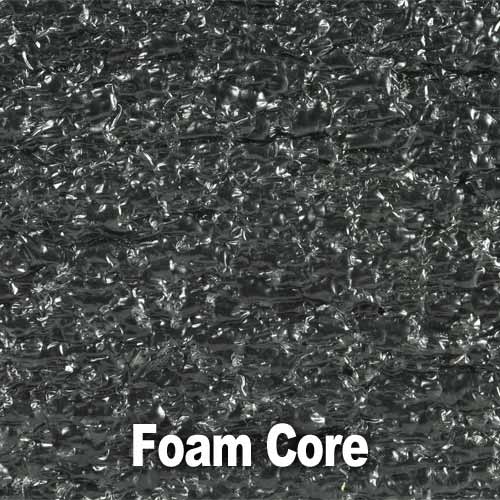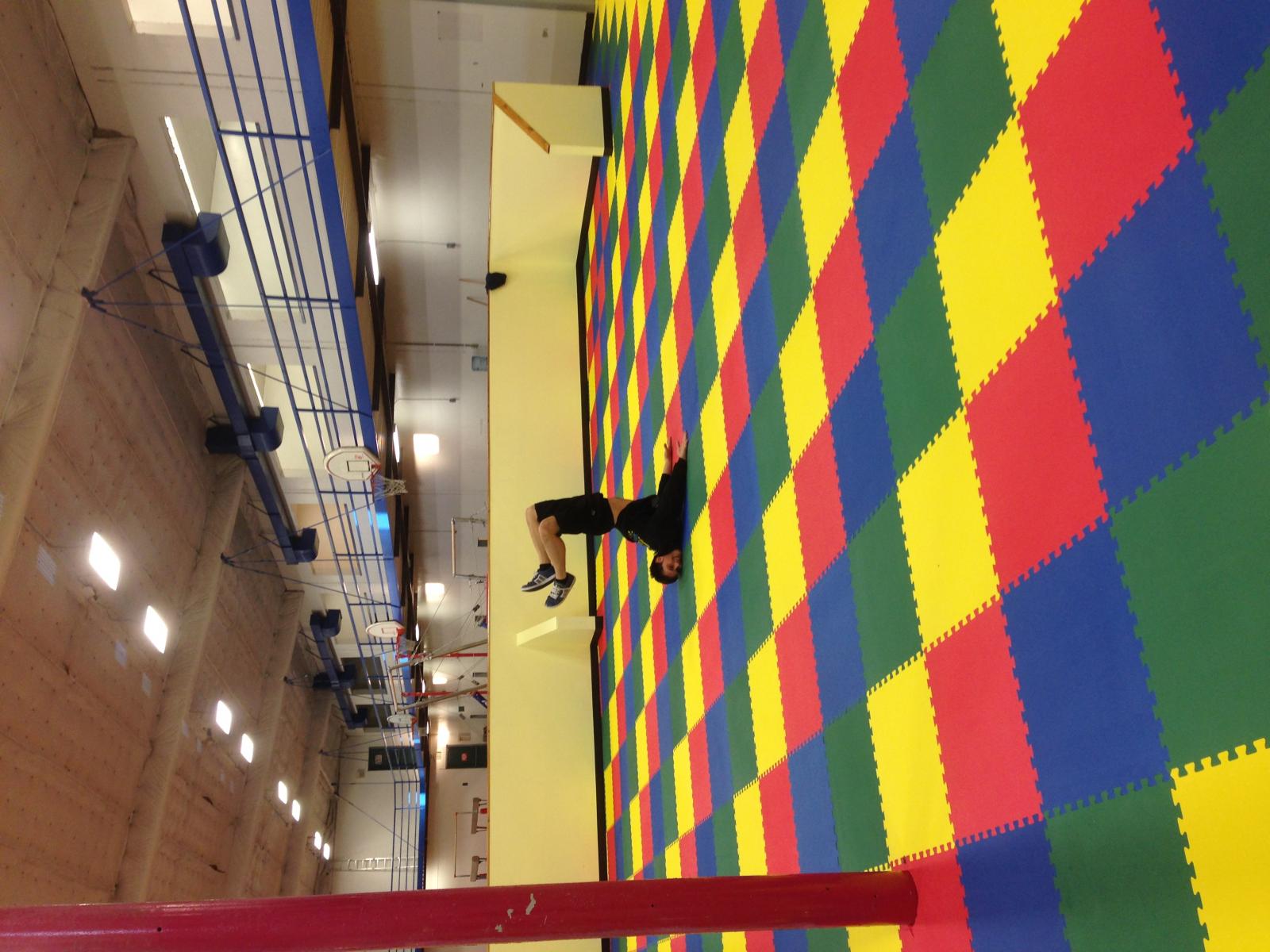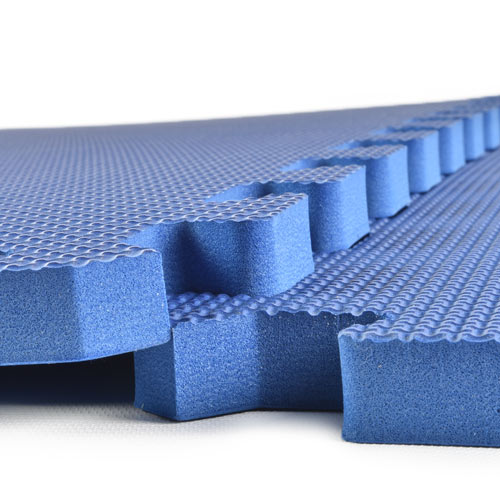 Gymnastics mats are designed to provide superior shock absorption in order to keep gymnasts safe as they tumble, flip and fall. These mats can absorb significant impact, and they're thick in order to be able to offer this type of protection. But part of what makes a gymnastics mat so effective is the actual construction of the mat.
The Ins and Outs of Gymnastic Mat Construction
Gymnastics mats are made with multiple layers and materials to give them the shock absorbing properties that they need.
Gymnastics Foam Mat Core Material
Foam gymnastics mats are made with a high impact foam core. The foam is what gives the mats their shock absorption properties, and makes the mat's surface both soft and cushioned. You will find that the foam used in different mats can vary in density, making some mats feel much firmer, while others feel softer.
Our thicker folding gym mats feature a base layer of polyethylene foam topped by a layer of polyurethane foam; we find that this combination of foams makes for an optimum combination of cushion and support.
The thickness of the foam also differs from mat to mat. Mats made out of thinner foam offer less shock absorption and protection than mats made of thicker foam. Tumbling mats usually measure as thin as 1.5 inches thick, while crash pads can measure as much as 12 inches thick, because of the significant impact that they need to absorb. Crash pads are also usually made out of a softer foam with more give to it, so that the mat creates a softer surface that creates a gentler landing.
Similarly, wedge pads are made of foam which is dense enough to support the gymnast, but also soft enough to be forgiving when the gymnast tumbles onto the mat.
Gymnastics Mat Covers
Most gym mats, including tumbling mats and wedge mats, feature a heavy-duty vinyl cover. Vinyl mat covers for gymnastics help to give the mats durability, while also making it easy to wipe down and disinfect the mats for athletes' safety.
Many of our folding gym mats feature 18-ounce vinyl covers. These covers are highly durable and lend additional strength to the mats. The vinyl mat covers for gymnastics offer athletes excellent traction, and strong stitching and excellent attention to detail makes these mats stand out as quality options.
In contrast, our Fluffy Denim Gymnastic Mat features a denim cover. While this cover is extremely durable, it helps to take some of the sting out of the landing for athletes.
Vinyl mat covers for gymnastics are more suitable for floor exercises or tumbling, since they give athletes excellent grip and traction. However, vinyl can sting and stick to skin, so it's a less ideal option for a high-impact fall.
Top-Quality Materials, Top-Quality Mats
It may be tempting to purchase cheap gymnastics mats that you find advertised, but this can be a mistake. Gymnastic mat construction is a major factor in how well that mat will perform, and how much it can help to keep athletes safe. Many of these cheaper mats that you see on the market today are made of sub-par gymnastics mat materials.
Keep an eye out for mats that are made of lesser-quality foam, or those that are too thin to really offer your athletes protection. Other indications of poor quality mat composition for gymnastics include vinyl covers that feel thin or flimsy to the touch, uneven stitching lines, single stitched seams, stitching that is loose or flawed, and vinyl covers that don't end with square corners on all sides.
At Greatmats, we've carefully selected each of the gymnastics mats that we offer to reflect an excellent combination of both quality and value. We offer a variety of mats that are suitable for many different price ranges, so our mats are accessible to both the parent wanting to create a home practice space for their child, as well as the owner of an elite gym wanting to invest in top-quality mats for their program.
Here, you'll find a selection of mats made of top-quality materials, but offered at affordable prices. We've partnered with a leading manufacturing facility right here in the USA, and through this partnership we're able to offer you custom-made top-performance gym mats. Additionally, we keep a variety of standard gym mats in stock to facilitate fast shipping, right to your door.
How to Choose the Right Gymnastics Mat
It's important to realize that gymnastics mats aren't all made to be the same quality and to offer the same performance. Purchasing a low-quality mat won't just increase the chances of the mat wearing poorly, but it can actually put your gymnasts at increased risk of injury. These are some important considerations you should think about when purchasing a gymnastics mat.
Your Intended Use of the Mat
Before you purchase any mats, think about how you'll use them and the type of qualities that you need them to have. If you're looking for a mat to absorb the shock as gymnasts come off of the uneven bars or for use at the end of a vaulting lane, then you'll need a mat that's very different than what you would use for floor exercises.
Think about the age and size of the gymnasts who will be using the mat, the amount of traffic the mat will need to sustain, the activities the gymnasts will be performing, and the overall amount of impact that the mat needs to absorb.
Thickness
Based on your answers to the point above, you can start to think about the appropriate thickness for your gym mat. Generally speaking, the thicker the mat, the more shock absorption it offers, though the specific materials used in the mat also play into this.
It's never a good idea to purchase a mat that may be thinner than what you need. If you're on the fence, then choose the thicker of the mats that you're considering.
Durability
Gymnastics mats are an investment, and you'll want your mats to last. Choosing a top-quality mat means that you'll enjoy more durability and a longer-lasting product as a result. This is one major reason not to purchase the cheap gym mat options that you see elsewhere; they don't last.
As you shop for gym mats, look for signs of quality, like double-stitched seams, combinations of different foam types to achieve an optimum surface, and thick, long-lasting mat covers. When you choose a mat made of quality gymnastics mat materials, you'll be getting an overall better product, even if your initial investment costs a bit more.
Versatility
There are many different styles of gym mats available, each with its own potential uses. Some mats are more versatile than others. For instance, folding mats can be completely unfolded to create a smooth surface for floor routines, tumbling runs, and more. When partially folded, they can serve as tools for skill building.
If you opt for folding gym mats, you can also connect the mats together to create larger surfaces. Some mats are available with connector strips on just their shorter sides, while others have strips on all four edges. The mats with strips on all four edges give you maximum versatility in how you choose to set them up.
Folding gym mats aren't just for floor use, either. You can hang these mats on the walls to offer some impact absorption in case an athlete collides with the wall during training or competition.
Color Choices
Looking for mats that match the colors of your brand, your team, or your school? You'll enjoy plenty of color options at Greatmats. We even offer custom color combinations on our custom-made mats, so you can get the exact look and style that you're after.
Warranty
Be sure to consider the warranty that's offered for any gym mat. At Greatmats, our products are backed by excellent warranties, and our manufacturers stand behind the quality of their products.
A Note About Gym Mat Safety
Keep in mind that you may buy a mat with the best gymnastic mat construction available, but it won't necessarily be able to prevent athlete injury. Gym mats aren't fail-proof, and though quality mats do offer athletes valuable shock absorption and cushion to help decrease the risk of injuries, it's still possible for injuries to occur. You can reduce the chance of that happening by investing in the best quality mats that you can find, but it's always important to train under the guidance of a qualified trainer who can help athletes to reduce their chances of injury.