What Is The Best Free Weight Flooring For A Home Gym?
By Lisa Hobbie Created: July, 2022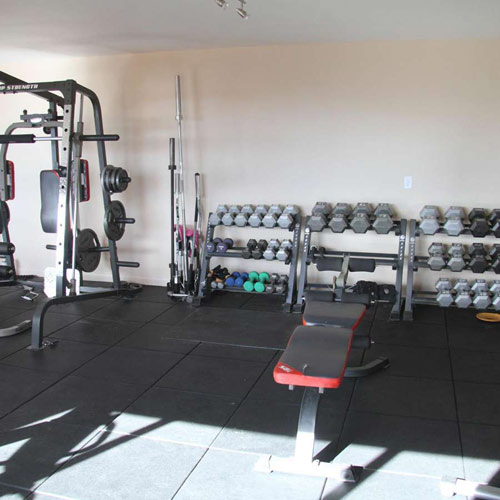 The best free weight flooring will be durable, versatile, and easy to clean. It will provide protection to the subfloor and allow for free movement.
Gym Rubber Flooring offers a number of free weight flooring solutions that will absorb some of the sound from dropped weights, offer shock absorption and work well for other varieties of strength training and exercise programs.
5 Top Free Weight Flooring Options for Home Gyms
The products are easy to install and offer top notch surfaces on which to use hand weights and other types of equipment needed to build strength and gain muscle.
Gym Floor Workout Fitness Tile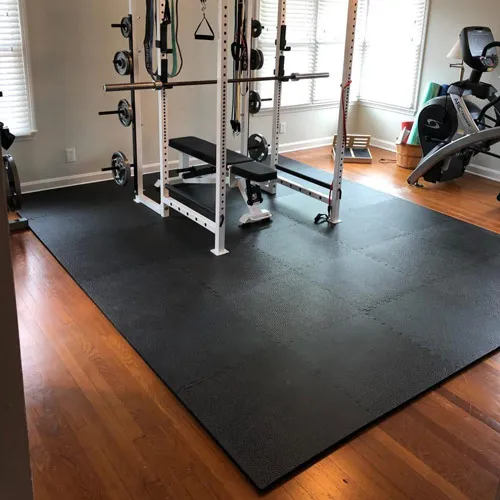 Gym Floor Workout Fitness Tile is a robust gym flooring solution made from EVA foam. It's designed for use in home gyms and weight rooms and can easily endure the use and abuse from heavy weight machines and exercise equipment.
These fitness tiles are lead free, latex free, and waterproof. They are versatile and can go under all exercise machines and free weights as a wall-to-wall floor, or, as an island installation. The pebble top tiles each measure 2x2 feet, offering roughly 4 square feet of coverage area per tile.
Interlocking jigsaw puzzle-style edges simplify installation and lock each fitness tile in place, even when they're subject to stress from weight or intense use. The floor is easy to maintain and will offer years of quality protection.
Gym Rubber Flooring' customer, Michael, uses this tile under his cardio equipment, and he also uses it for yoga and free weights. In his online review, he wrote, "The mats have a nice cushion and protect the underlying floor."
Rubber Flooring Rolls 3/8 Inch Regrind Confetti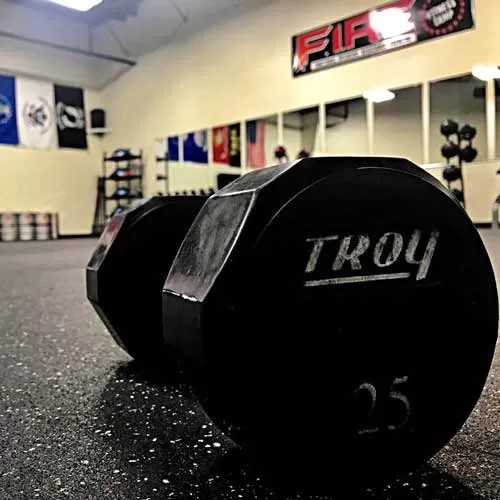 Rubber Flooring Rolls 3/8 Inch Regrind Confetti is a rubber flooring roll that can be used to cover a larger space. It's an affordable option that is easy on the environment and on your checkbook.
Customers use this solution for protecting subfloors from free weights and exercise equipment, and appreciate how well it performs as a sound dampener.
This rubber flooring is manufactured using second run materials. It's a green product that is made in the USA. It boasts a higher density than other rubber rolls and offers a ⅜ inch thickness and 10 percent color confetti throughout.
Orange Peel StayLock Tile in Colors
Orange Peel StayLock Tile in Colors are made of PVC and have a design that locks together tightly to prevent unwanted separation - even under constant heavy use.
This product offers a cushioned feel like foam, but it's super durable much like rubber. It delivers fabulous support, ergonomic benefits, and anti-fatigue properties. The tiles are waterproof and have a raised base and lightweight design.
The StayLock tiles are suitable for everything from a series of chest press lifts to cross fitness training. They are very easy to clean and maintain.
Customers like Phoebe find them to be easy to install and attractive. In her online review, she wrote, "These tiles work well for free weights, benches, and an elliptical."
Interlocking Rubber Floor Tiles are 2x2 8mm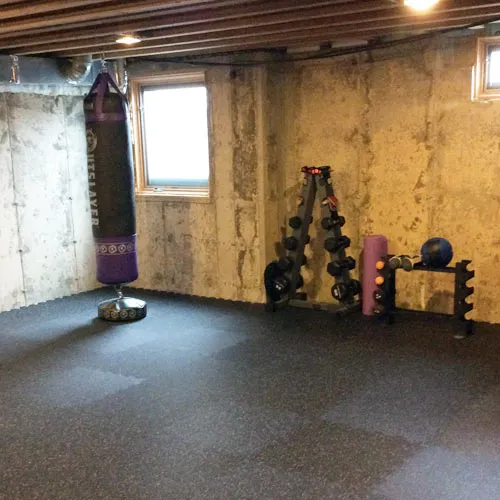 Interlocking Rubber Floor Tiles are 2x2 feet and 8 mm thick. They are made in the USA and are a breeze to install.
This product is a perfect one to serve as free weight flooring, as it is designed to withstand the heavy weight of weight and fitness equipment, as well as constant foot traffic. The tiles also dampen noise and offer a smooth, non-slip surface.
This durable product delivers a long lasting surface that will provide a base on which to enjoy years of weight lifting routines and intense workouts. Customers love how the mats meet their needs, while also being attractive.
UltraTile Rubber Weight Floor Black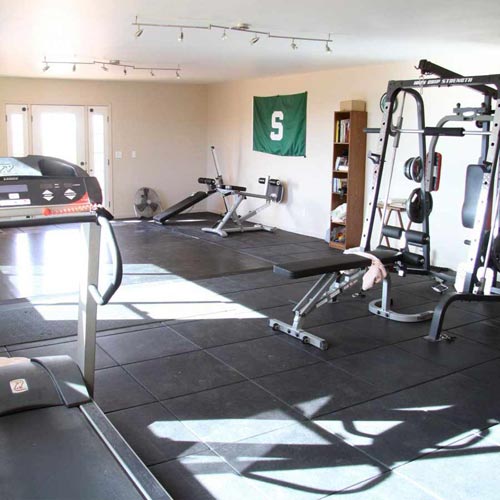 UltraTile Rubber Weight Floor Black product is another one designed for weight rooms, sport facilities, and home gyms. They are also used in professional and college weight rooms.
These 2x2 rubber floor tiles are available in many different colors, and they are made from superior recycled rubber content. They deliver a tough, shock-absorbing floor that is perfect to workout and train on.
The 2x2 gym tiles feature a patented 1 inch thick top layer and a pedestal underside that offers a raised design under which cables and wiring can be kept out of sight.
Customers like Michael have been so pleased with this product. In his online review, he wrote, "Product came on time, was easy to install, and has been working great as a gym floor in our free weight area."
The Best Free Weight Flooring Solutions
Exploring the many options of weight room flooring may feel overwhelming. With the many dependable, durable, and attractive mat options to choose from with options to suit any preference, our team will help you find the option that is perfect for your space!