What Is Sustainable Flooring & Why Should You Choose It?
By Paige Cerulli Created: August, 2022 - Modified: September, 2023
If you're exploring flooring options for your remodel or new build, you may be considering using sustainable flooring products. Investing in sustainable flooring can be a wise decision that can pay off in multiple ways.
What Is Sustainable Flooring?
Sustainable flooring products are made using sustainable materials and processes that reduce the product's impact on the environment. That sustainability can include the harvest of the materials, the production of the flooring, and the flooring's eventual disposal.
Sustainable flooring solutions often use materials that are easily recycled or biodegradable. This green flooring can be the best choice for many different residential and commercial projects.
Why Choose Sustainable Flooring?
There are many reasons to consider using sustainable flooring for your next project. When you choose an eco-friendly product, you will have the satisfaction of knowing that you are also helping to protect the environment and minimize your building's impact on the world.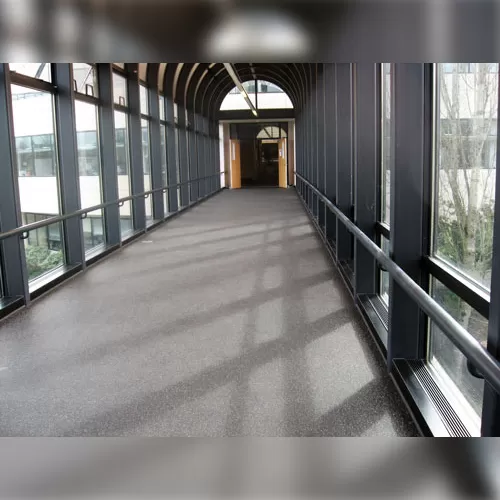 When you do reach the end of the product's lifespan, you will have more disposal options. Many green products can be recycled, which can save you the cost of throwing the flooring out.
Sustainable flooring may be eligible for Leadership in Energy and Environmental Design (LEED) points for your project.
When you choose an eco-friendly flooring product, you can demonstrate your business's commitment to environmental preservation. This can be a strategic move that can boost customer loyalty or even build your customer following.
Sustainable Flooring Options
These eco-friendly products are engineered with many different materials, and you'll have a wide array of options to choose from.
Recycled Rubber
Many rubber products are made at least partially, or sometimes entirely, of recycled rubber. That recycled crumb rubber helps to keep tires out of landfills.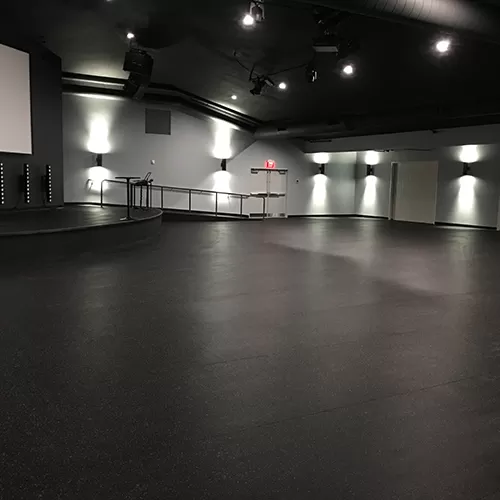 This recycled rubber is highly durable and has long lifespans of decades or more. The products also provide superior shock absorption and strength that you won't find from other flooring materials.
Recycled rubber products include rubber rolls, mats, and tiles. The products are available in varying thicknesses, and while solid black is a standard option, you will also find regrind products available with varying color fleck percentages.
Rubber makes up some of the most versatile eco-friendly flooring products that you will find. Recycled rubber products are used in gyms, dance floors, horse stalls and facilities, kitchens, warehouses, entrance ways, playgrounds, and more.
Recycled PVC
Even PVC flooring tiles can be eco-friendly when they're made of recycled PVC materials. PVC tiles are suitable for use in play areas, rooftops, pool surrounds, outdoor decks, and more.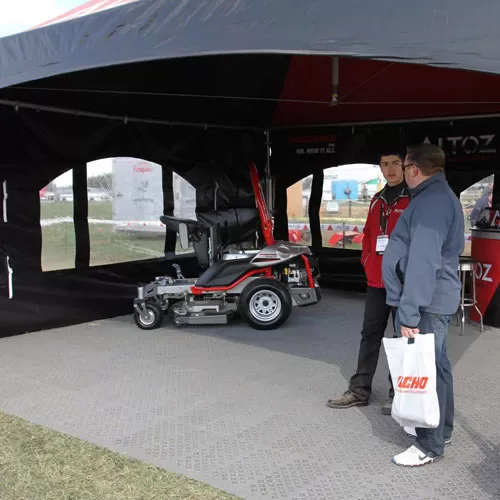 Highly durable, these PVC tiles are completely waterproof and they're resilient enough to withstand temperature extremes. They offer shock absorption and create a comfortable surface underfoot.
Available in many different colors and in perforated and non-perforated designs, PVC tiles can be used indoors and outdoors.
Renewable Cork
Cork is one of the most eco-friendly flooring products you will find. The raw material is sustainably harvested from the bark of cork oak trees, and then those trees can simply grow their bark back, so they don't have to be killed.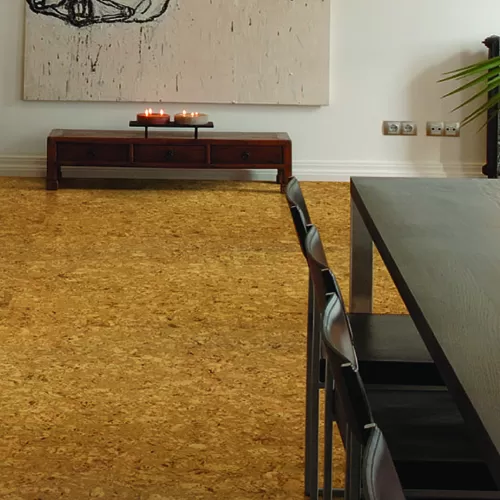 Additionally, some cork products are made from waste corks from bottle stoppers, recycling products that have already been used.
Cork offers many desirable qualities, including thermal and acoustic insulation. It is also naturally antimicrobial, and since it repels insects, it is a versatile choice for use in turf fill, home laminates, underlayments, and more.
Bamboo Flooring
Bamboo is another excellent eco-friendly choice. While bamboo is technically a grass, it is so fast-growing that there is a ready supply available.
Bamboo also has some highly desirable properties. It is naturally anti-bacterial, and it is a supremely durable flooring choice.
Bamboo is water-resistant, and it's increasingly gained popularity as an alternative to traditional hardwood flooring options. While bamboo flooring does tend to be a bit more expensive than other flooring types, like vinyl or laminate, bamboo is so tremendously durable that the flooring often pays for itself, since you don't have to replace it as soon as you would replace other flooring types.
Recycled Carpet
Even carpet can be eco-friendly. More manufacturers are creating carpet fibers that are made from recycled plastic, including the plastic of old water bottles.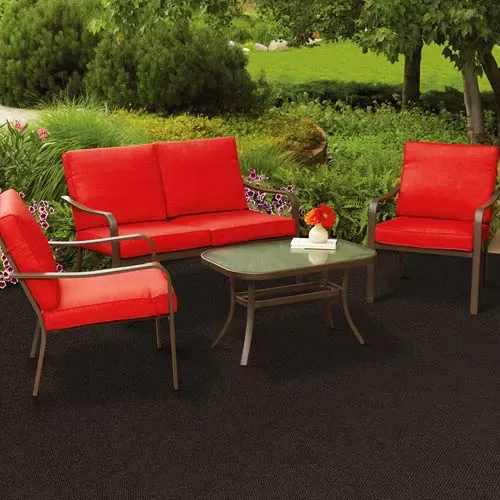 By recycling the plastic into fibers, this carpeting helps to keep water bottles out of landfills and gives them a valuable new purpose. As an added bonus, these carpet tiles are often highly durable and can be a great choice for residential and commercial use.
Sustainable Flooring at Greatmats
At Greatmats, we carry a wide selection of
sustainable flooring products
suitable for home and business use. With products available for indoor and outdoor settings, and featuring all of the materials highlighted above, we can help you to find the right flooring choice for your project.
If you have questions, please contact our Greatmats customer service team. We would be happy to provide shipping quotes, product details, and to help you determine the product that is best for your needs.