What Is Interlocking Vinyl Flooring?
By Paige Cerulli Created: May, 2022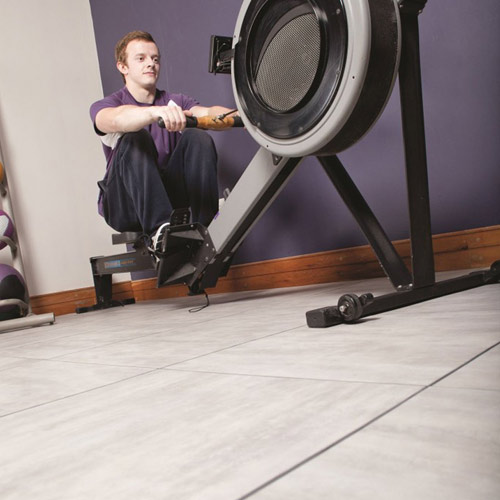 If you're looking for the durability and aesthetically pleasing design of vinyl, you might be considering flooring that requires installation with adhesive. But if you're not ready for a permanent installation or want a more DIY-friendly option, you might want to consider using interlocking vinyl flooring, instead.
What Is Interlocking Vinyl Flooring?
Vinyl flooring traditionally comes in planks or rolls, which both need to be cut to fit an area and then glued down. It's a labor-intensive process and is often best left to a professional.
Interlocking vinyl flooring is available as planks or tiles, and these individual pieces are designed to click or snap together. They might feature grooves or interlocking puzzle edges or tabs that securely hold the pieces together.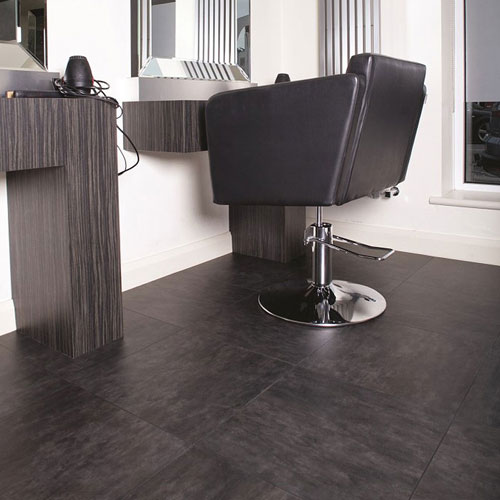 As a result, this interlocking flooring makes for an easier installation. The products are more versatile, too, since many of them can be removed and reinstalled as needed.
Benefits of Interlocking Vinyl Flooring
If you're considering a new floor for your home or commercial space, there are multiple reasons to consider interlocking vinyl flooring.
Durability of Vinyl
With interlocking vinyl flooring, you'll enjoy that beautiful luxury finish of vinyl in an easy-to-use form. Vinyl is strong enough to withstand residential and commercial use, and vinyl products often feature long warranties and lifespans.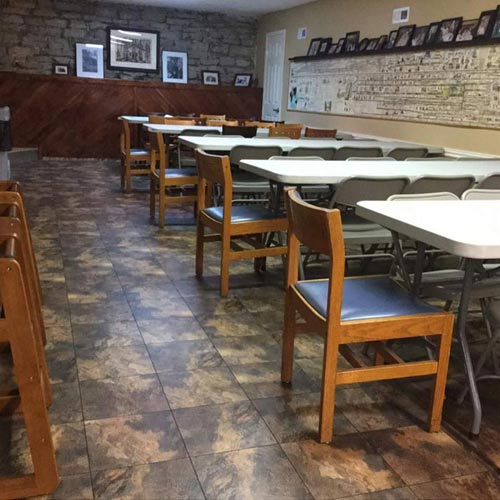 Waterproof Design
Many interlocking vinyl flooring products are also waterproof, so you can install them in locations like a mudroom, basement, or garage. That waterproof design makes for easy care and maintenance, and it also contributes to the floor's durability.
Easy Installation
Because these modular planks and tiles snap together, they offer a much easier installation than traditional vinyl flooring products, which often require adhesive. These interlocking products can be dry laid and are DIY-friendly, saving you the time and money of hiring a professional to install them.
Since the flooring can be dry laid, it is suitable as a long-term and a temporary flooring choice. This adds versatility to the space, allowing you to renovate it and easily remove the flooring in the future as needed.
Variety of Finish Options
Vinyl flooring is available in a wide variety of finishes, including traditional hardwood and luxury designer finishes like marble and granite. The wide variety of finishes makes it easy to choose a product that works with your existing decor or your planned renovation color scheme.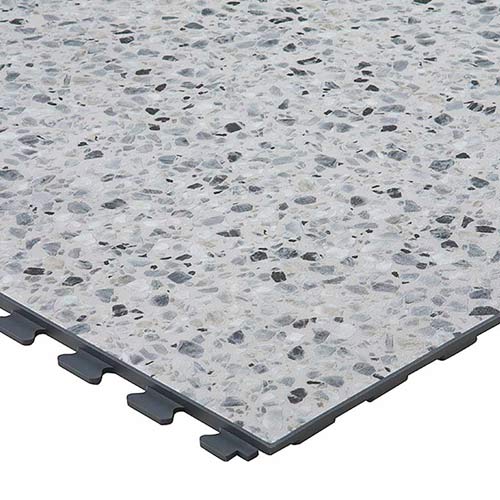 Since those finishes are highly realistic, you can use vinyl flooring to get the same look of a different flooring type, like marble, at a fraction of the cost. You'll also enjoy a more comfortable and welcoming floor than you would get by using the real material.
Top Interlocking Vinyl Flooring Products for Sale
At Greatmats, we have several interlocking vinyl flooring products that all offer an easy installation and a beautiful finish. They're suitable for a wide variety of projects and applications.
Cottage Tour Laminate Vinyl SPC Flooring
The Cottage Tour Laminate SPC Flooring features the distinctive rustic look of reclaimed wood, but with the benefits of vinyl. This farmhouse-inspired flooring features an upper synthetic wear layer for extra durability.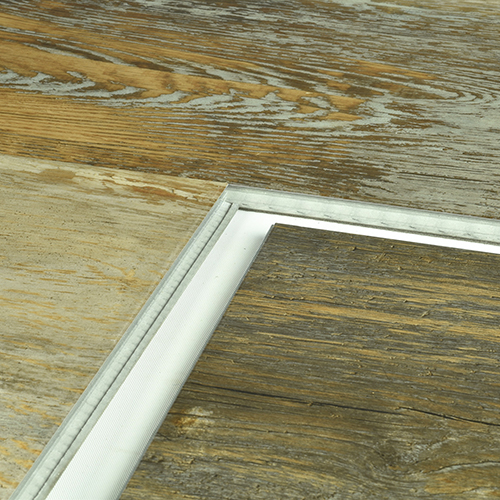 The middle layer has a tongue and groove interlocking design, so the planks just pop together without any need for adhesive. They function as a floating layout, making for an easy DIY-friendly project.
The planks' lower layer features a sound control underlayment that helps to reduce noise for a more enjoyable environment. Since there's no need to add extra underlayment during installation, these planks can help you to save money on your installation costs.
Pet-proof and phthalate free, these planks are a versatile choice for homes, offices, and retail spaces.
Max Tile Raised Floor Tile
The Max Tile Raised Floor Tile is a highly durable dance floor tile that's also suitable for use as garage or basement flooring. It features realistic wood grain designs and is made in the USA.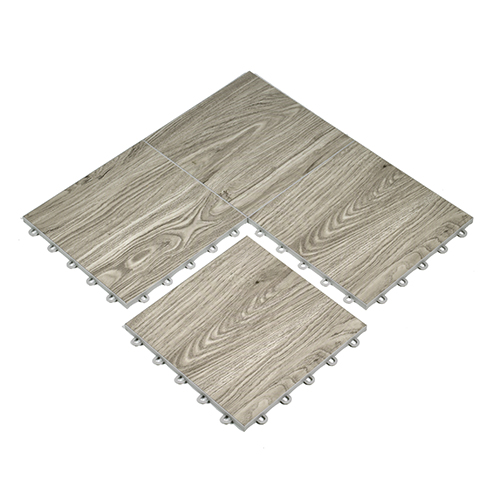 The tile features tab and loop connectors that create a secure hood, but that also allow you to remove the tiles as needed. The flooring is suitable for both permanent and repeated installations, and is DIY-friendly.
The tiles have been UV treated, and they are suitable for commercial and home use. They're available with a finished border system for a clean island or wall-to-wall installation.
The UV protective coating is resistant to scratches and wear, so the tiles never have to be refinished, saving you money. The tiles are completely waterproof, and even if they get wet, they won't swell or pull apart.
SupraTile Designer Vinyl Top Series
The SupraTile Designer Vinyl Top Series tiles offer luxurious finishes paired with the durability and versatility of vinyl. Those finishes include options like marble and sandstone, giving you the look of stone but in a much more comfortable floor.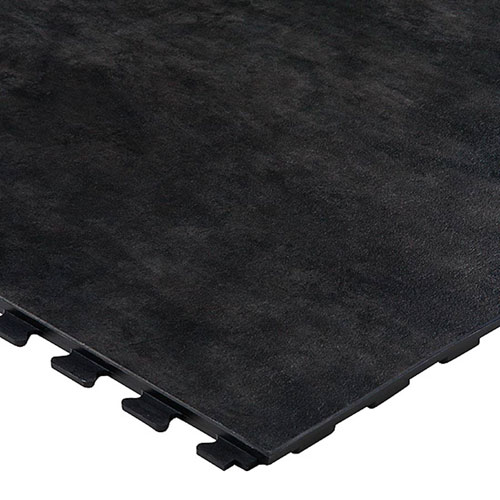 The tiles are also easy to install, making them a more practical option than real stone. The interlocking edge allows you to easily connect the tiles together, and since that edge is hidden, the finished floor is smooth and beautiful.
These PVC plastic interlocking tiles feature a five-layer construction for supreme durability. They can withstand up to 2,000 pounds, and the top two protective layers can withstand significant foot traffic.
The tiles are also resistant to water, oil, chemicals, mold, mildew, impacts, and abrasion, making them an excellent choice for offices, basements, showrooms, and galleries.