What Flooring Is Best For A Sandbag Workout?
By Lisa Hobbie Created: July, 2022 - Modified: September, 2023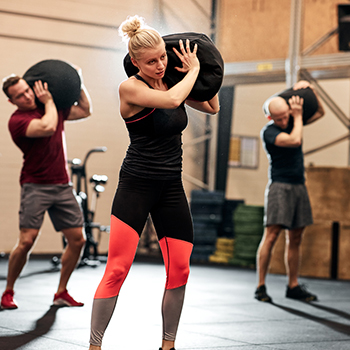 Adding a sandbag workout routine to exercise and fitness regime is the ultimate way to build body muscle mass, lb by lb. This type of training is a great way to prepare a body for heavy lifting in and out of the gym, and it's the kind of workout that can be completed in a short amount of time.
Having the right kind of floor beneath you when doing a sandbag workout is very important. Not only will it protect the subfloor from potential damage caused by dropping sandbags, it will also offer the right kind of support and protection for your joints, bones, and muscles.
4 Best Sandbag Workout Flooring Options
Each of these diy flooring solutions would provide adequate protection for the athlete and the subfloor and would offer a versatile footing on which to complete a wide variety of workouts and exercises. Fill the day with fitness if any of these products are installed in your space.
1. Rubber Flooring Rolls 3/8 Inch Regrind Confetti
Rubber Flooring Rolls 3/8 Inch Regrind Confetti is an economical flooring product that is eco-friendly, green, and made from second run materials. The rolls are large enough to cover an adequate amount of floor, as they are 4 feet wide and can be cut to any length over 25 feet long. This made-in-the-USA rubber roll product offers a ⅜ inch thickness and 10 percent color confetti throughout. It's made with a higher density than many other rolls.
2. Interlocking Rubber Tile Gmats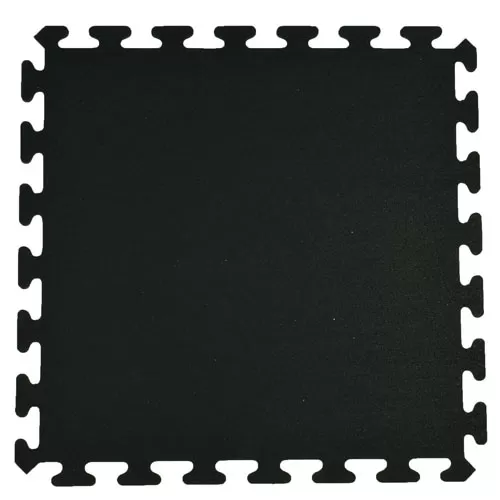 Interlocking Rubber Tile Gmats offer a surface that is designed to withstand the heavy weight of sports and fitness equipment, including super heavy sandbags. They offer tight fitting seams in a reversible product that has universal interlocks. This gives you extra confidence and ease of movement when working out, knowing that your flooring is stable.
Impact absorbing and scuff resistant, the mats are made in the USA with top notch craftsmanship and recycled materials, so they are also beneficial for the environment by keeping tires out of landfills. Protect you, your subfloor, and the environment by purchasing this product.
3. Rubber Mat Black Trued Natural 4x6 Ft x 3/4 Inch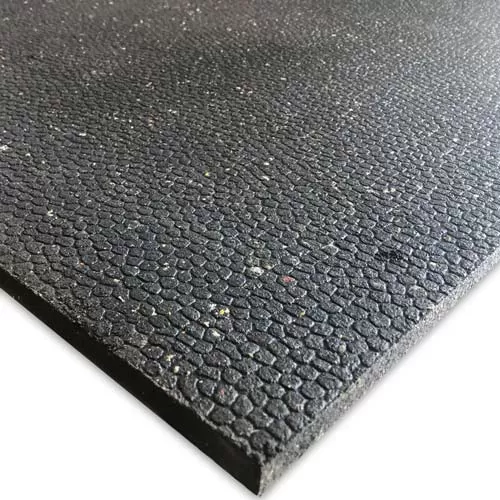 Rubber Mat Black Trued Natural 4x6 Ft x 3/4 Inch is manufactured to high levels of tolerance, so you can count on its toughness. If you want to cover a lot of space in a little time, these mats provides 23.17 square feet of coverage. The mats are 96 pounds each, so they won't slip and slide around. They are made in the USA using the best and safest rubber materials. They are flat on one side, with an anti-skid, pebble texture surface on the opposite side. This product is strong, versatile, durable, and made to last.
4. Sterling Athletic Sound Rubber Tile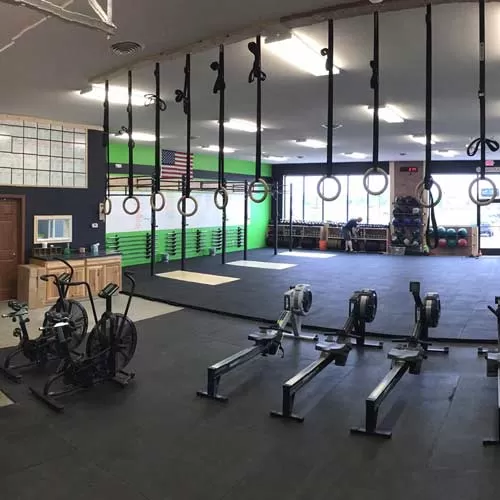 Sterling Athletic Sound Rubber Tile is one of the best impact resistant sandbag workout flooring solutions that also absorbs sound and shock. This product is extremely durable, heavy duty, and easy to clean, and it will hold up to even the heaviest of dropped sandbags, high-impact workout moves, exercise equipment, heavy tools, and more. The tiles limit unwanted noise and offer cushion for athletes and protection for a subfloor. It's made from recycled rubber material and qualifies as a green product, too.
Gym Rubber Flooring - For the Best Sandbag Workout Flooring Solutions
Whether one of the options listed will suit your needs and preferences, or, whether you want to explore other gym mat, tile, and flooring options are available at Gym Rubber Flooring, there really are many different types of flooring from which to choose that would look great and perform well in gym space where you plan to do your workouts.
Feel free to reach out to the customer service team at Gym Rubber Flooring if you need suggestions, samples, or assistance in selecting the flooring that is right for your space. You can be confident in the fact that you will be getting the best pricing, service, and quality when you purchase from Gym Rubber Flooring.