What Are The Best Ground Protection Mats For Landscapers?
By Lisa Hobbie Created: March, 2021 - Modified: June, 2021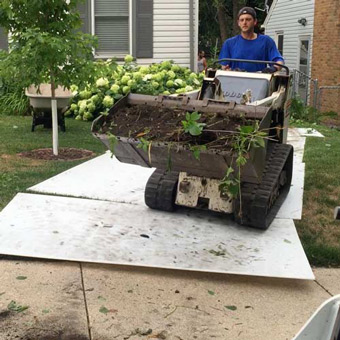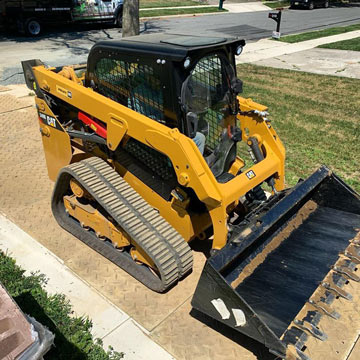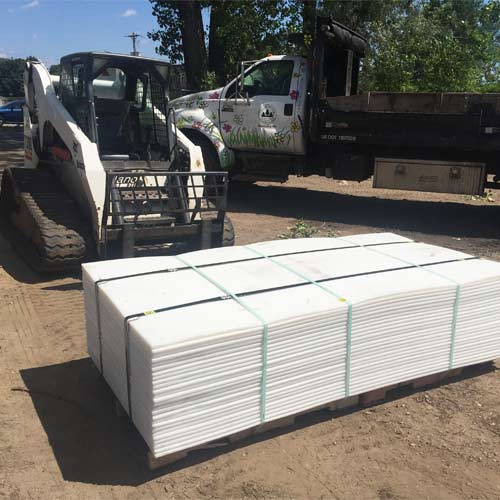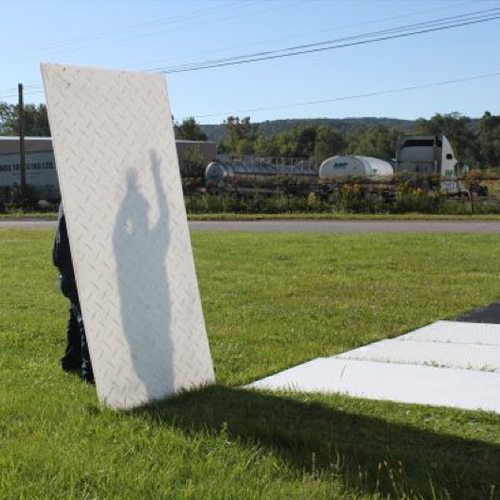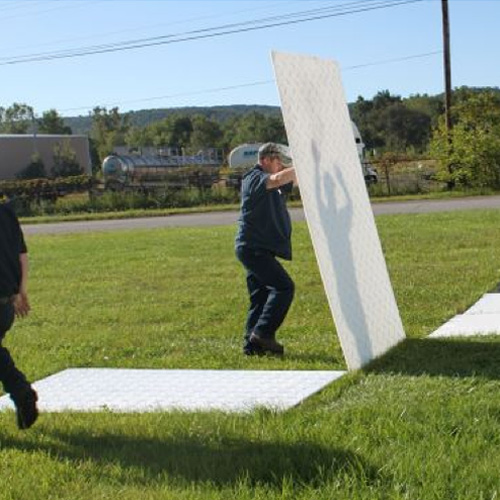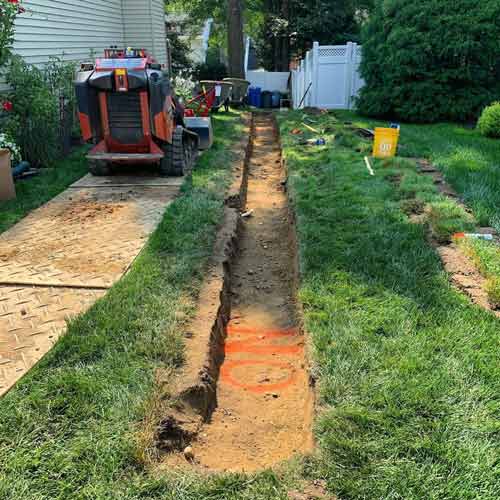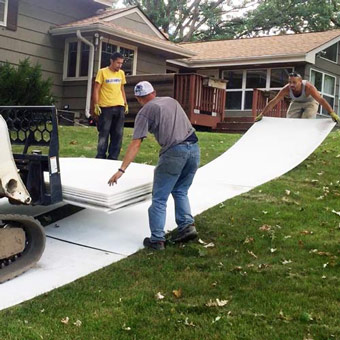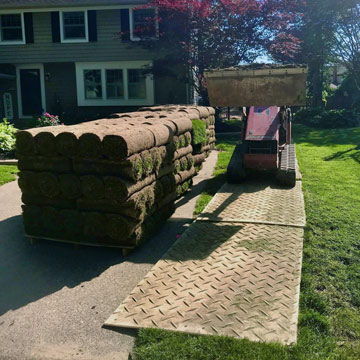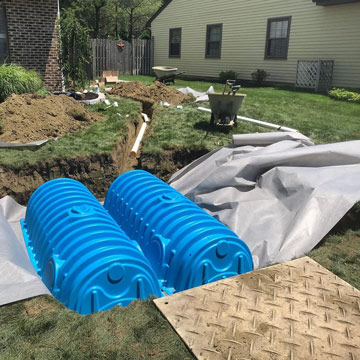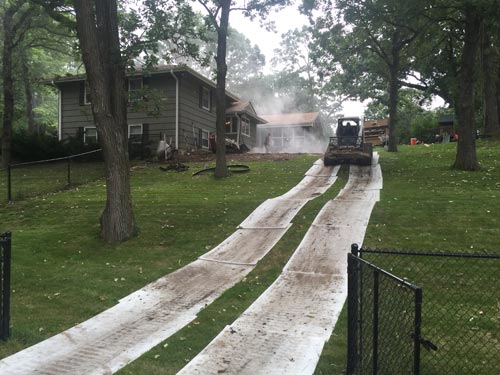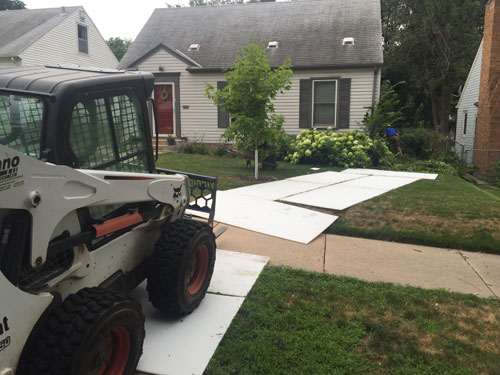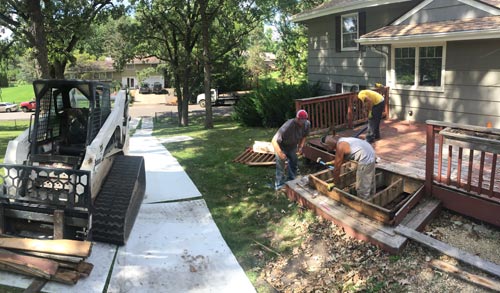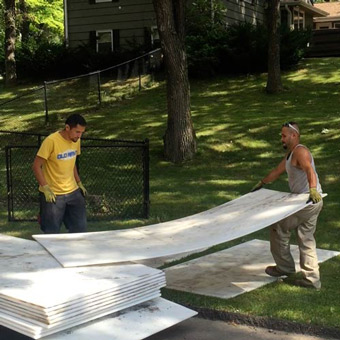 When thinking of embarking on a significant landscaping project, you may find yourself worried about the damage the landscaping machinery and equipment could cause to the lawn. Sometimes, tracks from a loader can really do a number to a yard, and in the process of creating a beautiful landscape, a huge mess is made to what is already in place. This doesn't have to be the case, however, if you install
ground protection mats
for landscapers. They are designed to protect everything from a driveway, concrete slab or patio, sidewalk, sod, and anything else that may endure tires or workers' foot traffic.
Among the many options at Greatmats, the clear
4x8 Ground Protection Mats
for landscapers are among the best.
Stephen Lisk of Lisk Landscape Innovations
Stephen Lisk of Lisk Landscape Innovations employs the use of Greatmats' clear
4x8 Ground Protection Mats
. His company specializes in stormwater management to help keep standing water out of yards, basements, or crawl spaces. He utilizes the ground protection mats for landscapers to protect grass from the weight of his equipment, and he chooses the clear mats to allow the sun to shine through to prevent the existing grass from dying. He also uses them to protect sidewalks and driveways. Stephen refers to the mats as a great invention and an asset for them, noting their ability to endure any type of weather and constant moisture.
Chris Axel of Axel Landscaping
also makes protecting lawns a top priority. Prior to finding the ground protection mats for landscapers, Chris found himself buying numerous sheets of plywood each year to protect lawns from his equipment. These constantly had to be replaced as plywood gets compromised once wet.
Because protecting lawns is one of his top priorities, he knew he needed a better solution. That's when he purchased the ground protection mats. He immediately noticed how much better they performed than plywood does, and could instantly envision being able to drive a dump truck right across a protected lawn to dump a load of dirt where needed.
Chris loves the fact that the mats can be linked together, making turning in equipment a breeze. He finds the ground protection mats for landscapers to be a product that saves time, energy, and hassle as they will not break, splinter, waterlog, or warp. Chris feels the investment of these mats is worth every penny.
The
4x8 Ground Protection Mats are a top notch product offering many features and benefits. They are made of rugged ½ inch thick recycled polyethylene and have a bold cleat design for great traction. They leave turf smooth, even in damp and soft conditions, and unlike plywood, they will not splinter, warp, or become waterlogged. They are designed to allow UV penetration for grass to still grow and thrive, and they can be hosed down to clean them.
They really are the best ground protection mats for landscapers, as evidenced by their lifetime warranty. Mats can be locked together with Turn-A-Links forming a continuous roadway or workable platform, making these a fabulous solution when working with landscaping equipment and machinery.
Each of these ground protection mats for landscapers is 86 pounds and offers 32 square feet of coverage. Available at a price of approximately $325 per mat, considering the time and money savings you'll enjoy by using them, they provide an excellent value over the lifetime of their use.
Greatmats - for the best ground protection mats for landscapers!
Perhaps you are new to the world of ground protection mats, and like the Greatmats customers featured above, you've previously used or considered using plywood as a ground protection solution. Although plywood can be used in this way, it doesn't hold up well once it gets wet and weighted down. It also doesn't always provide adequate traction, and it can't support as much weight - should the need to drive a truck across a lawn arise. Plywood moves around more easily and it is slippery, so the lawn sometimes gets damaged, anyways. Once the plywood has been used for a few projects, it also will need to be replaced and can leave debris behind as it breaks down.
The ground protection mats for landscapers that are highlighted here are just one option available at Greatmats. The clear version is extremely popular among landscaping companies, as it is designed for sunlight to reach the grass underneath while protecting it. They are durable, tough, and offer so many benefits and features. Their construction is superior, and their quality is top notch.
Greatmats features a number of affordable ground protection mats for landscapers that make driving heavy equipment over manicured lawns a less daunting and damaging task. Employing these mats makes clean up easier, provides traction for heavy equipment, and offers amazing protection of a lawn, sidewalk, driveway, and more.
If you want to explore other options available, or, if you have questions about the
4x8 Ground Protection Mats
for landscapers, simply reach out to the team at Greatmats. Together, you can decide if this product is right for you, or, if there are other options you should explore. Regardless of the decision you make, you will certainly enjoy the best service, quality, and pricing around.