Ground Protection Mats - Axel Landscape Testimonial
By Brett Hart Created: August, 2017 - Modified: October, 2023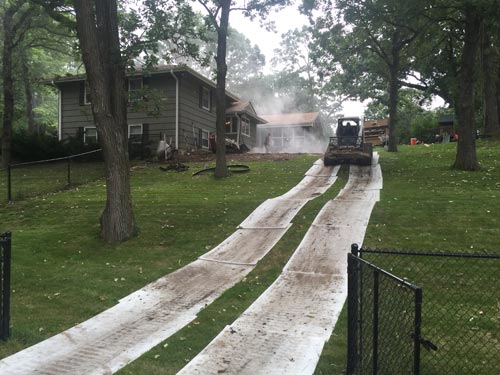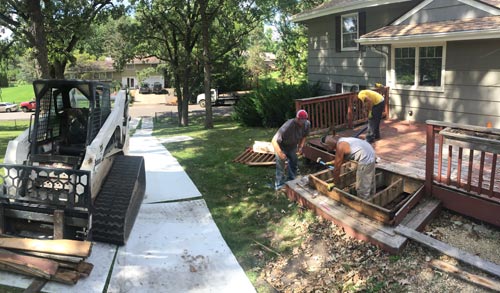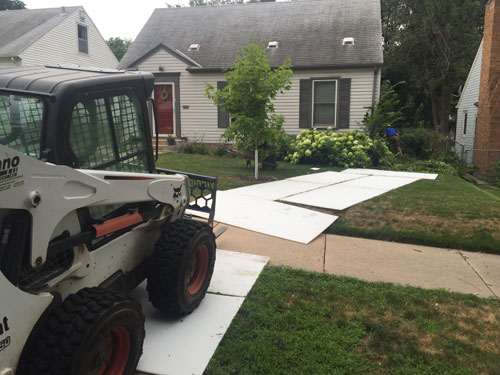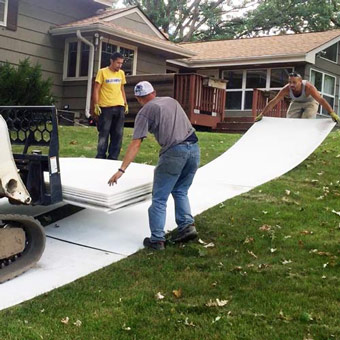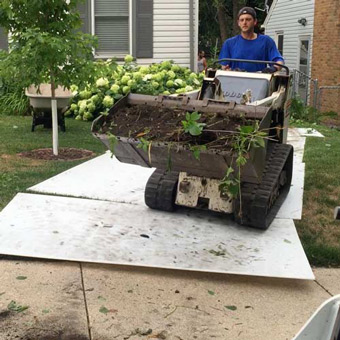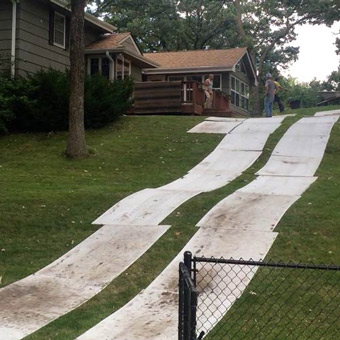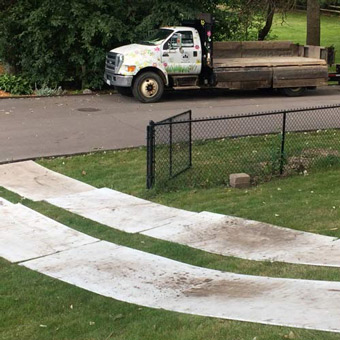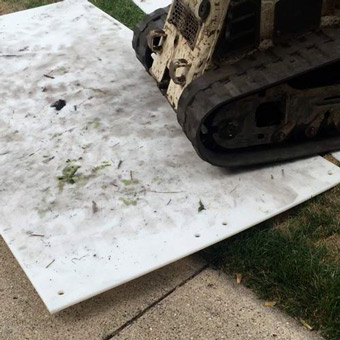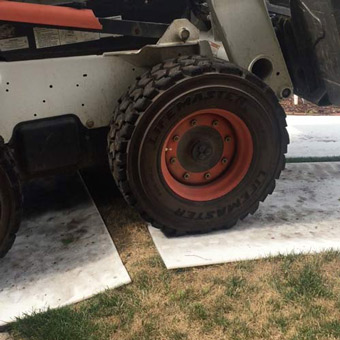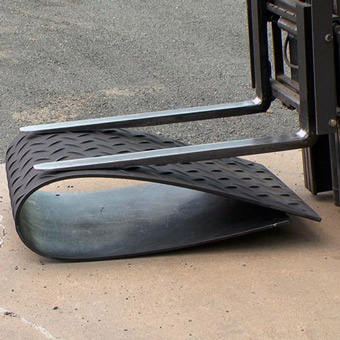 Protecting lawns is a top priority for longtime Minnesota landscaper Chris Axel of Axel Landscaping, which is why he used to buy and replace numerous sheets of plywood each year to protect lawns from his equipment.
''We do pretty much all renovation, not really new construction,'' Axel said. ''So we are pretty much always going over existing lawns.''
When driving machinery that, when loaded, can weigh in excess of 11,500 pounds, lawn damage is bound to occur if the yard is not properly protected. He noted that it is much better to keep the existing lawn than to re-sod, as it saves time, money, and hassle.
''Even if you're going to re-sod it, it's not going to look the same for a few months,'' Axel added. ''A lot of clients haven't really thought about that part. A lot of companies will destroy the yard and then charge to fix it.''
Axel's team was able to use his plywood sheets for 70 to 75 jobs where they drove compact track loaders, skid-steers, and mini track loaders across them.
''If we're on super soft lawns, we'll wheel barrow across the plywood too,'' Axel added. ''It's super important for people. We tell people, we bring plywood to every job and most likely we'll be able to do the whole job without hurting their lawn. And they really love that.''
There were a few problems with that scenario, however.
Struggles with Plywood
''The act of using (plywood sheets) destroys them,'' Axel said. ''Plywood gets wet and gets a lot heavier. It's kind of sort of floppy. The longer you have your plywood, the more the edges get destroyed so it just gets harder and harder to move them around and use them. You start having little holes that aren't covered anymore, but you don't want to buy new plywood. ... After one season they are pretty much destroyed.''
After 18 years of dealing with the hassles of plywood, Axel finally bit the bullet and purchased a couple dozen 4x8 foot sheets of rugged clear polyethylene Ground Protection Mats from Greatmats.com.
Welcome Change
''I wanted to get these because these will last basically forever,'' Axel said. ''I've been waiting for about 10-12 years for the time I felt like I could drop thousands of dollars on these mats, but I'm really glad I got them. It's worth it.''
On his first job using the mats he said, ''Already, I can see the difference where these are a lot better. ... Even with the plywood, we didn't even hardly ever use the wheeled machine across the plywood because the plywood can't support it. ... We can bring our wheeled bobcat to jobs where we would have had to bring the track one before.
''Because they (ground protection mats) can support so much more weight than plywood can. I can envision times for sure where we're going to use these and drive our trucks across somebody's back yard and dump right where we want our load of dirt.''
In addition to increased durability, the ground protection mats will also save a lot of time, energy, and hassle as his new mats won't break, splinter, waterlog, or warp and carry a lifetime warranty.
''At times where I can back my truck up and dump something out instead of having to scoop that stuff out and drive it back there with a bobcat,'' Axel said. ''Right there, maybe you save an hour.''
In ideal conditions, the new mats weigh about 10 pounds more the the 15/32-inch thick plywood sheets he had been using previously. But in wet or muddy conditions, the advantages of ground protection mats become obvious as each plywood sheet could gain up to 50 pounds when waterlogged.
''I can already see that these are going to be easier to move around,'' Axel said. ''They're not going to get wet all the time. It's going to be less work for us to deal with them, which saves more energy for doing stuff that you're making money doing.''
Axel is also happy to be able to link the mats together.
''When you're trying to turn 90 degrees on plywood, they squirt around,'' he said. ''Somebody has to keep moving them back. ... That's a huge reason to get these. You can link two together and now you have a pad so you can turn. That would often be the trouble spot. We could get all the way to the back yard and patio, but you can't make the turn so you're stuck screwing up grass that you have to fix.''
There's also the traction factor
''We bought these things one side smooth and one side diamond pattern,'' Axel said. ''I'm quite sure with the diamond pattern down these will help hold better on the hill - as you're going down the hill. These shouldn't be a prone to slipping.''
And since Axel purchased clear Ground Protection Mats, he can leave them on the ground longer without killing the grass underneath.
''At three days, plywood starts to affect the grass underneath,'' he said. ''It's a lot of work to pick up all the plywood and set it aside overnight and put it back in the morning. We should be able to leave these down for a full five-day work week, pick them up for the weekends, and put them back on Monday. That will legitimately save a lot on any jobs longer than three days.''
''This is the kind of investment that it's hard to see right off the bat how it's going to make you money, but I think they are,'' Axel added. ''Dealing with crappy stuff is no fun. The more things you can remove from this process that aren't fun, the better it can be.''
Chris Axel
Axel Landscape
Hopkins MN 55343