By Lisa Hobbie Created: July, 2020 - Modified: April, 2023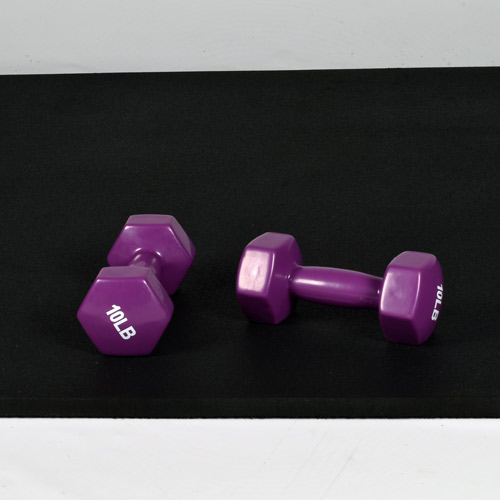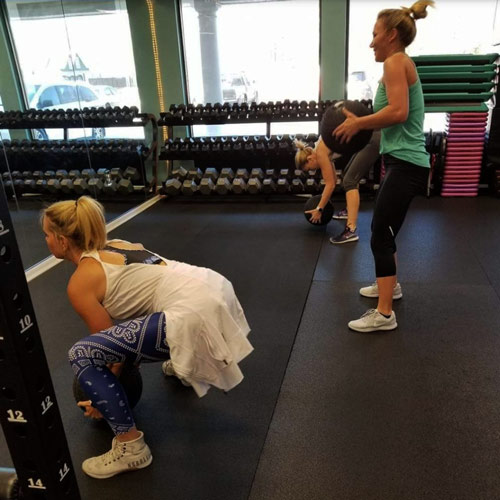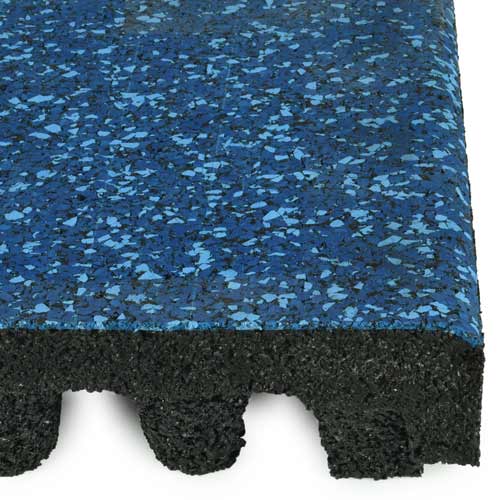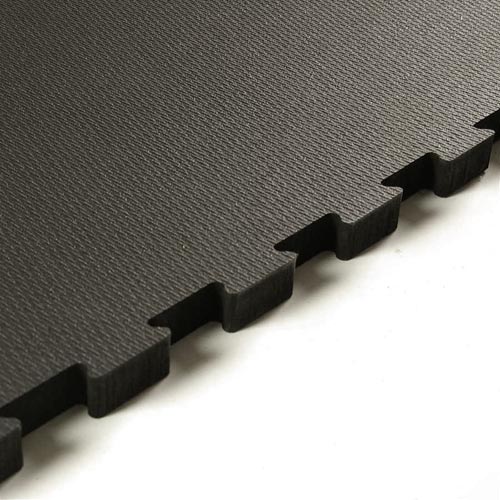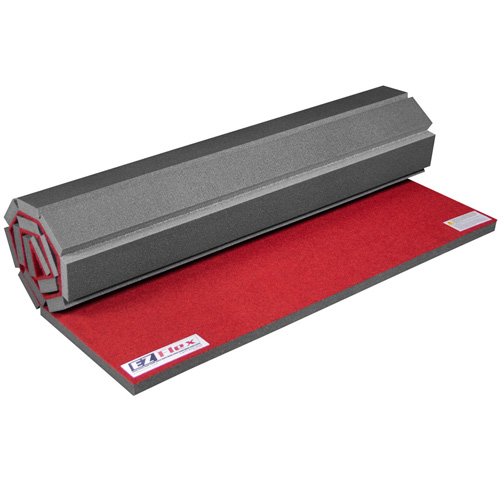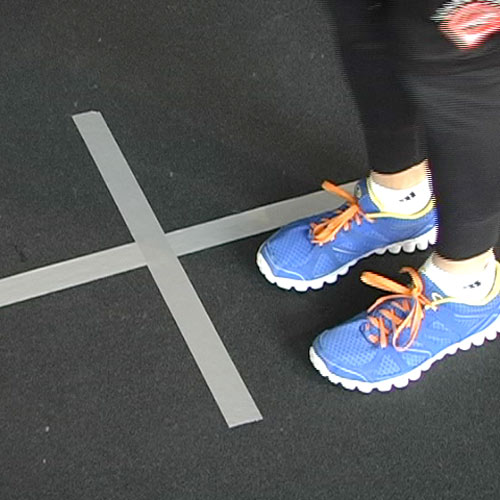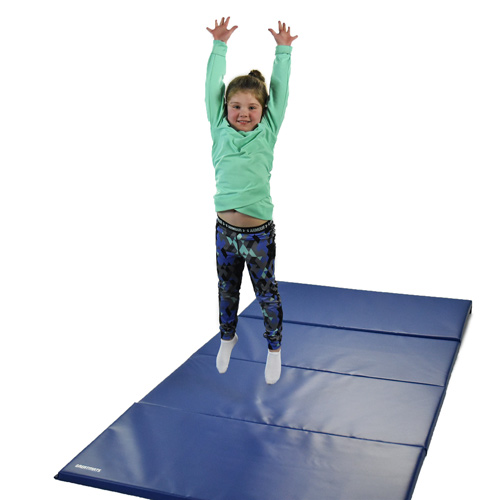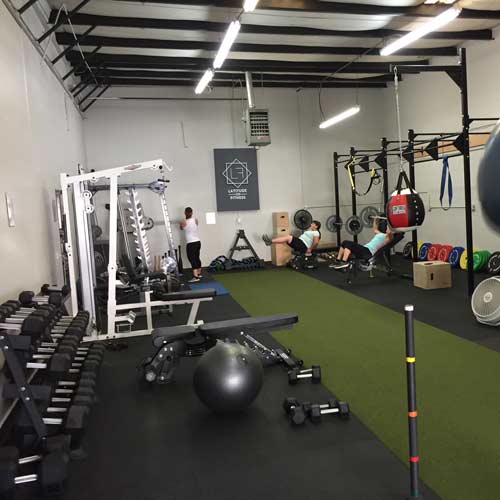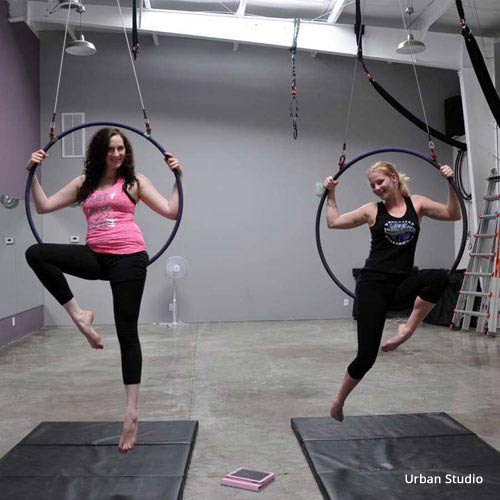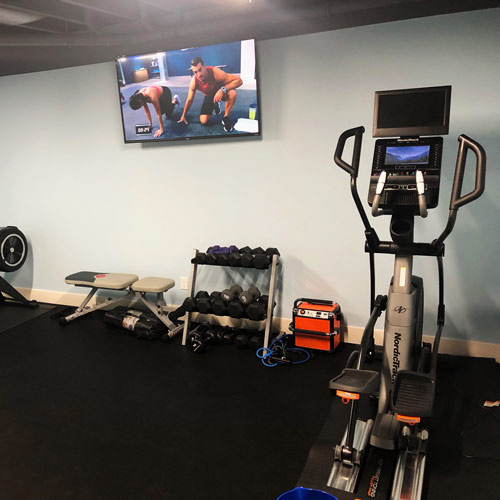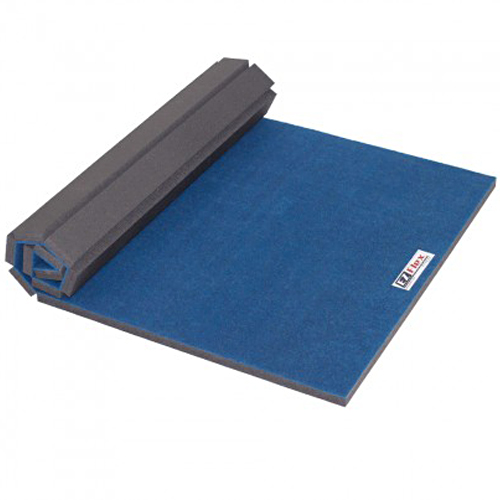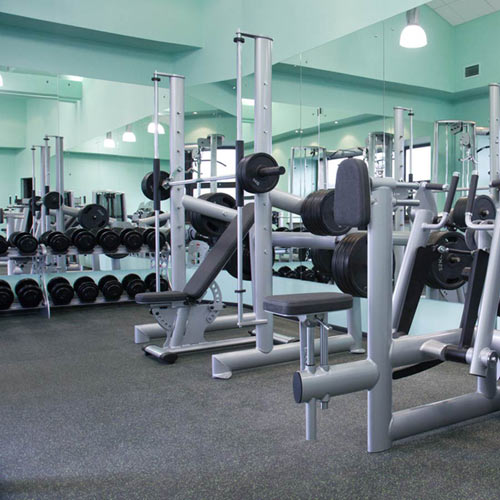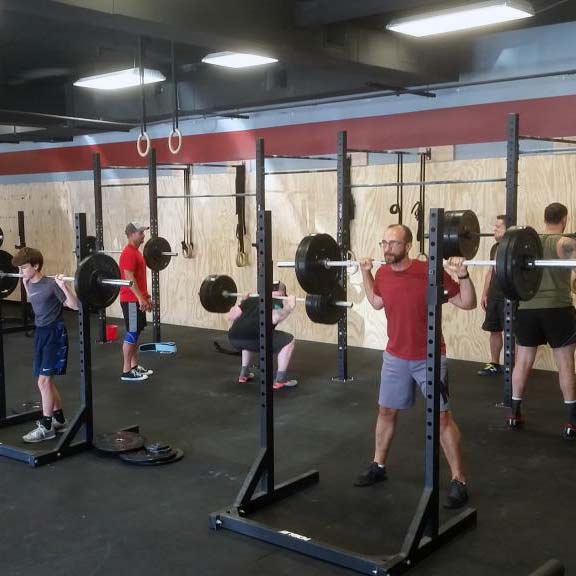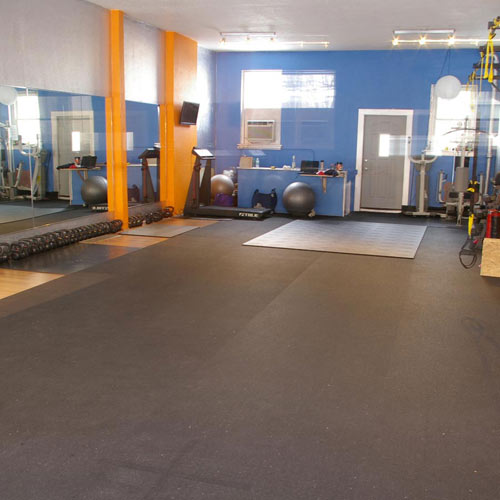 One of the most important tools to ensure maximum safety and results of any workout is an effective gym mat. Gym mats protect the subfloor, provide safe footing and protection from impact injury. Perhaps one of the most popular gym mats is a yoga mat, but there are also weight lifting gym mats, cardio gym mats, and other exercise mats. Not only are these mats great for working out, but they also come in handy when needing extra padding for various other activities such as repair work, gardening, and mechanical work.
Greatmats' online store features a wide variety of gym mats made from the highest quality vinyl, eva foam, rubber, and other materials. There are folding and flat gym mats, tile puzzle mats, and rolls. These products will help transform any area - large or small - into the best possible fitness space in a home or commercial setting.
Folded Gym Mats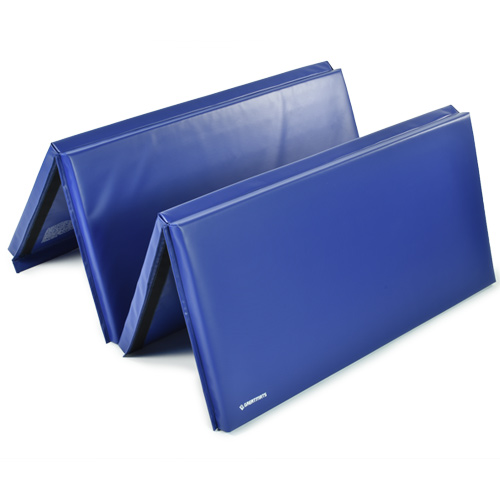 Folded mats are among the most popular for any gym space - big or small. They are popular because of their durability, portability, versatility, and ease of maintenance. The 4 x 8 foot tumbling mat with 2 inch thickness is one that has been purchased for a variety of uses, from martial arts and gymnastics, to physical fitness activities in between. These gym mats feature a tough 18 oz. vinyl cover, double stitched seams, and 2 inch wide connector strips. They are lead free and 6P compliant. The panel style mats are made with a PE foam core and hook and loop connectors on all 4 sides. Their surface is smooth, making them comfortable to use with bare feet, and they are easy to clean with a damp sponge, rag, or mop.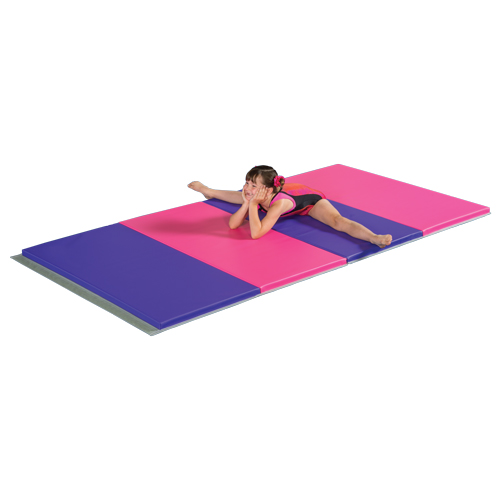 A 4 x 6 gymnastics mat
is another popular choice. These mats are custom made using the highest quality materials that are phthalates and lead free. They are also 6P compliant and are available in 14 different colors. This style of folding mat provides superior shock absorption. This makes them ideal for tumbling skill development. An excellent, economical option for home or school, the underside of this mat is gray.
Flat Rubber Gym Mats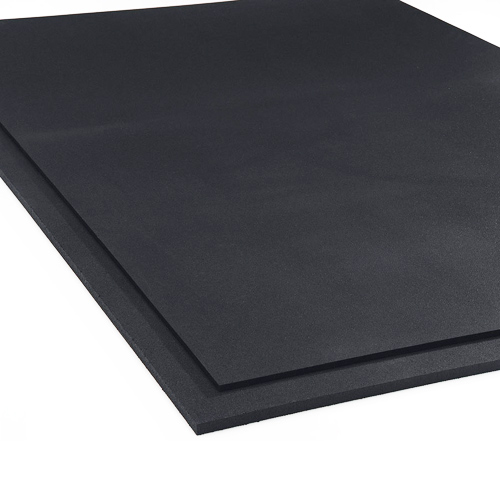 A popular flat option is a ¾ inch thick 4 x 6 gym mat. This pure, 100 percent black mat is a heavy, non-porous mat that does not require adhesive to stay in place. It is flat on one side and has a non-skid textured surface on the other side. This is an excellent product for those looking for something to protect the sub floor from dropped weights, heavy equipment, and more. It is made from a heavy duty recycled rubber material that will take just about any type of gym-related use and abuse.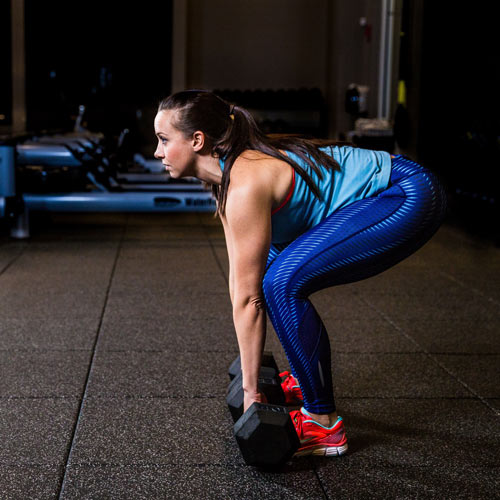 Heavy duty drop tiles
are another excellent option for an area where damage could occur to a subfloor. These 2 foot by 2 foot gym mats are slip resistant and made from durable rubber material. They are 2 inches thick and feature a super high-density wear layer. These squares also provide outstanding noise and shock absorption. They are available in several different color choices and are made in the USA. This product is designed for professional use where ultimate protection is required, yet are conveniently sized for DIY home gym installation.
Interlocking Gym Mats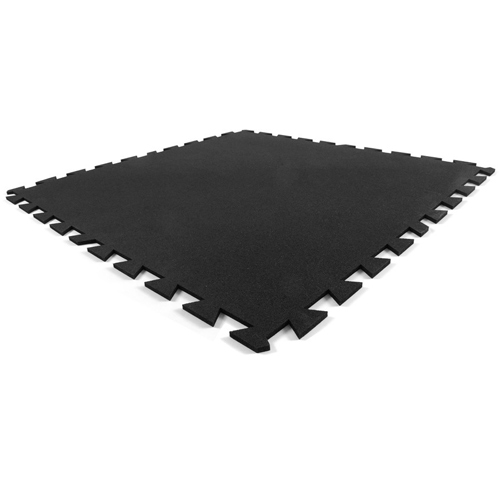 Geneva interlocking floor tile is an option that is made in the USA of recycled rubber content that is high quality and low odor. It is a suitable option for home and commercial applications, and it goes together easily without glue or adhesive. The result is a durable flooring system that has an 8.25 square foot coverage area per tile. It is environmentally friendly and economical and works well in numerous settings.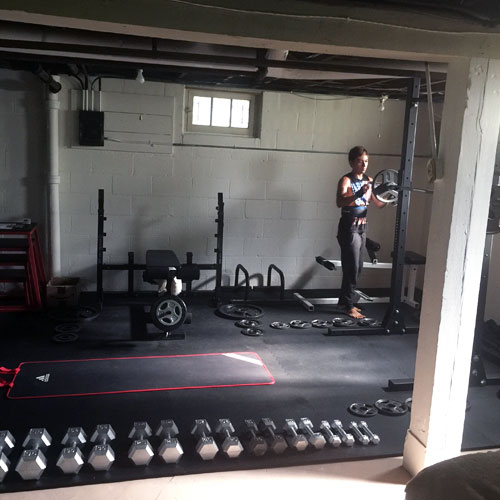 ¾ inch interlocking rubber tile
is another versatile option. These gym mats are made of heavy duty and tough rubber and have precision, waterjet cut interlocking tabs. They can be cut for wall-to-wall installations, and there are borders and corners available for a finished look. The tight interlocks create a nearly seamless floor, and they are super simple to install without adhesive. This product is made in the USA of 100 percent recycled rubber content.
Roll Mats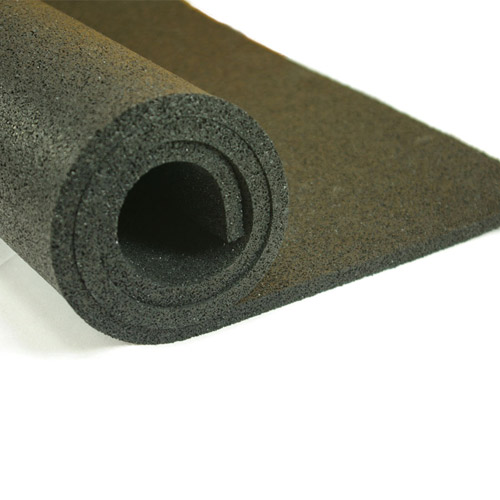 Plyometric Rubber Rolls are excellent gym mats, as well. This athletic flooring is easy to roll out and provides a cushioned footing that is durable for a variety of athletic shoes. They are 4 feet wide and available in lengths starting at 10 linear feet, and they are suitable for home or commercial use. You can place these gym mats with tape or glue, and is suitable for intense aerobic workouts and plyometrics. This comes with a 5-year guarantee and will provide reliable, shock absorbing quality for repetitive, rigorous workouts.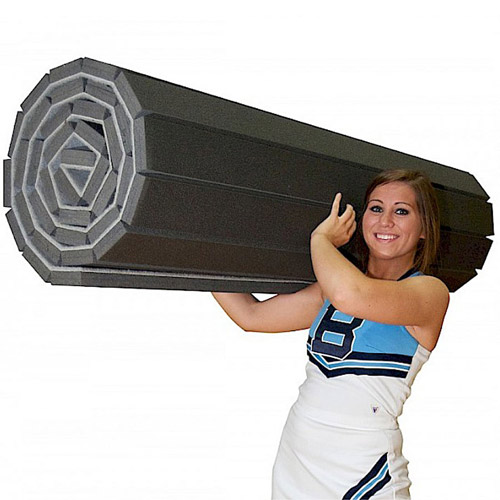 Finally, Home Cheer Floors
are lightweight and portable roll out mats. These are made from high performance sports foam and can be used indoors or temporarily outdoors. They are made in the USA and feature a durable, needle punch carpet top. Because they are 4 by 6 feet, they are small enough and portable enough to use in any area of the home. They provide the perfect blend of cushion and support with their 1-⅜ thickness.
Greatmats - for all of your Gym Mats & Athletic Flooring Options
Greatmats offers many additional gym mat options to choose from, with a perfect solution for just about any home or commercial space. Simply reach out to one of the friendly and knowledgeable service representatives who will help you find the flooring that is ideal for your gym.