What Are Garage Floor Mats?
By Kyle Schurman Created: February, 2021 - Modified: October, 2023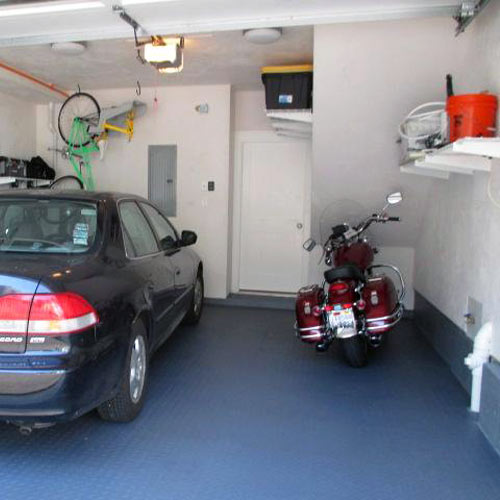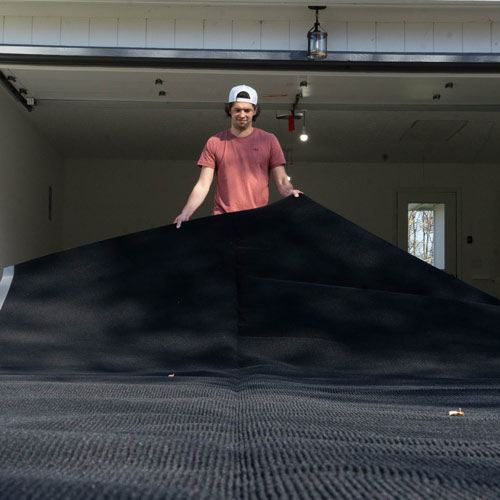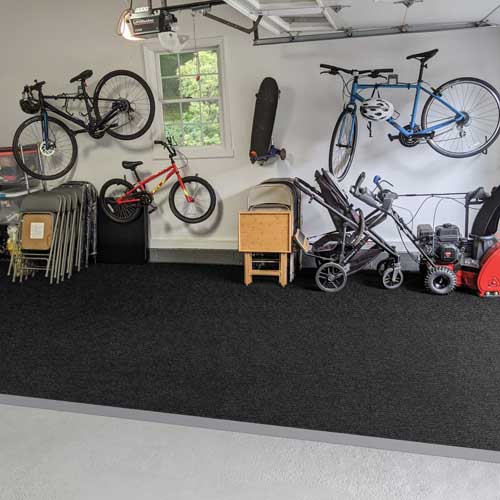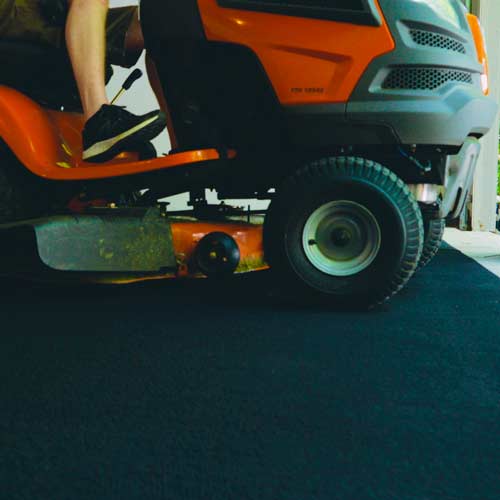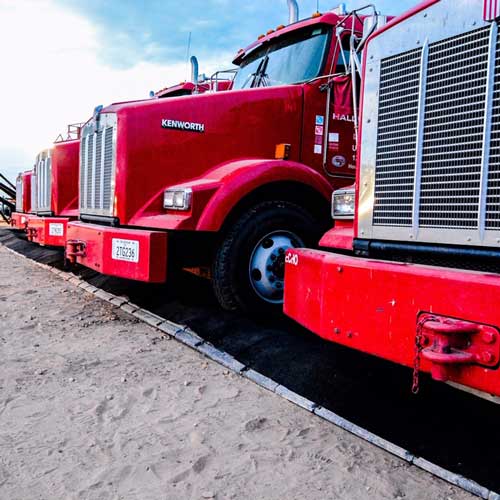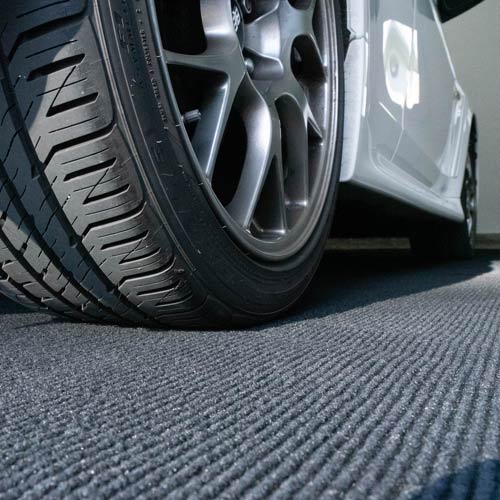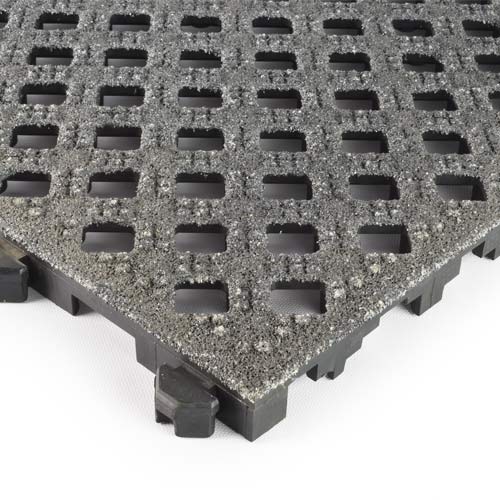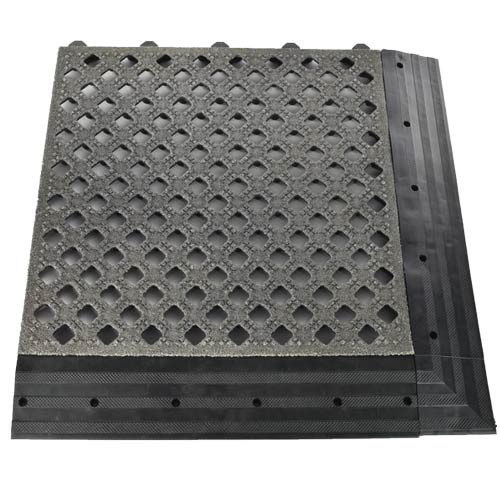 Garage floor mats are a smart choice to use in a garage where customers will be storing or working on the car. These mats will provide protection for the subfloor in the garage, which is likely concrete. Should oil, gas, and other chemicals spill onto the floor, the mat will be easier to clean than the subfloor consisting of porous concrete.
When using garage floor mats, they will give people the ability to walk along a wet garage floor with a reduced possibility of slipping. During the winter or after a spring rainstorm, if a customer chooses to park a wet car in the garage, snow and rain will drip off the vehicle, as well as mud off the tire, creating puddles and a potential slipping hazard.
For those who create a workshop in the garage alongside the parked cars, these mats can create a safe and comfortable place to stand and work. Here are some of the best and safest garage floor mats to use alongside parked vehicles.
Do Interlocking Plastic Tiles Work As Garage Floor Mats?
Rather than ordering a pre-cut mat for the garage in a specific size, some customers prefer to lay out interlocking tiles to create the desired coverage space. Large mats can be difficult to maneuver into place and can be heavy, which makes tiles easier to use.
When a customer wants to install and remove the garage floor mats for different use cases, using interlocking tiles is a smart idea. Just disassemble the tiles and stack them in a storage area whenever desired. Individual tiles have a size and weight that are easy to handle.
The
SupraTile Diamond Pattern Tile
is a popular choice for this use case. The PVC plastic is extremely durable, as this tile carries a 20 year manufacturer warranty.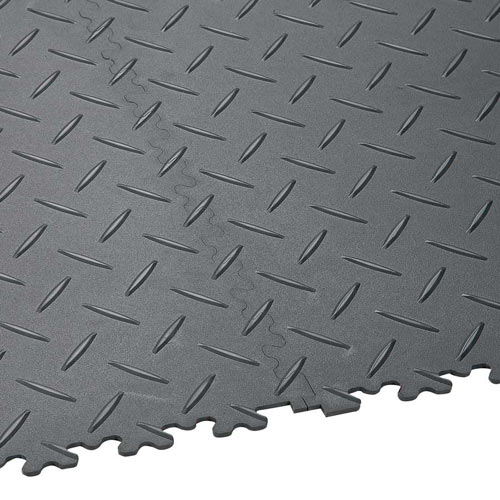 Each interlocking tile measures roughly 1.64 feet square with puzzle style edges that will fit together tightly, delivering the secure fit in the floor that customers desire when parking vehicles on the material. At 4.5 mm in thickness (about 3/16 inches), it has a lightweight design.
For a colorful option in the mat for the garage flooring, consider the
Tuff Seal Floor Tile Covers
. These interlocking tiles have more than a dozen color choices as well as a smooth or textured top surface pattern.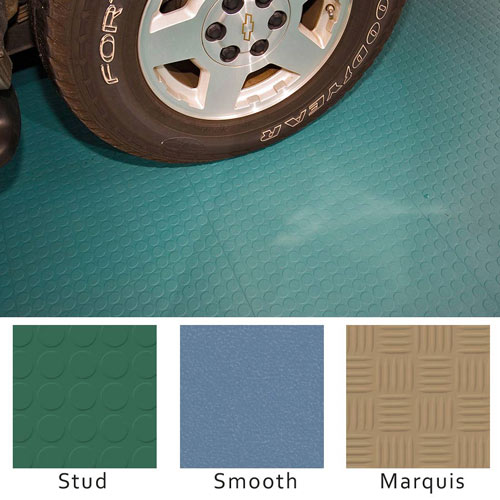 Each durable tile measures 1.47 feet square, allowing customers to create a specific size of layout in very little time. With 1/4 inches in thickness in the PVC plastic, this is a tile that can handle the weight of a vehicle with no problems.
Another popular choice for use in a garage is the
Wearwell ErgoDeck HD Open with Gritshield Black Tile
. These PVC plastic interlocking tiles have perforations through the entire 7/8 inch thickness of the tile for water drainage.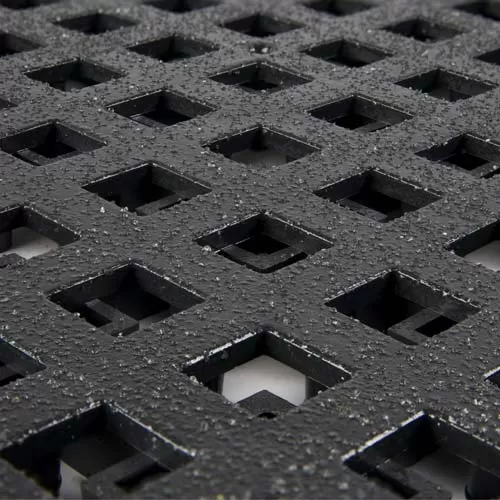 The top surface of the tile has a grip tread design, which helps people walking on it avoid a slipping hazard. Each of these tiles has a raised base, which allows any water dripping off the car to drain through to the subfloor. This raised design along with the perforations helps to resist pooling on the top surface. This is a superior option for your garage workshop flooring, and has a high load capacity.
Do Any Rolls Exist for Use As Garage Floor Mats?
For those who would prefer to use a roll on the surface of the garage floor instead of interlocking tiles, the Garage Grip Professional Grade Roll Out Flooring is a model well worth considering. This 10-by-10-foot roll consists of a thermoplastic polyolefin polyester fiber, delivering impressive durability.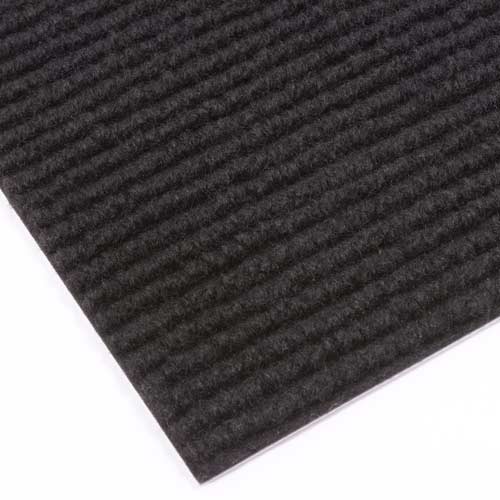 This is an industrial grade garage floor covering, and it will contain snow and rain dripping off a car without allowing it to soak through to the subfloor. The fibers have an anti-slip design, which protects those walking on the mat from losing their footing.
The durable roll also will catch oil, so those working on the car do not have to worry about spills damaging the concrete subfloor in the garage. It is safe to park vehicles on top of the polyester roll of material, but customers should not turn the wheel of the car while using studded winter tires or tires with chains, as this movement may damage the roll.
Should You Use Rubber As a Mat in the Garage?
Although some people may install flexible rubber tiles inside a garage when creating a man cave or a workout space, using a rubber surface in a garage that will have vehicles in storage usually will have a poor result, especially if the customer will be working on the vehicle overtop the rubber garage flooring.
When people spill oil or gasoline on rubber, prolonged exposure can cause the material to weaken, leading to long term damage. Other materials work far better as garage floor mats. Using rubber for garages where the customer will park vehicles usually results in a negative review, so using other products provides a far better user experience. If you're set on a rubber garage gym floor, it's best to make sure that space is separate from where you park your vehicle.