What Should You Know About Access Mats?
By Paige Cerulli Created: July, 2022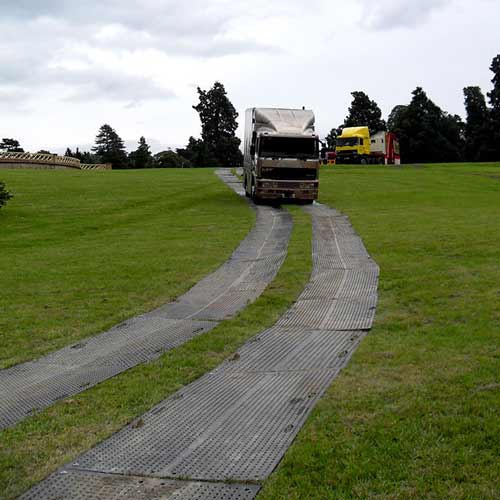 When you work with heavy machinery, whether in construction, landscaping, or another field, you'll face daily challenges of getting that machinery to job sites. Soft ground, mud, or even manicured lawns can all create access challenges, which is why access mats can be so helpful.
What Are Access Mats?
Access mats are firm and strong mats that are also portable. These mats serve as temporary roads for your heavy machinery, allowing you to travel across surfaces that would otherwise be inaccessible or difficult to travel across without getting your machinery stuck or dirty. These mats are also known as ground protection mats, heavy equipment mats, construction mats or landscaping mats.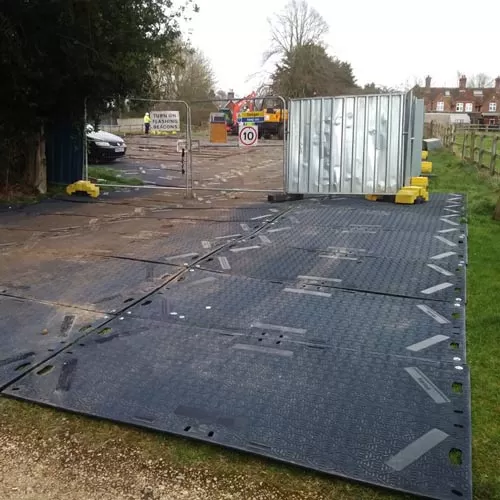 These mats consist of individual sections that are easily portable, so your team can unload them and construct a road. Once finished using the mats, you can remove them, hose them off, and store them in a trailer or other location until you need them again.
Benefits of Access Mats
Access mats are must-have equipment for construction companies. They can help you to access job sites that you couldn't otherwise reach with heavy machinery.
These mats pay off in multiple ways. They allow you to travel across sand, mud, saturated ground, and other locations without having to construct actual roads or spend the time going around these obstacles.
As a result, access mats can save you valuable time and money. The mats also allow you to travel across softer materials, like a manicured lawn or a soft gravel driveway without damaging the property.
Taking the time to invest in and use access mats demonstrates to your clients that you value their property and that you're taking steps to preserve the property. It also makes for easier site cleanup after the job, and can save you money on materials like grass seed or sod that you might otherwise need to repair the site.
Access mats also make your job easier. When you use these mats, you can prevent your machinery from getting stuck, allowing you to focus on the work instead of taking time to dig out your equipment.
These mats are also versatile solutions that can be applied in many different settings. You can use them to create a temporary driveway or to provide handicap access to areas like a beach during a special event.
These mats are well worth the investment, particularly if your company often needs to access areas of challenging terrain.
Qualities to Look for in Access Mats
As you shop for access mats, you will be able to choose from many different products. Consider the following qualities to narrow down your options and determine which mats are best for your needs.
Material and Strength
Access mats are made of different materials. They may feature composites, but polyethylene is also common.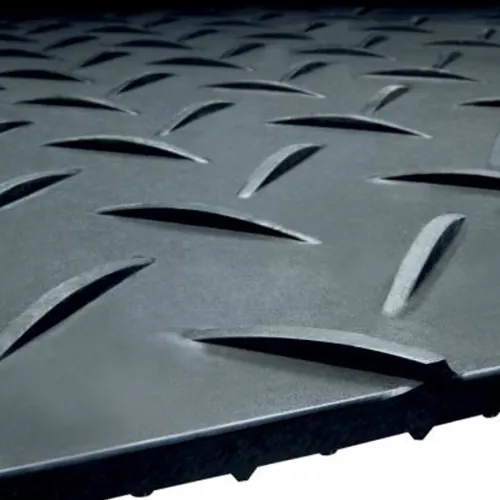 The material and the mat's thickness will affect its strength and weight capacity. When choosing mats for your business, it's important to buy mats that will support your heaviest vehicle.
Weight capacity can range significantly, but some of the largest, thickest mats are capable of withstanding 100-ton loads and more.
Traction
Pay close attention to the traction and surfaces of the mats that you're buying. Some mats are suitable only for use with tires, while others will work well with tracks, too.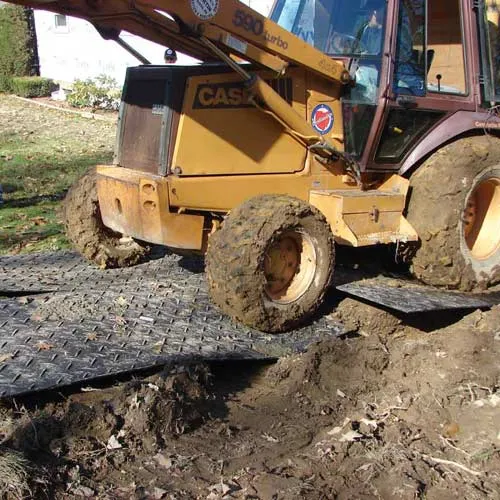 Many mats are available in a dual-sided option with each side featuring a different surface. If you will be in slick areas, then it's important to choose a mat with an aggressive tread on at least one side.
Buying a mat with a flat, smoother side can be beneficial if you will be traveling across lawns and grass. That flat, smooth side can help to preserve that softer surface without digging down into it.
Mat Dimensions
For a mat to work well for your business, it needs to be wide enough to easily support your largest piece of equipment. Mats are available in many different dimensions, including small tiles and mats that measure four feet wide.
For the most convenience, choose a mat that's significantly wider than the track or wheel on your largest vehicle. This extra width will give your machine operators additional leeway as they navigate the roadway that you've created.
Working with wider mats also gives you some flexibility in terms of how you lay out the mats to create the road. You may be able to lay the mats close enough for your narrower vehicles, while still having enough width to allow wider equipment to use the same road.
Mat Color
Standard black access matting might seem like a logical choice, but if you will be leaving the mats in place over grass for more than a few days, that black matting can block UV rays and start to kill off the grass. Clear mats offer a practical alternative.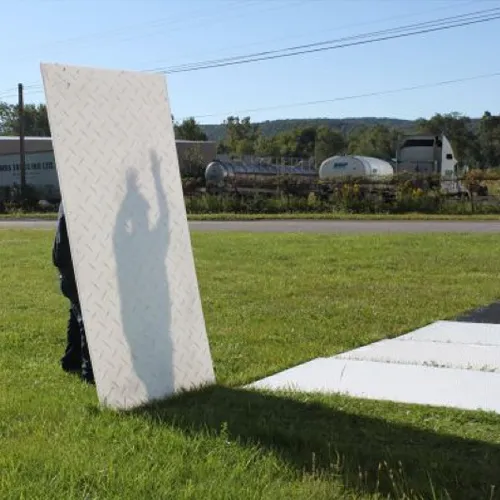 Clear mats are designed to allow sunlight through, so the grass underneath the mats continues to grow. These clear mats are an excellent choice when you will need to leave the mats in place for longer periods of time and want to preserve the grass below.
Portability
Finally, look for a mat that's easily portable. Many mats feature generous handles built into the sides, which will allow your staff to easily pick up and transport the mats.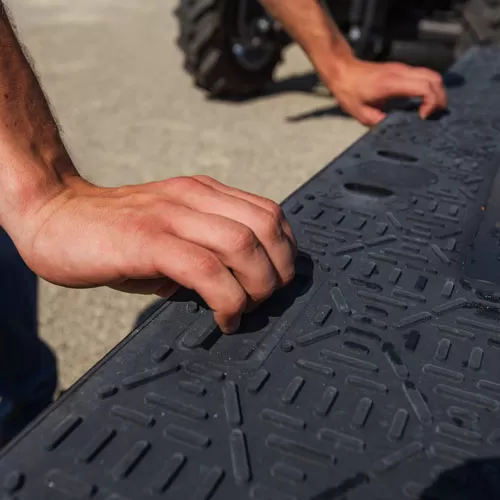 At Greatmats, we have a wide selection of access mats for sale. Please contact our customer service team if you have any questions; we're always happy to help you find the right product for your needs.