Ground Protection Mats Black 1/2 Inch x 2x8 Ft. Diamond/Diamond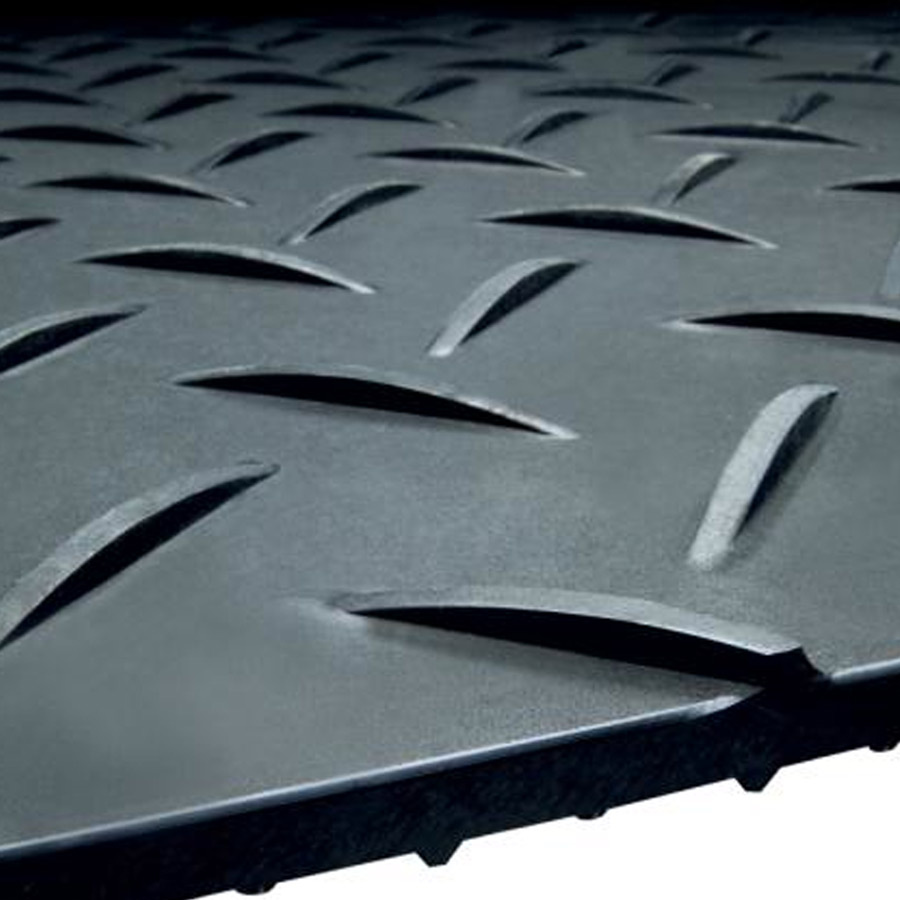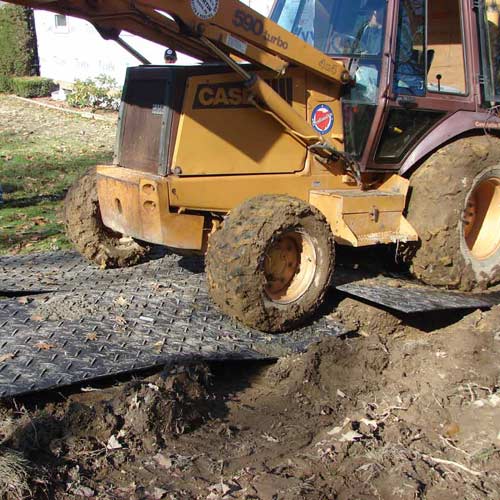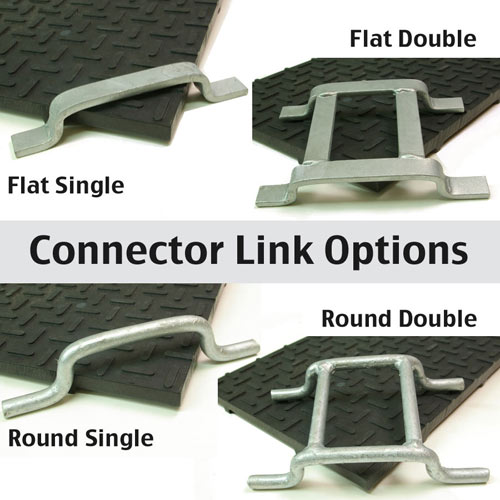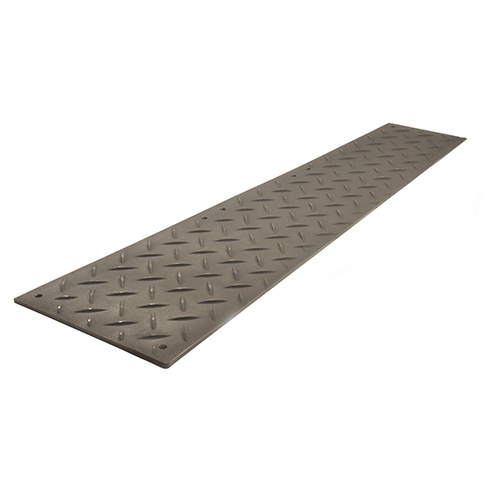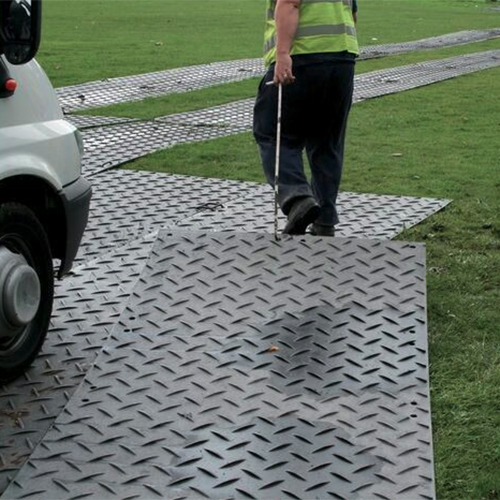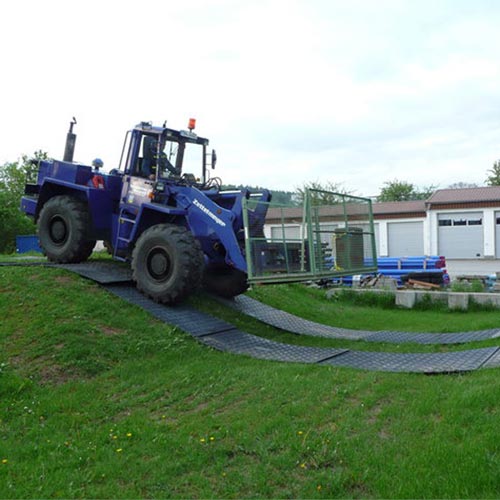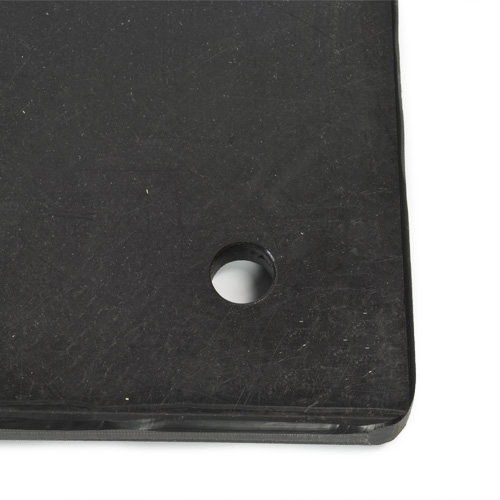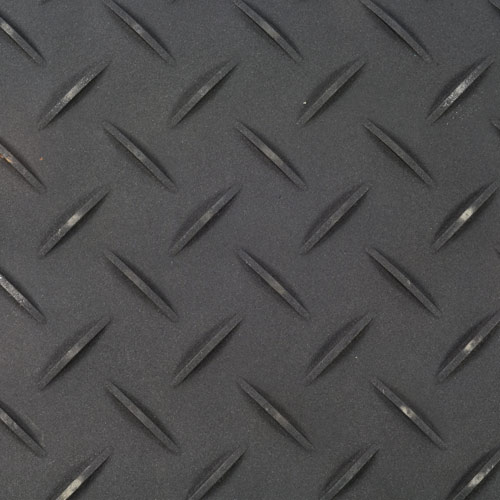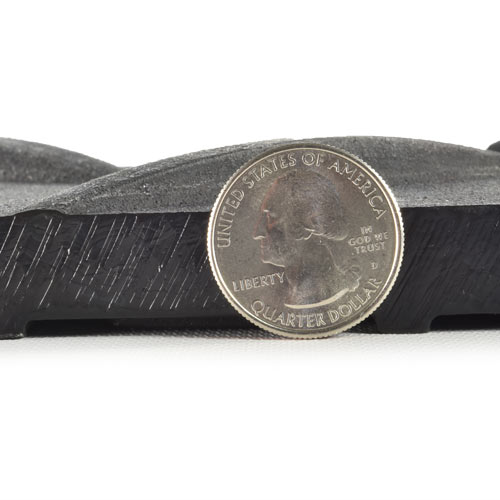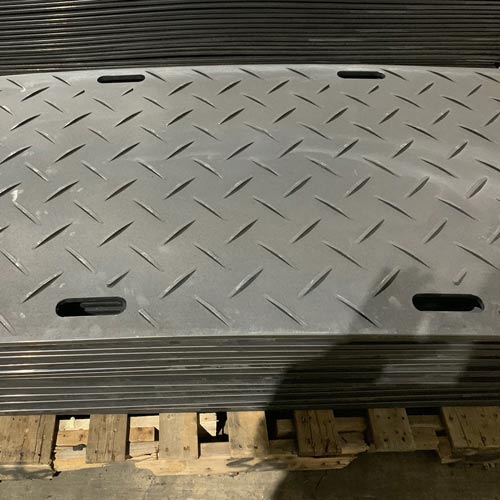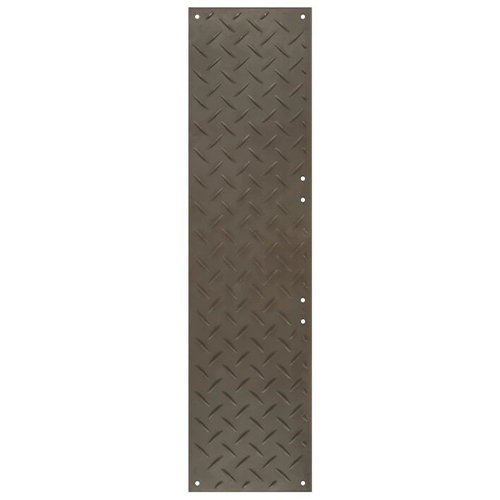 Easily supports 120-ton loads
Rugged 1/2 inch thick recycled polyethylene
Bold cleat design for great traction
Handling Time Estimate: Call for Availability of Lead Times

Diamond-Diamond
Easily supports 120-ton loads
Rugged 1/2 inch thick recycled polyethylene
Bold cleat design for great traction
Build a roadway or working platform in minutes
Leave turf smooth, even in soft conditions
No more splintered, warped, water logged plywood
Made from 100% recycled high-density polyethylene (HDPE)
Available in both black or clear mats

Heavy Equipment Mats, Ground Protection, Temporary Roadways, Skid Steer Mats, Grass Protection Mats
NOTE: This item is a custom order and is not returnable.
Ground Protection Mats Black 1/2 Inch x 2x8 Ft. Diamond/Diamond
The original temporary ground protection Ground Protection Mats Black 1/2 Inch x 2x8 Ft. features maximum traction with a diamond plate tread mat design. Simply the best made ground protection mats on the market - hands down, this claim is backed-up by our Lifetime Warranty on all temporary ground protection mats that we sell.
Heavy machinery can tear up a lawn or sports field in a hurry, even if the ground is only a little damp. For protection for the grass against the tires or tread on construction equipment, install the ground mats for heavy equipment from Greatmats.


These mats consist of highly durable materials that can support a load of up to 120 tons. They're perfect for creating a temporary road to keep the grass in functional condition after you complete the construction work.

This product is made from 100% recycled high-density polyethylene (HDPE).
Size and Shape Options
Our ground mats for heavy equipment measure 2 by 8 feet, which makes them a little easier to handle than wider mats. One or two people should have no problem when trying to haul these 43-pound mats into and out of storage.
These rectangular ground mats for heavy equipment for sale are sized to fit in the back of a pickup, which simplifies transporting them to the location of the installation.
Material Options
These polyethylene plastic mats support significant amounts of weight without buckling, which means you can install them over the top of grass, mud, sand, or other soft types of ground.
This material is so long-lasting and trustworthy that the manufacturer offers a limited lifetime warranty on the mats.
We source these ground mats for heavy equipment from a manufacturer in the United States that uses recycled polyethylene plastic to make them. These mats are an eco-friendly option, as they keep older plastic out of the landfill.
Because these mats are reusable over and over, they are a far more preferable option than the plywood that many construction teams use around the worksite to create access roads. That plywood is going to become water-logged and splintered, meaning it will end up as waste in the landfill. Our reusable construction mats are the far better choice for the environment.
Pattern and Texture Options
As vehicles move across the tops of these mats, chances are they will leave mud and moisture behind. These materials can leave the top of the mat slippery, making it challenging to move vehicles safely.
Our mats are available with a textured pattern on them to provide traction in wet conditions. Customers can pick mats that have a diamond tread pattern on both sides, smoothness on both sides or a diamond tread on one side and smoothness on the other side.
These all-black mats will not allow sunlight to penetrate the material and reach the ground underneath. If you need to keep the turf under the mats alive, you will want to pick up the mats every day or two to allow sunlight to reach the plants. You also can use our
transparent ground mats
for heavy equipment for this purpose.
Common Use Options
Because these mats allow the spreading of the weight of the heavy vehicle, they work well in any place workers will be moving big machinery over potentially soft ground.
Construction companies are the most frequent users of these mats, as they can create roads throughout the construction site. The mat is a better option than spreading gravel or using plywood sheets.
City parks, utility maintenance teams, cemetery maintenance teams, and tree trimming services often will use our mats to create a roadway into a remote area of the property.
At a school, the maintenance team may place these mats over the top of the track oval, protecting the surface from vehicles working on the football or soccer field inside the oval. When players wearing cleats are moving from the locker room to the field, these mats also protect the track from foot traffic.
Installation Options
Installing these large mats is an easy process. Just lay them end to end to create a row of mats. You do not need to attach them to the ground.
To create a roadway for wider vehicles, just lay the mats in adjacent rows. Each row can accommodate the tires on either side of the vehicle. Otherwise, a single row of these 2-foot wide mats can create a roadway for a small vehicle, like a four-wheeler, that is towing a large weight.
Some customers will lay the mats side by side, creating a roadway that's 8 feet wide for extremely large vehicles. You will need a significant number of mats to complete the roadway, though.
If desired, installers can connect the mats to each other using links or connectors made specifically for these mats. If the ground is extremely soft or uneven underneath, connecting the mats is a smart idea to enhance performance.
Cleaning and Maintenance Requirements
Because these are made for outdoor use, cleaning our ground mats for heavy equipment is an easy process. Customers can rinse the surface of the plastic with a garden hose and sprayer nozzle to remove bits of grass and mud. A power washer is another option for cleaning them.
Note: Not intended for use under steel tracks or as a landing area for dropping tree limbs.
Maintenance
Clean using a pressure washer or garden hose and non-metal scrub brush.
Shipping
Ships via freight delivery, shrink wrapped on pallets. Customer must unload at delivery location, Lift Gate service is not available for this product.
This Product Ships Freight Only.
Please review our shipping disclaimer.
WARNING: This product can expose you to chemicals including Lead and/or Phthalates, which are known to the State of California to cause cancer and birth defects or other reproductive harm. For more information go to www.P65Warnings.ca.gov.
| | |
| --- | --- |
| SKU# | AM28 |
| In Stock | Yes |
| Product Type | Mat |
| Material Type | Polyethylene Plastic |
| Product Edging | Straight |
| Thickness | 1/2 inch |
| Width | 2.00 feet |
| Length | 8.00 feet |
| SF per Item | 16.00 |
| Weight | 43.00 lbs |
| Packaging | Shrink Wrapped on Pallets |
| Number of Pieces per Package Type | 20 |
| Non Absorbent | Yes |
| Special Adhesives | No |
| Interlock Loss | 0.00 feet |
| Material Hardness | Shore A 100 |
| Interlocking Connections | No |
| Made In | USA |
| Surface Finish | Diamond or Smooth |
| Surface Design | Solid color |
| Installation Method | Dry lay, connector pins |
| UV Treated | Yes |
| Reversible | Yes |
| Border Strips Included | No |
| Manufacturer Warranty | Limited lifetime |
Product Questions:
Q: Can these mats be used in the winter or will they crack?
A: The mats will not crack when frozen.
Q: What is the weight per mat?
A: Each mat weighs 43 lbs.
Q: We have a gravel lot. We get food deliveries on pallets that are unloaded by heavy duty hand driven pallet lifts. The wheels of these lifts sink into the gravel lost and get stuck. Will these mats support that weight and keep them from sinking in.
A: These ground protection mats should support the weight of the lifts over gravel.
Q: Will the mats support a 80'' wide telescoping man lift over sand?
Q: Will these mats handle a 25 ton excavator (steel tracks) to walk and turn on asphalt or with they rip/break apart?
A: These mats will easily support that weight. However steel tracks will void the warranty.
Q: how much does the 4x8 1/2 inch mat weigh. Do you have any mats that are like 1/4 inch thickl. These mats are probably overkill for what we use. We only have 6,000 pound machinary that we use.
A: Please contact a member of our sales team for assistance with this. We can be reached at 877-822-6622.
Q: I am building a patio in the back yard and the machine that carry the cement have to drive through my lawn to get to the back.what size mat would you recommend?
A: Please reach out to our sales rep Eric regarding questions about ground protection mats. He can be reached through his email eric@greatmats.com or by phone at 877-822-6622 ext. 115 if that is more convenient for you.
Q: What is weight of 2x8 panell