What's the Most Economical Camper Flooring?
By Kyle Schurman Created: March, 2021 - Modified: March, 2021
Economical camper flooring is available in a number of different materials, providing a nice mix of durability and comfort inside and outside the camper. Some of the types of flooring that are available at a low cost for a motorhome include:
Economy Foam Mat

Wood Grain Foam Tile

Light Oak Vinyl Peel and Stick Floor Tile

Royal Interlocking Carpet Tile

Interlocking Portable Outdoor Tile
Customers can find camper flooring on a budget at a cost as low as $1.20 per square foot of coverage. Because these types of interlocking tiles are
easy to install
, the customer can perform the work as a DIY project, which further saves money. There's no need to hire a professional to do the work, keeping the overall project cost low.
By saving money on the flooring for an
RV
, van, or truck camping vehicle, customers leave themselves more money for traveling and camping. Regardless of whether the customer owns a high-end motorhome or a pull behind pop up camper, installing an inexpensive style of flooring that also looks great and provides warmth will give every camper a cozy feeling more like home.
What Are Some of the Cheapest Options for Camper Flooring?
When customers are seeking cheap camper flooring, they don't want cheaply made flooring options. The floors should have a good level of durability and build quality, all at an affordable price. They should be able to stand up to people tracking dirt and other debris into a 5th wheel or teardrop camper without requiring a significant amount of maintenance and cleaning.
Foam is a popular material that meets these criteria. A major advantage of foam flooring is that installers can easily cut it to fit with a utility knife. When working in the tight spaces often found in campers and RVs, installers may need to cut the flooring to fit quite regularly. Foam is one of the easiest flooring materials to work with when needing multiple cuts.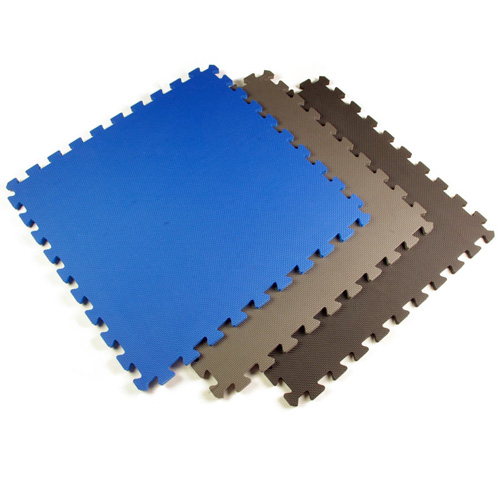 The Economy Foam Mat is a smart place to start when shopping for inexpensive camper flooring. This EVA foam matting measures 1/2 inch in thickness, which delivers a high level of comfort, while being easy to install.
These mats consist of an interlocking puzzle edge, which will not pull apart when placed under stress. Yet, the puzzle style tiles are easy to disassemble as needed to return to the camper's subflooring. These 2-by-2-foot tiles have a cost per square foot of less than $1.20. They're available in colors of black, blue, or gray.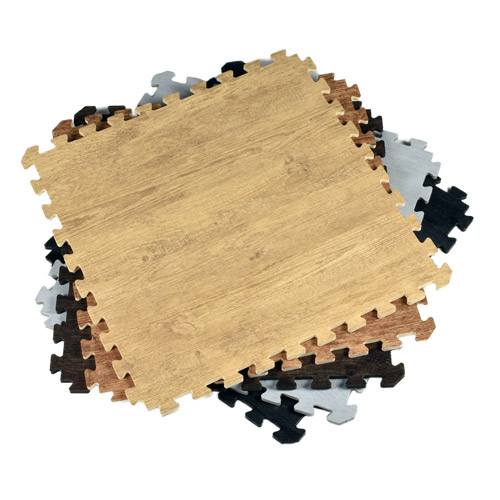 Another low cost option for camper flooring is the Wood Grain Foam Tile model. It has a cost close to $1.40 per square foot of coverage. Each of these 2x2 foot tiles has a puzzle edge design, simplifying installation.
At 7/16 inches in thickness, the tiles give campers the comfort in the flooring they want at the end of a long day of activities. Multiple stylistic wood grain and slate floor patterns are available.
Are Adhesive Flooring Tiles Good for Campers?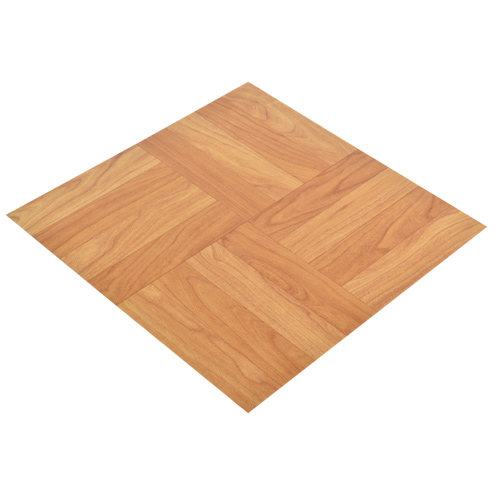 When customers are seeking more of a permanent type of flooring inside the recreational vehicle, the Light Oak Vinyl Peel and Stick Floor Tile is an excellent choice. These thin vinyl tiles measure only 3 mm in thickness, so cutting through them to fit around objects inside the camper is a relatively easy process.
Peel and stick tiles are easy to install, and they deliver a look that resembles wood flooring, warming the interior of the camper. The wear resistant top layer on the vinyl will deliver long lasting results, delivering a great value at less than $1.70 per square foot of coverage.
Will Carpet Tiles Work for Camper Flooring?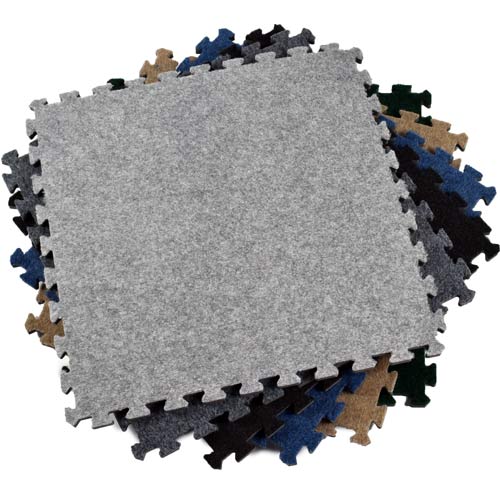 For about $2.50 per square foot of coverage, customers can add a carpet floor to the RV, creating a warmer feeling versus a hard flooring. The Royal Interlocking Carpet Tile product has a top layer of durable carpet with a foam backing for comfort.
These puzzle edge interlocking tiles go together quickly and without the need for a professional installation. At only 5/8 inches in thickness and with a foam backing, installers can cut these to fit in very little time. Six different colors are available in the carpeted layer, including:
Blue

Charcoal

Light gray

Dark gray

Green

Tan
What Tiles Work for Creating Temporary Patio Floors for an RV?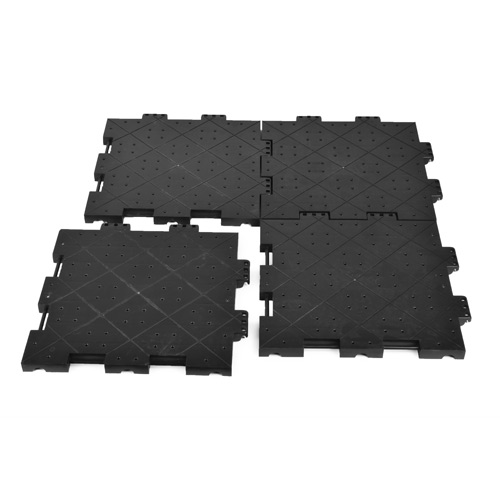 For campers who will be spending a significant amount of time at the campground in the same spot, some people will want to create a comfortable outdoor space for relaxing and grilling while in the RV park.
The Interlocking Portable Outdoor Tile is an outstanding choice for this, as it consists of a hard plastic, creating a sturdy patio area.
These tiles work over slightly uneven ground, such as gravel, sand, or grass.
Perforations
that extend through the entire 3/4 inch thickness of the tile drain away any rainwater from the surface. Installers can assemble and disassemble these tiles quickly for repeated uses. Cost is about $3.25 per square foot of coverage.