Qualities To Look For In PVC Warehouse Flooring
By Paige Cerulli Created: September, 2022 - Modified: October, 2022
When installing flooring in a warehouse, you need to carefully consider not only the conditions that the flooring is exposed to, but also the qualities that are most important in a quality warehouse flooring. That's why PVC flooring is such a popular choice for manufacturing, industrial, and commercial warehouse settings.
Why Install PVC Flooring in a Warehouse?
PVC flooring is a practical solution for use in most warehouses. This flooring has a unique combination of desirable qualities that make it a practical choice.
Durability
Warehouse flooring needs to be able to withstand several conditions that would damage many other flooring options. PVC flooring is highly durable, meaning it is able to withstand these conditions.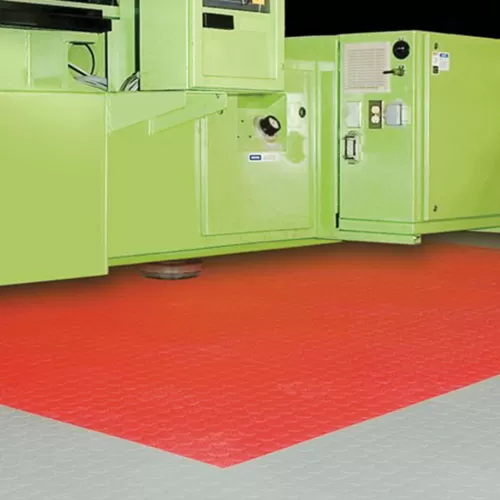 Warehouses see significant amounts of foot and vehicle traffic. Certain areas, like main aisleways, are exposed to a higher volume of this traffic than others, so the flooring used in these areas needs to be able to withstand that increased use.
Warehouse flooring also needs to be strong enough to support vehicles, carts, pallets, machinery, and other common warehouse elements. PVC flooring is supremely strong and able to withstand thousands of pounds of weight.
In a manufacturing warehouse, your flooring should also be able to withstand any chemicals, oils, and solvents used. PVC is a highly durable choice that can often withstand these elements.
Many of our PVC products are backed by significant manufacturer warranties, often of five years or more. These warranties can give you the peace of mind of knowing that you're investing in a flooring product that is designed to last.
Slip Resistance
Your flooring choice plays an important role in fall prevention, which can contribute to employee safety. PVC flooring is available with many different finish options, so it may be an ideal solution to your fall prevention needs.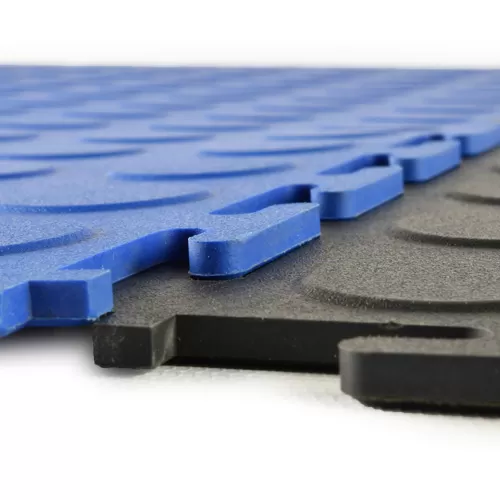 As you explore different PVC warehouse flooring products, you will find designs that include coin top, diamond top, and even leather top textures, all designed to provide varying amounts of traction. If you anticipate the area ever being wet, then you may want to choose a perforated PVC tile, which can help to prevent dangerous standing liquids from pooling on the surface.
Choosing a tile that offers an ASTM fall height rating can help to prevent serious injuries if falls ever do occur. These tiles offer shock absorption that helps to reduce the impact, keeping your employees safer.
Fatigue Relief
Since your employees spend a large amount of time standing and walking on warehouse flooring, then choosing a product with fatigue relief properties can contribute to employee comfort. That increased comfort can increase staff productivity, allowing your workers to stay focused on their jobs and to move more comfortably throughout the day.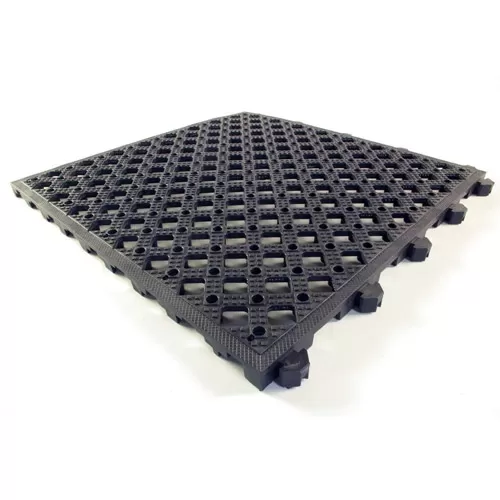 Many PVC flooring options offer fatigue relief, meaning the products offer a combination of both support and cushion. The products encourage the leg and calf muscles to subtly move, which promotes blood circulation and helps to relieve pain and fatigue.
Warmth
Installing PVC flooring in your warehouse can also help to maximize the warmth and overall comfort of the space. PVC can act as an insulator against your cold, concrete subfloor.
By keeping the cold from seeping up through the floor, you will create a warehouse that is more comfortable for your staff.
Style
With PVC flooring, you will be able to choose from a variety of styles. You can opt for dark, reserved colors or liven up the warehouse with a pop of bright, lively color.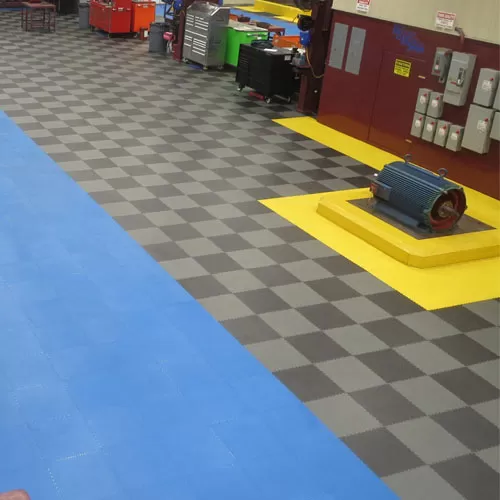 You can use this flooring to mark different area boundaries. Choose different tile colors to demarcate transition areas, different zones in your warehouse, safety lines, and more.
PVC flooring also offers style choices when it comes to the tile size and design. Perforated, raised tiles are ideal for areas that will be exposed to liquids and moisture, or you can choose solid tiles for areas that tend to stay dry.
Easy Installation
PVC flooring tiles offer many benefits when it comes to their installation. These tiles are conveniently sized and easy to install, and often you can dry lay them directly on top of concrete.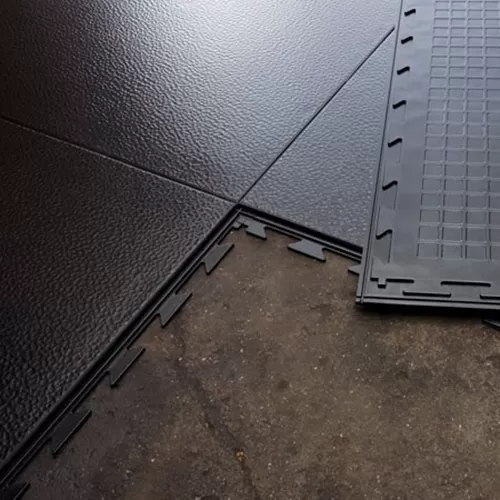 Interlocking PVC tiles fit together securely, meaning you don't need to use adhesive during the installation. This benefit can save you money and time when compared to a professional installation.
If a tile is damaged or worn, you can remove and replace that tile, rather than replacing an entire section of flooring. You will enjoy a discount on your floor maintenance because of this capability, making it easier to keep your entire warehouse floor looking its best.
Easy Maintenance
Your maintenance crew will also enjoy the fact that PVC flooring is easy to maintain. Many of these tiles can be hosed off or mopped with a neutral pH household cleanser.
There's no need for your maintenance crew to invest in specialized products. Keeping the floor looking its best is easy, which is particularly important when your crew has a large warehouse to maintain.