What Products To Use For Synthetic Turf Protection
By Lisa Hobbie Created: October, 2021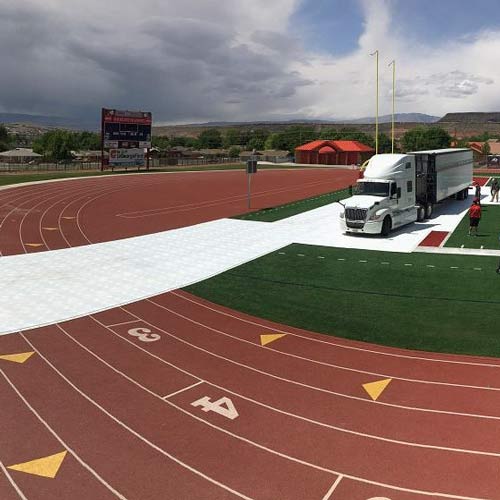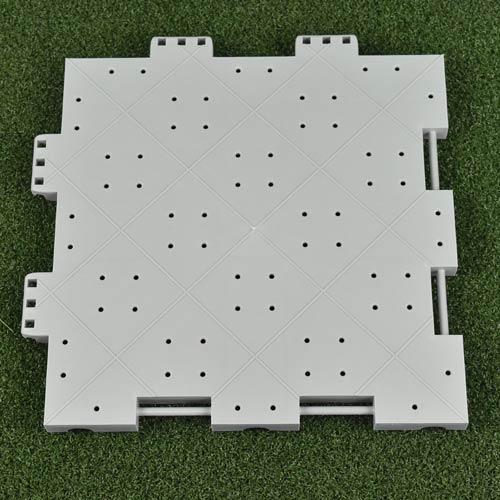 Synthetic turf protection is used when facilities host events on their turf-laid football stadium, soccer field, or sport arena to cover and preserve the turf.
An artificial turf or grass flooring system is designed for athletics, foot traffic, and heavy use, but it could become damaged if things like a dance floor, stage, bleachers, or event equipment are used on it. If a turf field typically used for batting practice or cross training suddenly becomes the host for a large concert, a synthetic turf protection system should be employed.
Greatmats offers the best artificial grass and synthetic turf protection systems on the market, with the following solutions representing some of the best:
If you have a business where you find yourself needing an all-purpose artificial grass or synthetic turf protection system, any of the featured products would serve you well.
Synthetic Turf Protection Products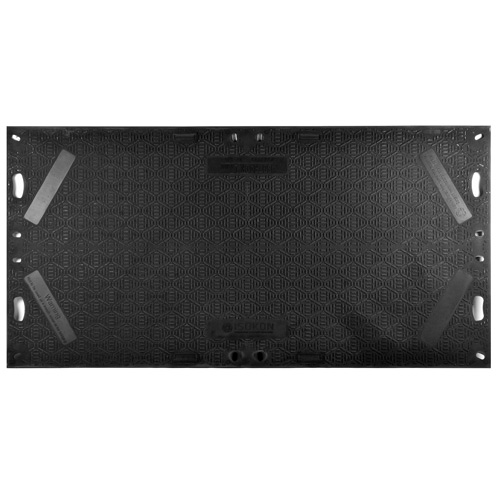 Greatmats Ground Protection 4x8 Ft Mat can be used as part of an effective synthetic turf protection system. At 77 pounds, the mats are one of the easiest ground protection mats of this size to maneuver into place and made of high density polyethylene - providing superior traction and grip for forward moving vehicles like trucks, bobcats, and anything else needed to set up for an event on turf.
These mats feature a strategically positioned set of handles, making them very easy to lift off of a truck, loader, or pallet to set into place. They have a non-absorbent design and support loads of up to 160,000 pounds. They are affordable, reversible, and easy to clean and maintain.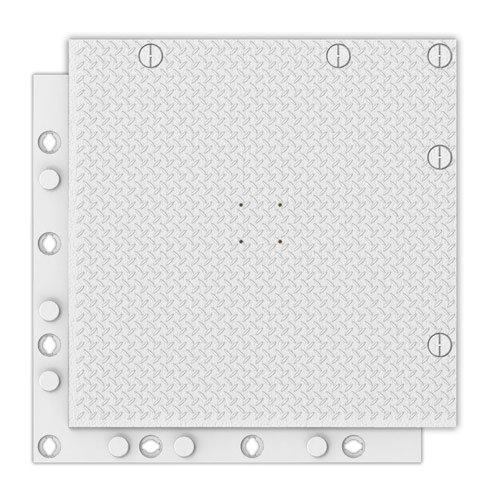 Matrax Heavy Duty Drivable Composite Mats are 4x4 feet gray mats designed to support heavy loads and offer a solution to protect synthetic or natural subsurfaces from stress of events or weight of vehicles or equipment needed to set up event equipment.
These heavy duty mats are simple to install, and they offer a diamond top texture that delivers a safe and sturdy, resilient flooring surface that is free of tripping hazards - making it perfect for events over turf.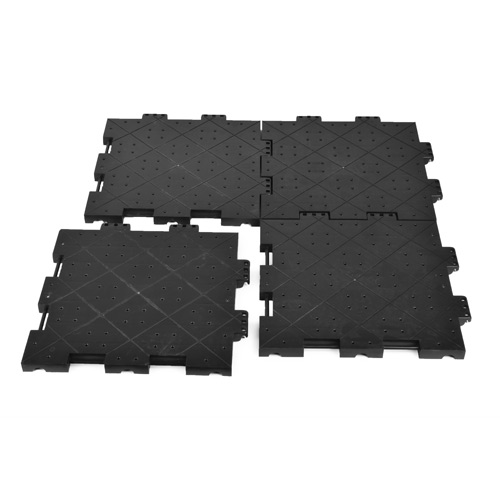 Portable Outdoor and Tent Tile 12x12 Inch is arguably one of the best temporary outdoor flooring products on the market, which also makes for an effective synthetic turf protection system. It's a product that looks crisp and professional with the ability to not only go over turf, but also dirt, grass, gravel, sand, concrete, or pavement.
This option is constructed from durable plastic that is designed to endure heavy weight and lots of abuse. It offers a clip together design that is perfect for a DIY installation. It also has drainage holes for wet areas, resulting in a surface that is non absorbent. It also has an anti-slip surface texture and holds its shape even when placed under significant weight.
Artificial Arena or Stadium Turf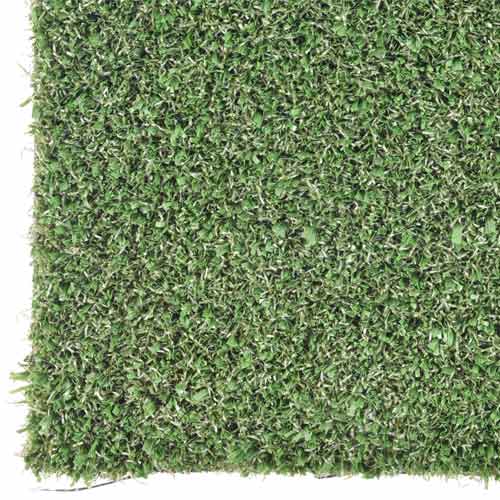 Arena Pro Indoor Sports Turf Roll 12 ft wide x 5mm Padded per SF is a high performing turf product if you want something that is suitable for an indoor installation. It offers improved durability and safety, it reacts naturally, and it is virtually maintenance free.
This turf product is frequently used for indoor training facilities and sport centers. It provides consistent performance over time and use, and it is very easy to clean. It's very versatile and has a superior wear surface. Made of a blend of nylon and polyethylene plastic yard offers the perfect 50/50 combination for a top notch product.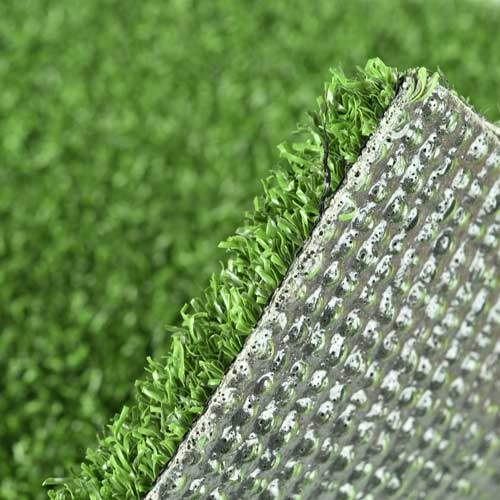 Bermuda Artificial Grass Turf Roll 12 Ft wide per SF is another high performing synthetic turf product that reacts naturally and delivers improved durability ans safety. Like the Arena turf, this is also easy to clean and maintain.
This particular product is suitable for many purposes and applications in both indoor and outdoor installations. It's suitable for baseball, agility sports training, specialty sports, indoor sports, and trade shows. It's made of a yarn with polypropylene plastic material that's available in a pine green or spring green color. It delivers cushioned comfort for athletes and sports enthusiasts.
Greatmats - For The Best Turf & Turf Protection Products
Greatmats offers the very best turf and turf protection products available anywhere. The featured products are some of the most popular and best selling options - delivering top notch turf surfaces that can easily be covered by one of the mat options.
If you need more information about any of the featured products, the staff at Greatmats is available to help. They can answer questions, send you samples, and help you with anything else you need. They can even assist with placing an order - giving you the confidence you need in your investment.