Portable Dance Floor Tiles - Features and Benefits
By Kyle Schurman Created: June, 2017 - Modified: July, 2021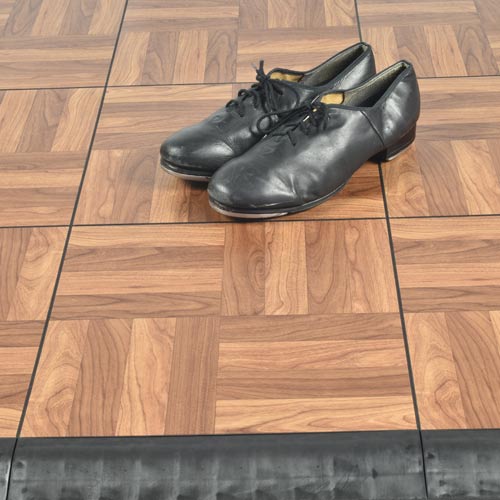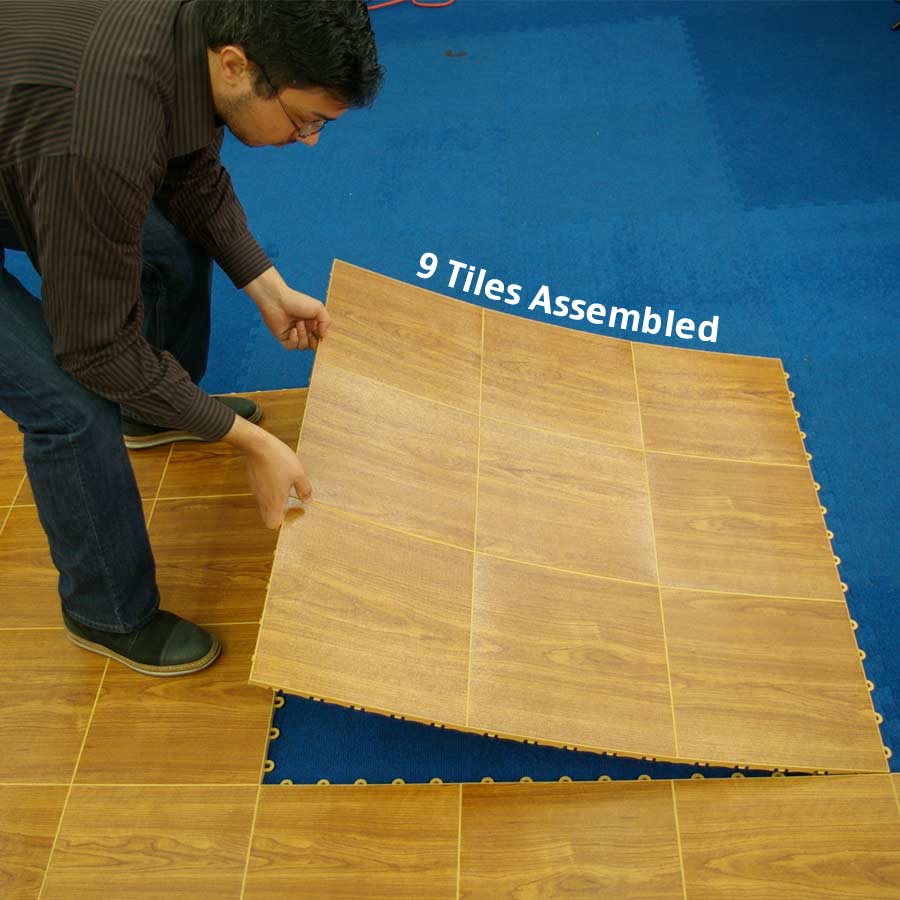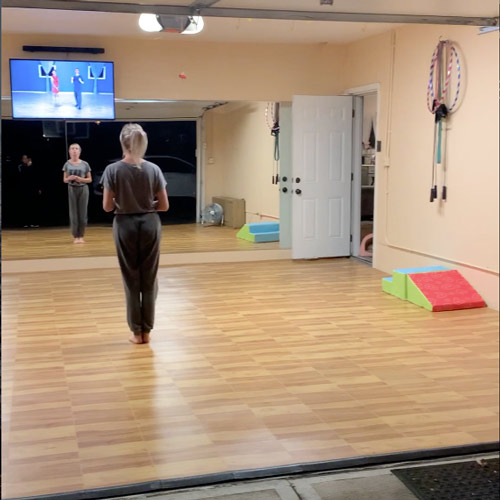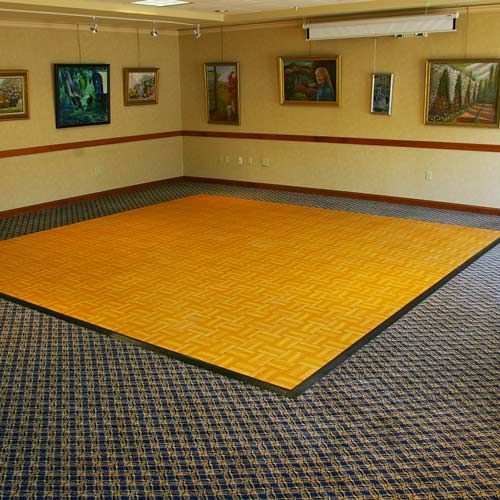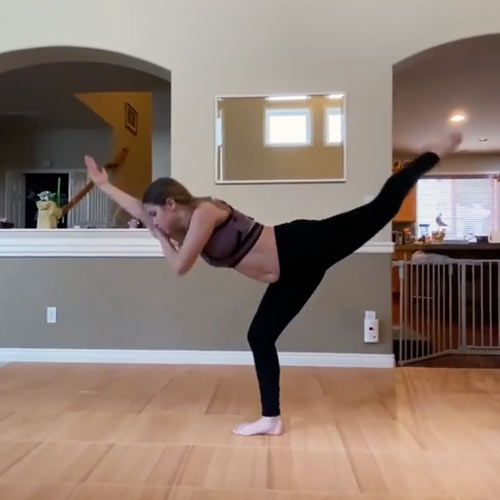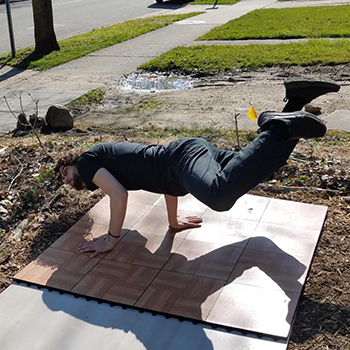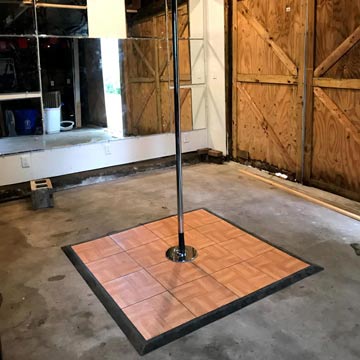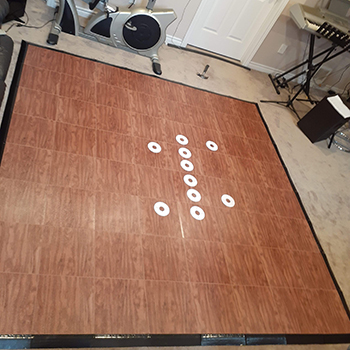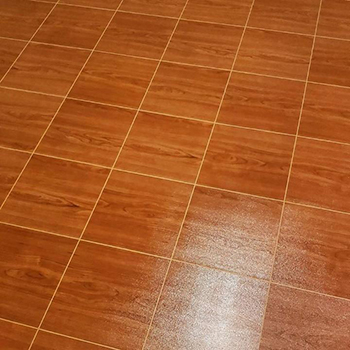 For hotels, banquet halls, schools, and churches that sometimes host weddings, anniversaries or other celebrations with dancing, portable dance floor tiles are handy to have on hand.
Greatmats' temporary portable dance floor tiles and systems are extremely durable, yielding a strong value for those who buy them. They can survive repeated usages without showing wear for almost any kind of dance style.
One of the most durable and user friendly models of this interlocking flooring is the
EZ Portable Dance Floor
model. This Made-in-the-USA type of modular flooring carries a 5-year limited warranty. The wear layer on the vinyl surface carries a 7-year rating.
How Do You Install a Portable Dance Floor?
With the EZ Portable model listed earlier, these portable dance floor tiles simply pop together without the need for adhesive. A click-together install is common for this type of tile.
These tiles have a hidden interlock system contained in a plastic base layer. A vinyl layer that resembles wood grain or slate attaches to the top of the plastic.
The plastic layer contains loops on two edges and tabs on the other two edges. Just line up the edge with the loops on one tile with the tabs on an adjacent tile. Pop the edges together to create a secure fit without the need for glue.
This results in a secure fit, ensuring the floor will stay in place, even when multiple people are dancing.
Each tile measures 12 by 12 inches and weighs only 2 pounds, so a single person can handle the installation relatively easily. The process will go faster with multiple people involved, however.
Each tile measures 5/8 inch in thickness, so some people will want to install a ramped border at the edge. These optional borders fit into the same interlocking system that the tiles use, reducing any tripping hazard over the lip of the flooring.
These tiles for sale at Greatmats will go over almost any existing firm surface. When laying it out over concrete, adding a thin
3 mm underlayment rubber layer
is a good idea to dampen noise and to provide a bit of cushioning.
They will even go over carpet in some rooms. An extremely plush carpet in the home may need to have a thin plywood layer between the carpet and the portable dance floor tiles to provide stability and make connecting the tiles together easier, though, as a firm surface is needed to provide enough resistance to snap the connectors together.
After the event, the tiles pop apart for placement into storage. Some people will leave groups of four, six, or nine tiles connected when removing the floor and placing it into storage, which speeds up the installation the next time.
Can You Tap on Dance Floor Tiles?
The vinyl layer on the EZ Portable tiles will withstand nearly any kind of dance style, but being able to use tap shoes on these portable dance floor tiles will depend on the color the customer installs.
Five different faux wood grain colors are available in this type of tile:
Cherry plank

Maple plank

Dark oak

Light oak

Walnut plank
Tap dancers can perform and practice on any of these five colors of the EZ tile without causing damage to the vinyl layer. However, if a customer selects the slate floor color in these tiles, the surface is not suitable for tap.
Dance students can use these tiles to practice hip hop, disco, Irish, ballroom, and other styles of dance at home. This versatile flooring yields a good value.
Do Modular Dance Floor Tiles Work for a Wedding Dance Floor?
One of the most popular use cases for these tiles is to create a temporary dance floor at a wedding reception. They also work well for anniversary parties, graduations, birthdays, or other celebrations where dancing may occur.
When having them on hand at home, the most common use case is for an outdoor reception underneath a tent. These tiles should not remain exposed to weather for long periods of time, but they'll be fine for several hours at a time outdoors.
Even more commonly, a rental facility that hosts gatherings like wedding receptions and anniversary parties will purchase these tiles and have them on hand. The interlocking edges should withstand hundreds of assemblies and disassemblies, ensuring they will last a long time.
Another advantage of these tiles for a wedding reception facility is the installer can create any size of dance floor. Some people may want a smaller dance floor to accommodate more tables, which the installer can accomplish by leaving some tiles out of the installation.
On the other hand, just add more tiles to increase the coverage size for a particularly large reception party. With the optional border strips, installers can always create a finished look on the edge of the floor, no matter what size of installation occurs for a particular party.
When seeking tiles for creating temporary dance floors at home or at a business, Greatmats carries a number of different models, including these EZ tiles. Its customer service team is ready to help with the purchase, including helping installers figure out how many border pieces they need.