Comparing Indoor and Outdoor Pool Surrounds
By Julia Nass Created: August, 2017 - Modified: November, 2023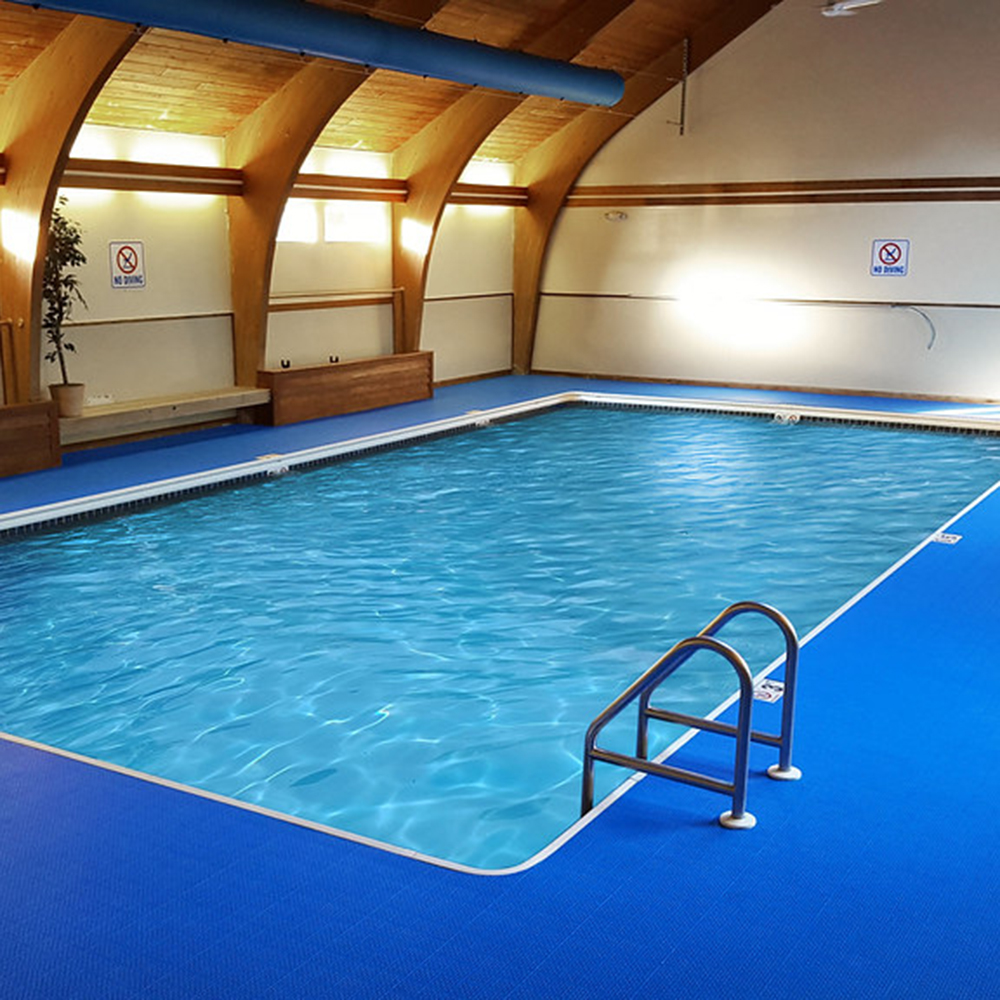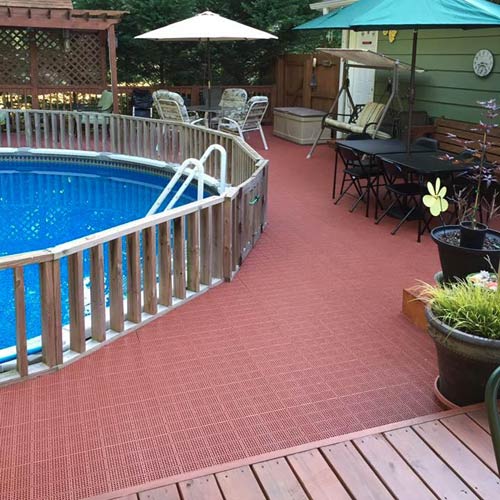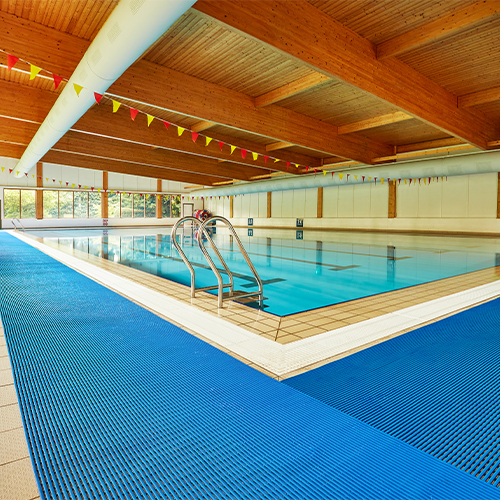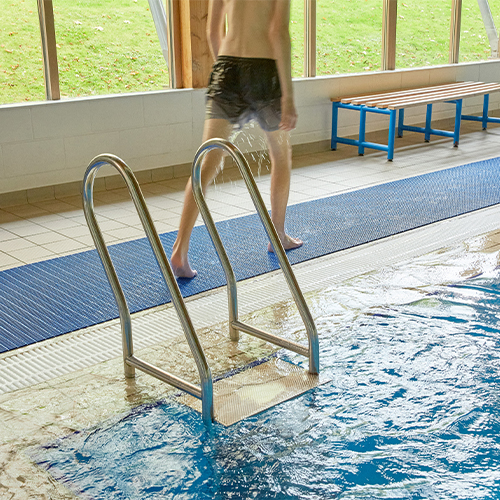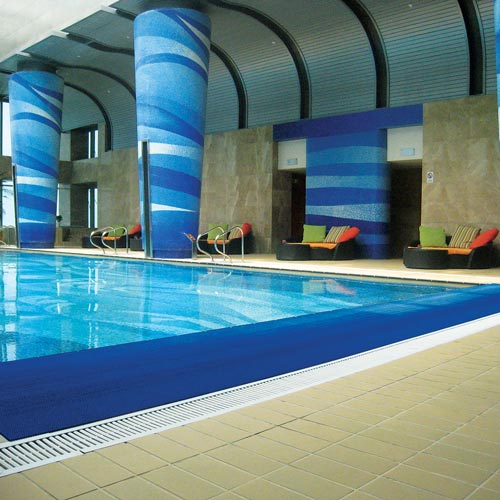 Inside or outside, a fabulous pool space is about so much more than just the pool itself. You want your pool surrounds to be your version of picture perfect, which starts with the right pool deck flooring. Safety is an obvious priority.
Aside from safety you'll want the right aesthetics. Perhaps you're going for a fun and bright environment for the kids. Maybe you need something for commercial use and a high-volume of people. Perhaps you want something chic and stylish for your personal pool-side lounge space, or maybe you're mainly interested in comfort.
No matter what you're going for, your pool deck flooring will make all the difference. Luckily, there are enough options out there to make your brand new ideas come alive. New pool decking is also an easy way to revamp whatever you already have going. Here are a few of the top pool deck options that exist for your indoor or outdoor pool.
Top 3 Outdoor Pool Deck Flooring
For outdoor pool decks, it's important to use products that remain dependable in any type of weather. Undoubtedly, you want something that will maintain its quality, visual appeal and safety over the course of many seasons. Luckily for you, there are a ton of tried and true, high-quality products out there. Here are a few:
Perforated PVC Tiles
A popular choice for outdoor pool deck flooring is perforated PVC tiles. Like other perforated tiles, they provide instant water drainage, combat the risks of moisture build-up, and stay slip-resistant even when wet.
PVC tiles never absorb water. Tiles such as Greatmats
StayLock Perforated Tiles
and
Patio Outdoor Tiles
are specifically designed for outdoor installation. They are durable and are made to hold lawn chairs, tables and other patio furniture and some offer critical fall height ratings up to 20 inches.
Interlocking tiles make for easy and fast assembly. Designing your pool deck with PVC tiles yields a world of creative freedom: tiles can be custom-ordered in almost any color you can think of.
Pool Area Vinyl Flooring
Commercial vinyl flooring rolls such as
LonDeck Sol
have textures that are slip resistant when children are possibly running around pool areas. Look for a commercial vinyl that is suitable for outdoor use. LonDeck Sol features a cool touch technology that can decrease the surface temperature up to 10 degrees Fahrenheit.
Artificial Turf
Just because you have a pool doesn't mean you have to give up the green.
Artificial turf
is fun alternative to other pool deck tiles. First and foremost, artificial turf creates a paradise-like aesthetic. It adds vibrant color and a natural feel to your pool surroundings.
What you might not be aware of is that it feels as wonderful and inviting as they look. Greatmats offers artificial turf that is guaranteed to be soft and inviting to bare feet. It is safe for walking feet as well. Some artificial turfs are drain-through so water never puddles. Outdoor turf is durable and long-lasting and can be used underneath patio furniture.
Top 2 Indoor Pool Deck Flooring
Indoors, there are higher stakes for water and moisture buildup. Without the proper pool deck flooring, you might end up facing slime, mold or mildew. When moisture sticks around, there is always the risk of slipping and falling as well. Fortunately, with the right materials and design, you won't have to worry about these risks.
Soft Perforated Tiles
One great option for indoor pool deck flooring is flexible, perforated PVC tiles. Greatmats offers these tiles, such as SoftFlex Floor Tiles, with pegs that raise tiles up to allow for instant drainage. That means water will not build up and puddle, which prevents helps prevent slippage. Even when wet, these tiles provide traction for barefeet.
Flexible PVC tiles are put together by simple, sturdy snap-in loops that make assembly a breeze. Adhesives and extra tools are not necessary. With soft PVC formulation, tiles provide the ultimate barefoot comfort and non-slip safety.
Slip Resistant Mats
If you are need a solution for high-traffic areas and are not looking to install a whole new flooring around your pool, consider
aquatic matting
that can be laid out in walkway areas and near pool stairs and ladders. Our
Heronrib Wet Area Safety Matting
is certified slip-resistant but soft and comfortable on bare feet. It's available in multiple color options and can be used both indoors and outdoors.
Whether your pool is inside or outside, there's a variety of fantastic options to create a pool deck that is pleasing to the eyes and inviting to the feet. Even more so than aesthetics and comfort, however, it's important to always be aware of safety and location-caused issues that may arise. Using one or more of these high-quality pool surround products, you can easily defend yourself against these issues and still have the pool deck of your dreams.