Daycare and Preschool Flooring Ideas for Kids
By Kim Butler Created: August, 2017 - Modified: October, 2023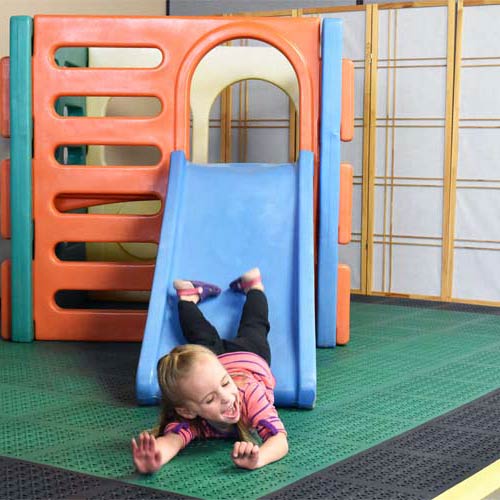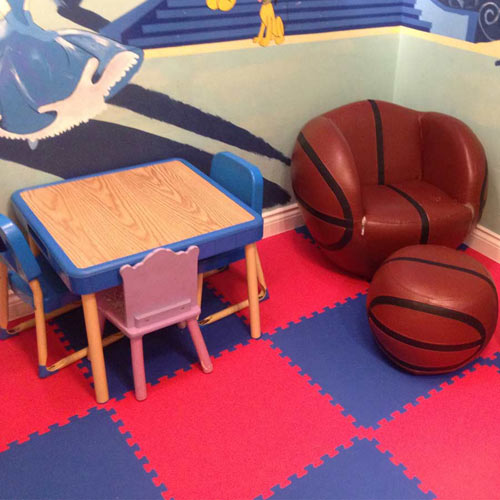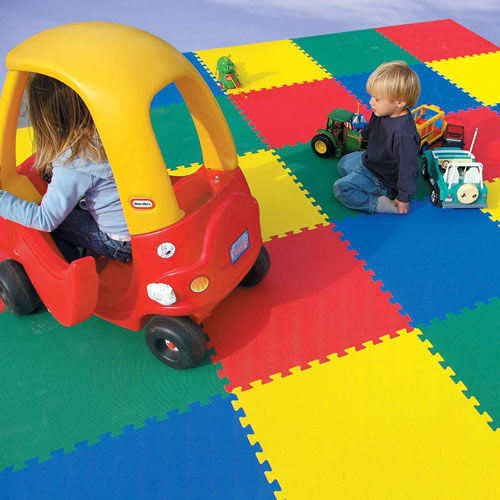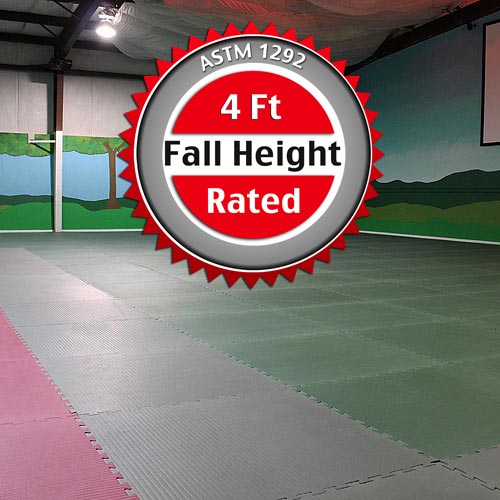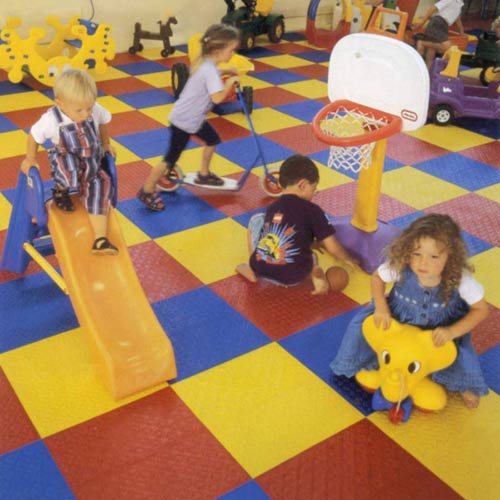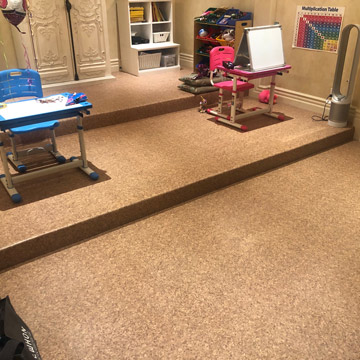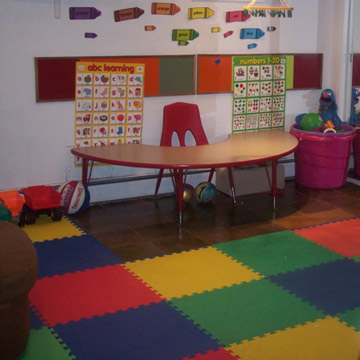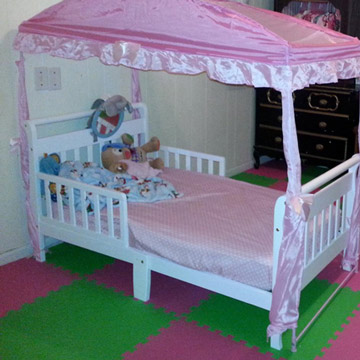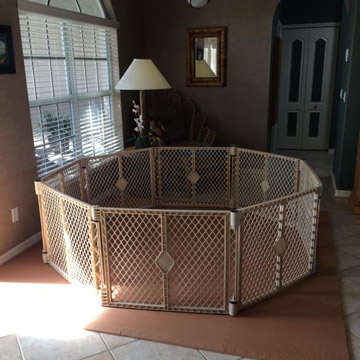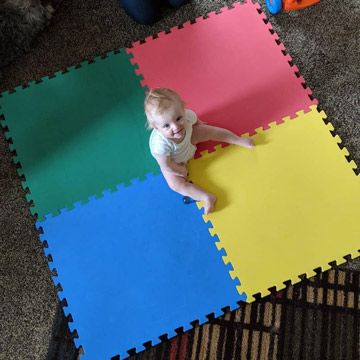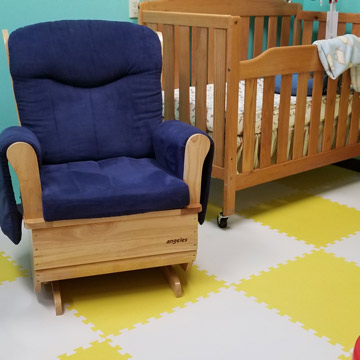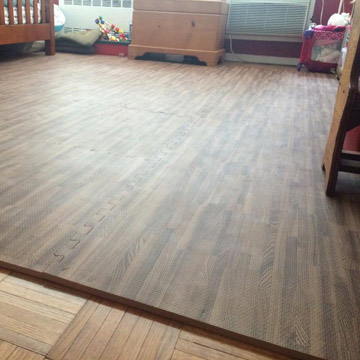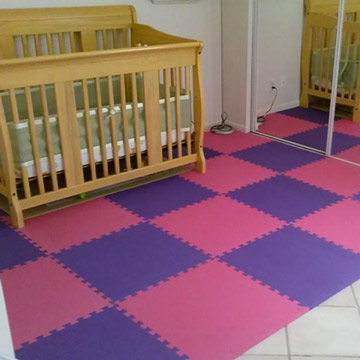 The first concern of preschool owners and teachers, as well as daycare providers, is the safety of the children under their care. All preschools, from the national chains like Kindercare and Bright Horizons, to ''Grandma Lois's Learning Center'' down the street want the little ones in their care to be safe. Safety factors into many of the ways a preschool environment is designed, from furniture to outdoor environments, and even to the floors. If you are in the process of outfitting a new or existing preschool or daycare with flooring, let's start with the attributes you need to make sure this
daycare flooring
is safe for small children. We'll also talk about other issues like comfort, cleanliness, and appearance.
Toddlers crawl on, and children fall often, whether they are toddlers learning to walk, or just normal, active preschoolers. They are learning how to use their bodies, so you need to protect them from injuries both indoors and outside with safe, comfortable flooring that will cushion their falls. Concrete and hard tile are simply too hard. Cushioning the floor with foam mats, rubber flooring, or carpet is the way to go.
For outside play equipment, you need to worry about the fall height rating of a particular flooring, but even inside, with kids running and roughhousing, it is important to provide flooring that has cushioning, and non-slip properties, and won't cause rug burns. For this, foam and rubber daycare flooring are great options. Carpet and rugs can have their uses too.
Cleaning and Disinfecting Daycare Flooring
Kids are built-in mess makers. So every daycare or preschool needs a floor that is easy to clean. Kids are going to spill drinks, knock over paint pots, drop food, make crumbs, draw off the paper, splatter finger paint, and the list goes on. Wherever food or arts and crafts are used, you want and need a floor that is easy to clean, doesn't hold water, and can be regularly mopped.
Kids also get sick a lot, and you want to minimize transmission of colds, pink eye, and worse. You need daycare flooring that is easy to clean - something washable and non-porous, that can stand up to periodic disinfection. Around changing areas, this is especially important.
According to the National Resource Center for Health and Safety in Childcare and Early Education, ''Only smooth, non-porous surfaces should be permitted in areas that are likely to be contaminated by body fluids or in areas used for activities involving food.'' Tile, vinyl, or linoleum is fine in the bathroom, but in areas where kids spend more time, once again rubber and foam flooring is the way to go.
Comfort and Stimulation of Daycare Flooring
Once you know they are safe, you also want your kids to be comfortable. Children spend a lot of time playing on the floor - racing cars, building with blocks, setting up dolls, or just reading and coloring. Carpet and rugs can be a nice addition to a quiet reading or napping area. But again, these surfaces are hard to clean, and children with serious allergies can be bothered by carpeting.
A plus of carpeting, as well as foam and rubber, is that all three have sound-deadening properties. Little voices can be loud voices, and toys dropped on a hard surface can rattle the eardrums as well.
Finally, you want your kids stimulated and happy in an environment they and the teachers find pleasant and comfortable. Colors are appealing to children, and can even stimulate brain development.
Best Foam Daycare Flooring Ideas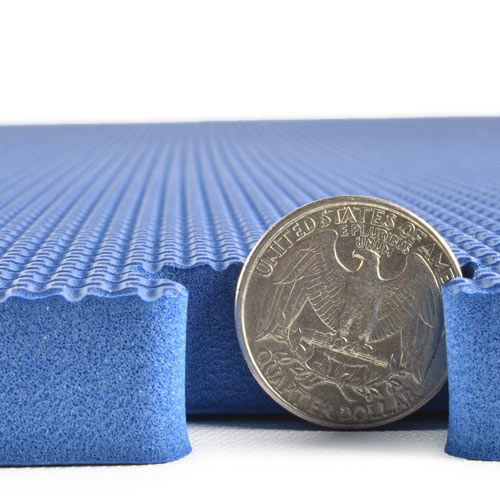 Foam interlocking puzzle mats satisfy many of the criteria listed above. One popular option is 5/8 inch thick foam mats from specialty retailer, Greatmats.com. It's 5/8 Premium Foam Daycare Flooring Tiles carry 12 brilliant colors which can be mixed and matched, and come with border strips for a finished edge. Used over concrete, wood, or hard tile, these mats create a safe, cheerful, warm environment. The EVA foam mats are lead-free, latex-free, waterproof, and stain-resistant.
A thicker, 7/8 inch mat, Home Sport and Play Mats offer more cushion and durability and are available in three double-colored options.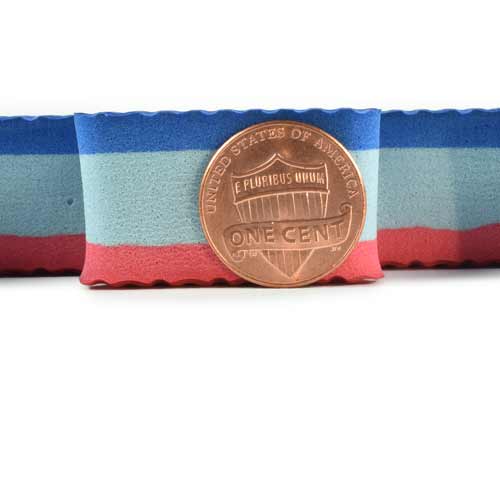 How about rubber daycare flooring?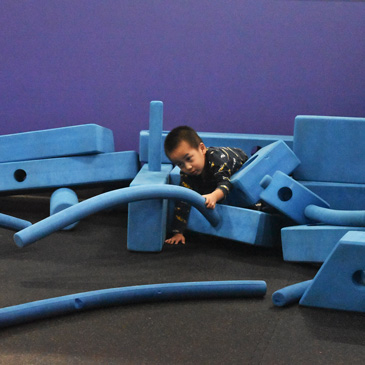 Though not as soft, rubber flooring, available in rolls or mats is another option. Rubber is resistant to stains and spills, extremely durable, and easy to clean. However, rubber is not available in as many colors as foam, and one must shop carefully to avoid a product with a high odor.
PVC Daycare Flooring Ideas
If you've determined that foam is not tough enough to handle the furniture or kind of traffic your preschool uses and experiences, and rubber is too rugged and hard for your taste. There are several PVC plastic flooring tiles that offer the best of both worlds. Greatmats offers modular PVC tiles that offer cushion and limited fall height protection. They will not absorb moisture and are stain-resistant. It offers PVC tiles for both indoor and outdoor preschool applications. The PVC is much sturdier than foam and can withstand heavier furniture without indenting. It also offers numerous color opportunities and has little to no odor.
Spending some time on the phone with a knowledgeable customer service representative from a reputable company like Greatmats.com can help you understand more about the types and costs of flooring appropriate for children's learning centers. Free samples can also help you understand the flooring material that will work best for you.