Is Carpet In A Basement Considered Stylish?
By Lisa Hobbie Created: September, 2021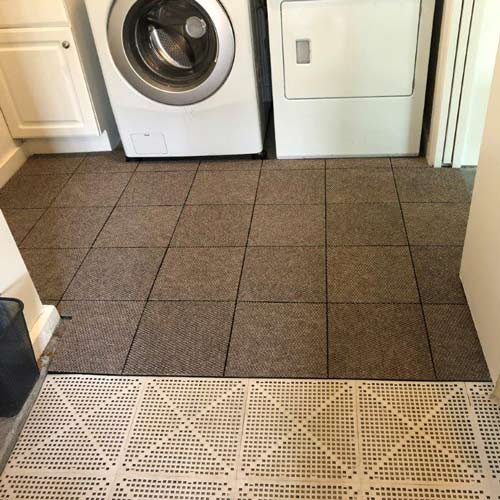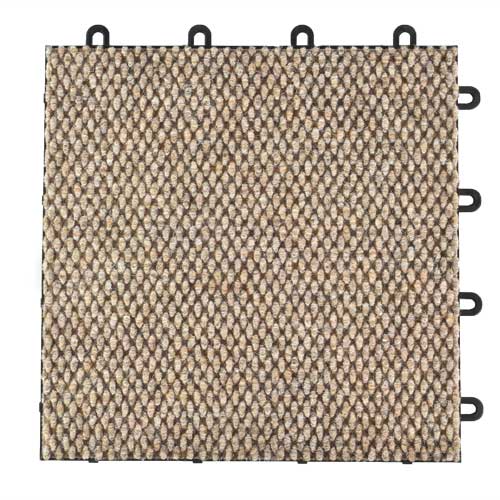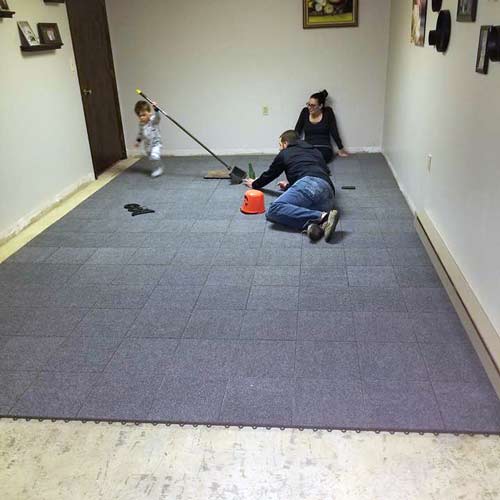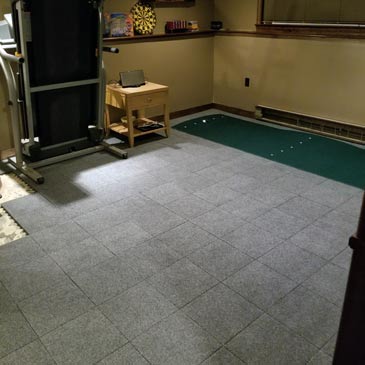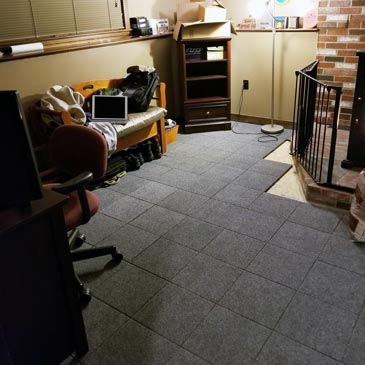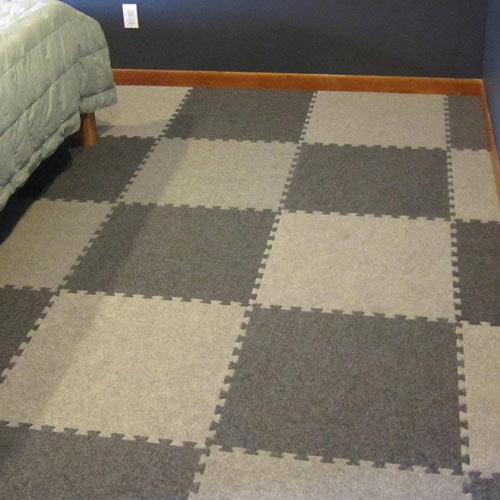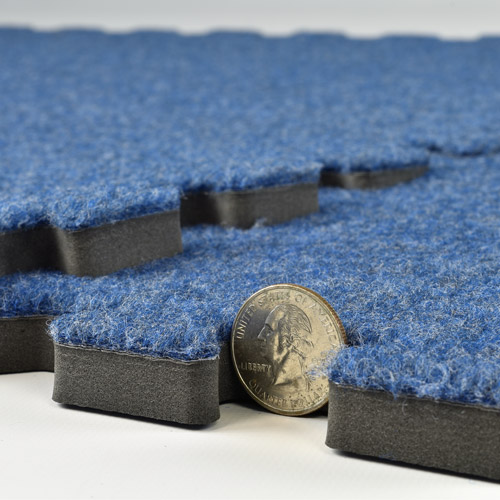 Carpet is a classic flooring style that will likely never go out of style. So, it will always be an "in style" basement flooring option.
If you are looking for carpet for basement floor applications, you likely are shopping for one that is easy to install, resistant to smell, mold, and water damage, and simple to keep clean. Greatmats offers products that offer all of those benefits while also being attractive and stylish.
6 Popular Stylish Carpet Basement Floor Options
If you want the cozy and attractive appeal of your home to continue when you travel down the stairs, any of these carpet for basement floor applications will help you achieve that, especially when they replace cold, drab concrete.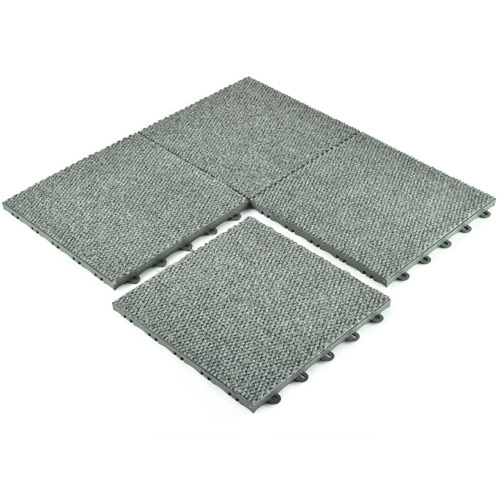 Modular Square Carpet Tiles are stylish and durable, and excellent to install in wet basements. Although considered a carpet product, it actually delivers a floating floor made from recycled materials.
Since they are raised, these carpet tiles are unique in that they reduce transmission of cold temperatures from subfloors through the carpet by way of the layer of air in between.
That same air layer allows for a damp basement floor to dry without having to remove the flooring. It's a flooring solution that is easy to snap together without padding or adhesive, and it's also easy to remove the tiles for temporary installations or to check subfloors.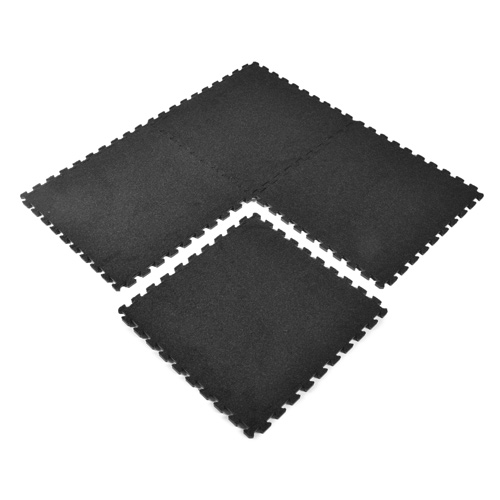 Royal Interlocking Carpet Tile is one of the most widely used and best carpet for basement floor applications as it will not be damaged by damp settings.
This carpeted tile has a soft, closed-cell foam base topped with a robust plush carpet. It's made to endure heavy foot traffic, furniture, and years of use. . .as well as the occasional flood or pet accident.
These carpet squares are simple to install without a pad or adhesive, and they are stain resistant, odor proof, easy to clean, and deliver a comfortable anti-fatigue surface with an insulation value similar to traditional plush carpet rolls.
As flat-bottomed tiles, water can become trapped underneath the flooring, but it will not penetrate into the carpet tile materials. In case of flooding or water seepage in your basement, you'll want to lift these tiles; allow everything to dry; and re-lay them.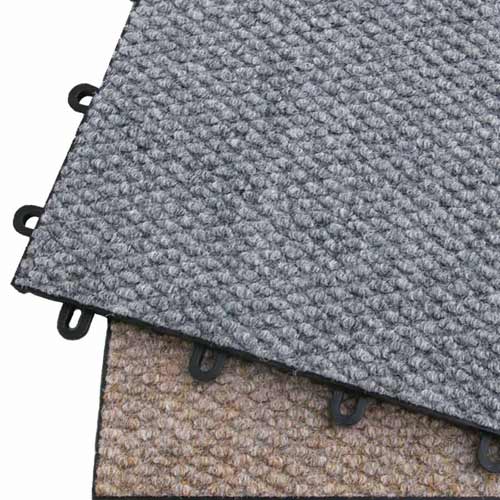 CarpetFlex Floor Tile is a textured carpet tile that is classic, yet stylish.
If you desire carpet for basement floor applications that is extra durable, this is for you. It's also anti-fatigue, non-slip, and waterproof.
Made in the USA, these basement carpet tiles feature a raise in their design to allow for airflow. It's easy to assemble with its snap together design, and the resulting flooring surface is an inviting, attractive one.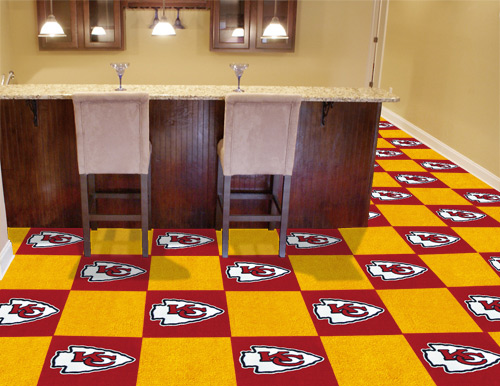 NFL Carpet Tile is stylish for sure, as it displays your favorite sports team, like the 2020 champion Kansas City Chiefs or 2021 title holding Tampa Bay Buccaneers.
These officially licensed carpet tiles are simple to transport and install in spaces of all sizes. They can go on any hard, flat subfloor, and double-sided, self-adhesive strips are included with the carpet squares.
Style Smart Riverside 18 x 18 In Carpet Tile is an attractive option made from 100 percent recycled purified plastic bottles. It features amazing color fastness and fibers that will not pull out, fray, or unravel.
Suitable for both indoors and outdoors, it's also ideal for basements. It's easy to install with a peel and stick, pressure-sensitive adhesive and individual pieces that fit together very tightly. This creates the appearance of a single piece of carpet. This carpet is commercial grade and will not fade, wear, soil, or stain.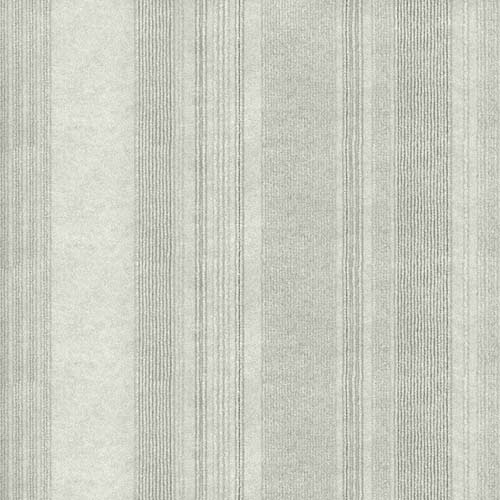 Smart Transformations Couture Carpet Tile, as its name implies, is very stylish and suitable for commercial or residential basement applications, as the fibers will not fade, wear, fray, stain, or unravel.
This basement carpet option is eco-friendly and resistant to odor, mold, and mildew. The individual carpet tiles are easy to maintain, and there are numerous colors to choose from. Since this product wears really well both indoors and outdoors, it's also perfect for basements.
Greatmats - For The Best & Most Attractive Carpet For Basement Applications
The carpet products featured are not only some of the best and most popular, they are also well suited for basements. They are attractive and stylish, and they are also high performing.
If you want more information about any of these products, just reach out to the friendly Greatmats' team. They can answer questions, send you samples, and help you decide which product is the right one for you and your space. Rest assured, you will land on an option that looks amazing and performs well when you purchase from Greatmats.