How Much Does Indoor Gym Turf Cost?
By Lisa Hobbie Created: March, 2020 - Modified: September, 2023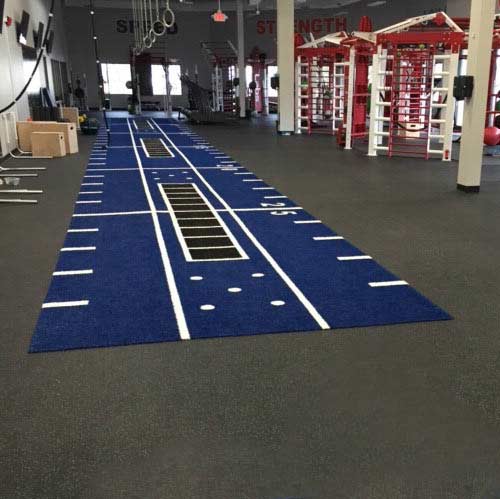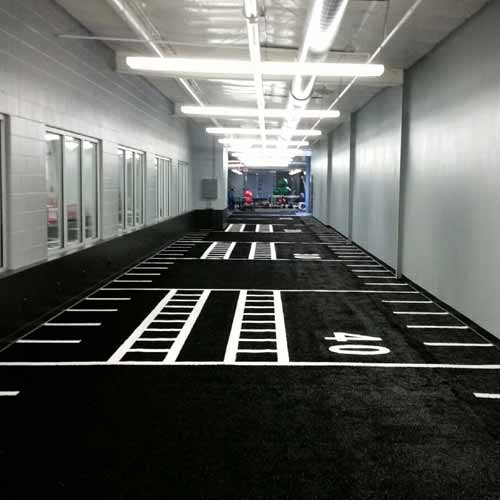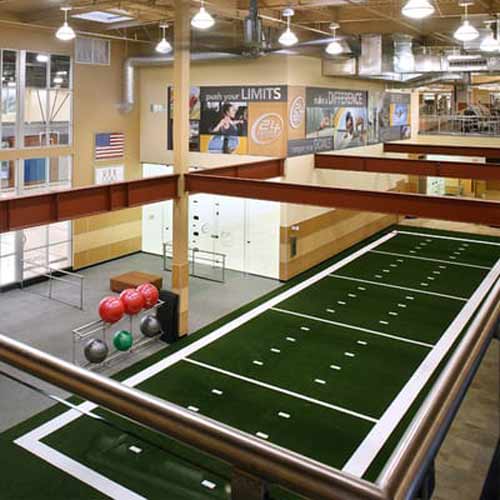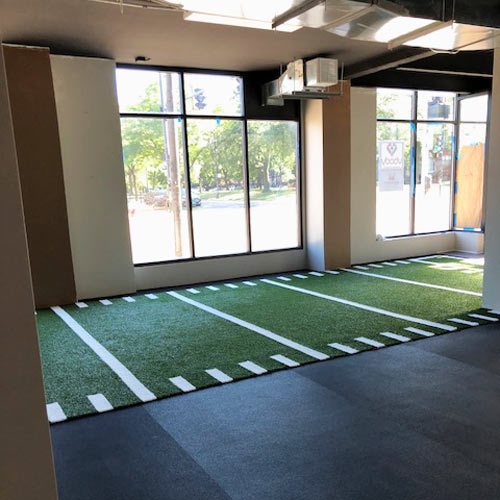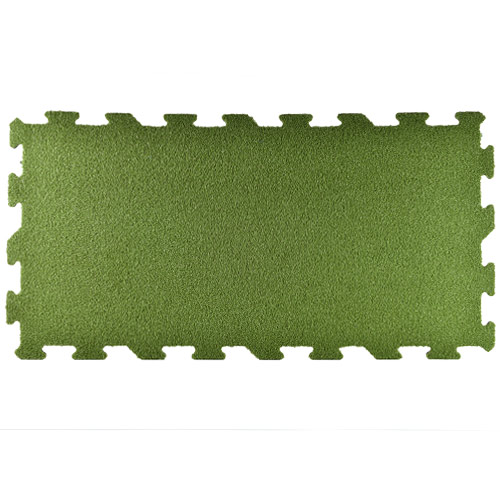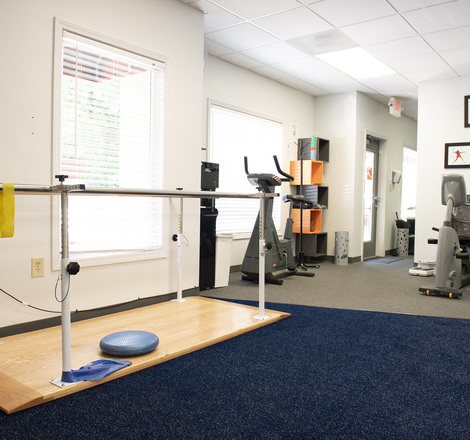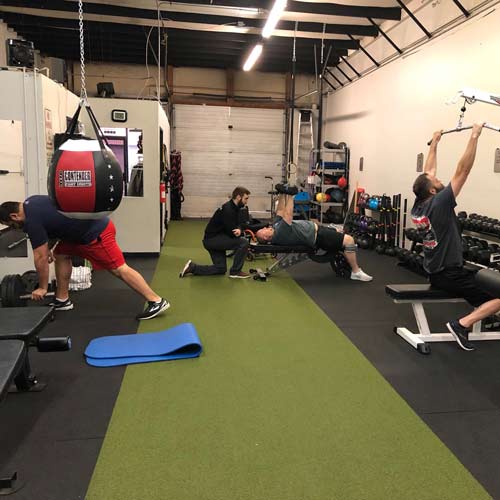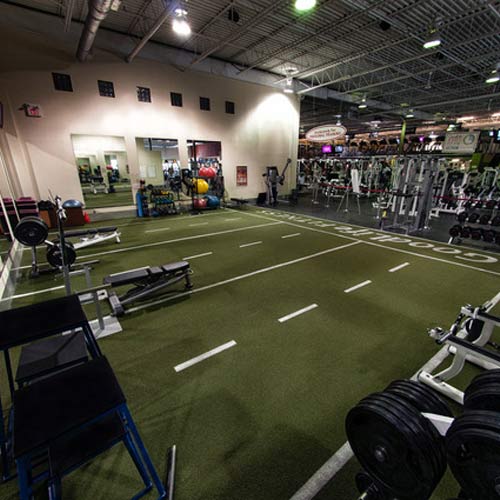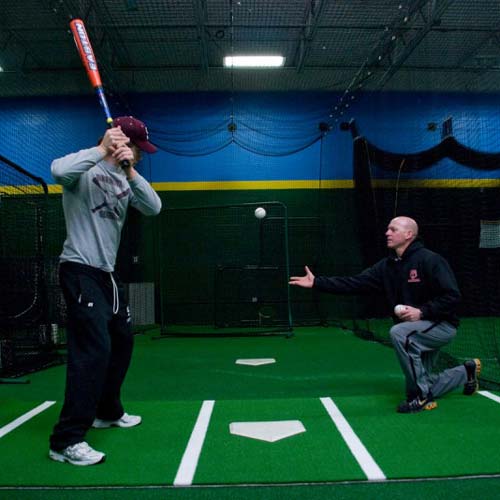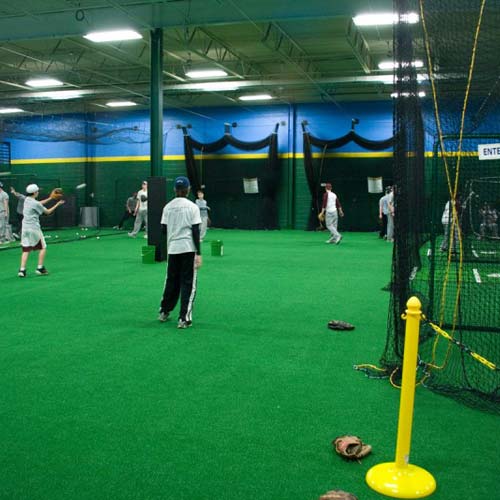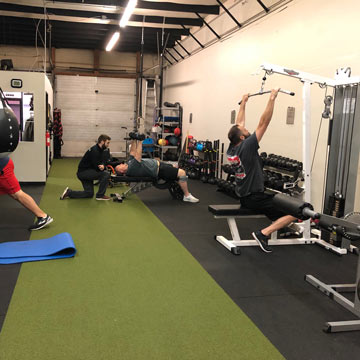 Indoor gym turf has become the flooring of choice for numerous gyms, CrossFit facilities, and sports training facilities around the globe. What was once the surface for indoor fields and arenas, turf has made its way to mainstream as a premier flooring choice.
Facilities are able to provide the look and feel of natural grass without the high maintenance. It provides awesome shock absorption, reduces pressure on joints, is slip resistant, and non-abrasive.
Greatmats has a number of indoor gym turf options that would provide the perfect surface for functional workout centers, exercise and strength training studios, facilities for agility training and sled work, and more.
So how much does indoor gym turf cost?
Different options come at a different price point, depending on the size, thickness, materials, and more, we will explore a number of turf options below.
V Max Artificial Grass Turf - $5-6 Sq. Ft.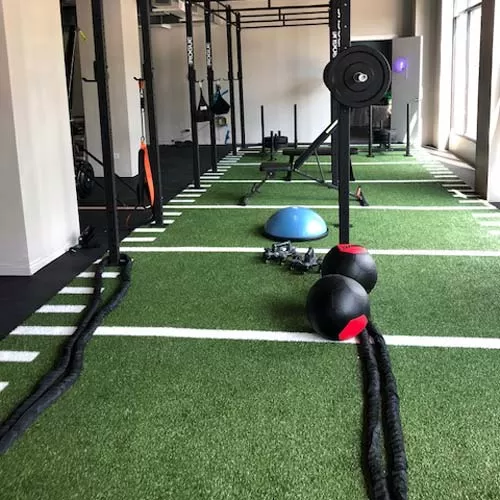 The
V Max turf
is a very popular option and among the best indoor gym turf roll options available on the market. At just over $5 per square foot, the high performance quality, durability, and value are unbeatable.
It's virtually maintenance free and reacts naturally - even after heavy use over time! It is designed to provide a realistic feel with a blend of nylon and polyethylene. With a ¾ inch pile height and 5 mm foam backing, you will enjoy the look and feel of a strip of soft, natural grass.
It provides the true ball roll of a traditional nylon field, which is also like the newer rubber-filled padded sports turf. It works great for ball sports as well as trade show booth flooring. It's also great for agility training and conditioning - providing consistent performance over time.
RageTurf Rally Interlocking Tile- $9-10 Sq. Ft.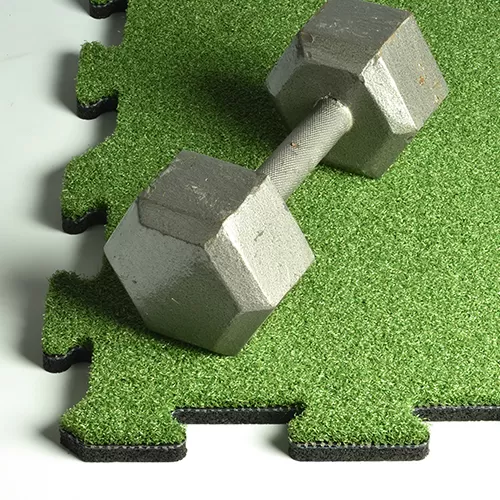 For an
indoor gym turf option in interlocking tiles
, this is an excellent choice. At just over $9 per square foot, this product combines affordability and sustainability with the benefit of convenient DIY installation.
These turf tiles are durable and slip resistant. The 12mm turf is fusion bonded to a 12mm rubber base, allowing it to simulate natural turf conditions. The durable, textured polyethylene material with tight nap makes this portable turf ideal for sled drills and track and field workouts.
The feel of this product is much like grass, providing a cushion soft surface to prevent joint pain and injuries.
Bermuda Artificial Grass Turf Roll Colors - $4-6 Sq. Ft.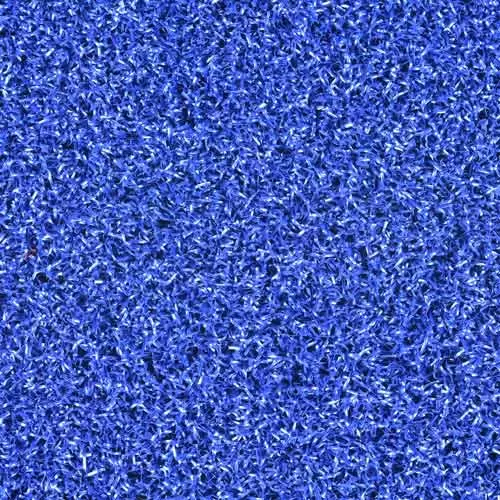 If you are seeking an indoor gym turf that is suitable for therapy, floor work, exercise, and stretching, choose the
Bermuda Artificial Grass Turf Roll Colors
. At roughly $4.70 per square foot, this high performance turf features polypropylene plastic that creates a soft turf that works well for sleds, performance agility, and stability balls.
This flooring surface provides shock resistance and durability that is far superior to what is offered by carpet or bare flooring. It provides a level of safety, as it helps prevent falls and promote balance. Should a fall occur, it also provides padding. It has sound absorption qualities, as well, and it is easy to clean and maintain.
RageTurf Motivate Roll - $7-9 Sq. Ft.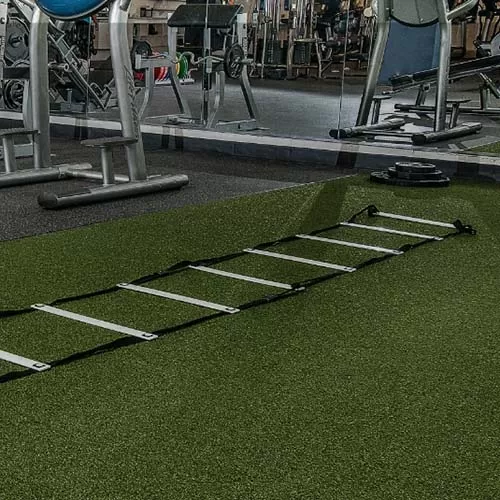 This indoor gym turf is perfect for workout facilities. At about $7.90 per square foot, this
rubber based artificial grass
offers superior impact absorption. It features a durable, textured, polyethylene material with tight nap much like the interlocking turf tiles. This makes it an excellent option for sled drills and sprint workouts.
Because it is available in 6 foot wide rolls, you can cover a large amount of space in little to no time, allowing any indoor area to instantly become a safe workout area with slip resistant turf.
Bermuda Artificial Grass Turf Roll - $4-5 Sq. Ft.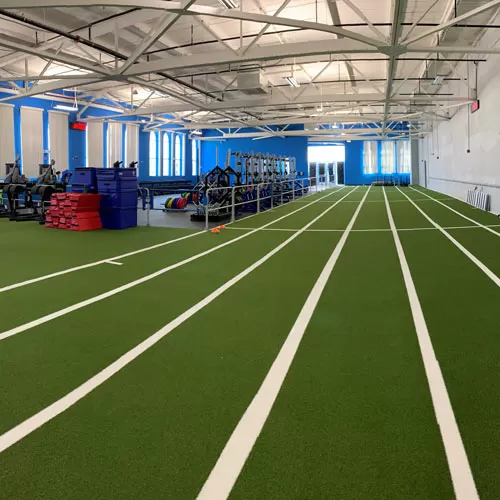 This is a very economical option that works great for sports training. At approximately $4.50 per square foot, this
indoor gym turf
features high performance quality at an affordable price. It features a soft base foam and tough polypropylene plastic yards which gives athletes a sure footing that provides protection from joint injuries. This turf roll reacts naturally and is easy to clean and maintain. It will provide consistent performance over time.
Indoor Gym Turf at Greatmats
Greatmats is your one-stop-shop for indoor gym turf. From turf rolls resembling a long strip of grass to interlocking turf tiles, regardless of the product you choose, you will enjoy a flooring option that is versatile, durable, safe, economical, attractive, and easy to maintain. Indoor gym turf from Greatmats is made to last, with the ability to stand up to heavy foot traffic, dropped weights, weighted workout equipment, rigorous sled pushes, and more. It is truly designed to be used and abused. The form and shape of the turf will not easily be compromised, as it is tough and resistant to tears, divots, holes, and more.
The turf options mentioned are just a sampling of what Greatmats has to offer. If you would like to discuss these or any other options, just contact the friendly and knowledgeable customer service team. Together, you can figure out what the best options are for your athletes, your budget, and your space.