How Do I Get The Look Of Metallic Floors?
By Paige Cerulli Created: June, 2022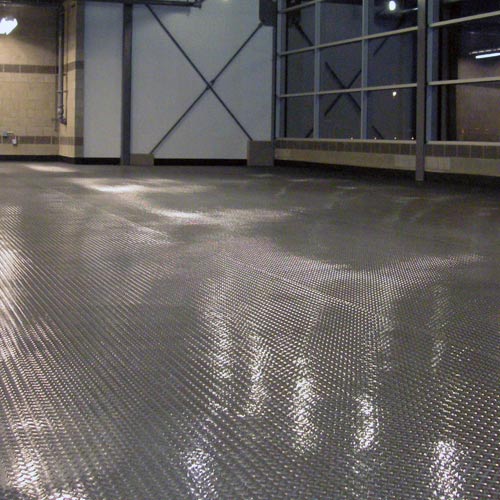 Metallic flooring adds a distinctive look to a space, but it also comes with plenty of drawbacks. Luckily, there are plenty of alternative flooring products that can give you that same metallic look without the disadvantages.
How to Get the Look of Metallic Flooring
If you're designing a garage, auto showroom, workspace, storage shed, trailer, or industrial space, you might want the classic look of metallic flooring. Metallic plate flooring tends to look clean, professional, and high-end, and those are qualities that you might want to emulate in your business or home.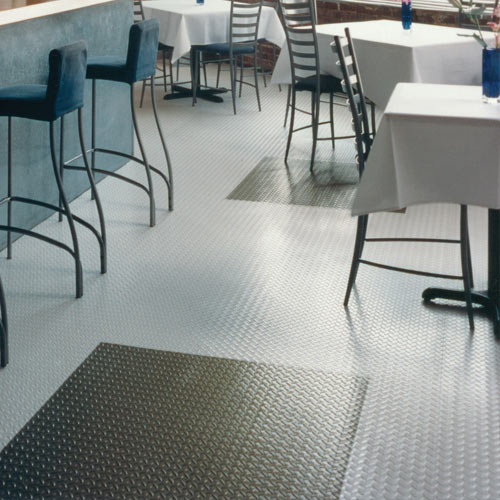 But installing real sheet metal flooring is full of challenges. The material's cost is often prohibitive, and metal can rust or be damaged.
If you're creating a workspace, you might like the look of metallic flooring, but you won't necessarily like the feel. If you need to stand on the flooring for long periods of time, you'll discover that metal is cold, hard, and unforgiving, leading to discomfort.
The types of materials that you will be using in the space might also eliminate the possibility of using real metal. Corrosive materials can quickly damage the metal, and maintaining that floor's shine can become time-consuming and difficult.
Don't forget that installing metallic flooring can also be difficult. Metal sheets are large and heavy, and you'll need to hire a professional installer to handle this large and time-consuming job.
Fortunately, at Greatmats we have plenty of alternatives available. You'll still get the look of metallic flooring, but the products we offer are much more practical.
Garage Floor Tile Diamond
The Garage Floor Tile Diamond tiles offer a texture that's very similar to a diamond plate piece of sheet metal. Available in black and grey, the tiles will add a distinctive look to your garage, event floor, trade show floor, and more.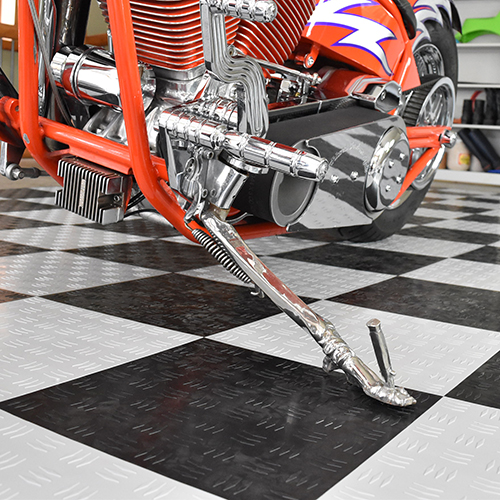 This tile is made of a rugged polypropylene that's capable of withstanding 10,000-pound loads. The tiles weigh less than one pound each, so a single person can easily transport and install them.
The interlocking edges make for an incredibly easy installation that requires no adhesive. You can also disconnect and remove the tiles as needed.
If you need, you can cut the tiles with a sharp utility knife. Border and corner ramped edging is available, leaving you with a clean, finished installation that's designed to prevent tripping.
These tiles are durable enough to be installed, removed, and reinstalled repeatedly. They are backed by a five-year warranty.
Vario Met Silver Metallic Floor
With its distinct silver metallic finish, the Vario Met Silver Metallic Floor makes an eye-catching and immediate impression wherever you install it. This dance floor is ideal for studios, stages, and touring events.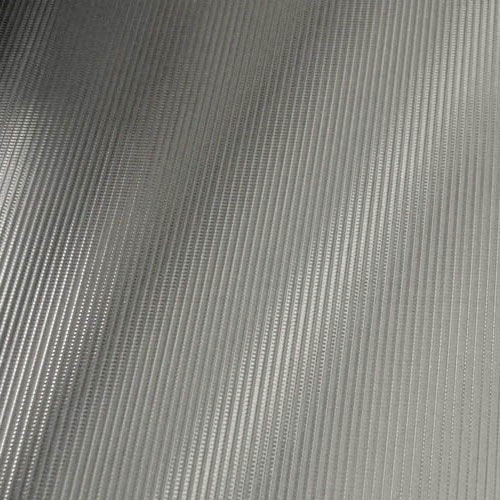 The portable dance floor features a slight embossing that helps to protect the beautiful finish while also helping to prevent slipping. The floor lets the dancers slide their feet but helps them to stay in control, too.
The roll offers almost 700 square feet of coverage, so it's a highly versatile addition to your dance studio. The roll weighs about 250 pounds, so it can be transported and stored as needed.
While this vinyl dance floor makes a stunning impression cand can enhance any performance, it helps to cut down on reflected light from overhead lighting. The result is a better viewing experience for audiences, thanks to the reduction of any harsh glare.
LonFloor Galvanized Topseal Vinyl Rolls
The LonFloor Galvanized Topseal Vinyl Rolls bring a metallic design to healthcare, entertainment, fitness, corporate, retail, hospitality, and many other settings. This floor features an industrial look, while its polished design helps to reduce scuffing, so you have less maintenance to worry about.
The floor also features a factory-applied urethane finish that protects the floor, so it's suitable for areas with high amounts of foot traffic. The vinyl flooring is made with recycled content, making it an environmentally-friendly choice.
The metallic finish also contributes to slip resistance, contributing to a safety environment for patients and customers. That slip resistance is also a valuable benefit for wheeled equipment.
LonPlate Patina Commercial Vinyl Rolls
The LonPlate Patina Commercial Vinyl Rolls feature a distinctive diamond steel plate design that's sure to make an impression. The flooring is suitable for commercial applications, hospitals, institutions, locker rooms, and more.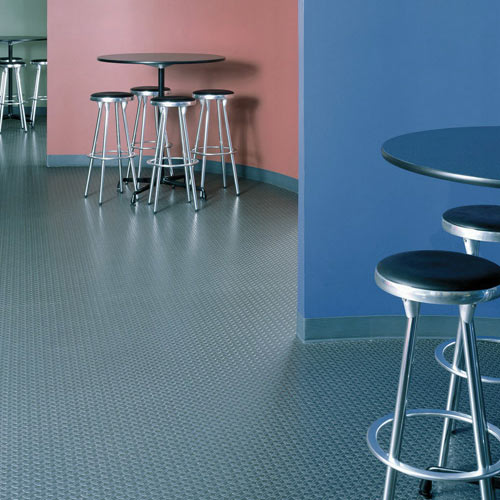 The steel plate finish is achieved through a galvanized coloration process, making for a highly realistic and impressive look. The vinyl surface is tough and skid-resistant, contributing to a safer space.
The flooring's metallic finish is highly durable, so it's well-suited to high-traffic applications. The flooring features a transparent wear layer that offers additional protection, extending the floor's longevity.
The floor is manufactured with 20 to 40% recycled material, making it an eco-friendly choice for your business. It's also GreenAir certified and qualifies for LEED points.
Backed by a 10-year warranty, this floor is hard-wearing and suitable for even tough working conditions. It can be mopped with a neutral pH cleaner for easy maintenance.