How Thick Should Mats Be for Taekwondo?
By Kyle Schurman Created: February, 2020 - Modified: August, 2023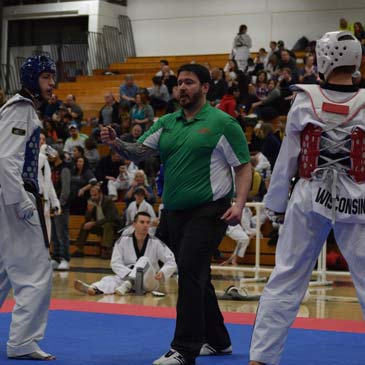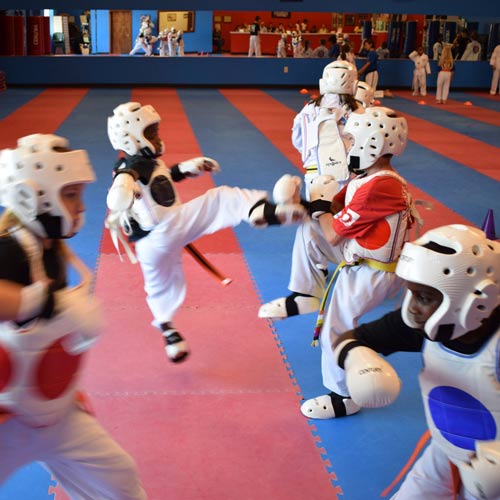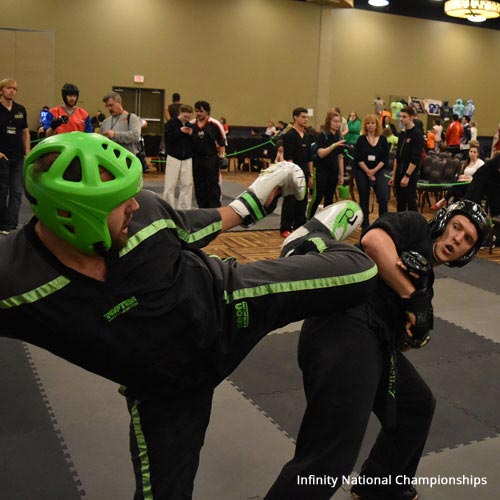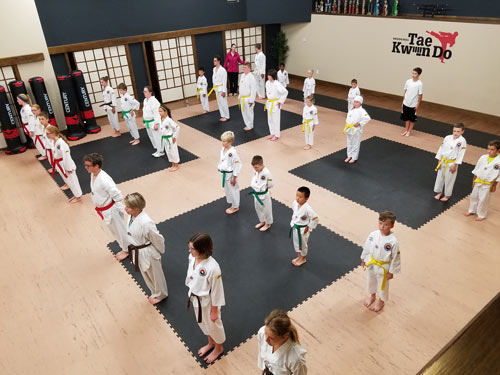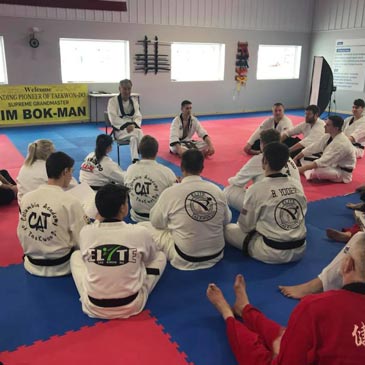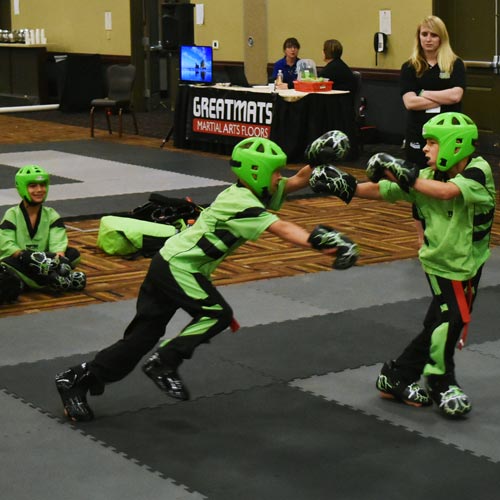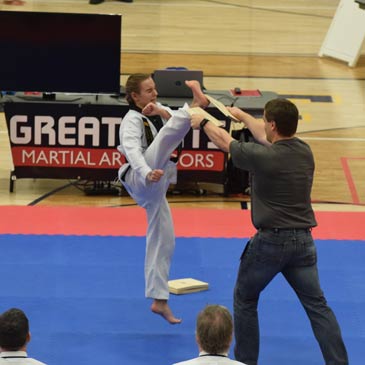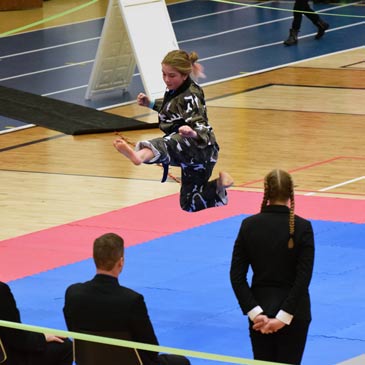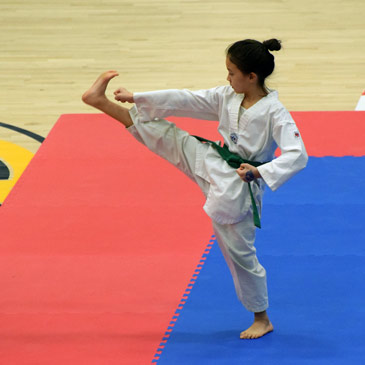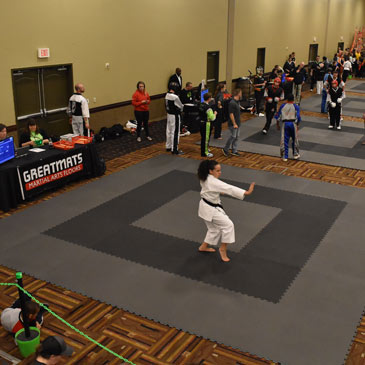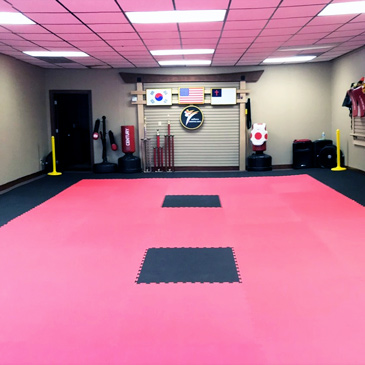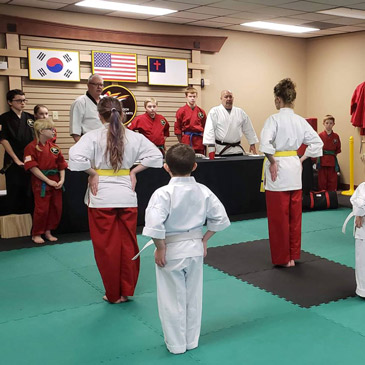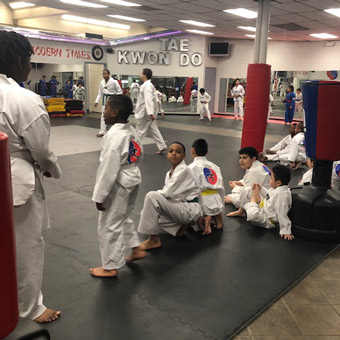 For taekwondo practice at home or at a studio, you need a high quality of flooring. It needs to provide a sure footing to allow for sudden movements, such as spins, for the athlete. It also needs to provide impact absorption for jumping, protecting the athlete's knee and ankle joints. With this in mind, the taekwondo mat thickness plays a significant role in the safety and performance levels of the athletes.
Taekwondo Vs. Other Martial Arts
When comparing taekwondo mat thickness to the thickness that works best for other types of martial arts, the taekwondo mat will be thinner, similar to what you'd find with a karate mat.
In taekwondo, athletes rarely take their skills to the ground. For the majority of the time, taekwondo is a stand-up martial arts discipline where the athletes spend most of the match on their feet.
Other types of martial arts, such as MMA or grappling, involve takedowns and falls on a regular basis. For these sports, athletes will remain safer with a thicker level of padding.
For taekwondo, the flooring will have a firmer consistency, which gives the athletes the ability to push against the floor and create quick movements during a match or practice where they will spar with an opponent and execute forms.
Rather than employing a thick foam pad in the floor for protection against falls, the taekwondo mat thickness will provide impact protection for the knee and ankle joints. Taekwondo athletes will lunge, kick, spin, jump, and even flip during matches and demonstrations, so they need a flooring choice that will absorb the impact of landings, whether the athletes are barefoot or wearing soft soled shoes.
Commercial Taekwondo Mat Thickness Options
To provide the best mix of firmness and shock absorption, you should stick with a taekwondo mat thickness of 1 inch or less. Here are some of our customers' favorite taekwondo mat products.
20 mm Pro Taekwondo Mats.
With a mat thickness of 20 mm (about 0.79 inches) in this closed cell foam product, the mats will stand up to regular use during practice time. They have a Shore C hardness rating of 40-45, which yields the firmness athletes need to make fast movements, while also providing impact absorption when practicing kicks and jumps. This the most popular taekwondo mat and is often used for top level tournament venues.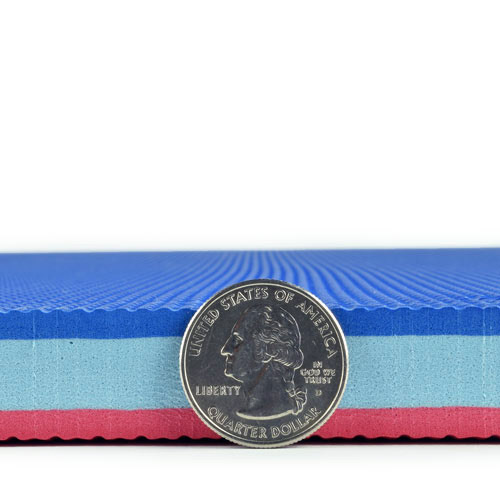 1'' Premium Martial Arts Mats.
This mat has a 1 inch thickness and recommended for striking arts such as taekwondo. It's a high density EVA foam that contains a Shore C hardness rating of 50, so it's a little firmer than the other choices on our list and provides more separation from the hard floor below.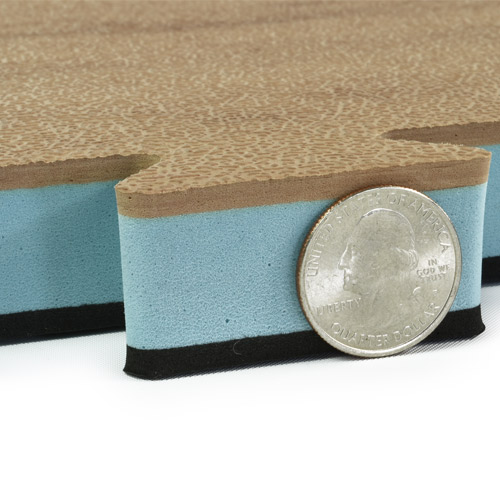 Both of these mats 1x1 meter (3.28x3.28 feet) puzzle mats constructed of reversible EVA foam.
Home Taekwondo Mat Thicknesses
Home Sport and Play Mat.
This puzzle style EVA foam mat creates a simple installation process at home or at a professional studio. It has a thickness measurement of 0.75 inches and a Shore C hardness rating of 35. This mat is very comparable to the 20mm Pro Taekwondo Mat, only in a 2x2 foot size instead of 3.28x3.28 foot mats.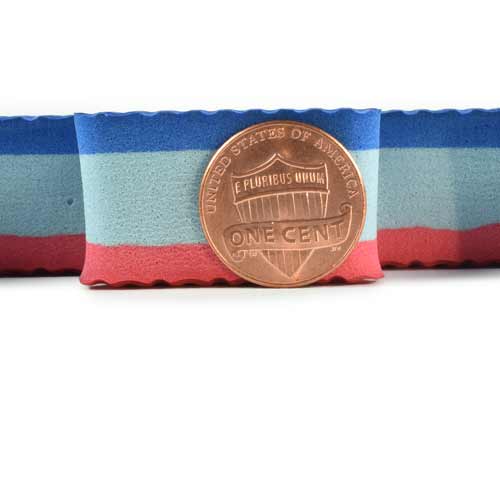 The main advantage of the 2x2 mat options is their ability to easily remove, stack and tuck away in a closet or on a shelf when not in use.
Taekwondo Mat Design Features
Beyond the taekwondo mat thickness, several other features are important to consider when shopping for the perfect mat for your needs, including:
Surface Texture


Durability for long lasting performance


Cushioning for shock absorption


Firmness and rebound for proper footwork
With these ideas in mind, the majority of customers select a closed cell EVA foam mat. Beyond delivering the taekwondo mat thickness that's best for this martial art, closed cell foam has a number of advantages for taekwondo athletes, including:
No absorption of moisture from sweat or spilled water


Easily cleaned and disinfected after Olympic style tournament matches or class time


Lightweight puzzle style mats for simple installation and disassembly


Multiple color choices in tiles that often are reversible


Perfect for practice time in a dojang featuring Hyeong, teul, or poomsae sequences


Delivers a texture that's not too hard, which could result in dangerous slips
Count on Greatmats to deliver the best flooring solutions for your martial arts studio, school, or academy, no matter what taekwondo mat thickness you need.