How Big Should an Event Dance Floor Be?
By Paige Cerulli Created: November, 2022 - Modified: November, 2022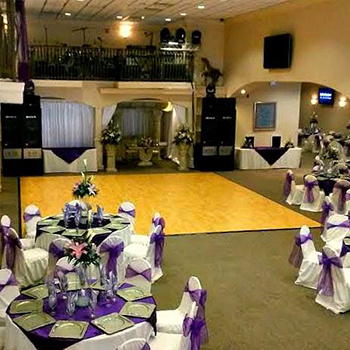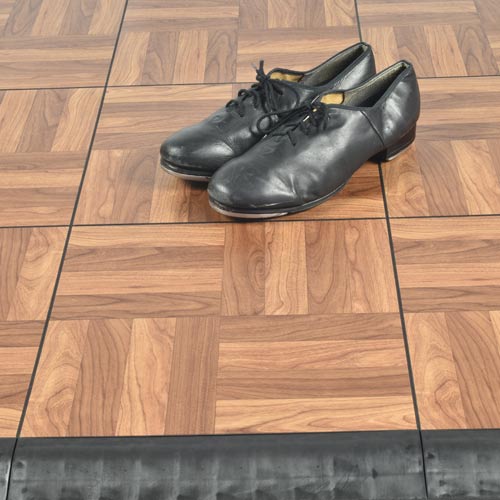 When you're hosting an event, the dance floor is one of the key elements that you need to incorporate into your venue design. With temporary event dance floors, you can customize that floor size to your needs, ensuring you always have enough space but won't have a big, empty dance floor, either.
How to Determine the Size of Your Event Dance Floors
Events vary in size, and ideally, your dance floor's size should also change to reflect the event. As you plan an upcoming event, whether it's a birthday party, bar mitzvah, wedding reception, or other celebration, the number of expected attendees can help you to determine your floor size.
As a rule of thumb, expect 30 to 40 percent of your guests to be on the dance floor at one time. You will need to allocate a nine-square-foot area of space for every dancer.
Let's say that you have an event with 100 attendees, which means up to 40 people will want to dance at a time. Multiplying 40 by 9 reveals that you should plan for a dance floor that measures 360 square feet.
| Dance Floor Size | Number of Dancers |
| --- | --- |
| 10x10 | Up to 11 dancers |
| 12x12 | Up to 16 dancers |
| 15x15 | Up to 25 dancers |
| 16x16 | Up to 28 dancers |
| 18x18 | Up to 36 dancers |
There are other situations where you may need less space or a different dance floor design. You might want to create a dance floor on stage for a dance company recital, or you might need a flooring solution that works for a tent or banquet hall.
That's where dance floor tiles and panels are so beneficial. When you're using tiles and panels to construct your floor, you can create custom dimensions.
Many kits are available in 10x10, 12x12, 15x15, 16x16, and 18x18, but you can attach or remove sections to change your dance floor's dimensions. You may find that a square floor isn't a great fit in the space, so you might want to explore rectangular dimensions for a better fit.
Event Dance Floors for Sale
At Greatmats, we offer many products that are ideal for use as event dance floors. Whether you're creating a dance floor in a club or a reception hall, these products are easy to use and deliver great results.
EZ Portable Dance Floor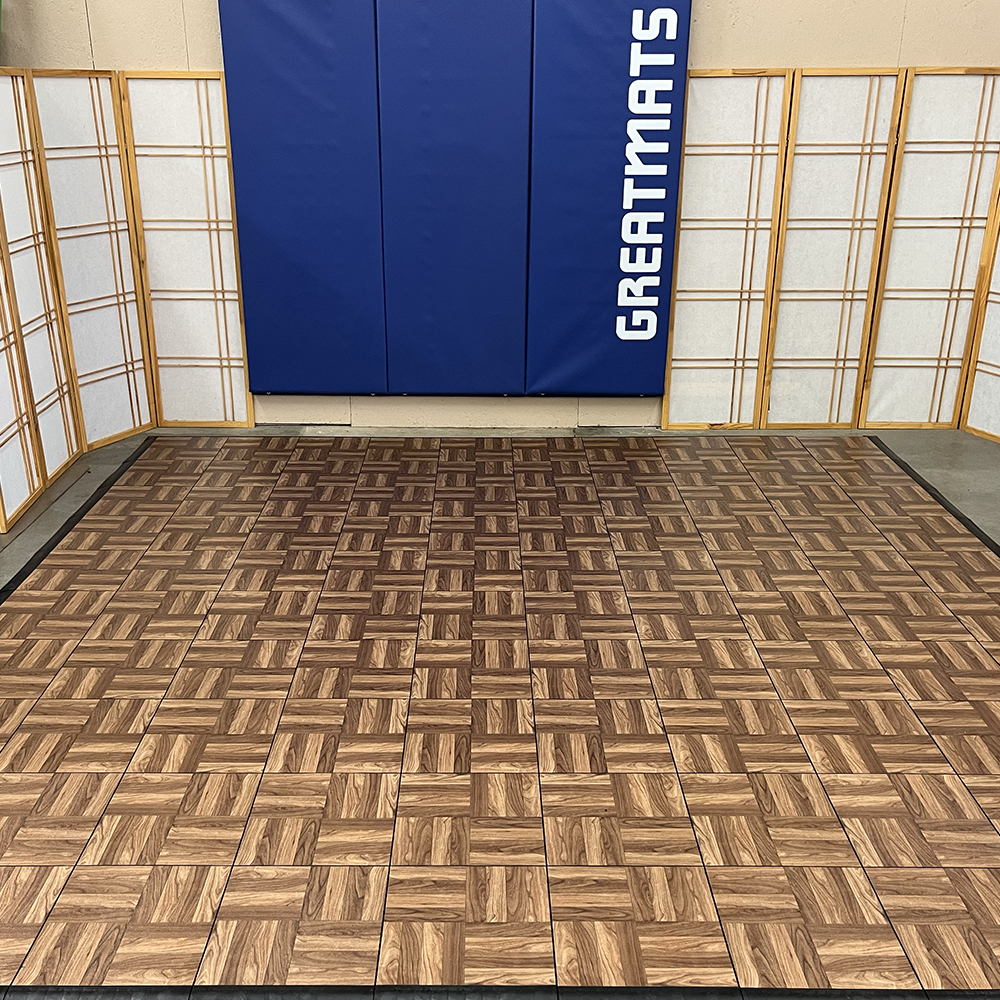 The
EZ Portable Dance Floor
is a 12x12-inch tile, which gives you optimal control over the dimensions of your floor. The tiles are designed to be repeatedly installed and removed, and they're a highly durable choice for banquets, hotels, and portable tents.
The tiles feature a raised design that lets air and water flow underneath to speed drying. Once installed, the tiles fit tightly together, and their snap-together design makes for a simple and quick installation.
The commercial-grade vinyl top surface allows these tiles to withstand significant use, even in commercial settings. You can purchase ramped border edging in black, which makes for a smooth transition onto and off the floor.
These tiles are available in six realistic wood grain options, allowing you to choose the precise aesthetic that you want your floor to have.
Home Dance Floor Package Adagio Cushion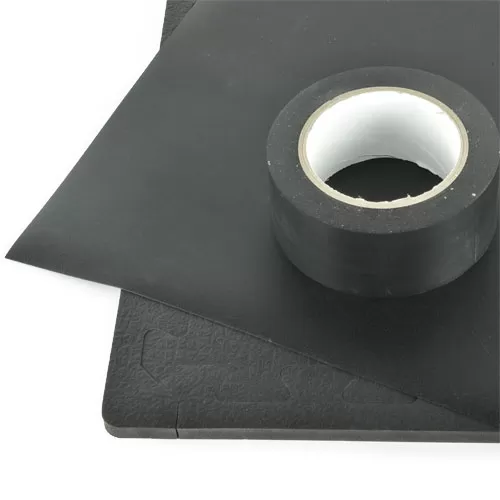 The
Home Dance Floor Package Adagio Cushion
includes Marley dance floor, foam tiles, and a roll of tape, so you have everything needed for a fast installation. The flooring surface is ideal for ballet, hip-hop, modern, tap, jazz, and other dance styles.
The Sport Plus Designer foam tiles serve as the dance floor's foundation, and the Marley floor surface accommodates hard or soft shoes, as well as barefoot dancers. The finished dance floor is a high-quality surface that delivers an optimal combination of durability and firmness, as well as the traction that dancers need.
This dance floor package is ideal for home use, and it creates a 10.5 x 10 foot floor.
Home Dance Subfloor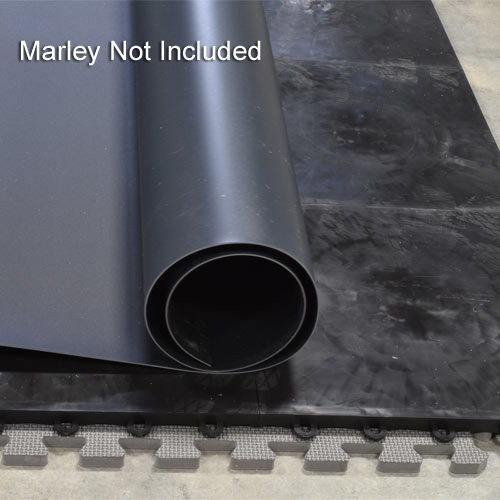 With the
Home Dance Subfloor
, you can easily create the foundation needed for a quality dance floor. The subfloor features a soft foam tile bottom layer that's topped with plastic athletic tiles, providing cushion and support for your dance floor.
The foam tiles measure 2x2 feet, while the plastic tiles are 1x1 foot. By connecting the tiles together and layering them, you can create a dance floor that delivers optimal performance.
Because the tiles can be connected and disconnected, they are easily portable, and installing them is easy. You can install a firm Marley dance floor as the top surface, creating a floor that's suitable for professional and amateur dancers.
Rosco Dance Floor Reversible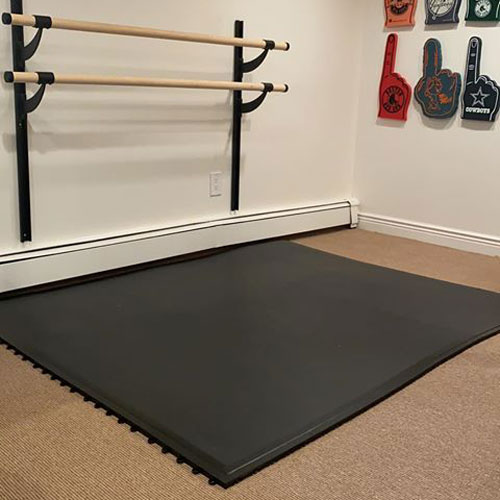 The
Rosco Dance Floor Reversible
is a portable Marley dance flooring that supports ballet and soft shoe dance. The flooring is designed to provide an optimal slip coefficient, allowing dancers to perform at their best.
You can install this flooring using vinyl tape, and it is reversible for convenience. While this flooring can be installed permanently, it is designed to be portable, so you can use it for events and performances.
If you'll be creating large dance floors, you can purchase an entire roll of this flooring. If you know the dimensions of your smaller floor, then custom-cut lengths are available.